Imagine a city with no artificial light: no street lamps, no domestic illumination, nothing except for the sun in the day and the moon at night – all apart from the flickering of candles. Artificial light has allowed modern life to thrive, but it can be harsh, with its own politics of safety and surveillance. Power! Light!, the exhibition at Kunstmuseum Wolfsburg, explores the multiple facets of electrified light – its utopian and dystopian qualities – with 80 sculptures and installations by the likes of Monica Bonvicini, Gregor Schneider and Lori Hersberger, who sit amidst a list of 50 other artists. The show concentrates on artworks in which light is used to make sense of political, social and ecological situations.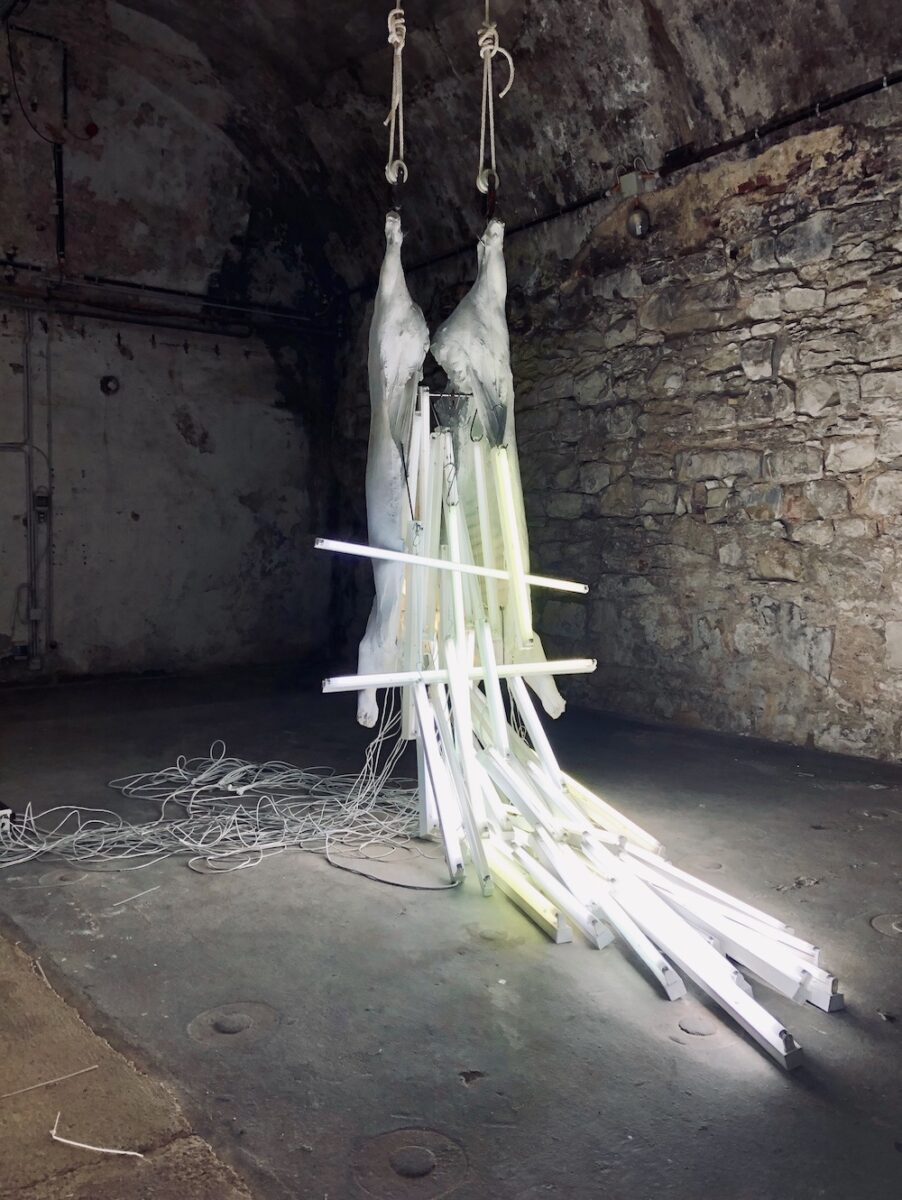 Do you remember the last time you looked up at a clear, star-filled sky? Shown at the top of the page is Hersberger's Sunset 164 (2006), in which colourful neon arches are designed to bring this question to mind. Yellow, orange, purple and pink tubes create a kind of "eternal sunset" – a state that is neither day nor night. Elsewhere, a constellation of illuminated words addresses a politically motivated fake news scandal. This is Neidich's Pizzagate Neon (2016), which looks at events surrounding Hillary Clinton in the run-up to the 2016 American presidential election. Finally, Bernardí Roig presents Der Italiener (The Cow): bright white bulbs cascade from a resin animal carcass – a kind of glowing, 3D Francis Bacon painting.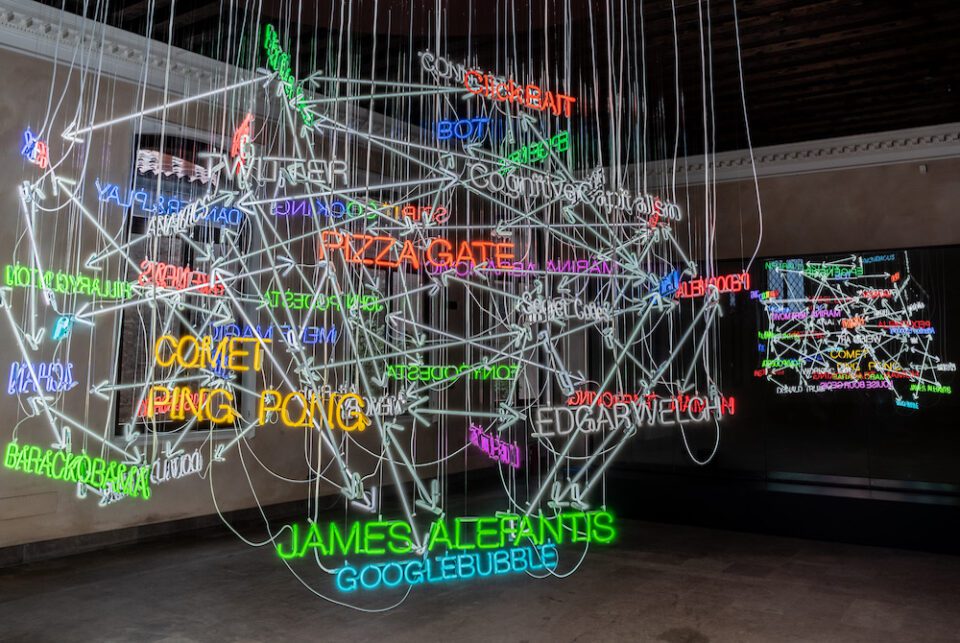 Advertising. Manipulation. Power. Control. Although there are numerous negative uses associated with the persistent and excessive use of light, humans remain connected – and often attracted – to it. Some of us might be drawn to bright and colourful spaces, for example. Nearly 360,000 pedestrians pass through New York's Times Square every day, with its glowing billboards and artificial daytime. Yet others might be sensitive to it, finding it to be overstimulating. Our deep relationship with light can be traced from Plato's Allegory of the Cave (c. 380 BCE) to the recent popularity of "Instagram-friendly" immersive art installations, like Yayoi Kusama's record-breaking Infinity Mirror Rooms and James Turrell's Ganzfelds. With this in mind, Power! Light!, offers a striking look at one of the things that makes us human.
---
Kunstmuseum Wolfsburg until 10 July | kunstmuseum.de
---
Image Credits:
1. Lori Hersberger, Zombie Voyager No.1 (Sunset 368), 2022, neon systems, black float glass, 184 x 368 cm (neon), ca. 204 x 430 x 460 cm (installation dimensions) , Kunstmuseum Wolfsburg, donation of Telos Stiftung, Wädenswil, © Lori Hersberger Studio, Zurich, photo: Marek Kruszewski
2. Bernardí Roig, Der Italiener (The Cow), 2011, polyester resin, iron, fluorescent tubes, 280 x 120 x 130 cm, © Bernardí Roig, courtesy the artist and Kewenig, Palma/Berlin, photo: Silvia León
3. Warren Neidich, Pizzagate Neon, 2017, installation of neon systems, 400 x 500 x 280 cm, private collection, © Warren Neidich, courtesy Priska Pasquer, Cologne, photo: Karolina Sobel