"Photography preceded cinema, but does this imply that photography is the parent of cinema?" Writer and curator David Campany asked this question in 2008, dedicating an entire book to the subject. From Eadweard Muybridge's 19th century motion studies to contemporary mises-en-scène by Gregory Crewdson and Alex Prager, lens-based media have overlapped and intersected for nearly 200 years. Filmmakers Wim Wenders and David Lynch have turned their hands to still image-making. Here are five creatives – all Aesthetica Art Prize finalists – whose work employs a cinematic sensibility.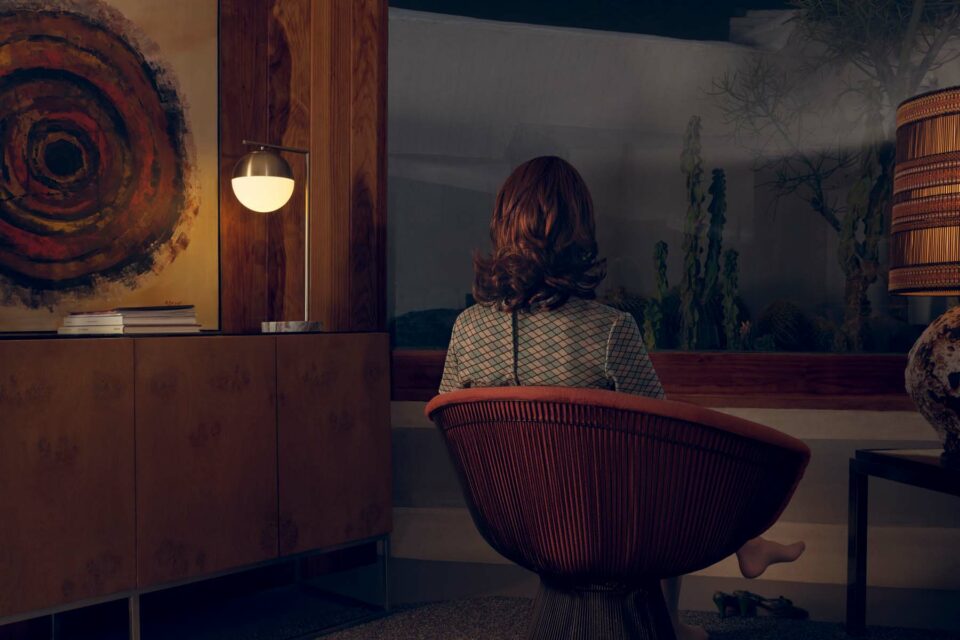 Made In The Shade is a self portrait series depicting characters in mid-century modern settings. This time period is often seen as "an era that was aspiring for change," yet saw women continue to battle for equality. These carefully staged scenes attempt to challenge stereotypes. Through a female gaze, Meynier brings societal norms into question. "The absence of context gives these characters the power to be who they want to be: architects, scientists, engineers, doctors: roles which have historically been fulfilled by men."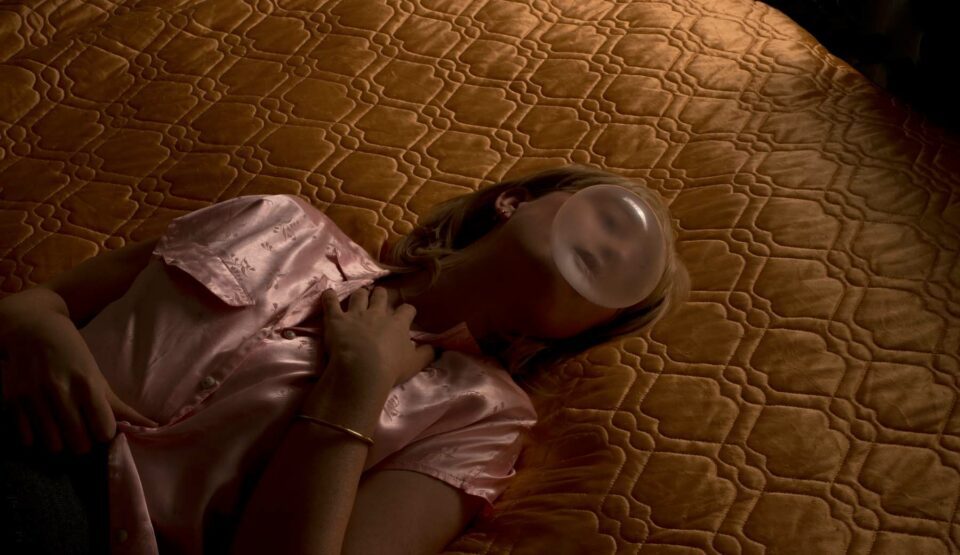 Bourner examines the state of our cultural landscape today: tapping into our growing sense of disconnect and the "empty promises" of consumer culture. Bourner's work considers our fixation on productivity. "The message is that if you work hard enough, you can achieve anything… output is valued over connection and appearance over authenticity," the artist notes. Imbued with nostalgia, Bourner illustrates the "Age of Anxiety" – filled with passive entertainment and empty materialistic distractions.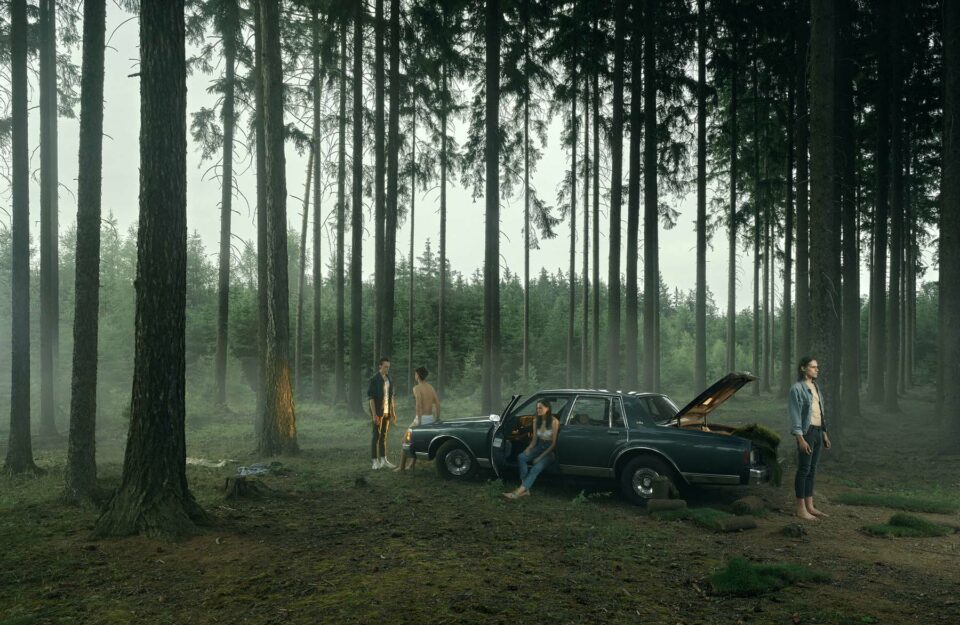 Martin Stranka, a native of the Czech Republic, is a self-taught photographer. His distinctive vision is located in "balance and serenity", calling upon dramatic lighting and staged choreography. Stranka creates images that appear to be stills from a film – cinematic visuals that walk the line between fantasy and reality. Over the last few years, he has won over 80 major photography awards, including coming first place in the Sony World Photography Awards. In the featured shot, four figures stare towards vast forests.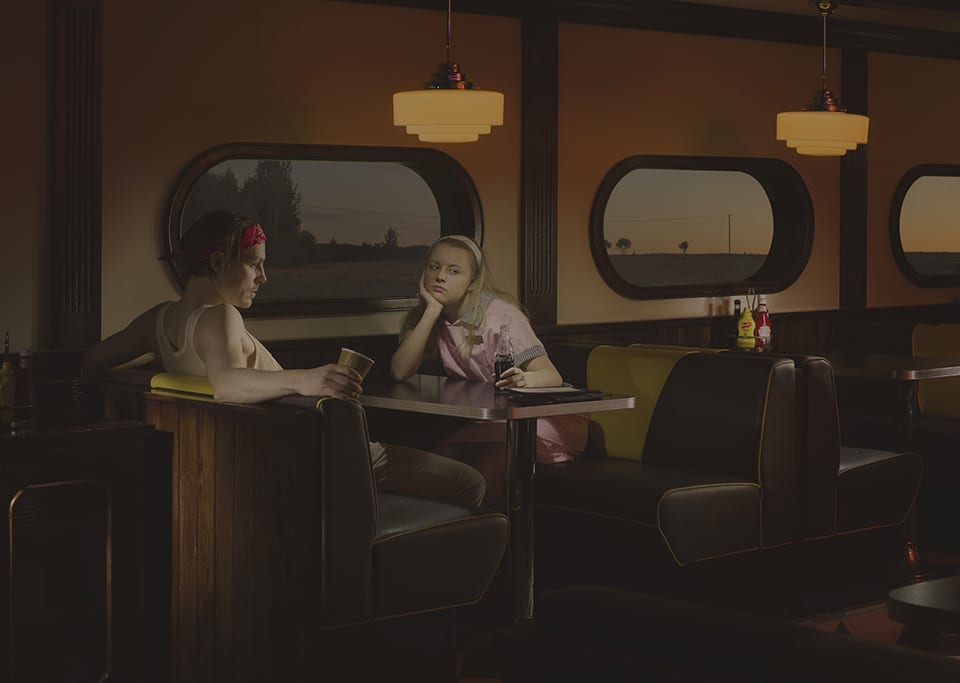 Joergensen's photographs are meticulously staged, reflecting the artist's background in film. Each scene is wrapped in cinematic style – which Joergensen links back to time spent watching Hollywood movies as a child. Inspired by David Lynch, and using theatrical light and vivid colour juxtapositions, the works emphasise a sense of mystery. The series Finding the Red, shown here, is built upon childhood memories, with characters sat, listless, in empty diners, sun setting in the landscape beyond.
Kellett's Cross Road Blues draws from the legend that Robert Johnson, the Delta Blues musician, met the devil at a crossroads outside Memphis and sold his soul in exchange for his talents. "Being held at a "DON'T WALK" sign allows us to ask ourselves: where do we come from? Where are we going?" Unnamed individuals pause at stop signs, overshadowed by looming buildings. Kellett cites Edward Hopper (1882-1967) amongst his influences, drawing on the painter's interest in silent spaces and melancholic moments.
---
The Aesthetica Art Prize is open for entries until 31 August, championing creativity in all its forms. Prizes include £10,000, publication and exhibition. Click here to find out more.
---