Rana Begum RA (b. 1977) is best known for her explorations of colour, light and transience. Through Minimalist abstractions, she blurs the boundaries between mediums. Such pieces include No. 1104 Catching Colour (2022), which suspends colourful mesh in the air to look like delicate clouds, and No. 1225 Chainlink (2023), a golden, interlinking fence that catches the Coachella Valley sunshine as part of Desert X. Now, three new pieces respond to portraits from famous British painter Sir Joshua Reynolds (1723-1792), reflecting on his enduring relevance to contemporary art. Begum's latest works come to The Box, Plymouth, as part of Reframing Reynolds, an exhibition re-evaluating his influence within a global context whilst highlighting themes such as image, identity and his West Country roots. This is accompanied by Begum's touring show Dappled Light. Here, the artist takes attendees on a sensorial and temporal journey – exploring perceptions of colour and form through installations, paintings and film.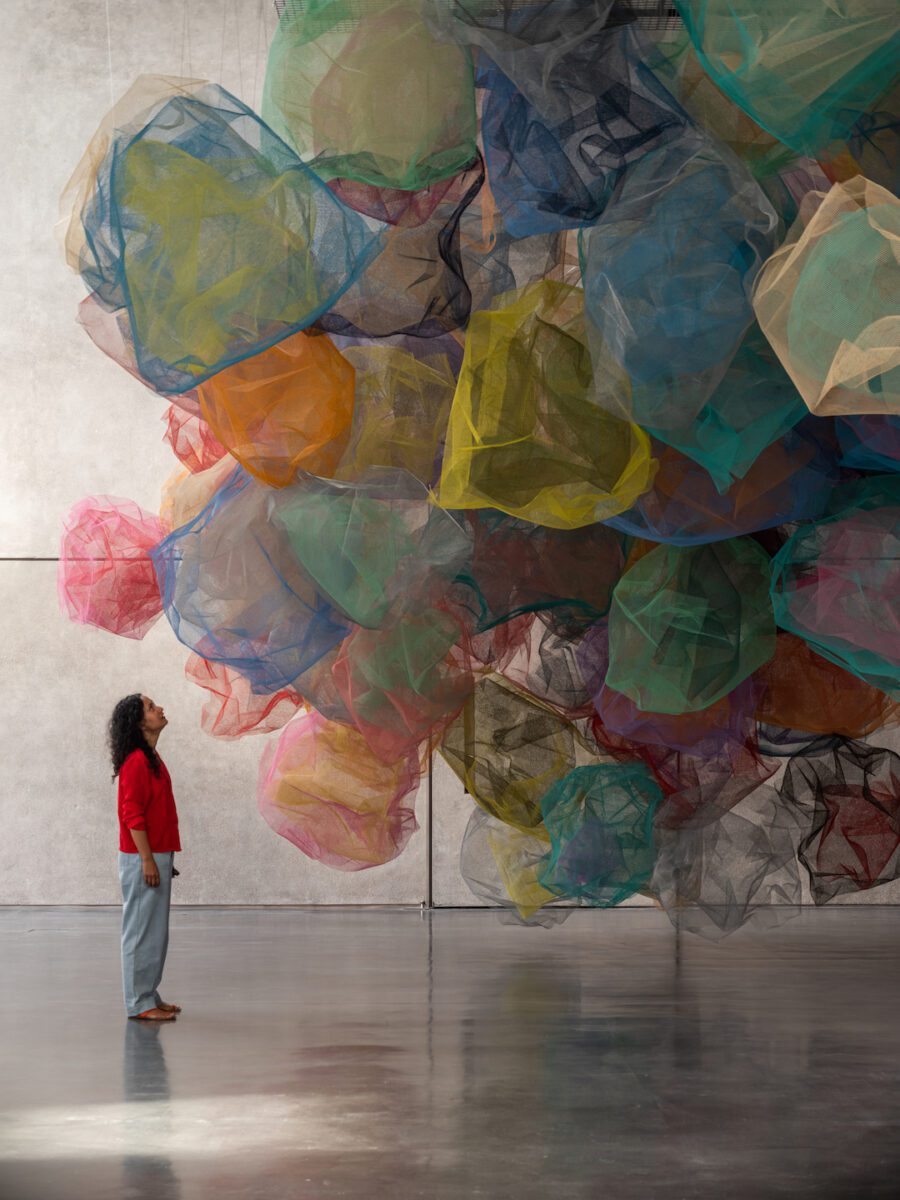 A: Your pieces in the Reframing Reynolds exhibition are inspired by three of Sir Joshua Reynolds' (1723-1792) paintings: the portraits of Lady Ann Bonfoy of Port Eliot, Cornwall; Mrs Elizabeth Fields and an early self-portrait dating from 1746. What drew you to Reynolds' work?
RB: When touring Dappled Light, I am always eager to create connections between the work and its location. I do so by adapting the show to create a dialogue with the space and community. Since the curation for the Reynolds show was being developed alongside conversations about my work, an exciting opportunity opened up for me to respond to his art and push my series of paintings. Whilst I am not drawn to the representation of the figure, I was inspired by the drama in Reynolds' paintings and his approach to colour. He was someone that extensively experimented with paint and pigment. It was fascinating to learn more about his process and feel a connection to my own practice.
A: Did you find any common ground with Reynolds' works?
RB: In many respects, my background as an artist means that Reynolds is not a figure that I would naturally feel a connection with, or relate to. However, I was interested in the technical quality of his paintings and the processes behind them. It was through this practical focus that I found a relationship with my own approach and experiences. I was inspired by the way he portrayed textures, fabric and the quality of light, capturing areas of transparency and the sheen of metal. This led me to experiment with metallic paint that catches the light and changes with the position of the viewer.
A: Colour, light and form are key themes across your body of work – from room sized sculptures and installations to paintings. How has your approach to them have evolved over the years?
RB: The relationship between these themes is a consistent thread that runs throughout my work, rendered through various materials and scales. Over many years, I have focused on simplicity, utilising clean lines, order and repetition to allow me to really focus on the relationship between colour, light and form and the variations within. It became an act of distillation, striving to remove surplus details and distractions. The goal is to bring these three elements, and the relationships between them, to the forefront of our attention. In time, I started experimenting with a more organic means of expression. In both painting and sculpture, I harnessed nebulous shapes to create something freer and more spontaneous. I have also become more confident with scale, pushing the work to a size that allows audiences to think about art and its relationship with the body. Whether it's the cloud series or the chainlink work in Life is More Important Than Art at Whitechapel Gallery, London, our position within the space surrounding a piece becomes essential to the experience. Making work that is smaller in scale changes our perspective and focus, drawing you in and forcing you to look at materials and the interaction between colour and form.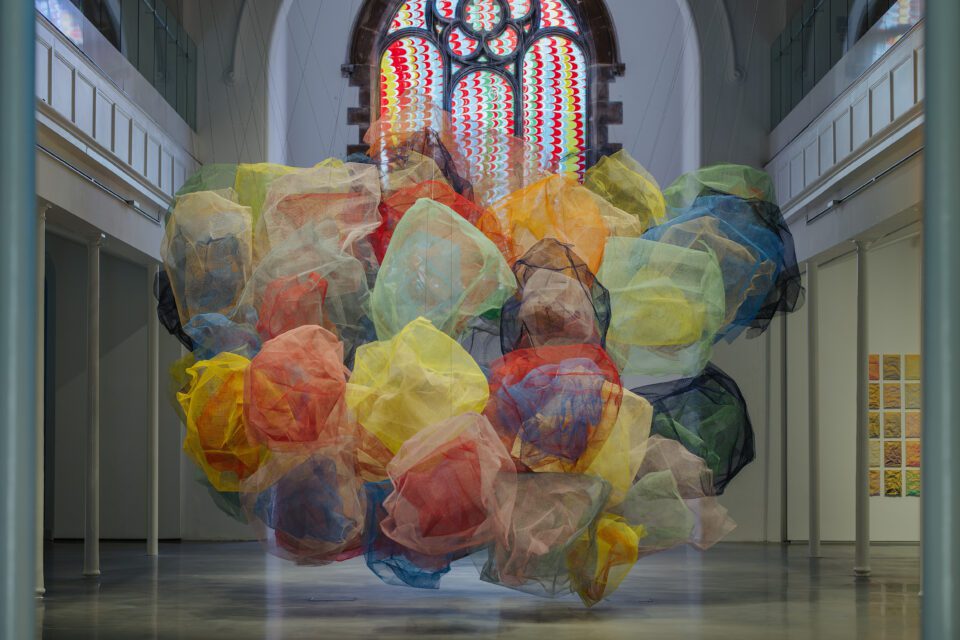 A: Dappled Light has been exhibited at galleries around the UK as well as in Dubai. Since light and locations are constantly changing, what do you consider when setting up your installations? Why did you make your cloud-like sculptures the centrepiece at The Box's restored St. Luke's church?
RB: The Dappled Light show was produced in response to the Mead Gallery in Coventry. It is a solo exhibition that brings together the new strands in my art and focuses on how light interacts with a surface: whether reflected, filtered or obscured. When the possibility of touring came up, I took the opportunity to push the work by responding to each location's architecture. I spent time in Plymouth thinking about how the installation could connect to different spaces. St. Luke's appealed to me because it allowed most of the pieces to exist in one area and interact with each other, just like in the studio. I wanted to use the volume and height of St. Luke's because the mesh installation adapts well to this kind of environment. I was excited to see No.1081 Mesh take a new form and engage with the church, allowing light to filter through the stained glass window. No.975, No.1269 and the reflector works are also site-specific and successfully respond to challenging spaces. It was great integrating them throughout The Box's main gallery rooms, allowing me to consider the function of the building and how the viewer navigates through it. In each case, the pieces react to the way natural light travels.
A: Your first film came from your residency in St Ives, Cornwall, where you recorded a fixed location as the light changed over the course of a year. Why make the move into moving image?
RB: I'm constantly striving to capture fleeting moments. When I spent time in St. Ives, I was taken by the dramatic changes in light and wanted to experiment with different ways of communicating the transient moment. I tried various approaches and materials, from watercolours to sculpture and finally film. Video recording was new territory for me, and I was excited by how I could manipulate the form to heighten and dramatise the changing atmosphere. I used the time-lapse technique to speed up the transition of the reflections as they travelled across the water, which allows the viewer to really focus on the movement and variations in light quality. I developed this work when I moved to my new home and studio in London. For this iteration, I took stills of a fixed location every hour over the course of the year. The result is made up of hundreds of static images that, when edited together, create the impression of continual motion. The trees appear to breathe as varying brightness filters through the changing foliage.
A: No.1270 Wall Drawing (2023) is created with the Plymouth's Deaf community. Can you tell us more?
RB: Collaboration is at the heart of No.1270; it shows how site-specific art can connect a place and its communities. The work originally stemmed from a visit to a registry office in Bangladesh. A fingerprint was used as part of the signatory procedure, so the walls of the building were covered in finger marks. It was a very moving moment that evoked a clear connection between land, body and architecture. I produced the first part in this series for Dhaka Art Summit in 2020, just before the Covid 19 pandemic. During lockdowns, the physical act of touch was prohibited, and the events that followed bestowed a greater significance onto my explorations into how people interact. It was amazing to have the opportunity to collaborate with the Deaf community group in Plymouth. Working together always creates a new dialogue that informs the piece. It's exciting to see what direction it will go in and the unique perspectives contributed by each member of the group.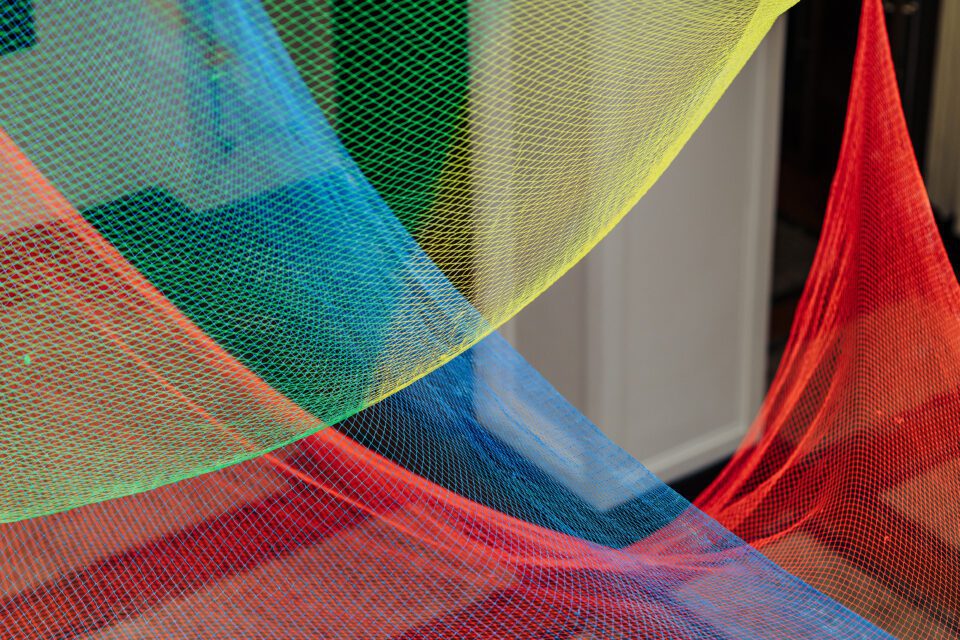 A: Your work incorporates a range of different materials – from paper to fabric. What's next?
RB: I usually come to a new medium as a means of answering a particular question or pushing an ongoing investigation. At the moment, I'm exploring smaller paintings alongside immersive, larger scale works that move my experiments into layering and colour interaction in a new direction. Currently, I am excited about using chainlink fencing. The material allows me to introduce an organic movement into the grid surface and play with colour, transparency and scale.
A: What are you working on right now? Any series or exhibitions that we could look forward to?
RB: We are currently working on some exciting large scale international projects. Much closer to home, I am developing a solo show at St. Albans Museum –  taking me back to the city where I grew up.
---
The Box, Plymouth | theboxplymouth.com

Rana Begum: Dappled Light | 24 June – 24 September
Reframing Reynolds: A Celebration | 24 June – 29 October
Words: Diana Bestwish Tetteh
---
Image Credits:
1. Rana Begum. Dappled Light. Installation Views. All images courtesy of Angus Mill and Dom Moore.