All human beings are, undoubtedly and consistently, drawn to dreamlike landscapes: worlds that are somewhat similar to our own, but that, crucially, carry their own laws of gravity. As Emily Dickinson famously wrote: "Tell all the truth but tell it slant."
Erik Johansson's images fall, seamlessly, into this category of phantasm: bending and stretching reality through the folds of visual metaphor. In these mesmerising landscapes, night-time workers haul moons from the backs of vans and install them in the sky. Lone figures, out with telescopes, look upwards to the galaxy, only to find the stars already at their feet, glowing in the darkness. Escalators emerge from the green, mossy ground, sending anonymous shoppers straight into strange, nocturnal forests where phone signal is lost and the imagination set free.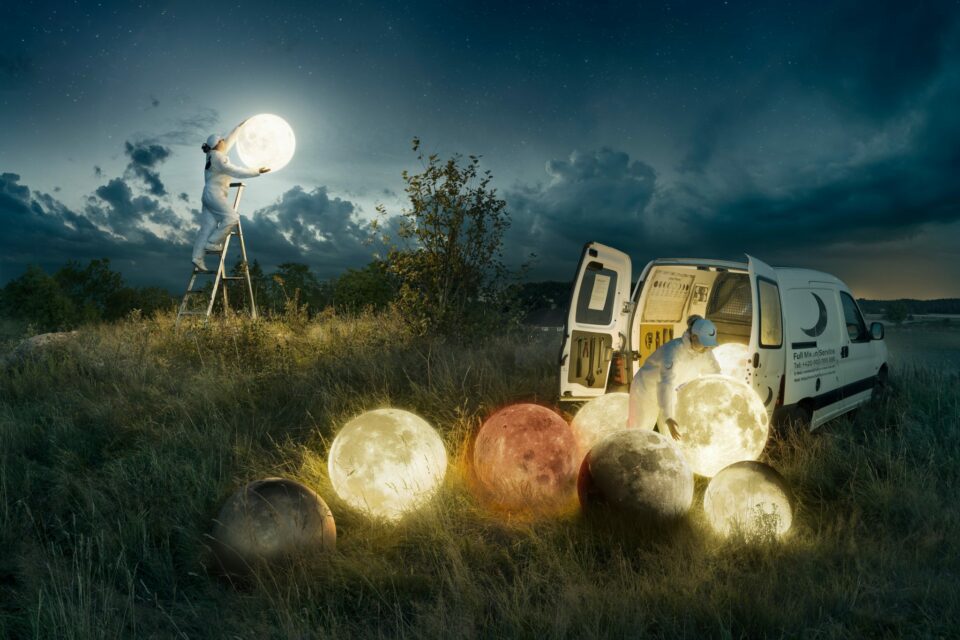 But in the age of digital construction, what is it that keeps us engaged – convinced, even, of the work? To what degree do we need to believe in the editing that has taken place? What makes us want to follow into these worlds and believe in their story? For Johansson, the answer lies in physically creating all props and sets, meticulously building each vision, and using digital technology only as a tool to finalise the images, blending the edges and easing the viewer's transition from real to surreal.
Institut Sédois, Paris, presents sketchbooks and documentation videos alongside the final works in Ideas Come At Night. Here, audiences are invited to explore modes of both wakefulness and unconsciousness – night and day – peering behind the curtain and suspending their disbelief in favour of something magical.
---
Ideas Come at Night, Institut Suédois, Paris | Until 24 April
---
Image Credits:
1. Erik Johansson, Above All. Courtesy of the artist.
2. Erik Johansson, Full Moon Service. Courtesy of the artist.