James Casebere (b. 1953) is renowned for a pioneering use of models in his constructed photographs. The table-sized constructions are based on a range of architectural, art historical and cinematic sources, and are made of simple materials, pared down to essential forms. The visually deceptive images continue to respond to pressing issues facing contemporary society.
Landscape with Houses (2009), featured in Aesthetica Issue 71, explores suburban America and the subprime mortgage crisis of 2008. Whilst travelling in upstate New York, the artist was struck by the sprawl of urban development. The resulting illusionistic buildings, meticulously assembled by hand, document worlds in miniature. Domestic dwellings, small trees and swathes of grass expand across the horizon. Aerial photographs are punctuated with the reds, blues and greens of tiny roofs.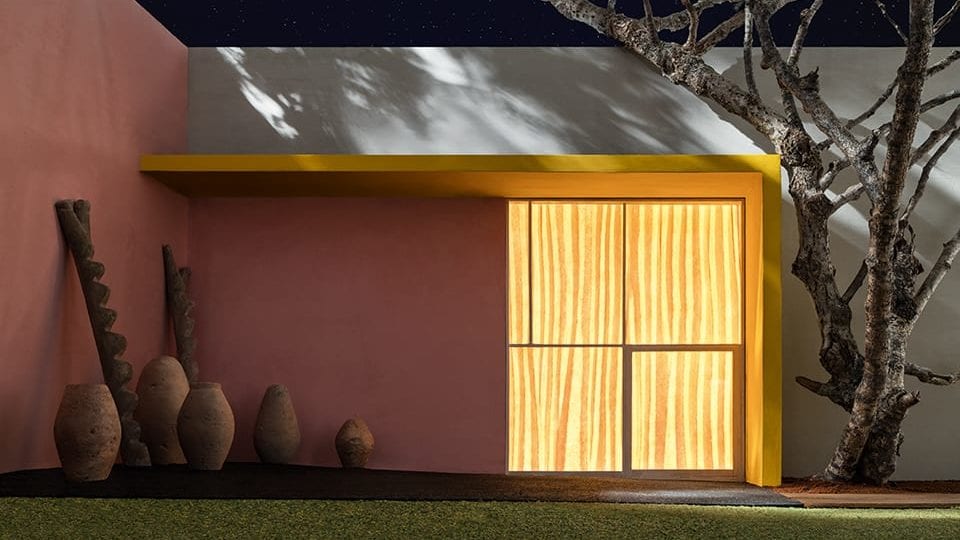 Later series, such as the images shown in Aesthetica Issue 84, demonstrate the artist's interest in architecture. They reference modernist structures to encourage both meditation and reflection. Casebere's influences include Mexican architect Luis Barragán, who combined clean lines, bright colours and water. The resulting works invite viewers into empty structures that are filed with pinks, blues and yellows. Light floods in through open windows and rippling pools sit silently. "I realised that what mattered was the space, the light, the colour and texture," Casebere expains.
Recent work has built on this engagement with water. A recent exhibition at Sean Kelly Gallery, New York, was titled On the Water's Edge. Minimal structures stand on stilts – rising above seas and lakes. They are a comment on global warming, melting icecaps and the climate crisis. Yet Casebere sees optimism in human ingenuity. "There is such a playful atmosphere to them," he notes. "It feels like an expression of the indomitable human spirit. These things could be rising out of the water like the first creatures to emerge from the sea and live on solid ground."
---
Aesthetica is a destination for art and culture. Keep up to date with some of the most important artists at work today. Subscribe and save 40% on newsstand prices.
---
Lead image: James Casebere, Santa Teresa White Duplex, 2019.
2. James Casebere, Landscape with Houses (Dutchess County, NY) #2, 2009. © James Casebere. Courtesy of the artist and Sean Kelly, New York.
3. James Casebere, Yellow Overhang with Patio, 2016. © James Casebere, courtesy: Sean Kelly, New York.
4. James Casebere, Bright Yellow House on Water, 2018.
5. James Casebere, Blue House on Water #2, 2018.