On 28 December 2016, Barack Obama made an official presidential proclamation, establishing Bears Ears, San Juan County, Utah, as a National Monument. He stated: "Rising from the center of the southeastern Utah landscape and visible from every direction are twin buttes so distinctive that in each of the native languages of the region their name is the same: Hoon'Naqvut, Shash Jaa', Kwiyagatu Nukavachi, Ansh An Lashokdiwe, or "Bears Ears." Abundant rock art, ancient cliff dwellings, ceremonial sites, and countless other artifacts provide an extraordinary archaeological and cultural record that is important to us all, but most notably the land is profoundly sacred to many Native American tribes. "All federal lands and interests in lands within the boundaries of the monument are hereby appropriated and withdrawn from all forms of entry, location, selection, sale, or other disposition under the public land laws or laws applicable to the US Forest Service, from location, entry, and patent under the mining laws, and from disposition under all laws relating to mineral and geothermal leasing, other than by exchange that furthers the protective purposes of the monument."
By the end of 2017, the Trump administration had made a counter-proclamation, reducing the monument's size by 85%, from 1,351,849 acres to 201,876 acres. This was seen as a victory for Republican officials and energy companies, who were interested in the land for the excavation of fossil fuels and uranium. Bears Ears was just one of 27 national monuments that were called for review, with combined modifications totalling more than 1.2 million acres. At a press conference on 4 December 2017, Trump exclaimed: "No one values the splendour of Utah more than the people of Utah – and no one knows better how to use it." David Benjamin Sherry's (b. 1981) American Monuments series, shot in hyperreal monochrome, was created in the same year, exploring and engaging with the sites that were being threatened by Trump's administration. The images were taken as a form of photographic activism, with saturated colour palettes alert- ing viewers to a sense of danger – of human intervention stepping onto these iconic terrains – whilst preserving the natural beauty of the landscapes through the camera lens.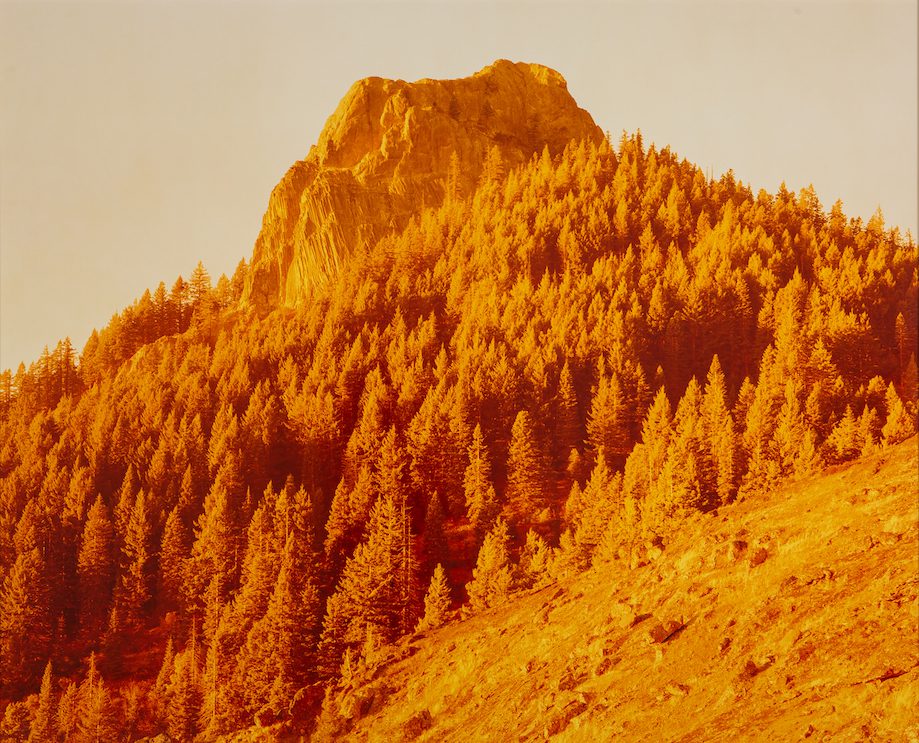 A: Where did your journey into photography begin?
DBS: The first pictures I made (that had any importance for me) were of landscapes immediately following the death of a very close friend in 2007. I had ventured out west for the first time during a particularly dark moment, but that's often the way things seem to turn out – something so difficult and senseless ultimately led to my life's work and passion.
A: Your artistic career has, in your own words, been centered on "challenging and reinvigorating the American western landscape tradition." How is your work a response to the practitioners that have come before you? DBS: As a queer person, with a staunch commitment to broadening representation and weaving the fight for environmental and social justice into everything that I do, I try to celebrate liminal spaces as well as marginalised peoples. In doing so, I incorporate what has been missing for so long in the straight white male-dominated tradition of my genre.
A: Colour has played an integral role in many of your other series, with previous collections ruminating around block pinks, greens, blues and yellows, accentuating the cross-sections of rugged natural material. Is colour part of a wider visual transformation? Do you see this as a positive or negative? Does it need to be either?
DBS: Colour is a conduit for all magic, mysticism and history. The dramatic size and colouration of the print provides an additional layer akin to my experience travelling through these spiritual places and witnessing the spectacles firsthand. The palettes offer new perspectives in recognition and meaning for these already well-documented landscapes.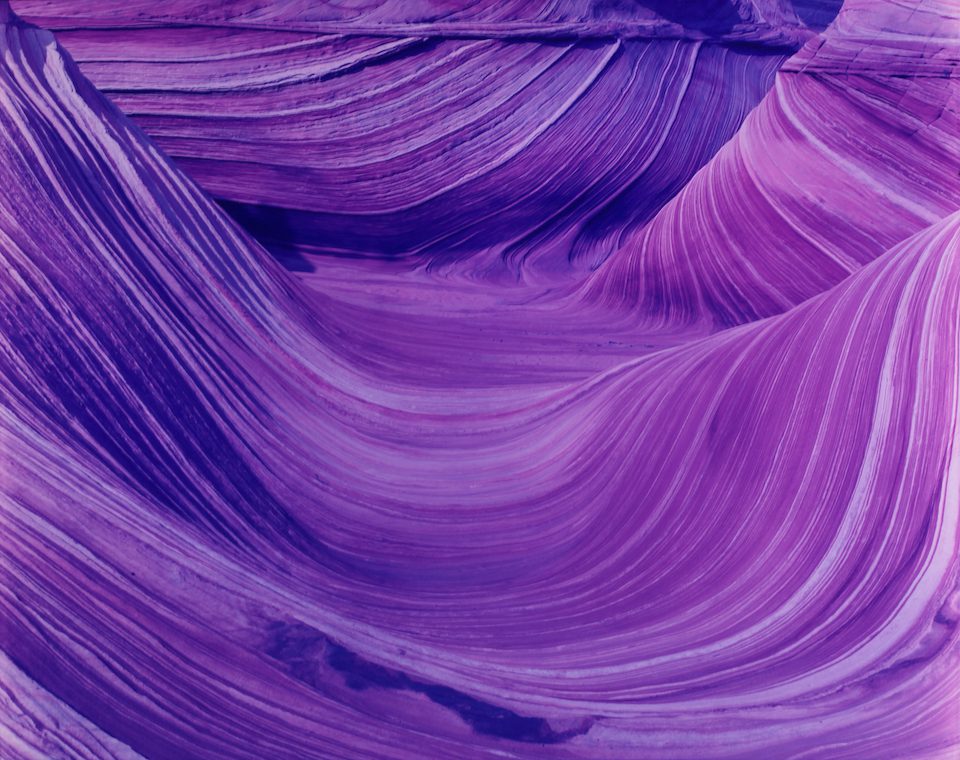 A: Given that these colours are artificially manufactured, how do you see the role of the photographer, and in extension, humanity, in looking, seeing and documenting the planet? As humans, especially those existing in the global north, are we one and the same, or will we always be separate – observers and prospectors of nature?
DBS: Maybe it's not an intervention. Conservationist Terry Tempest Williams wrote an essay for my latest book, describ- ing how it felt for her to first encounter one of my photo- graphs. What she wrote really resonated with me: "I simply stared in recognition. It wasn't the dunes that held my gaze, it was the colour pink. It was as if someone had exposed the secret of seeing, locating the essence of the land from the inside out. My body doesn't lie, I started shaking. This is what I have come to know from living in the desert. There is a vibrational quality of landforms that registers through colors, both seen and felt like animated heat waves. Once, after a long meditation, I looked up and the La Sal Mountains had turned magenta. If I were to use the word "aura" you might find me soft-headed, but I am sharing my revelations of residency as I understand them: nothing is as it appears. Auras in the desert are real. A cottonwood tree on the edge of the river translates to orange from the reflective light ricocheting off sandstone cliffs. On another day, the cottonwood is shimmering green from the pulse of its own chlorophyll, and the goosenecks of the San Juan River can be as violet in encore light, after the sun sets through the gauze of clouds, as the purple locoweed and penstemon blooming on the eroding terraces below. Sherry's photographs are not a mirage or a sensation. They are alchemical images that reveal the hidden truths brought into sharp focus at this moment in time."
A: To further these ideas, how does American Monuments perhaps tap into this sense of voyeurism – of certain in- dividuals seeing the land for its financial potential? How do the jewel-like colours feed into the idea of prosperity or "richness" in the land, waiting to be excavated?
DBS: I definitely try to convey a sense of intrinsic value with my landscapes. I think that environmentalist Bill McKibben best describes the kind of "worth": "Somehow the saturated and unsettling colors of Sherry's photographs of Bears Ears and Grand Staircase-Escalante National Monument, in Utah and the Rio Grande del Norte National Monument, in New Mexico, amongst other western vistas, help us see all that splendour, all that history, and all those politics more clearly, or at least glimpse that something has gone wrong and is now going more wrong in these places that have long been a comforting part of the landscape of the mind. No longer retreats or redoubts from the overwhelming bleat of our wired world, they are contested places. We must fight to make sense of them, and we must fight to preserve them, and we must fight to make sure that in their preservation they connect us back to the people who wandered them originally."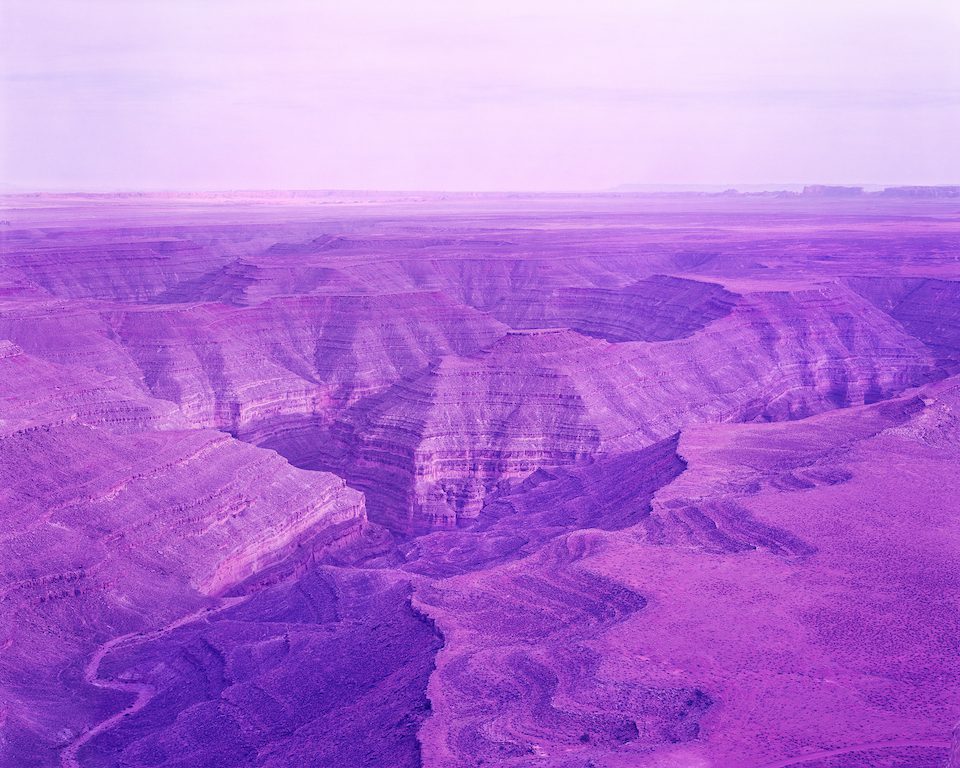 A: When these monuments were threatened by the Trump administration and its supporters, to what degree was this work about preservation, and if so, for whom?
DBS: The work was entirely about preservation – for me and the people of the United States, as well as its many visitors. These are public lands, which are meant to be used by all people of the USA and beyond. However, I'd also say that I'd personally like to see most of these lands, especially Bears Ears monument, given entirely back to the Indigenous people that have lived amongst them for generations.
A: You've noted that your practice, whilst expressing a deep concern for the climate and destructive anthropogenic acts, is also about "sustaining a queer sensibility in the hetero-male dominated canon of landscape photography." Can you expand upon this? In what ways are you redefining queer aesthetics, or questioning power structures that have been damaging to humans and non- humans – the planet and LGBTQIA communities?
DBS: Much of my work, which began as an homage to the grand western landscape photographic legacy, evolved into an opportunity to build upwards. As a queer person retracing my forebears' footsteps, I became increasingly aware of my own dialogue with this colonial, heteronormative history of the medium, and through this, I felt a renewed sense of purpose. And yes, the forces that seek to subvert "others" are one and the same with the destructive forces of capitalism that destroy and manipulate the natural world for profit.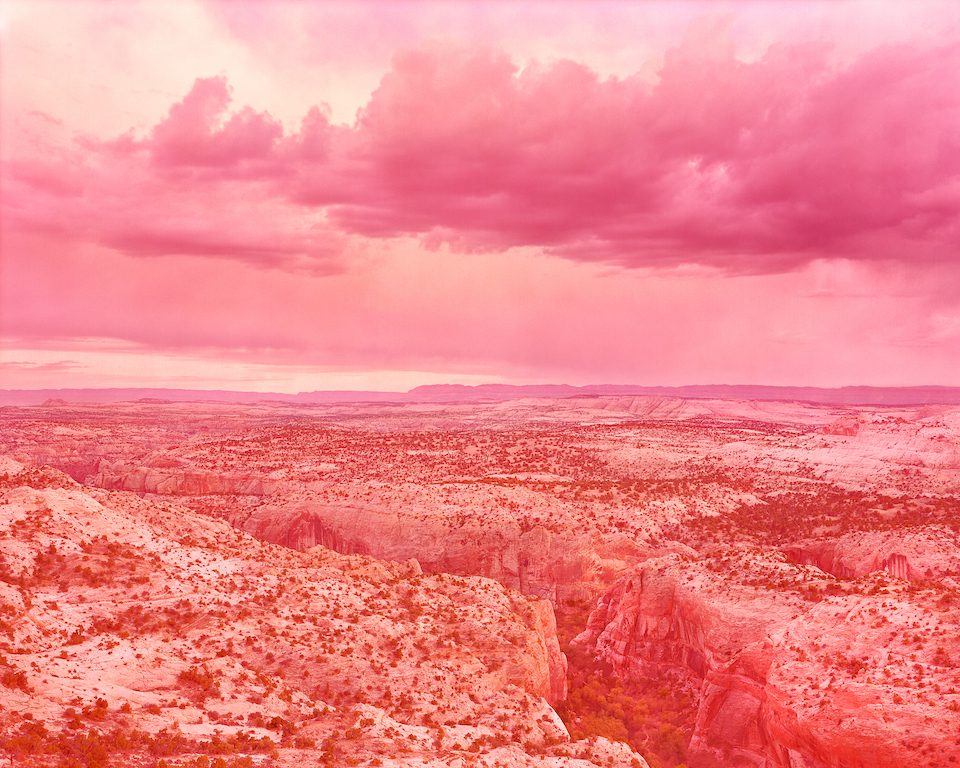 A: In many ways, the climate crisis has been defined by binary thinking: of an "all or nothing" narrative. Ameri- can politics have similarly been completely polarised, on this issue and many others. How far is your practice about breaking down these structures, creating nuance- and seeing the world in diverse and captivating ways? DBS: Nuance and compromise can be good, but art is a sphere in which "all or nothing" thinking is useful, even necessary at times. Compromise is not getting us where we need to go fast enough. Thankfully, I'm not a politician who has to work with an inherently broken system to get anything done.
A: In October 2021, President Joe Biden restored the monuments to their original protected state, as laid out in the governmental declaration by Barack Obama. Does this change your view of the images and the series? DBS: Yes, Biden has restored the monuments back to their original protected state … for now. However, I believe that all wild places are endangered. We are all endangered. The images continue to have power for me – as the contested lands are changing as we speak. What happens when another elected official takes office and does what Trump did?
A: What's next for you, in this medium or otherwise?
DBS: I've started painting. Seeing the natural world slowly being destroyed has been too painful – that along with the end of analogue technologies to produce images. Painting is offering something new and I'm enjoying the freedom.
---
wavehill.org | davidbenjaminsherry.com
Words: Kate Simpson
---
Image Credits:
1. David Benjamin Sherry, Grand Plateau, Grand Staircase-Escalante National Monument, Utah (2017). Chromogenic print. Courtesy of the Artist and Salon 94, New York © David Benjamin Sherry.
2. David Benjamin Sherry, Sunrise on Pilot Rock, Cascade-Siskiyou National Monument, Oregon, (2017). Chromogenic print. Courtesy of the Artist and Salon 94, New York © David Benjamin Sherry.
3. avid Benjamin Sherry, The Wave on the Coyote Buttes, Paria Canyon, Grand Staircase-Escalante National Monument, Utah (2013). Courtesy of the Artist and Salon 94, New York © David Benjamin Sherry.
4. David Benjamin Sherry, View from Muley Point II, Bears Ears National Monument, Utah (2018). Chromogenic print. Courtesy of the Artist and Salon 94, New York © David Benjamin Sherry.
5. David Benjamin Sherry, Escalante River, Grand Staircase-Escalante National Monument, Utah (2018). Chromogenic print. Courtesy of the Artist and Salon 94, New York © David Benjamin Sherry.