Water is essential for human survival. It makes up over half of human body weight, and covers more than 70 per cent of Earth's surface. American households use an average 300 gallons per day, and depletion is a growing concern. In August 2022, the UN Environment Programme warned that two of the largest US reservoirs were on the verge of "dead pool status" – their lowest levels ever. The climate crisis continues to threaten even starker realities, with half the world's population facing shortages as soon as 2025.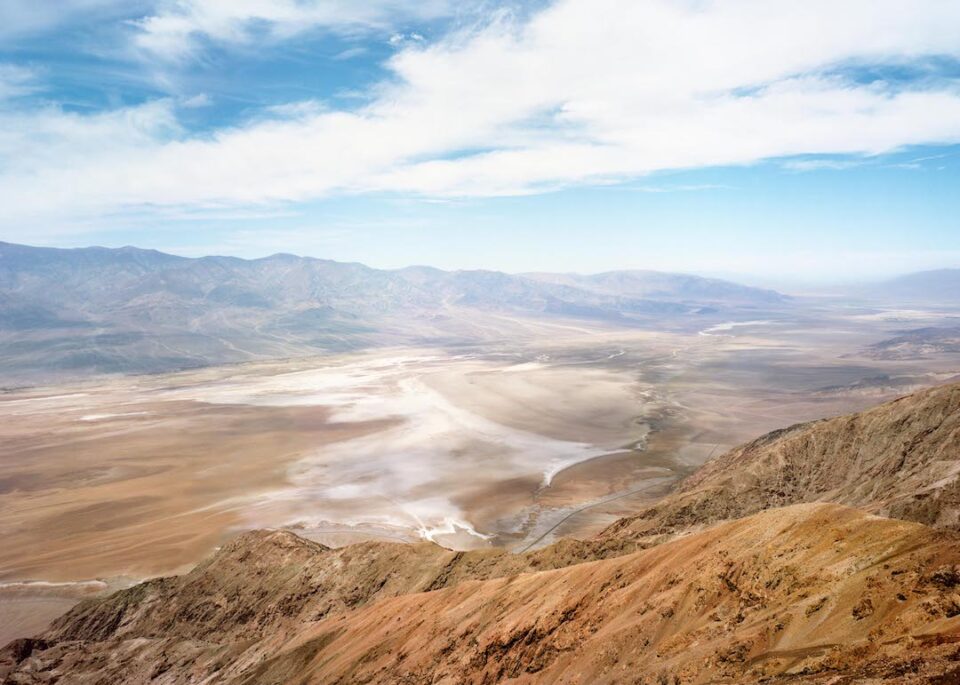 This is the concern of Victoria Sambunaris (b. 1964), whose photographs monitor human impact on the natural environment, illuminating water shortages and ecological crises. The artist has traversed the US for more than two decades to highlight subtle shifts in deserts, lakes and canyon walls. Sambunaris' latest exhibition at Yancey Richardson, New York, is fittingly titled High and Dry. The phrase derives from the idiom "to leave someone high and dry" ­– to abandon them to a difficult situation without help – and here, it is the landscape that has been surrendered to weather the consequences of humanity.
The project began in 2020, when Sambunaris camped at Lake Mead on the Arizona-Nevada border, a reservoir formed by the Hoover Dam on the Colorado River. The water level "had reached a new record low and was down to 27 per cent of its capacity," the artist states. "Its depletion was revealing scattered trash, sunken boats, human bodies and a ghost town that had been submerged since the 1930s." Three cross-country trips in 2020 and 2021 resulted in large-scale photographs that evidence this intersection of natural and industrial, revealing the extent of resource depletion and environmental collapse.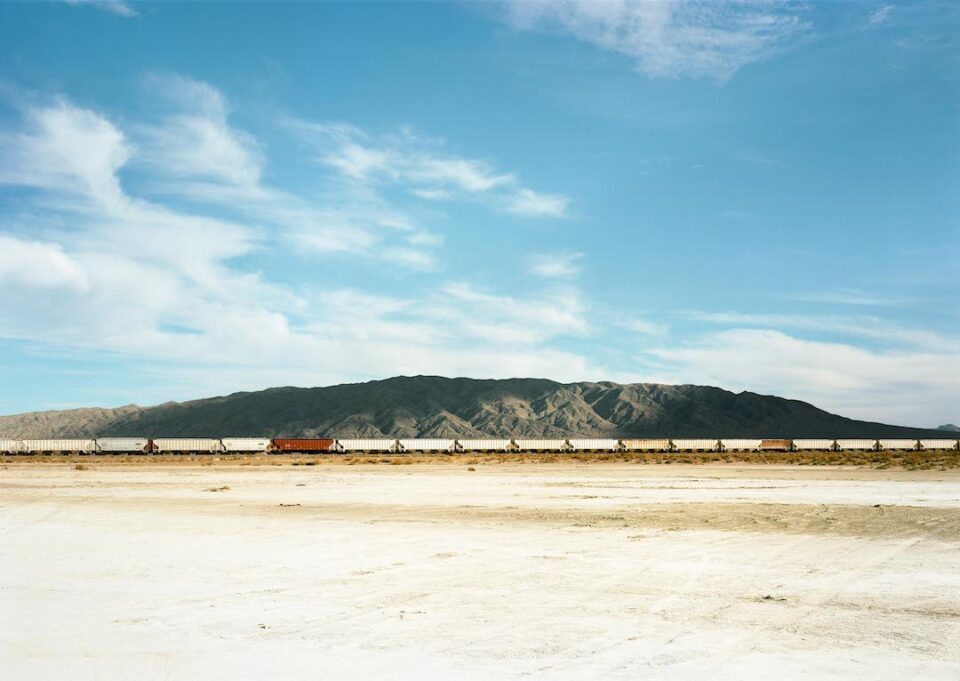 Yet rather than abandoned wilderness or wasteland, Sambunaris discovered deserts alive with human activity: dune buggies and motorcycles, campers and miners, military test sites and art installations. The scenes unfold under baking sunshine and piercing blue skies. A lone rider races across the baked Californian desert, a dust cloud trailing into the horizon. Sand dunes become a motocross track. A freight train intersects the mountain view with beige and red carriages. "There's something about spending time observing what we've done to the landscape that triggers wonder," the artist says in an interview with Emily Wall for Lenscratch. "And that's the key component of what I do: curiosity."
These images, captured on a large format, five-by-seven wooden field camera, are reminiscent of those taken by 19th century photographic pioneers. There's the same sense of awe-inspiring beauty: rugged cliffs and vast open plains recall William Henry Jackson's (1843-1942) topographic wildernesses, whilst the soft brown and pallid skies call up the sepia hued geographies of Timothy H. O'Sullivan (1840-1882). By drawing attention to the historic legacy of American landscape photography – deeply rooted in vast, sublime and "unblemished" natural vistas – High and Dry asks viewers to consider the long-term impact of, and complex issues surrounding, contemporary land-use and management across the country.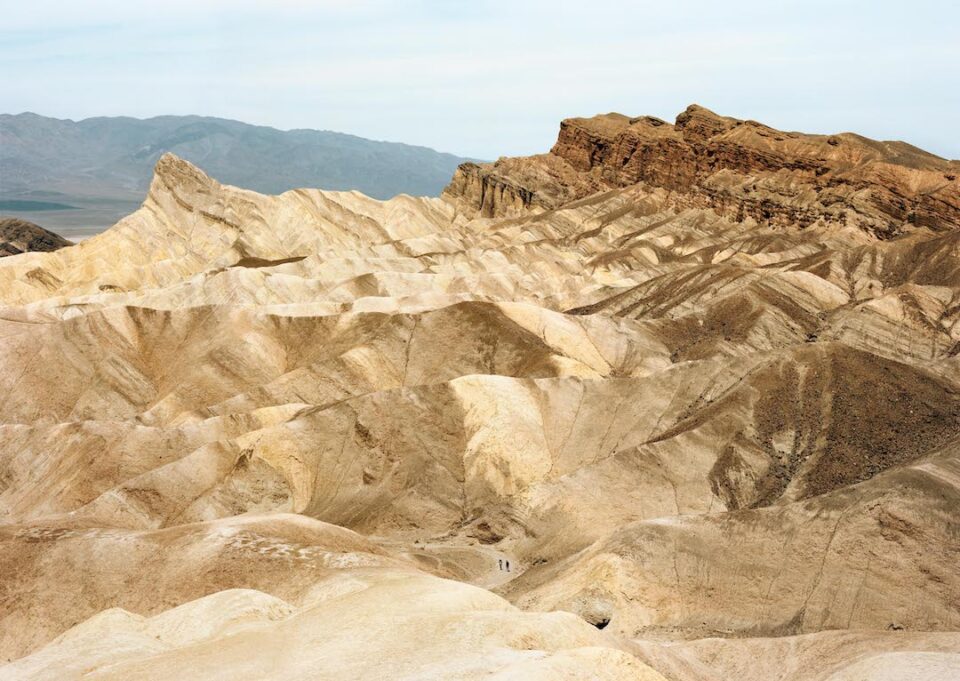 ---
Yancey Richardson | 5 January – 18 February 2023
Words: Megan Jones
---
Credits:
1. Victoria Sambunaris, Untitled, (Dune buggy) All American Canal, California, 2021
2. Victoria Sambunaris, Untitled, (Badwater Basin from Dante's View), Death Valley National Park, California, 2021
3. Victoria Sambunaris, Untitled, (red car) Searles Valley, CA 2020
4. Victoria Sambunaris, Untitled, (Zabriskie Point), Death Valley National Park, California, 2021