In Julie Blackmon's (b. 1966) image, The Power of Now (2008), seven holidaymakers relax by a pool. A woman enjoys the sunshine; her reclined pose is the picture of ease. The aerial shot shows legs emerging from beyond the frame and beneath a parasol, guiding us to the centre of the composition – where a baby lies inches away from the water. We see another child reaching into the depths. No one seems to notice.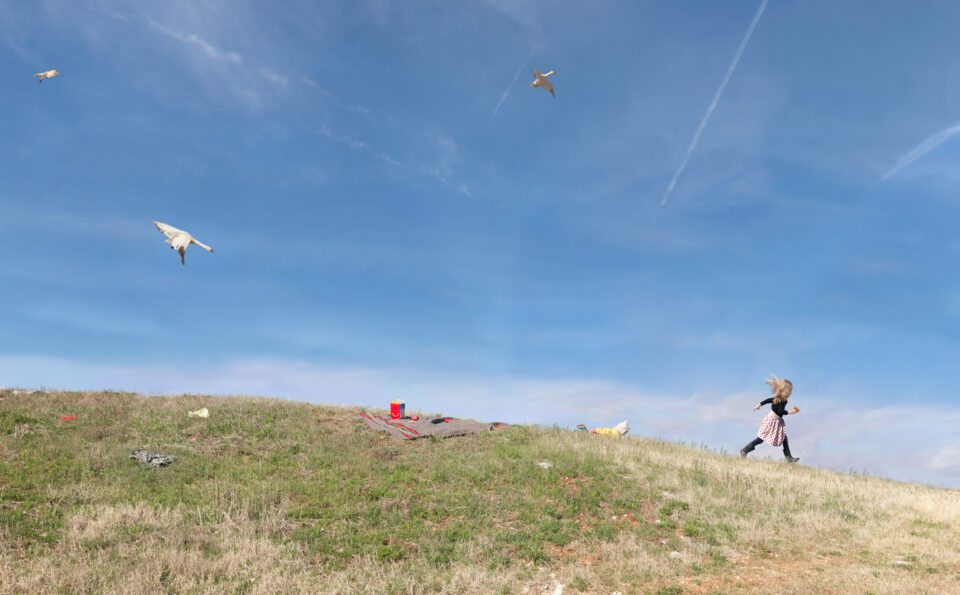 Blackmon approaches photography like a director, in a similar tradition to contemporaries Julia Fullerton-Batten or Gregory Crewdson. She meticulously arranges scenes that reflect on modern family dynamics, feminism and other key socio-political issues. Kemper Musuem's retrospective invites audiences to look twice at her body of work, which only seems idyllic on the surface. Blackmon reflects on the poolside shot, saying: "living in the moment" had just become the new buzz phrase. The mom in this picture is in such a state of bliss after reading Eckhart Tolle's The Power of Now (1997) that her baby is about to fall in."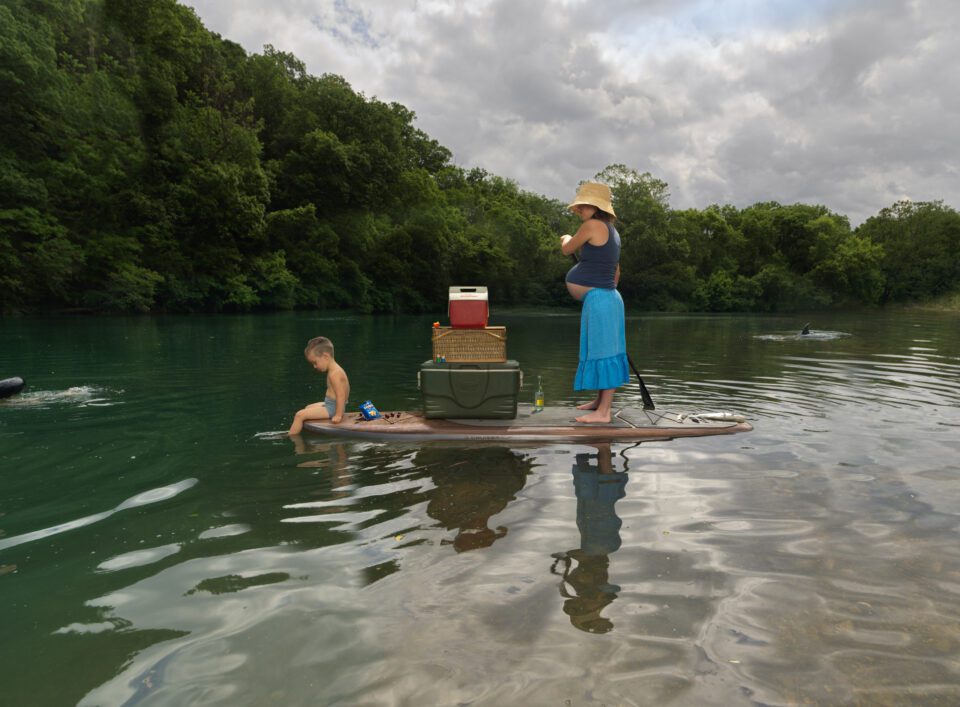 For Blackmon, bodies of water are often a setting where the boundaries between carefree joy and imminent danger are blurred. In Night Swim (2021), for example, feet poke out from a lake, whilst a figure floats face-down in Pool (2015). Blackmon's work speaks to domestic life and the pressures society places on women and families. This key theme of her photography is inspired by her own memories as the eldest of nine siblings as well as her experiences as a mother. Research into parental burnout is growing. The Guardian reports 60% do not routinely do anything to relax. This is a reminder to look out for one another.
---
Kemper Museum, Julie Blackmon: A Life in Frame | Until 7 January
Words: Diana Bestwish Tetteh
---
Image Credits:
Julie Blackmon (American, born 1966), The Power of Now, (2008). Courtesy of Haw Contemporary. Art and photo © Julie Blackmon.
Julie Blackmon (American, born 1966), Outing (2019), archival pigment print, edition 1 of 5, 44 x 70 ⅘ inches. Teresa Hanna and Todd Michaelis, Lawrence, Kansas. Art and photo © Julie Blackmon.
Julie Blackmon (American, born 1966), Paddleboard (2022), archival pigment print, 59 x 78 ⅗ inches. Collection of Rod Parks. Art and photo © Julie Blackmon.