This year marks the 54th edition of the renowned Les Rencontres de la Photographie festival in Arles. Established in 1970 to showcase photography as an art form, the event has boomed into an unmissable date that features on many "must-see" art calendars. Last summer saw over 18,000 attendees, with 40% coming from abroad. Unified by the theme of home, this year's exhibitions reflect on personal relationships with places and popular music, as well as issues surrounding government policy and patriarchy.
One such example is Gregory Crewdson (b. 1962), who has been developing a portrait of middle America for over three decades. His photographs portray cinematographically staged scenes embedded with autobiographical poignance. The exhibition at Arles 2023, titled Eveningside – 2012-2022, presents three bodies of work collected from over the years. Fireflies (1996) introduces the trilogy, after being kept from public view for nearly a decade. It's a surprising series, with an aesthetic that contrasts with the intricate sets and postproduction that have become synonymous with Crewdson's work. Two of the other collections on show, Cathedral of the Pines (2013-14) and An Eclipse of Moths (2020), might be more familiar. They're set within locations that are meaningful to Crewdson, his partner Juliane Hiam and their children. The last series is Eveningside (2021-2022), a political collection which makes its debut in France.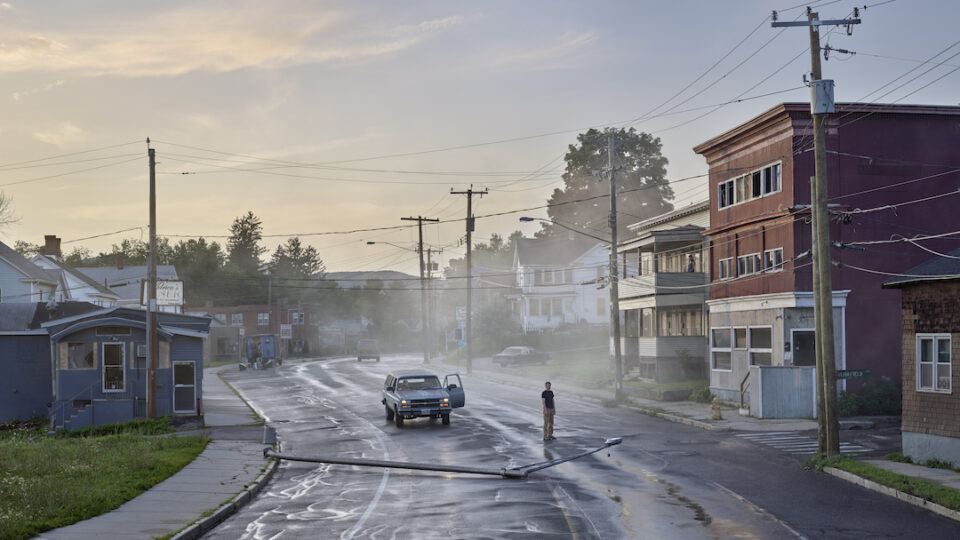 Shown here is Starkfield Lane, part of An Eclipse of Moths, a wide shot of a fallen lamppost as it blocks a car in the road. Set in a pale world of greys, reds, blues and greens, a solitary figure stands before the obstacle, leaving the passenger door hanging open. Discussing this piece with actor Cate Blanchett, Crewdson says: "I'm really hoping these pictures feel somewhat outside of time, and yet, almost paradoxically, relevant to the moment we're in. If you notice, there are no signs of contemporary life in the pictures. I want everything to feel both nondescript and slightly worn, slightly broken." (Gagosian, 2020).
Crewdson is not alone when it comes to engaging with political themes through staged imagery. Søsterskap: Contemporary Nordic Photography is a group show about the welfare state as seen through an intersectional feminist lens. It spotlights several generations of practitioners based across Denmark, Finland, Iceland, Norway and Sweden, drawing on the phrase "the welfare state is a woman's best friend." Often referred to as 'the Nordic model', this system is characterised by a public sector that provides all citizens with social security and welfare services, including daycare and education, and has brought significant improvement to living and working conditions. From documentarians to conceptual artists, Nordic creatives harness the lens to reflect on its impact. Hallgerður Hallgrímsdóttir's Haircut (2021-2023) and Emma Sarpaniemi's Self-portrait as Cindy (2022) are examples from Arles 2023, engaging with gender roles, family life and labour.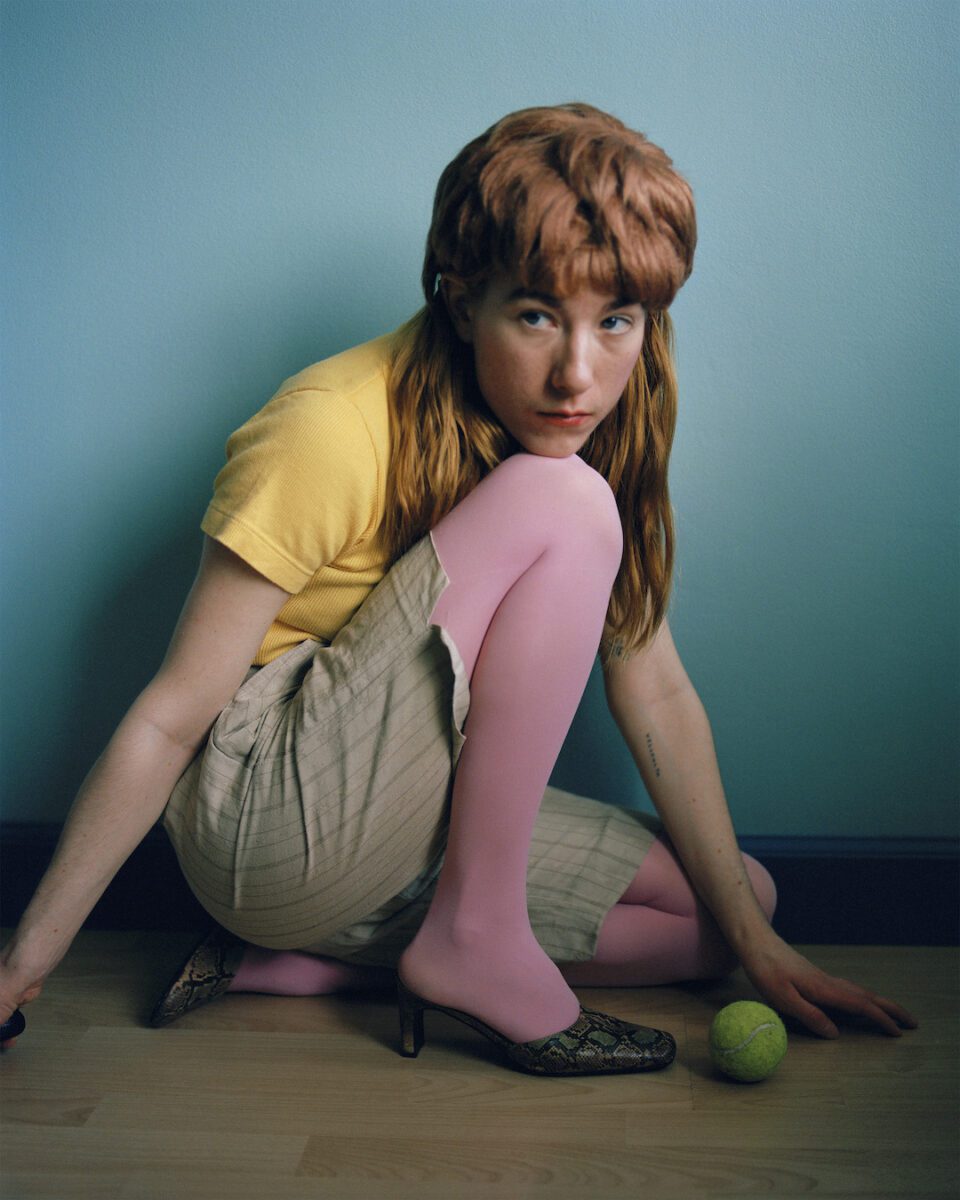 Elsewhere, Hannah Darabi's (b. 1981) Soleil of Persian Square (2022) examines experiences of the Iranian diaspora in Los Angeles. The series transports viewers to the fictional city of Tehrangeles, which is derived from Tehran, the artist's birthplace, and Los Angeles, a city she discovered through music growing up. Punctuated by nostalgic objects from popular culture such as cassette tape cases, song lyrics and screenshots from 1980s and 1990s music videos, Darabi's multidisciplinary project documents individuals as they navigate LA and Orange County. "Soleil of Persian Square is not only a journey from real to imaginary space," the artist notes. "It also looks at a way of life, a mindset, personified by popular culture." Here, mass-media is positioned in opposition to the moral values of the current Iranian regime.
Like many people, Riti Sengupta (b. 1993) returned to live with her parents during the pandemic. After eight years away from them, Sengupta was suddenly confronted with glaring aspects of patriarchy that punctuated their everyday. Set within her family home, Things I Can't Say Out Loud (2023) presents a dialogue between mother and daughter. It's the result of a series of "kitchen conversations", which the artist held as opportunities to listen to stories from women in her family. Sengupta noticed how these accounts differed from the domestic scenes she'd encountered in photo albums. There was a notable gap between the lives of these women before marriage and motherhood, and how they live now.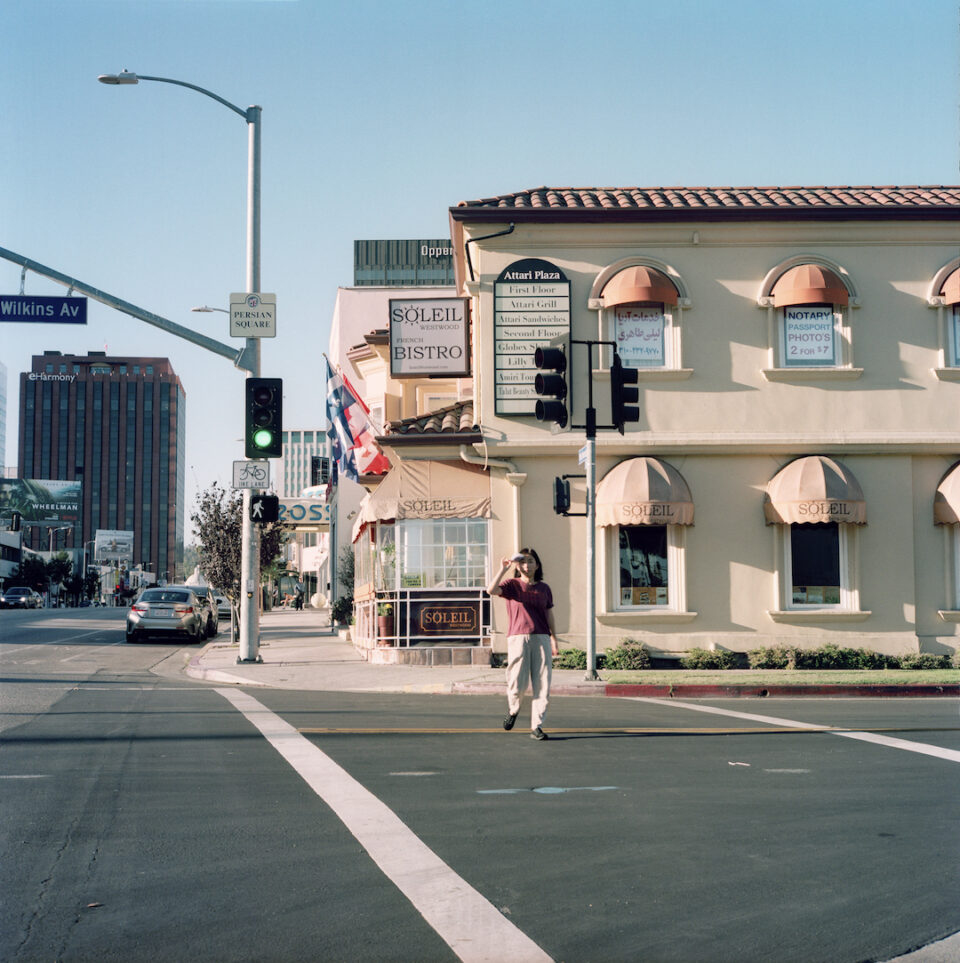 Sengupta's photograph Inheritance (2023) is shown at the top of the page. It shows two women, mother facing the camera holding a bowl of eggs and daughter holding just one, her body facing away and head resting on the older woman's shoulder. Here, an intergenerational conversation has evolved into an artistic partnership. Collaboration is key to many of the projects on display. Attendees will be introduced to communities – large and small – from across the world, and encouraged to understand new perspectives through photography. As curator Tanvi Mishra says, by "acknowledging our own subjectivities as spectators, these artists ask us to labour with them in reconfiguring how we see the world."
---
Arles 2023: Les Rencontres de la Photographie | 3 July – 24 September
Words: Diana Bestwish Tetteh
---
Image Credits:
1. Riti Sengupta. Inheritance. Courtesy of the artist.
2. Gregory Crewdson. Starkfield Lane, An Eclipse of Moths series, digital pigment print, 2018-2019. Courtesy of the artist.
4. Emma Sarpaniemi. Self-portrait as Cindy, 2022, Two Ways to Carry a Cauliflower series. Courtesy of the artist.
5. Unknown. Courtesy of Jean-Marie Donat Collection.
6. Hannah Darabi. Untitled, digital inkjet printing, Soleil of Persian Square series, 2022. Courtesy of the artist.