Over the past year, protests have grabbed our attention worldwide. People have stood against institutionalised racism, marched for women's safety and continued to strike for the climate. In the UK, the controversial Police, Crime, Sentencing and Courts Bill has brought public demonstrations into sharper focus. Across newspapers, television screens and social feeds, we are reminded frequently of the power of protest images to propel action and inspire change. But how are these events documented? Who is clicking the shutter? Can they change the world for the better?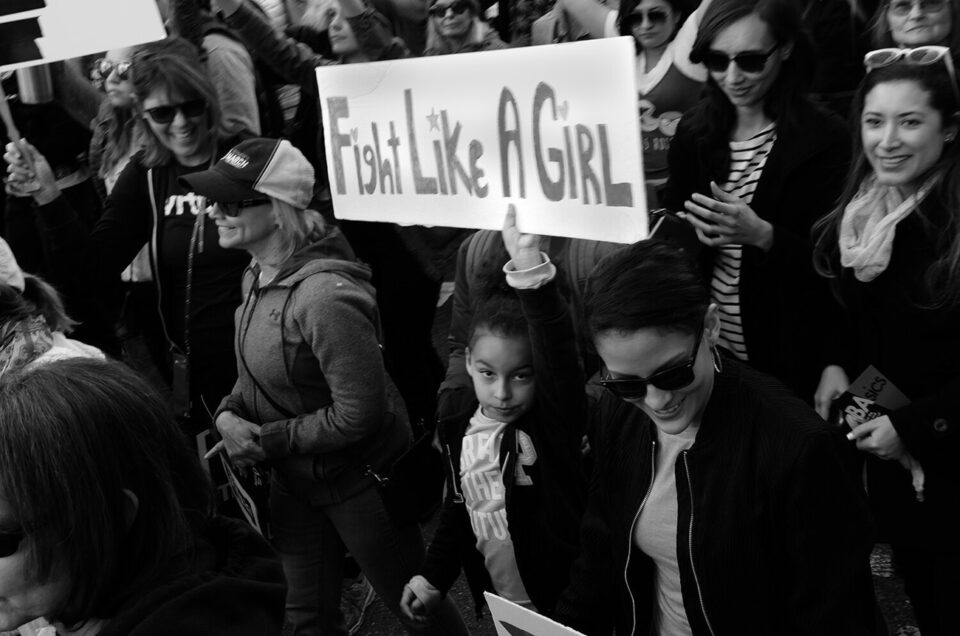 During demonstrations, photographers often take to the streets to record fast-moving events. At other times, they bear witness to daily injustices, helping to make them more widely known. Getty Center's In Focus: Protest compiles such pictures, all made during periods of social struggle in the USA. Amongst the selection, which delves into pivotal events from previous decades, are era-defining snapshots, such as Bruce Davidson's March from Selma, Alabama (1965). Bear- ing an urgent reminder to vote, 18-year-old protester Bobby Simmons marches alongside other Civil Rights advocates from Selma to Montgomery. Also featured is work by Adger Cowans (b. 1936), whose bird's eye view captures Malcolm X speaking at a 1963 rally in Harlem. It highlights the sheer number of individuals present – completely filling the frame.
Many of the featured pieces combine text and image – communicating messages through placards, banners and graffiti. Examples include John Simmons's (b. 1950) Fight Like a Girl (2020), or Anthony Friedkin's (b. 1949) piece from 1993, which presents which presents the outline of a human figure spray-painted on a wall, accompanied by the words: "These are the thoughts that set fire to your city." It's an effective technique that resonates throughout history. In 1970, Robert Flora (1929-1986) preserved the moment as a Women's Liberation marcher was "temporarily overwhelmed" by an opposing group of protestors in Los Angeles. Their handwritten signs collide, jostling to occupy space in front of the camera.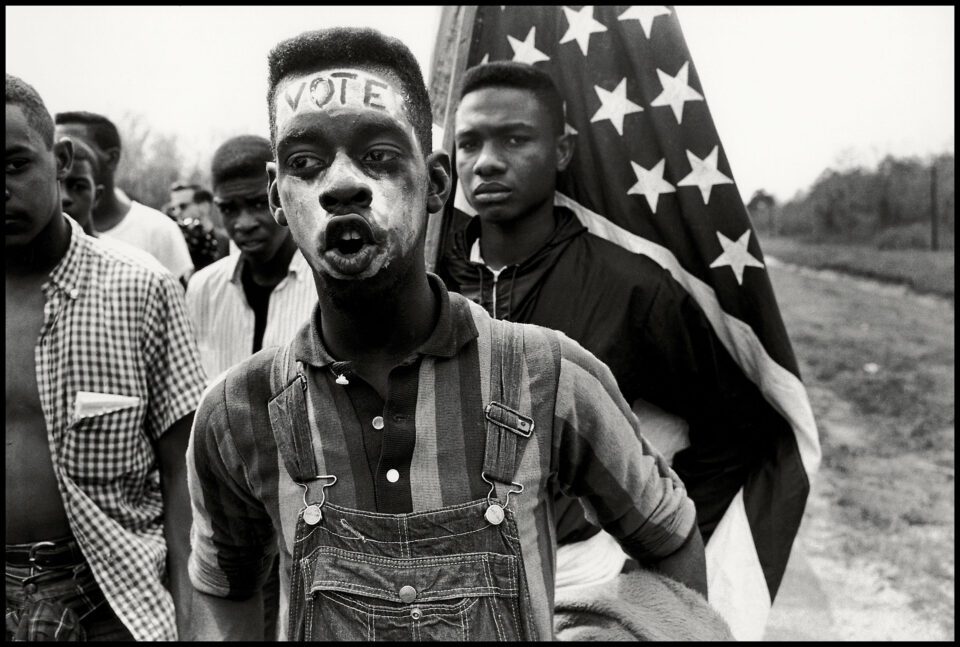 What's clear is that these are more than just negatives: they are reminders of the past and lessons for tomorrow. Pictures of this kind emphasise the power of shared voices in creating social change. They also spark questions surrounding the future of documentary. In the age of social media and viral footage, how do we safeguard those in the frame?
"In Focus: Protest reminds us of the ability that photographs have to both document and propel action," says Mazie Harris, Assistant Curator of Photographs. "We aim to give audiences a place to think about some of the ways that photographers have brought attention to efforts to address and rectify injustice." Amongst the other works on view are images by well-known artists including Dorothea Lange, Robert Mapplethorpe, William James Warren and An-My Lê.
---
In Focus: Protest is at Getty Center, Los Angeles Until 10 October. Find out more here.
Words: Eleanor Sutherland
---
Image Credits:
1. Malcolm X Speaks at a Rally in Harlem at 115th St. & Lennox Ave., New York, September 7, 1963 Adger Cowans (American, born 1936) Gelatin silver print 16.2 × 23.5 cm (6 3/8 × 9 1/4 in.) The J. Paul Getty Museum, Los Angeles © Adger Cowans 2021.12.2
2. Fight Like a Girl, Los Angeles, negative 2019; print 2020 John Simmons (American, born 1950) Pigment print 24.1 × 38.1 cm (9 1/2 × 15 in.) The J. Paul Getty Museum, Los Angeles © John Simmons L.2020.33.2
3. March from Selma, Alabama, negative 1965; printed later Bruce Davidson (American, born 1933) Gelatin silver print 21.7 × 32.8 cm (8 9/16 × 12 15/16 in.) The J. Paul Getty Museum, Los Angeles © Bruce Davidson/Magnum Photos 2018.40.9