Aesthetica selects five artists from Vienna Contemporary's online catalogue. From black-and-white photography to abstraction and ground-breaking installation, the 2020 programme highlights established and emerging artists from across the globe. The physical edition takes place 24–27 September at Marx Halle, with works available to view digitally.
Vienna's OstLicht, Galerie für Fotografie, presents a variety of images by Japanese photographer Araki (b. 1940), including the above photograph from Sentimental Journey (1971). The series captured quiet, intimate scenes of Araki's wife, Yoko, on their honeymoon. "It's thanks to Yoko that I became a photographer," he explained. From their meeting in 1968 until her death in 1990, she was his most important subject. OstLicht also presents bold still lifes of flowers in bloom.
---
Sculptor Hans Kupelwieser (b. 1948) is recognised for creating "inflatable" aluminium forms – balloon-like metal structures that reflect the world around them, much like Andy Warhol's Silver Clouds. Vienna's Smolka Contemporary presents the above (left) work, comprising stacked translucent cubes. The abstracted form plays with ideas of geometry, perception and balance; a game of "Jenga" that seems to defy gravity.
A white iPhone balances on a mustard yellow table, bathing in the light of a golden hour afternoon. This is a contemporary still life by Rosa Rendl (b. 1983), presented by Georg Kargl Fine Arts. The minimal image frames the phone at the centre of the composition, asking subtle questions about isolation and connection in today's world. These are timely themes that resonate deeply in 2020. Rendl invites the viewer to reach out and pick up the device: to make a call, take a photograph or send a text.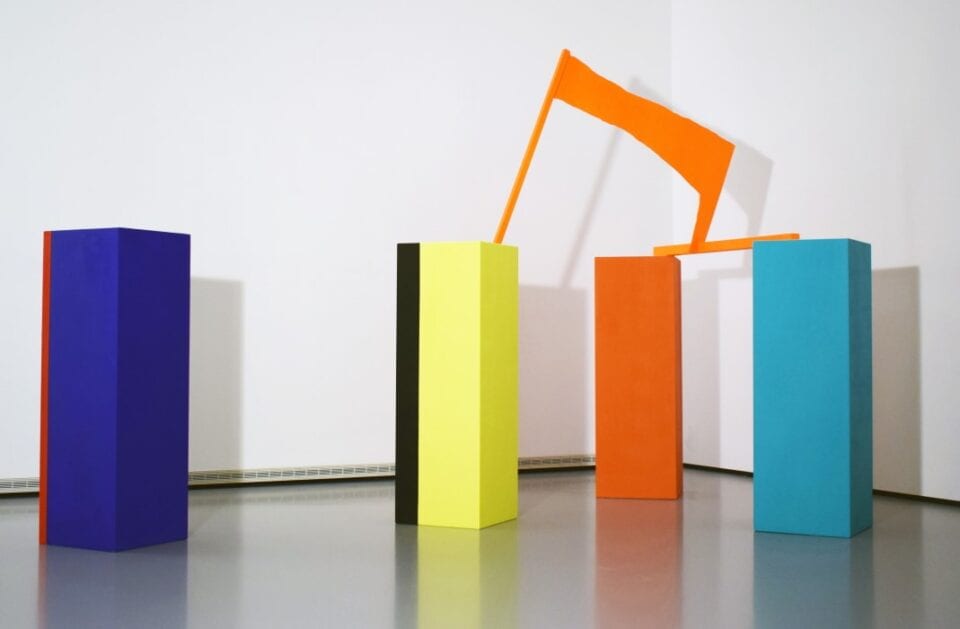 In the mid-1950s, Erich Reusch (1925 – 2019) was one of the first artists to start exploring the idea of space as a medium. His colourful and multi-layered installations repeatedly turned the gallery into "a theatre of experience" – creating new perspectives depending on the angle of vision. This piece, highlighted by Kajetan Berlin, comprises four bright monoliths in blue, orange, black, red and yellow. Visitors are encouraged to walk around the pieces, to take it in from multiple perspectives.
---
Anita Witek's (b. 1970) practice is grounded in the tension between reality and fiction; the original and its reproduction. Central to Witek's practice is photomontage — drawing on historical magazines, contemporary books and posters. Slicing and dissecting these images, Witek forms new abstract compositions. What remains is "visual noise" — mimicking the onslaught of media images we have become to today. The artist's black and white works are presented by L'étrangère, London.
---
See the full programme here.
---
Lead image:
1. Untitled, from the series "Sentimental Journey", 1971 Photography Courtesy of OstLicht. Galerie für Fotografie , Nobuyoshi Araki
2. Ohne Titel, 2020 Sculpture, Courtesy of Smolka Contemporary, Hans Kupelwieser.
3. Rosa Rendl, Maybe, 2014. Photography, Courtesy of Rosa Rendl and Georg Kargl Fine Arts, Vienna, Rosa Rendl.
4. Erich Reusch, Ohne Titel | Untitled, 1965 | Variante 2019 Sculpture , 222 x 410 x 170 cm Courtesy of Courtesy Stiftung Situation Kunst, Bochum , Courtesy Erich Reusch & Stiftung Situation Kunst, Bochum
5. Collision Neutronal, 2020 Photography, 38 cm ,Courtesy of l'étrangère, Anita Witek
6. Object Inconstancy, 2020 Photography, 38 cm, Courtesy of l'étrangère, Anita Witek