"Who controls the past controls the future: who controls the present controls the past," wrote George Orwell in Nineteen Eighty-Four, the iconic dystopian novel first published in 1949. The statement remains chillingly relevant today, and it raises the question: who controls history?
Award-winning artist Larry Achiampong (b. 1984) explores these ideas in his work, with projects such as Relic Traveller considering the rise of nationalism, capitalism and globalisation. Now, at the Aesthetica Future Now Symposium 2022, Achiampong will discuss pop culture and postcolonialism, whilst questioning who, or what, shapes history. We caught up with the artist ahead of his talk on 5 May.
---
A: How would you describe your role?
LA: As an artist I do a range of things, I don't just make artwork or work on commissions and exhibit, but I plan projects, build relationships and collaborations through continued conversations. Teaching is important to what I do – I taught at the RCA on the Photography MA for 5 years (2016-2021) for example. Informal mentoring is an imperative. A lot of people who are younger or are in the earlier stages of their career come to me for advice and I do what I can to advise them the way that I had or wish I had been. More increasingly, as my trajectory has soared, I have been invited to different conversations in which I am also assisting in influencing policy shifts on projects.
A: The best part about what you do?
LA: I enjoy the freedom of being able to speak in my own language, my own way and on my own terms. Being able to learn and grow not simply as an artist, but as a person is something that I value very much. Travelling in relation to the work I do also has an incredible impact on my life as well. Inspiring others means a great deal to me.
A: Your most significant project to date?
LA: The Relic Traveller project is one that people might say is most significant, but to me each and every project is important in its own way. There is no Relic Traveller without Sunday's Best, for example. Even if one aspect of my practice or project seems more popular or 'significant' than another in the view of the public or critics, they are all just as important to me, because they represent a journey of process – pieces to a larger, complex, puzzle. One does not exist without the other, so, in my opinion, signalling one thing in place of others creates an imbalanced way of appreciating their uniqueness.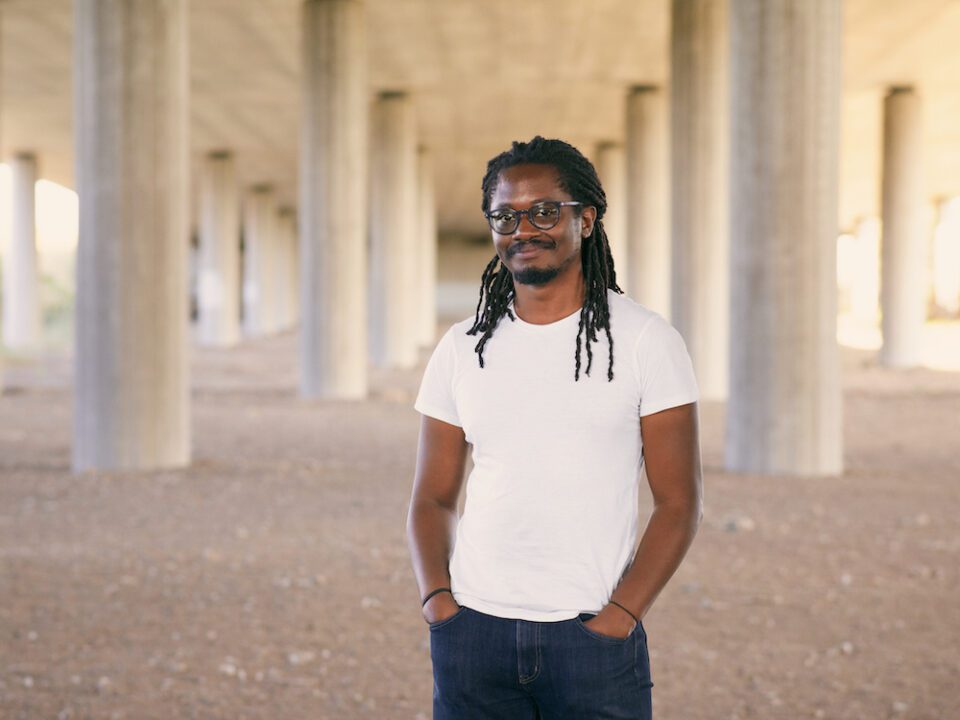 A: One piece of career advice you wish you knew five years ago?
LA: I think career advice 10 or 15 years ago would be much more useful than five years ago! So if I were to think on those terms I would tell the (much) younger Larry this: "There are people in seemingly important positions who will tell you that they think your work is worthless. You don't do what you do (or any of your work) for them. Remember your people. Trust your process."
A: What is the best exhibition you've attended in the last year?
LA: I couldn't tell you – there were still lockdowns over the last year and I have family who are immunocompromised, so I still keep a limit on exhibition visiting. I have been to the cinema a lot, however. I can go back even further than last year: in 2020, I saw The Destructors at Chisenhale Gallery by Imran Perretta. It was one of the best shows I've seen take place in that space. It's not an easy space to install in, but that installation commanded it. Beautiful, fragile, haunting.
A: If you could host a panel with three artists, who would they be?
LA: Ama Ata Aidoo, Little Simz, Shigeru Miyamoto.
A: What would you discuss with your chosen panel?
LA: The influence of one's background in relation to their creativity. We would have a meal and I would share some of their works with one another (maybe in the lead up to the dinner!)
A: What are you most looking forward to exploring in your session at Future Now?
LA: I'm really looking forward to talking with Nephertiti Oboshie Schandorf (Artistic Director of Peckham Platform, Producer of most of my films to date and frequent collaborator). We spend a lot of time messaging one another day-to-day and this has always been special in how projects like Relic Traveller and The Expulsion came into fruition. To be able to share this with an audience will be a special thing.
A: What other sessions are you looking forward to at Future Now?
LA: Sutapa Biswas – She always brings gems of wisdom to the table!
---
This year's Future Now Symposium takes place 5-6 May in York, UK and online via Live Stream.
Running alongside the talks programme are further opportunities: portfolio review sessions, refreshments, film screenings and drinks receptions. Click here to book your tickets.
---
Image Credits:
1. Wayfinder (2022), 4K Feature Length Film WIth Stereo Sound. Commissioned By Turner Contemporary With MK Gallery & BALTIC Centre for Contemporary Art. Supported through National Lottery Project Grants through Arts Council England. Courtesy of The Artist & Copperfield London.
2. Larry Achiampong, photograph by Emile Holba.