A new exhibition at Newcastle's Side Gallery, organised by Amber Film and Photography Collective, documents raw and tender moments from 40 years' worth of British youth. Bringing together the work of nine established photographers with new compositions by student artists created during the pandemic, Youth Rising in the UK 1981-2021 offers a window on scenes of romance, empathy, protest and pain.
Amber Film and Photography Collective was established in 1968 with the very specific remit of recording working-class life in North-East England. The tradition of geographically embedded, realist documentary reportage it represents is evident in the depth and scope of work on display. This includes rarely seen photographs by Chris Killip (1946-2020), who in 1977 co-founded the Side Gallery as a space for members of the Amber collective to show their own and others' work. Killip is best known for his searing photo-documentary series In Flagrante (1988), recently republished in an expanded edition, which documents in black and white the brutalising effects of deindustrialisation, state neglect and urban poverty on working communities, particularly teenagers and young people, in Newcastle and Tyneside.
---
This regional emphasis is extended across the show through the inclusion of artists with a strong sense of place-based attachment in their work. Maryam Wahid (b. 1995) often works with family photographs representing the experiences of her Pakistani immigrant community in Birmingham. In her 2018 series Archives Locating Home, she placed images from her relatives' albums against a beige, 1950s-style wallpaper, playing with the thematic and formal thresholds of the medium – by presenting photographs of photographs – whilst suggesting a tapestry of interwoven generational stories.
Both Killip and Wahid have explored the impact of personal and social issues such as migration, marriage and unemployment on the emotional development of young people—as in Wahid's My Mother and Me (2018), a series of images of the artist in her mother's clothes, which traces back the formation of identity to the cultural influences inherited from an earlier family story. Elsewhere in Youth Rising, artists such as Tom Sussex, Alys Tomlinson (b. 1975) and Sirkka-Liisa Konttinen (b. 1948), extend this emphasis on childhood and adolescence as a point of visible and moving emotional intensity.
Sussex's Solidarity series, for example, including pieces such as USA EMBASSY (2020), captures the anti-racism protests that took place across the UK during 2020 following the murder of George Floyd in the USA. These images combine the intimacy of portrait shots with the weight of contemporary historical narrative, showing what it meant for young people to engage in a protest movement of global and epochal significance. Finnish-born Konttinen, a co-founder of the Amber Collective, has spent much of her working life in and around Newcastle, recording moments of human connection set against the backdrop of broader social and economic trends. Her 1991 series The Writing in the Sand, sections of which are included in this show, featured shots of young working-class seaside-goers along England's north-east coast.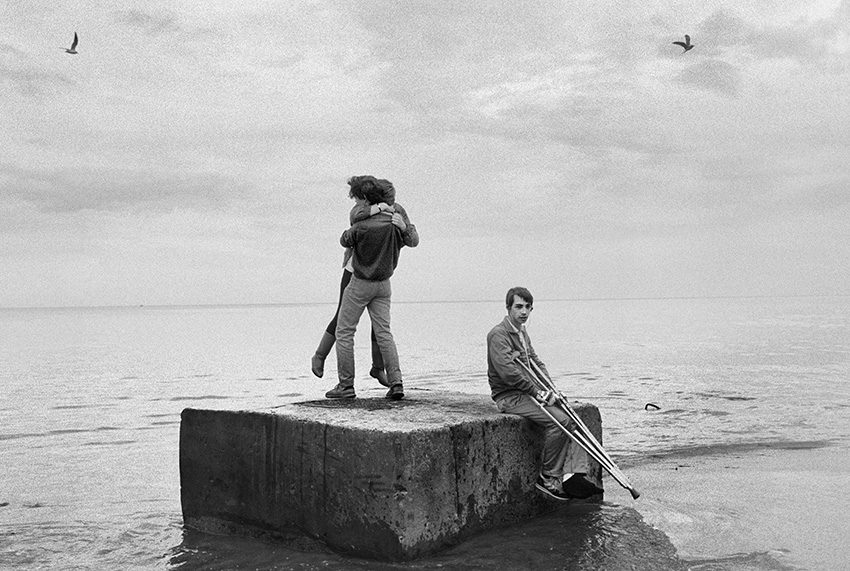 Tomlinson, whose work has previously ranged over subjects from Broadway nightlife in New York to Christian Pilgrimage trails in Europe, turned a lens on Britain's teenage prom-goers for last year's Lost Summer. Instead of being photographed against the gaudy background of party venues and function rooms, these teenagers are shown in their back gardens, or in green spaces close to the artist's London home. Imbued with the poignancy of thwarted romance and adventure, this series cleverly offsets the glamorous appearance of its subjects with scenes alluding to their only recently departed childhood, placing us at the cusp of two phases of human life at a moment of unforgettable cultural strangeness.
The exhibition is rounded off with works by Sadie Catt, Christopher Nunn, Paul Alexander Knox and Vanessa Winship, whilst the ground floor gallery features contributions from 43 student photographers from UWE Bristol and Sunderland University, made during the Covid-19 pandemic. These works explore the complexities of the past year, as the students used their cameras to explore and share their experiences of lockdown. Exhibition curator Liz Hingley notes that this generation "must navigate the legacy of the Covid-19 pandemic, global campaigns for racial justice, and unparalleled ability to represent themselves in the online space." In this context, "photographs are a critical platform to be seen, heard and remembered."
---
Youth Rising in the UK 1981-2021 runs at Side Gallery until 3 October 2021. Find out more here.
Words: Greg Thomas
---
Image Credits:
1. US EMBASSY from the series 'Solidarity' (May 2020) © Tom Sussex
2. Precious from the series 'Lost Summer '(2020) © Alys Tomlinson/HackelBury Fine Art
3. Jack from the series'Lost Summer '2020) © Alys Tomlinson/HackelBury Fine Art
4. From the series 'Writing in the Sand' © Sirkka-Liisa Konttinen, courtesy AmberSide / L.
Parker Stephenson Photographs, NY.