"The figure that really caught my attention was Andrei Tarkovsky. The film that did it for me was Mirror (1975). It feels like [it's at] the border of cinema – when you start off trying to understand what the limits of something are." John Akomfrah's (b. 1957) new show Ballasts of Memory is an extension of these early inspirations. It pushes against the boundaries of visual representation, pointing towards the spaces between images to communicate deeper issues ingrained within society: colonialism, forced migration and the climate crisis.
Through three rooms of video installation, BALTIC's exhibition is complex and ambitious – a testimony to "why history matters," as Akomfrah notes. Moving seamlessly between archive footage, montage and meditative landscapes, it includes three captivating works. Psyche (2012) digs into a variety of filmic sources, presenting the emotions of anguish and grief through a selection of distorted and tormented faces. The Unfinished Conversation (2012) expands on the life of acclaimed cultural theorist and political activist Stuart Hall (1932-2014), who is best-known for his writings on state power.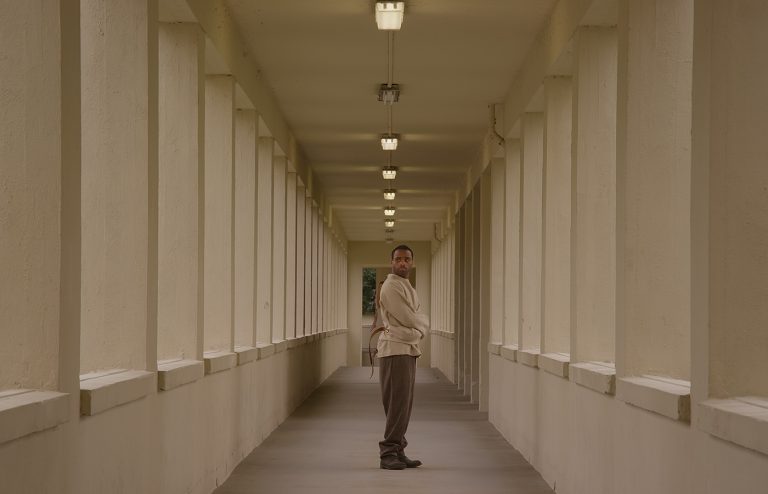 The European premiere of Precarity (2017), however, is the main event. It introduces the story of Charles "Buddy" Bolden, who was institutionalised in Louisiana, 1907, due to his struggle with schizophrenia. "King Bolden" was a seminal figure attributed to the origins of jazz music in New Orleans. The story of his "disappearance" from society is traced across three mesmerising channels. Double consciousness is a constant idea; the film is split into six chapters, each expressing a sense of duplicity and movement: Fluidity, Plasticity, Fugitivity, Enjambement, Waywardness and Immanence.
Audiences are riveted for 45 minutes of hypnotic cinema as the character of Bolden fades effortlessly between screens, slipping between worlds just like his shifting identities.
With small, almost undetectable changes in his behaviour, various iterations of his ghost demonstrate nuances in the human experience. In one frame, he says, unforgettably, "between me and the other world lies a problem: how does it feel to be a problem?" His narration is looped and echoed, with many of the phrases repeated. They resurface as motifs and memories in themselves. The result is a constant circling around consciousness, whilst mediating on the idea of living as a "precarious" activity – especially within the due to the violent forces of racism and displacement.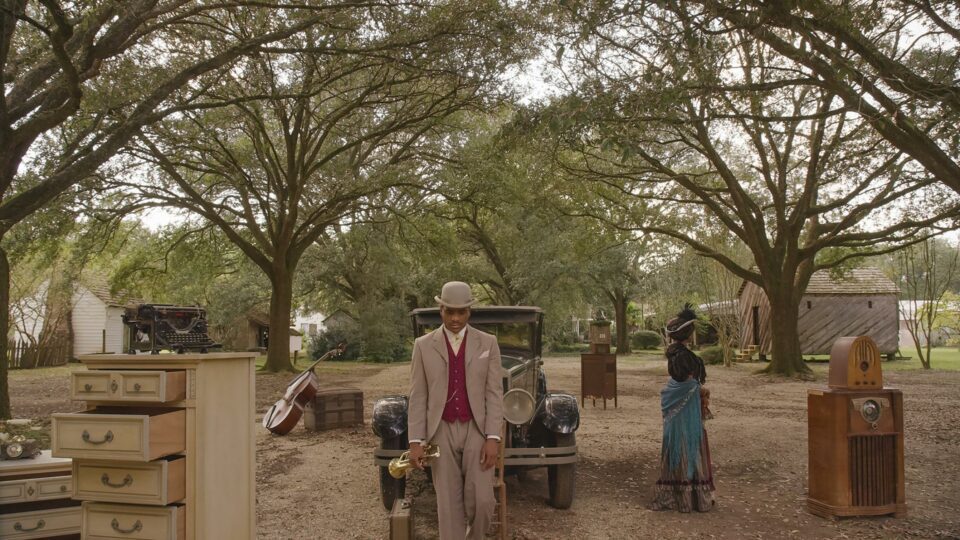 All of the protagonist's movements are slow and considered, maintaining a quiet stillness and sadness as he haunts jazz bars, ferries, stately homes, asylum corridors, and finally, agonisingly a graveyard. After spending over 25 years in Louisiana State Asylum, Bolden died in 1931, in his mid-50s.
Alongside the slow shots of sunrises, sunsets and lone iterations of Bolden, running water is another common concept. It is a multi-faceted subject, with family photographs, dolls, dresses and documents submerged beneath passing currents. These sequences point towards the 1927 Great Mississippi Flood, depicting the wreckage and ruin left behind. Shots of broken homes, empty warehouses, dripping pipes and droplets falling on clocks fade in and out. In one instance Bolden boards a ferry to – a journey from one point to the next. It connects his story to the landscape and its wider historical scars.
There are other memories and important signifiers to be found here, including the devastation left by Hurricane Katrina in 2005. Akomfrah also knowingly and effectively addresses the effects of the current climate crisis. Bolden is, at times, seen stepping into open roads with 21st century cars, gazing into fields with power plants spilling out grey smoke into the sky. This only adds to the success of this huge artistic feat. Precarity is layered with countless compounded meanings and connects the injustices of the past with our current "precarious" times.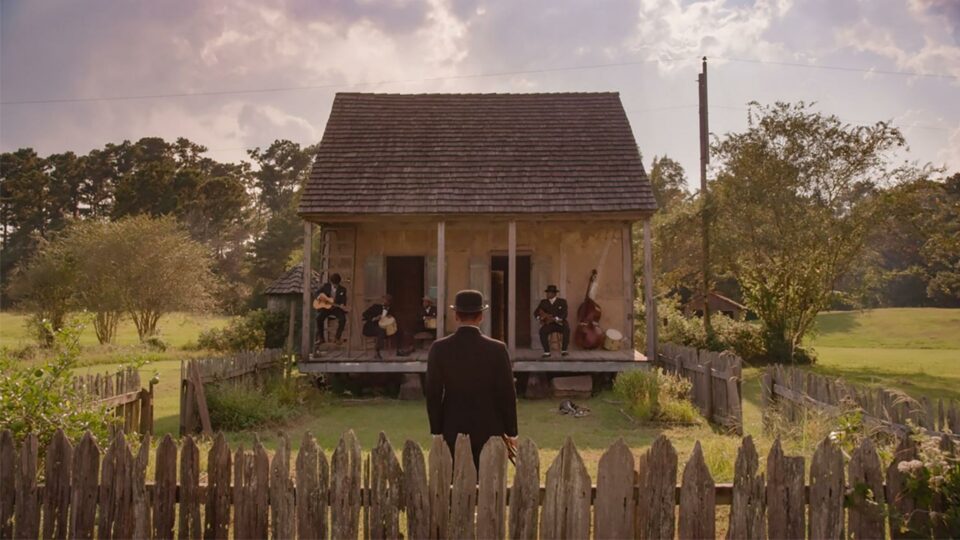 BALTIC presents a truly spellbinding experience in this work – a deeply moving portrayal of a life near-removed from public record, despite his revered artistic contributions. As Akomfrah notes: "The thing I've spoken a lot about is how much the archive is a bank which connects it to questions of mortality. Usually, you can't watch stuff without realising it's also watching people who've gone. That recognition is, on its own, not very much unless its married with a second recognition, which is that the image is one of the ways in which immortality is enshrined in our psyche and in our lives. Documentaries to that: you make a documentary because you want to both capture something that's going to die unless it's captured, but you're also trying to capture something because you want it to live."
Kate Simpson
John Akomfrah's Ballasts of Memory runs at BALTIC, Gateshead, until 27 October. For more information, click here.
Credits:
1. Stills from John Akomfrah's Precarity (2017). Three-channel HD video (color, sound), 46:03 minutes. Collection of the Nasher Museum of Art at Duke University. Gift of the artist and Smoking Dogs Films. Commissioned by the Nasher Museum of Art at Duke University with funds provided by the Nancy A. Nasher and David J. Haemisegger Family Fund for Acquisitions, the VIA Art Fund, and the New Orleans Jazz & Heritage Foundation; 2018.3.1. Still courtesy of Smoking Dogs Films, London, United Kingdom. © Smoking Dogs Films.