Katie Paterson's (b. 1981) new exhibition, Requiem, at Edinburgh's Ingleby Gallery, includes amongst its source materials the dust of ground-up microplastic from the world's deepest ocean. The Mariana Trench, in the Western Pacific, lies 12 kilometres beneath the sea surface, with the nearest islands mostly uninhabited. As Paleobiologist Jan Zalasiewicz writes in a broadsheet accompanying Paterson's show, we might assume this would be "one of the few pristine environments left in the world. In fact, this true abyss is a trap for our debris, and not a haven from it… like nearly all areas of the ocean floor now, it is being dusted with microplastic particles."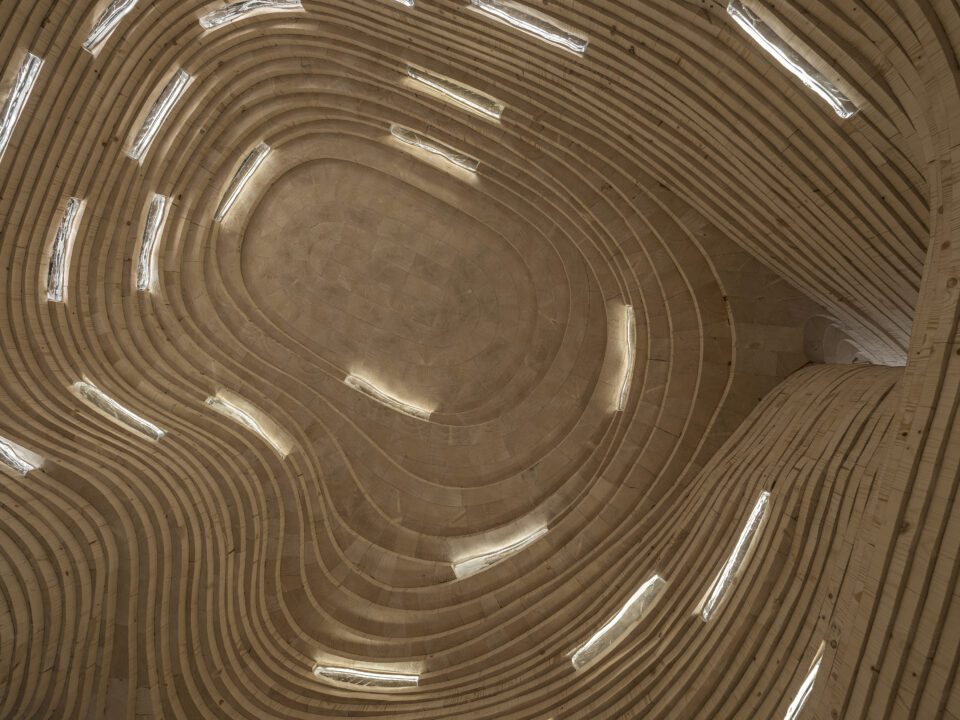 A vial of Mariana microplastic is amongst the 364 deposits that Paterson has sourced – working with a huge team of researchers and field-workers – for Requiem, coursing the geological history of our planet from the Pre-Solar era (over 4.6 billion years ago) to the Anthropocene. Over the course of the show each of the layers – stored in hand-blown glass cups on narrow ledges around the edge of the Ingleby's central gallery space, will be poured into a transparent funerary urn placed on a central plinth by visitors to the show. The work compromises a collective, performative ritual of mourning and remembrance, as well as a clarion call for human beings to change our patterns of consumption and exploitation before it's too late. An accompanying painting, Endling (2022), has taken samples of the fossilised remnants as the basis for watercolour paints, each colour used to fill one segment of a circular, clocklike composition. The earliest remains fill the "12-o'clock" segment, with the different hues tracing a path through every era of life and major extinction up to the present day.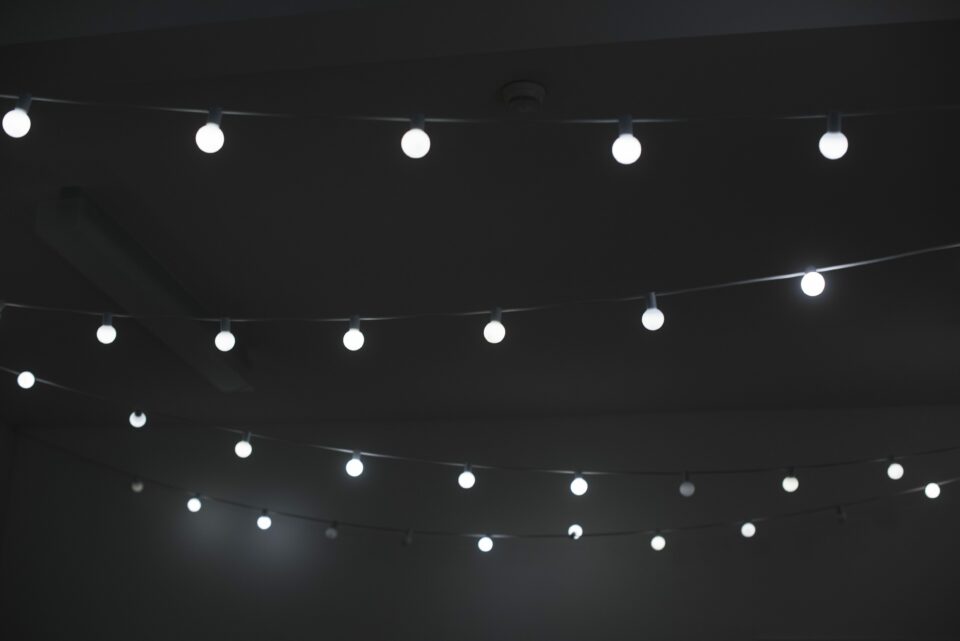 These are the latest dazzling conceits in an oeuvre which has consistently expressed subjects that seem beyond the scope of our understanding or emotional reach. Breakthrough early pieces included an automated piano playing a version of Beethoven's Moonlight Sonata beamed to the moon and back (Earth-Moon-Earth, 2007). Subsequently, the artist has created a map of all the dead stars in the sky (All the Dead Stars, 2009); a scented candle whose aromas correspond to a journey through the solar system (Candle [From Earth into a Black Hole] 2015); a record player that turns at the speed of the planet (As the World Turns, 2010); and more. For the 88-part series including Ara (2016), strings of festoon lights were arranged to match the luminosity and positioning of stars in different constellations.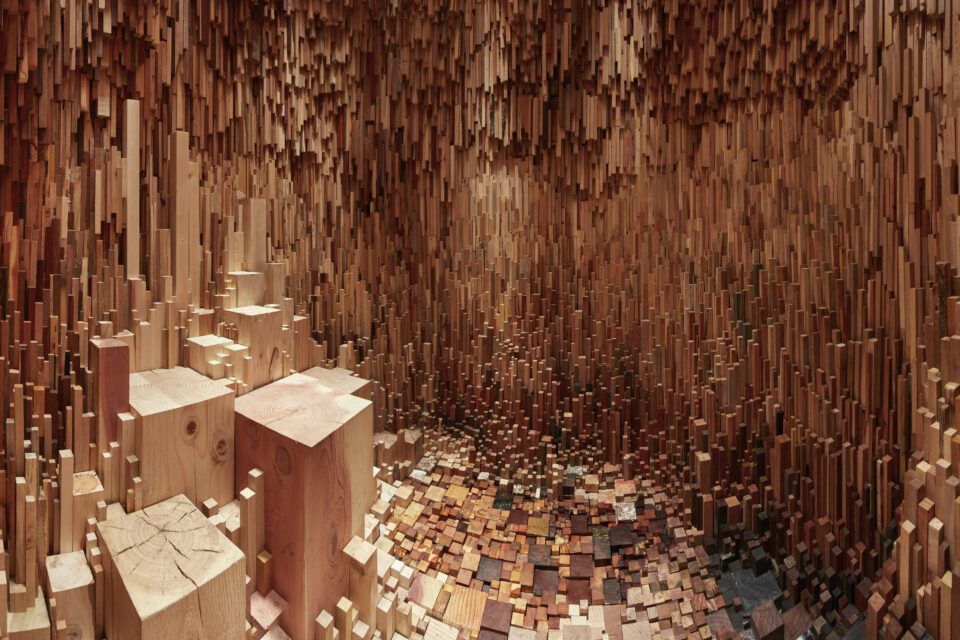 In recent years, Paterson's attention has increasingly turned from intergalactic space to Earth, as the scale of human-made environmental crisis becomes apparent. Requiem follows on from the project Fossil Necklace (2013), a wearable artwork containing tiny fossils spanning the course of our planet's history. Conceived on a more ambitious scale, Hollow (2016) is a light-speckled cavern of wooden posts built using samples from every forest on Earth. Future Library (2014- ) consists of a plantation of trees in Norway that will supply paper for an anthology of books to be commissioned annually over the next 100 years. For now, the books are stored in a specially designed room in Oslo's new public library.
Like so much of Paterson's practice, Requiem condenses a subject of vast scope and significance into a singular artwork, startling in its immediacy. It symbolises a subject that is almost impossible to grasp, a mission which is more vital than ever in our present moment, as we search for ways to stir up the collective urgency needed to save planet Earth.
---
Katie Paterson, Requiem runs at Ingleby until 11 June. Find out more here.
Words: Greg Thomas
---
Image Credits
1. Katie Paterson, Totality, 2016 Photo © Christopher Burke, 2016 Exhibition view James Cohan Gallery
2. Silent Room, by Atelier Oslo, Lund Hagem and Katie Paterson. Deichmanske bibliotek, Oslo Photo © Vegard Kleven, 2020 Future Library (2014-2114) by Katie Paterson is commissioned and produced by Bjørvika Utvikling, and managed by the Future Library Trust. Supported by the City of Oslo, Agency for Cultural Affairs and Agency for Urban Environment
3. Katie Paterson, Ara, 2016 Photo © Julie Lovens, 2016 Courtesy of Kunsthaus Pasquart, Biel
4. Hollow, Katie Paterson and Zeller & Moye, 2016 Photo © Max McClure Commissioned by the University of Bristol, produced by Situations