Lansona Kershaw is passionate about creativity and communication, combining whip-smart copywriting with impactful visuals in campaigns for brands Depop, Virgin and Dyson. The University of Central Lancashire (UCLan) Creative Advertising, BA (Hons) graduate responds to encounters in everyday life, from fast fashion and food consumption to digital dependence. To mark the launch of UCLan's Digital Degree Show 2021, where Kershaw won the Society and Sustainability Award, the artist speaks to Aesthetica about a selection of key projects – tapping into some of today's most pressing conversations.
A: What is your name, course and graduate project? What media do you work with?
LK: Lansona Kershaw, Creative Advertising BA Hons. My graduate project combines several projects to create a portfolio. I have worked with various forms of media such as sketches, case study videos and fully designed mock ups.
A: What are the main themes explored in your work? 
LK: The main themes I explored were topics I found quite prominent in my everyday life – such as fast fashion, social media addiction and melanoma in people of colour. Below are three projects featured in UCLan's Degree Show 2021.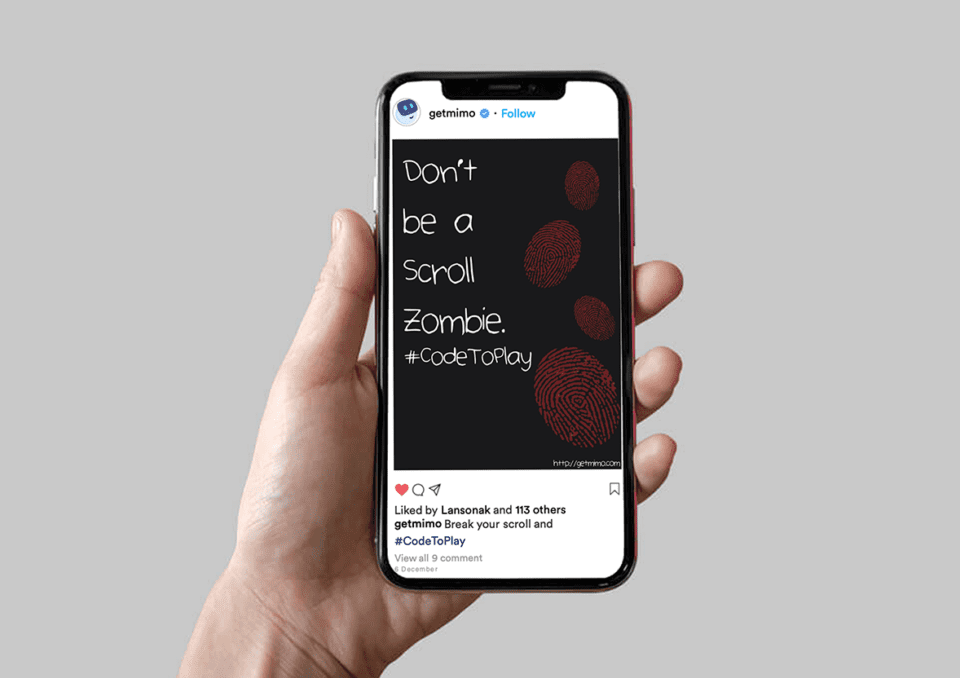 The Ethical Alternative: A self-initiated brief I set was for a three-part print campaign for the app Depop. I wanted to present them as the ethical alternative to online shopping and fast fashion. I found out that one in three young women considered items of clothing worn once or twice to be "old". In response, I decided to promote the idea of buying and selling secondhand, allowing the clothes to have longer life cycles. My final outcomes were collages of popular "vintage" garments, paired with an eco-friendly pun as a line of copy.
#CodeToPlay: For this project, I was asked to bring value to something which had no value. I decided to take boredom scrolling on social media, something which has become a lot more prominent – especially during the Covid lockdown periods. I found that, during lockdown, the screen time spent by children and teenagers has increased. A dependence on digital devices could result in long-term negative impacts on development. I decided to turn long screen time into something positive, by encouraging teens to learn to code, providing them with lifelong skills. 
Blockdown Outta Lockdown: A brief set for D&AD to raise awareness of melanoma in people of colour. The myth that having melanated skin means "you're protected from the sun" has led many Black people to believe that they don't need to wear sun cream. With lockdown being so long, when it finally ends people will be desperate to go outdoors, celebrate and party. In collaboration with Caribbean carnivals across the world, this three-part campaign encourages the use of sun protection as well as spreading awareness of symptoms to young women. This project turns lifesaving information into something enjoyable and memorable for the most at-risk group. 
A: Where do you find inspiration? What drives you to create? 
LK: Through everyday life and my experiences, as well as those of friends and family. I like to take the problems I see and link them to my work, finding solutions. 
---
A: What do you hope audiences take away from your piece? 
LK: I hope that my work inspires people to make little changes to their daily lifestyles which benefit them positively. 
A: What are your future plans? Do you have any projects / ideas lined up? 
LK: I am currently looking for roles as a Junior Copywriter or Junior Creative in the Advertising industry. 
A: What can viewers expect from UCLan's 2021 Degree Show? 
LK: The degree show is a great opportunity for the next generation of creatives to showcase their work to people in industry. It's an accessible alternative to the regular physical degree show.  
---
Discover Lansona Kershaw's work online here as part of UCLan's Degree Show 2021.
---
All images courtesy Lansona Kershaw and UCLan.