Last year, it was reported that three in five UK consumers used additional time at home to redecorate: purchasing new furnishings, painting walls and hanging art. In an unprecedented time, what images are we choosing to display, and why? Kuriosis is a Berlin-based international print and poster retailer. Their large collection of vintage posters spans from lush William Morris designs to anatomical studies and maps of the world. They are keen to show historical masterpieces in a new way. Aesthetica speaks to Kuriosis about their story and experiences over the past 12 months – highlighting visual trends emerging in 2021.
A: How did Kuriosis get started?
K: Kuriosis all started with a beautiful jellyfish illustration discovered by our founder Maryna in an old encyclopaedia. It evoked a sense of curiosity, and quickly old lithographs and books became an obsession. At the beginning, we were printing in our spare room at our home and selling at markets. We were prepared to take risks and tackle the hardships along the way. Little did we know, a global pandemic was looming. When Coronavirus hit and the markets stopped it only made us more determined. We shifted our focus to online platforms, which enabled us to become an international business and compete with much more prominent and established companies.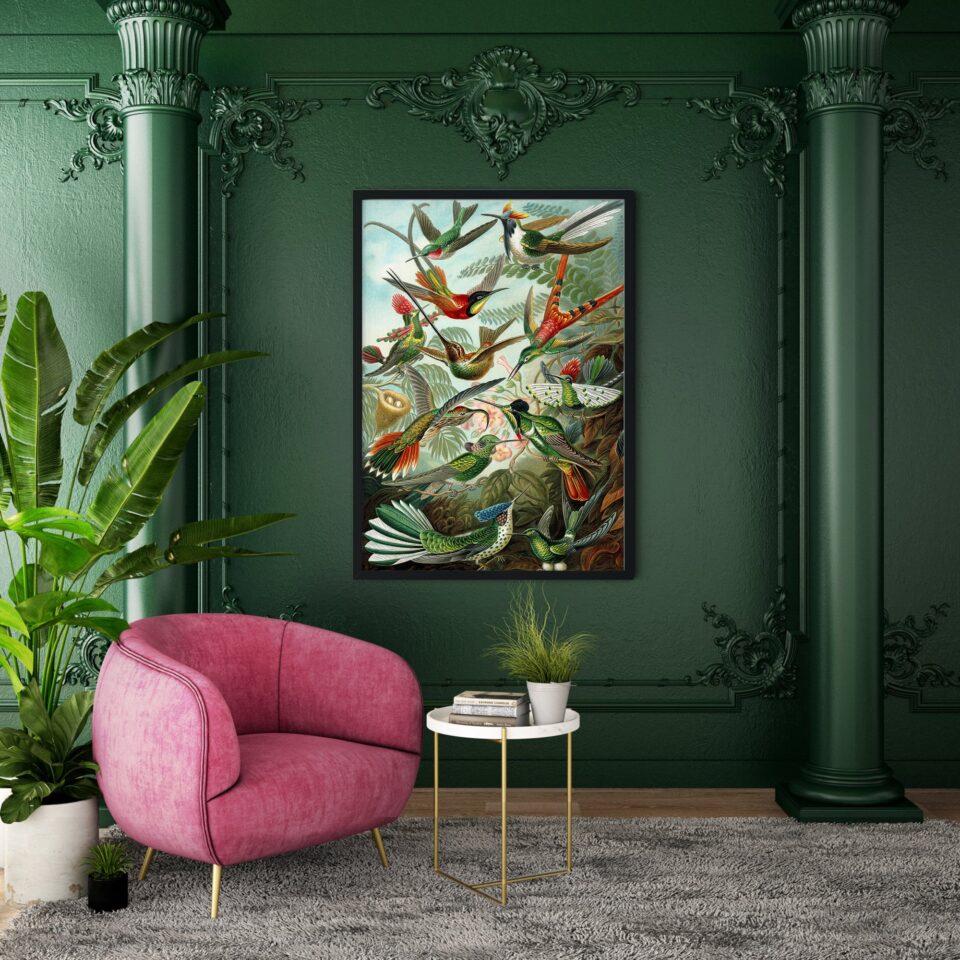 A: Last year, it was reported that three in five UK consumers used their additional time at home to redecorate. With such demand, what sets Kuriosis apart?
K: We are extremely thankful for the huge demand which allowed us to grow to where we are today! What sets Kuriosis apart is a dedication to excellent customer service and an unrivalled attention to detail. We are a small team who handle everything from start to finish at our atelier in Berlin—nothing is outsourced; this allows us to quality check at every step of the process. We create, source and edit each artwork, print with only the highest quality materials, carefully pack and ship everything ourselves. 
A: Your site now showcases over 4,000 pieces across 70 collections. What kinds of works are featured? How do you go about curating them?
K: The works in our collections feature Japanese woodblock prints, astrological charts, Bauhaus posters and everything in between! We are lucky to have developed such a broad variety of works. We can really see what is popular and what people are intrigued to see more of—this is a huge help in curating the collections. This year, we have started to collaborate with different artists and create our own original collections with in-house graphic designers. There is something for absolutely everyone at Kuriosis—whether you are looking for a vintage world map, a Van Gogh exhibition poster or a Japanese wall hanging! 
A: Which types of prints are most popular right now – any style, colour palette or technique? Why do you think this is?
K: Japanese art is a consistently popular collection at Kuriosis; the woodblock technique is sophisticated and timeless. The works would have originally been hand printed, so the layering of different colours results in subtle graphic illustrations which have a huge appeal to customers today. Customers appear to be attracted by bright colours and clear forms, vivid contrasts and asymmetrical compositions.
A: Are there any emerging visual trends? What do you predict will be popular going forward from 2021 into 2022?
K: After most major worldwide events, people become a lot more adventurous—we can imagine people becoming a little more experimental and explorative with their personal taste in the coming months. Escapism and nature will surely be popular themes in the next year, as people rebel against having been isolated and stuck inside for so long. There is a shift happening towards more expressive, abstract pieces in the art world, and surely this will be reflected in our online business too.
A: What's next for Kuriosis?
K: Each day is an opportunity to learn and discover new things. Our ethos of continuous improvement is central to how our company moves forward. We have recently gotten back to our roots selling at the art markets in Berlin and we have big plans to open a sister company which will focus on fine art printing for photographers and artists. All in all, the future is bright for Kuriosis! 
---
Find out more here.
---
All images courtesy Kuriosis.