Yorkshire Sculpture Park fills the Weston Gallery with Annie Morris' (b. 1978) richly coloured, towering sculptures. Morris' practice combines a joyful formal play with a disarming personal intimacy and emphasis on illustrative symbols. We might partly associate this with the influence of Giuseppe Penone (b. 1947), Morris' mentor at the École Nationale Supérieure des Beaux-Arts in Paris between 1997 and 2001. Whilst Penone came of age during the era of land art, his work always eschewed the superhuman scale favoured by North American contemporaries such as Robert Smithson and Walter de Maria. Instead, the Italian artist created sculptural pieces in which trees and other living forms were carved into or altered, their organic form and scale a metaphor for human life and the growth and decay of the body.
---
Morris' work combines the same organic concerns and investment in natural forms with a captivating tonal richness. Over the last decade, the London-based artist has become famous for a series of works called Stacks, precarious towers of orb-like shapes initially constructed from materials such as foam and sand, then cast in bronze and painted in almost impossibly vibrant raw pigments. Morris notes that the intense colouring of her work "is a way of trying to freeze the moment when the paint hasn't yet dried, and is caught in its most raw form." This approach connects her practice with that of Karla Black (b. 1972) and other contemporary artists attempting to capture the moment of creation as a living presence or echo within the finished three-dimensional form.
At the same time, the development of Morris' practice stems from personal tragedy. After suffering a stillbirth in 2010 she was intuitively drawn to the sketching and modelling of rough-hewn spheres and egg-like shapes, visually expressing the life that had been lost. The artist began suspending these entities in precarious vertical arrangements, a gesture of defiance and celebration of life which nonetheless attested to a condition of emotional and physical vulnerability. Her practice can be tied back to the anthropomorphic qualities of Pennone's sculptures, and of the Family of Man series created by Barbara Hepworth (1903-1975), another key influence. The title of Morris's new solo show, When A Happy Thing Falls, reflects the interconnection of positivity and poignancy in her creative universe.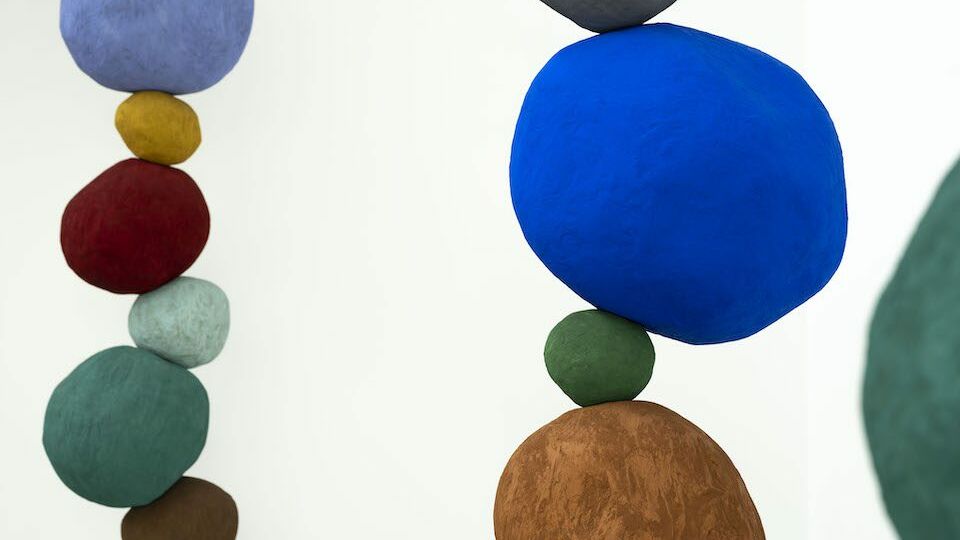 The vibrant colour palette we see in pieces such as Stack 9. Ultramarine Blue (2021) is often initially explored through drawing, a practice which occupies the artist every day, creating intuitive and brightly coloured arrangements of flowers, foliage and abstract grids and shapes. These pieces have an immediate and engrossing decorative appeal—it is not surprising that Morris' CV includes collaborations with fashion houses such as Louis Vuitton and Burberry. A connected aspect of the artist's oeuvre is her so-called "thread paintings", hanging tapestries of curved, wavelike coloured strips, one of which accompanies the selection of stacks on display at the Weston.
Outside the gallery, Morris has explored the limits of scale, siting a monumental open-air Stack in view of the gallery windows, framing and framed by the landscape beyond. This is the grandest expression yet of Morris' deeply personal yet universally appealing practice, which speaks to themes of love, joy and loss.
---
Annie Morris' When A Happy Thing Falls runs at the Yorkshire Sculpture Park's Weston Gallery until 6 February 2022. Find out more here.
Words: Greg Thomas
---
Image Credits:
Annie Morris: When A Happy Thing Falls, 2021. Photos © Jonty Wilde, courtesy Yorkshire Sculpture Park.