A year after his release from a Dhaka jail, Bangladeshi photographer, writer and activist Shahidul Alam features at Rubin Museum, New York. Redefining, reframing and representing the "third world" of South Asia as a "majority world," Alam's works are concerned with empowerment and authentic truth. Alam was also named Time's Person of the Year in 2018, as an advocate in defending social and religious injustice and suppression. His call for positive change sends an emotional, efficacious charge.
Over 40 images encapsulate the solidarity and strife faced by Bangladesh and South Asia. Scenes from daily life – both domestic and of discord – demonstrate how photography can communicate the human condition on a higher level – looking at the concept of dignity. Protestors in Motijheel Break Section 44 on Dhaka Siege Day (1987), for example, shows a surprisingly quiet city centre, except for a few protestors. The composition takes inspiration from Henri Cartier-Bresson, whilst the content exemplifies a commitment to the possibility of democracy.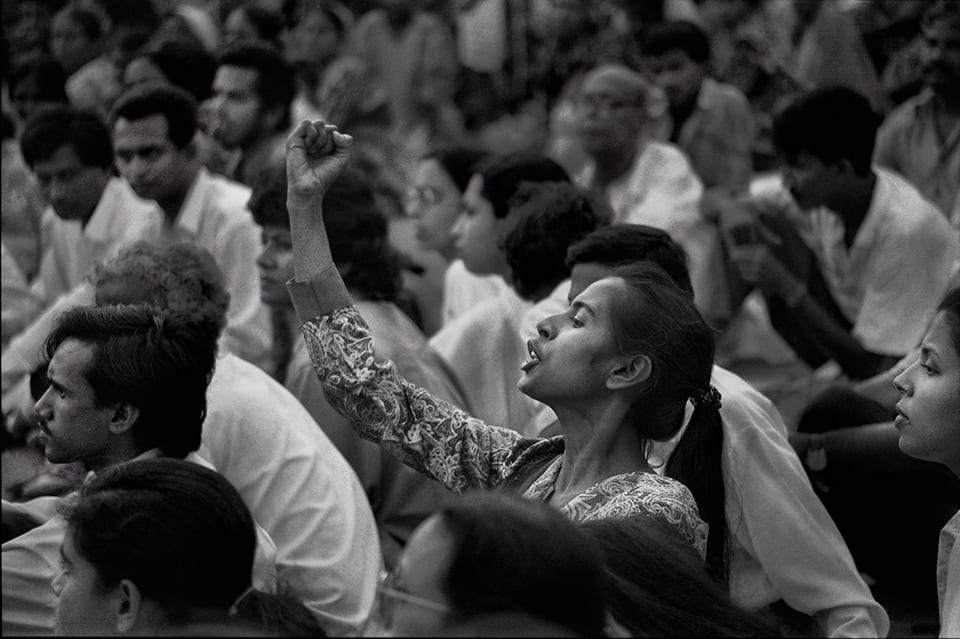 Wedding Guests and Abahani Wedding (1988), in contrast, discloses scenes from a prominent middle-class wedding which emphasises the lack of attention to mass floodings which are occurring in the region (as pictured in Woman Cooking on Rooftop and Woman Wading in Flood, 1988.)
Each image is uniquely powerful in its depiction of human struggles against the climate crisis and political strife. Airport Goodbye (1996), in particular, gives an intimate glimpse into the reality and of migrant life. Alam champions hope and evokes a voice for free speech, whilst breaking free from the western stereotypes of Bangladeshi history. This exhibition is a testament to new, unheard voices and perspectives at a time when we need them most.
Until 4 May. Find out more here.
Ashton Chandler Guyatt
Lead image: Shahidul Alam (b. 1955, Dhaka, Bangladesh), Protesters in Motijheel Break Section 44 on Dhaka Siege Day. Motijheel, Dhaka, Bangladesh, 1987. Courtesy of Shahidul Alam / Drik /Majority World