There are certain facts which resonate with residents of Southend-on-Sea, a city located on the Thames Estuary in Essex, southeast England. For one, it has the world's longest pleasure pier, stretching out 1.34 miles with its very own railway. It's been fire damaged and rebuilt several times since construction in 1840. Another: in 2003, just one mile inland on a grassy verge, an Anglo-Saxon burial chamber – "Britain's equivalent to Tutankhamun" – was discovered. Adventure Island is its popular seafront theme park, home to beloved, nostalgic rides like the crocodile-themed Green Scream and Archelon, a spinning turtle. In 2022, the Pier marked record-breaking numbers, welcoming over 350,000 people for its 2.2km walk.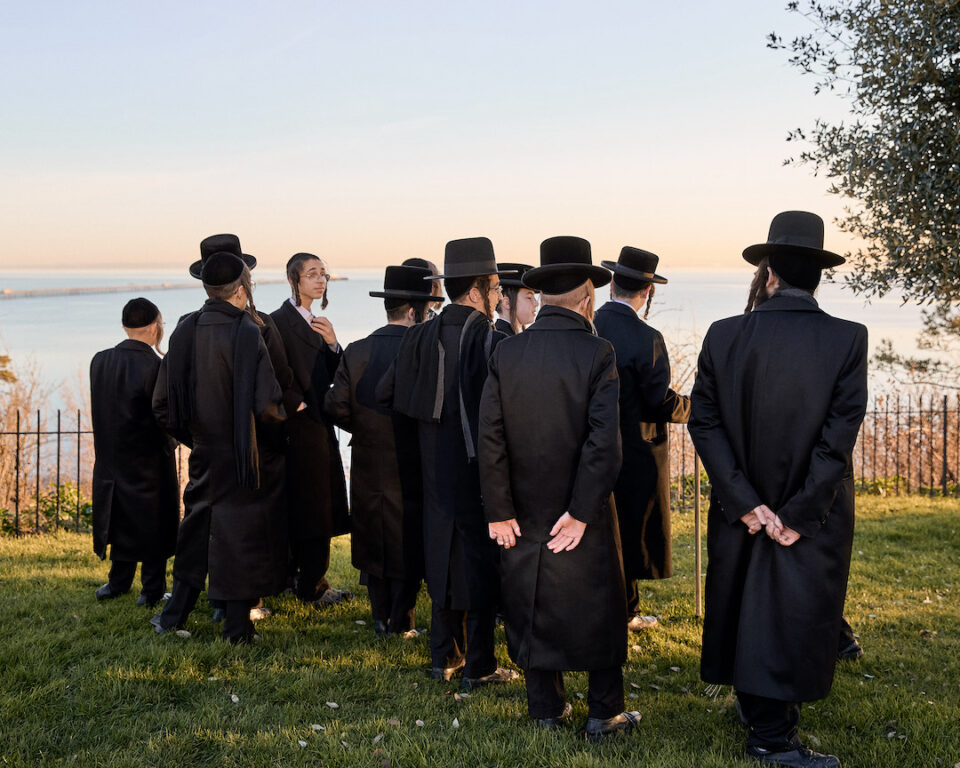 This is the backdrop against which Owen Harvey produced Last Days Of Summer, a collection of photographs documenting Southend, its visitors and the people who call the city home. "The series aims to capture the multifaceted ways in which people, representing various age groups, backgrounds, and cultures, engage with the coastal environment," Harvey explains. "As a new resident of the city, this project has served as a means for exploration and connection to my new home." The artist is interested in telling the stories of diverse groups who utilise the space in various ways: for holidays, leisure, religion, school and work. "The city seems to temporarily affect everyone who passes through," he adds.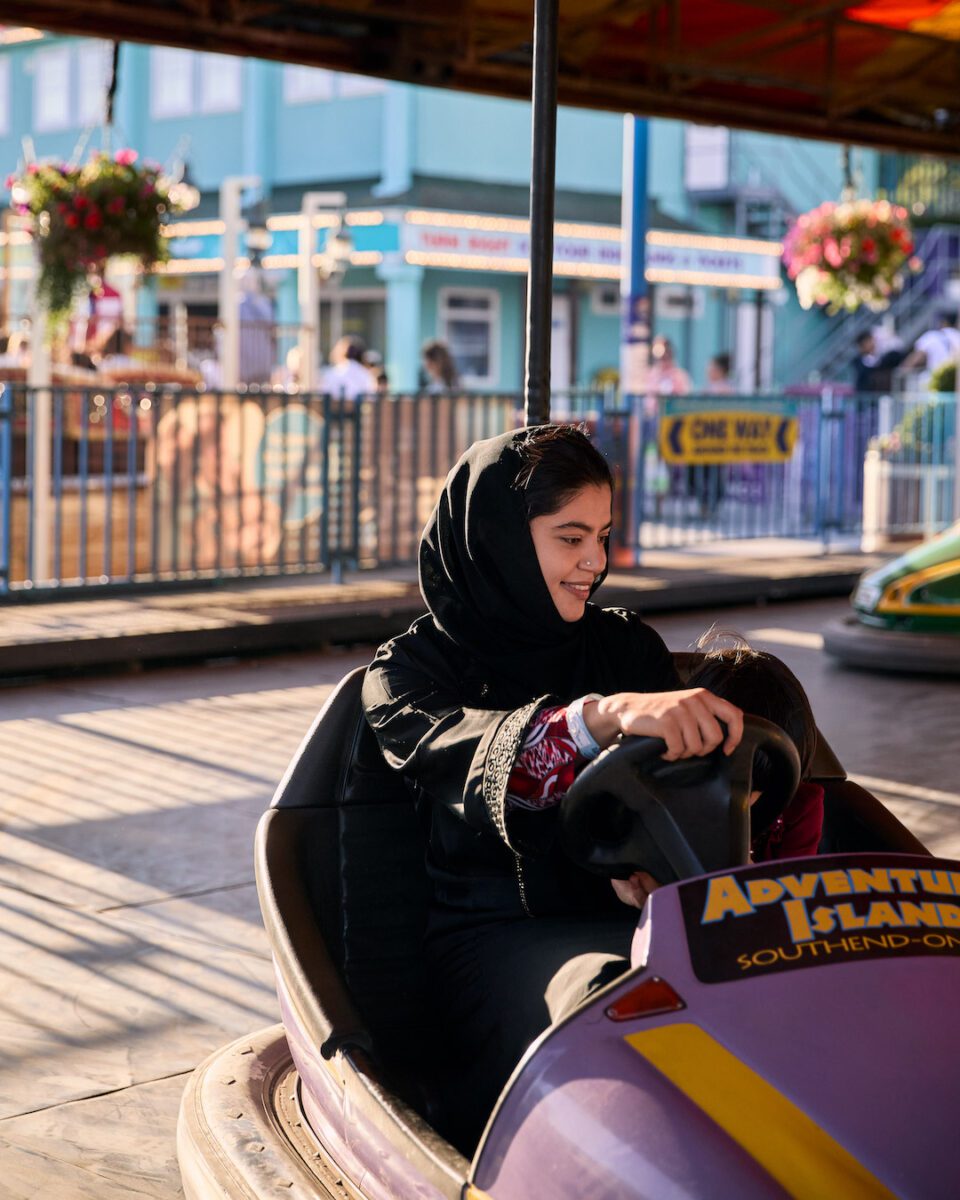 The resulting images are multifarious. Groups of friends gather outside seaside pubs and children jump into waves. Meanwhile, cars speed past Adventure Island's colourful rollercoasters, and people wait to be served donuts from glowing booths. There are depictions of young Muslim women riding dodgems, and of Southend's Jewish communities meeting on Pier Hill. Young couples lie on a grass incline above the seafront and get sunburnt on the sand. Inside a dimly lit café, brown sauce and ketchup sit on sticky tables. Viewers might be reminded of iconic beachfront shots by Martin Parr (b. 1952), the self-proclaimed "aficionado of the British seaside" who has also documented Southend.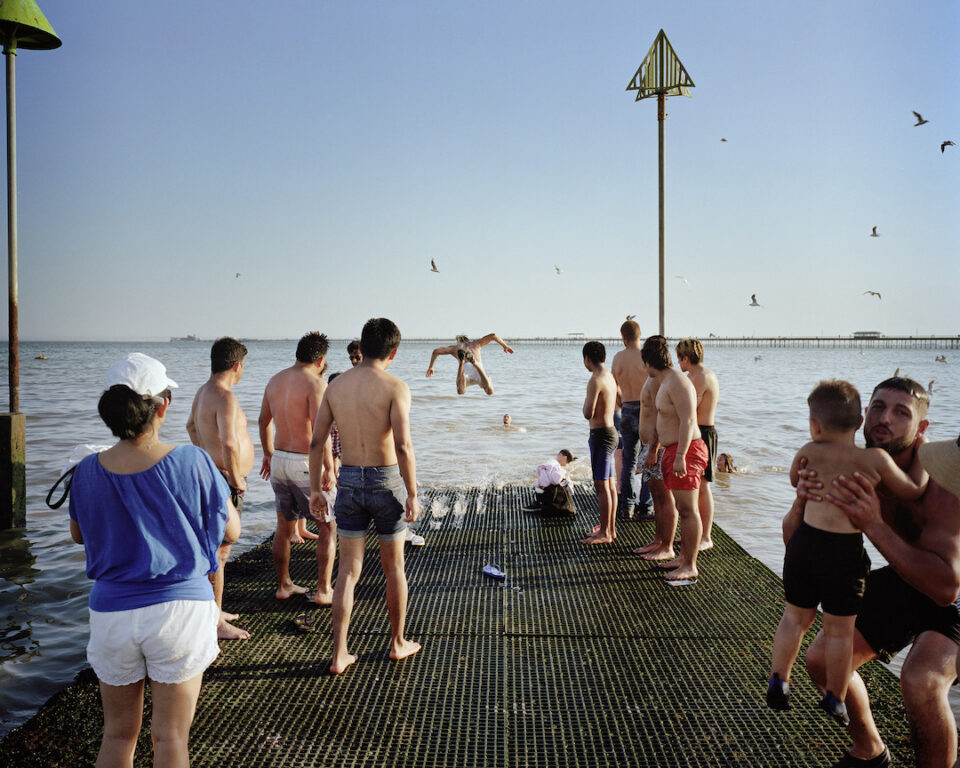 Whilst Parr's approach has long critiqued leisure and consumption – often with a humorous edge – Harvey is more concerned with identity and community. Last Days of Summer is latest instalment in the artist's ongoing survey of people and places. "Strong human connection is at the core of my work, whether that be through candid moments or portraiture. I've immersed myself in the world of authentic subcultures and stand-alone individuals and I strive to portray the essence of who they are." Previous projects have examined the worlds of lowriding, matadors and mods, opening a window to lives across the globe.
---
Until 16 July | twentyonesouthend.co.uk | owen-harvey.com 

Twenty One Gallery – Unit 21, Pier Approach, Western Esplanade, Southend-on-Sea SS1 2EH
---
All images courtesy Owen Harvey, from Last Days of Summer.