The Light and Space movement emerged in Southern California during the 1960s and 1970s. A response to minimalism, it was concerned with how geometric shapes and illuminated spaces could alter viewers' perceptions. Los Angeles-born artist James Turrell (b. 1943) was central to this moment. His first solo exhibition took place in 1967 at the Pasadena Art Museum, positioning him at the forefront of the group. Today, immersive light-based installations are becoming increasingly popular. Instagram-friendly hotspots are popping up across our cities. Pace Gallery, London, presents a four new works by the renowned artist, offering a space for contemplation in a non-stop digital landscape.
Turrell's latest series, titled Constellation, is the show's focus. It comprises circular and elliptical shapes animated by computer-generated LED lights. The works are hypnotic: continuously changing colour on an infinite loop. These tonal shifts are subtle, with one hue morphing endlessly into the next. Turrell continues his ongoing exploration of new technologies, sensory practices and gradient colour. The viewing experience is mesmerising – allowing a moment of quiet in a fast-paced world.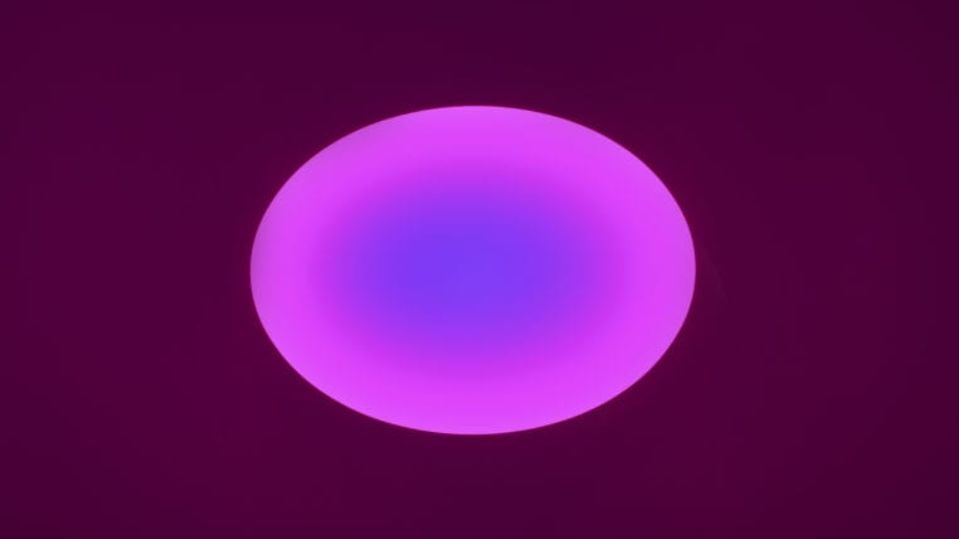 Turrell is known for creating arenas for reflection. The most famous example is Roden Crater (1977-), an ongoing project located near Flagstaff, Arizona. The installation exists within a volcanic cinder cone and, upon competition, will require a journey to the remote desert. Described as "a controlled environment for the experiencing and contemplation of light and stars," it will take audiences away from manmade distractions and into pristine skies. As the artist reflects: "I am interested in the landscape without horizon and that's the landscape that is encountered in meditation."
The works at Pace Gallery tap into this continued interest in the psychology of space and human perception. Each enthralling piece creates an all-encompassing sensory experience – moving beyond vision to evoke physical sensation and a state of transcendence. Turrell explains: "We eat light, we drink it through our skins. With a little more exposure to light, you feel part of things physically… Seeing is a very sensuous act – there's a sweet deliciousness to feeling yourself see something."
The exhibition runs from 11 February – 27 March. Find out more here.
Images © James Turrell, courtesy Pace Gallery.