Liverpool's Open Eye assesses the value of visual storytelling through a searing biennial that refocuses our attention to national identities and the vulnerability of the planet.
"I think we are increasingly aware that photography has an impact on every single aspect of our lives," says Thomas Dukes, Curator at Open Eye Gallery, Liverpool. The power of the image, he argues, has only become stronger at a time of ceaseless, fleeting pictures through a myriad of scrolling platforms. "We've been in this photo age for long enough to realise that our love lives, political leanings, sales of houses – essentially everything – can be changed by photography. This includes people's opinions of themselves and how we should treat one another as well as our fragile planet."
It's a mindset at the core of what Dukes and his team seek out with LOOK Photo Biennial 2019. Over a seven-month period – split across two chapters and unfurling across the UK's Merseyside, as well as Shanghai – an ambitious series of exhibitions frame image-making as a tool for challenging assumptions. The large-scale event acts as a conversation-starter for some of the most pressing questions of today. "By leaving room for beauty and wonder we can still use photography to make change," Dukes offers. "It's the perfect medium to talk about our contemporary time, to reflect on how we got here and where we're going."
LOOK Photo has been happening in some form since 2007, and for the past four iterations has been known as Look – Liverpool International Photography Festival. This year builds on an ongoing exchange between Open Eye Gallery and various partners across the world. The 2019 edition takes China to the heart of the programme, setting out to provoke new ideas about shifting national identities and global environmental issues. Three conceptual strands bind what could otherwise be an unwieldy beast of a show: Transplant, Translate and Transition. The former builds the backbone of the first chapter beginning in June, looking at an "attempt to re-root the past into the present."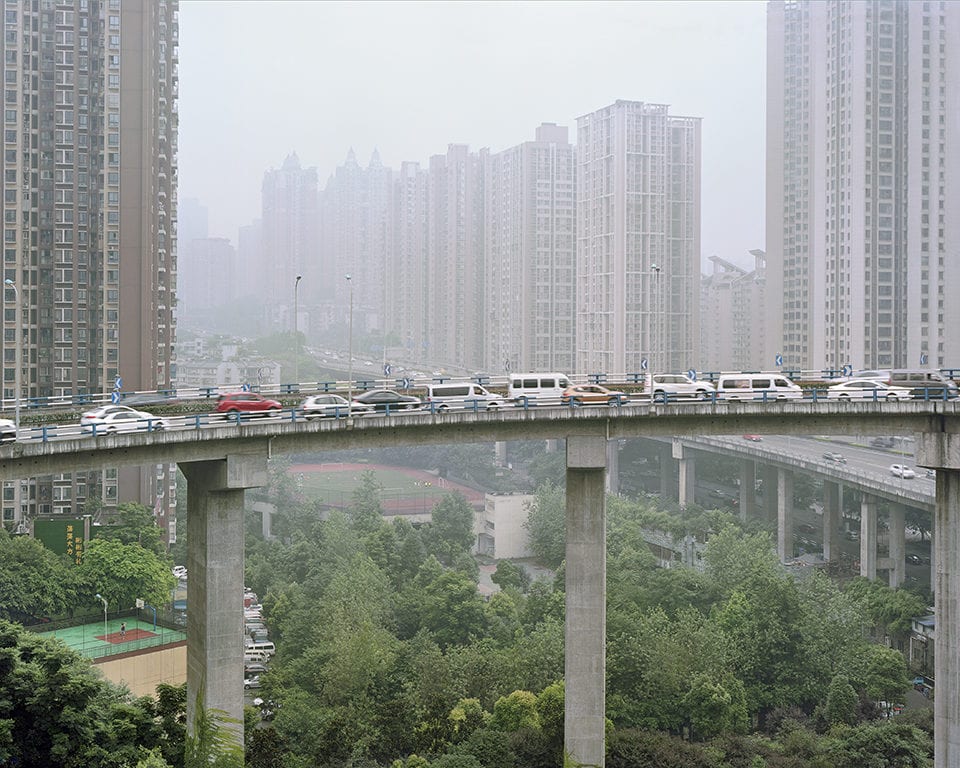 There's a very literal sense of this sentiment in Forest, a project by British-Chinese artist Yan Wang Preston. The monolithic series is centred on the widespread practice of replanting ancient trees in apartment complexes, office quarters and leisure districts of modern Chinese cities. Over the course of eight years, Preston investigated how government authorities and property developers import old trees to add greenery to rapidly expanding urban areas – as a means of showing willing towards our need for vegetation. "Because concrete landscapes actually grow faster than anything in nature, they didn't want to wait for young buds to grow," she explains. "Very often they just bought mature trees from all over the place to make ready-made forests."
From there, Preston started asking questions. "Whose trees are they? What happened to the homelands in which they belonged? Who's profiting from such destruction? At the beginning of the project, Preston started out by depicting individual trunks: "They all looked half-dead – a bit like sculptures." Eventually, she decided the approach was limited. "I wanted to use repetition as a narrative, which meant I would follow some trees for the duration of their journey. Every time I went back to China, I would try to visit some of them – to document what was happening." From there she shifted attention again, doubling back to document the life of a changing city due to mass-uprooting – heritage pulled up at the hands of globalisation.
In the rapid sprawl of Chongqing, one of the country's most populated metropoles, Preston captured withered trees in vast new parks and university districts, supported with slats and taut rope beneath concrete towers and sinewy overpasses. In some compositions, there are visible scars of deep cuts or leftover nails embedded in the bark: remnants of transport from places that are never fully revealed. The dissolution of a habitat, somewhere far away, is only implied. In other pictures, children play beneath the canopy of a new city park, hammocks tied between neighbouring flora. Ultimately, heart-breakingly, life carries on. "At first I was really angry – almost crying for the trees," Preston says. "Towards the end it was like watching a drama unfold."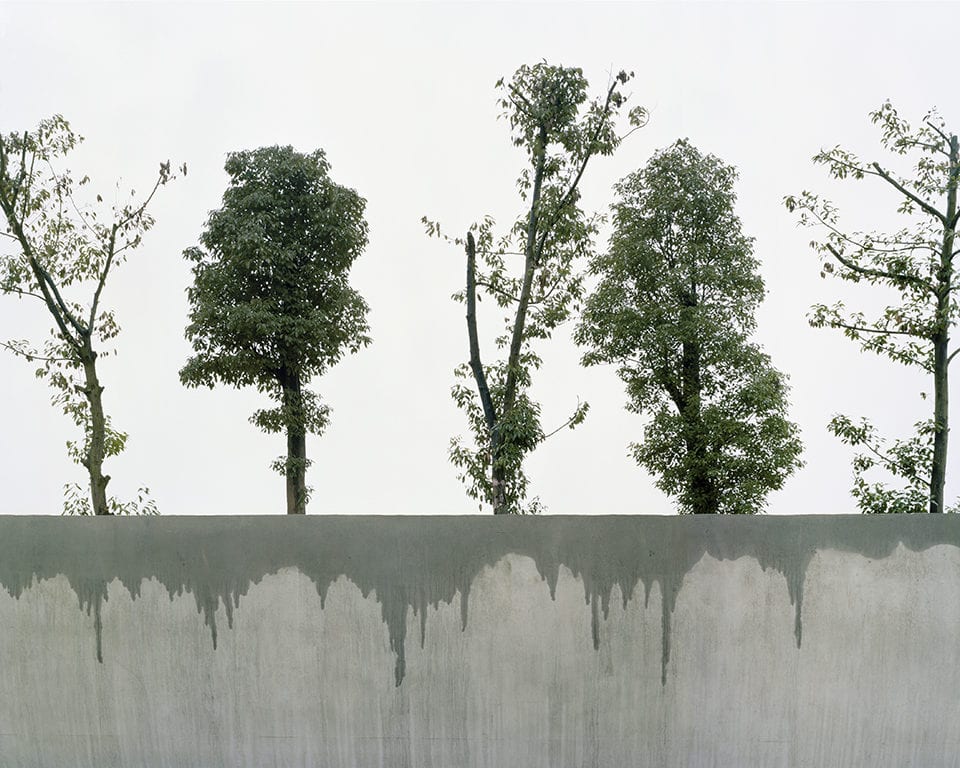 Preston recently won first prize in the landscape category of the 2019 Sony World Photography Awards for a small strand taken from Forest, called To the South of the Colourful Clouds. In these pictures, set in the Haidong Development Zone in Dali, Yunnan Province, a rural area is being transformed into an "ecology model town." Age-old trees are brought in, planted in red soil, a semi-artificial mixture layered over the ground. In a disused quarry, huge swathes of bright green netting are patched over the unsightly bare rock. The developer's outlook seems to be that as long as the place is visibly green, the area is deemed environmentally friendly.
"On a certain level they think they are being sustainable," says the artist. "Because whilst they do destroy the natural rural environment, they are very consciously trying to make it green again. But can nature be dealt with in such a way?" It's a question that gets to the heart of the project, one that ultimately extends beyond a particular practice in China, towards wider notions of progress and authenticity at a time of mass urbanisation. Indeed, the UN predicts that by 2050 two out of three people in the world will live in cities. As our metropolitan centres grow, how can we ensure our relationship with the organic sphere continues? How can we stop these new environments from feeling rootless? "To 'have' nature at any cost – that's scary," she comments. "But there's also other aspects of the story to consider. They want to have the history connected to the regions."
A collection from Forest is on display as part of LOOK, shown outdoors across six lightboxes along The Wirral, each measuring two metres in height. With their delicately balanced colour palette and stark, often brutal compositions, the images are likely to be a striking sight. Preston is keen, however, that the pictures' aesthetic function doesn't overwhelm a deeper consideration of the issues. "I don't like to produce compositions that are so beautiful that your cerebral response is suspended," she says. "It's quite difficult to balance those two things. To make beautiful pictures is easy, but to make images between the two things is very difficult."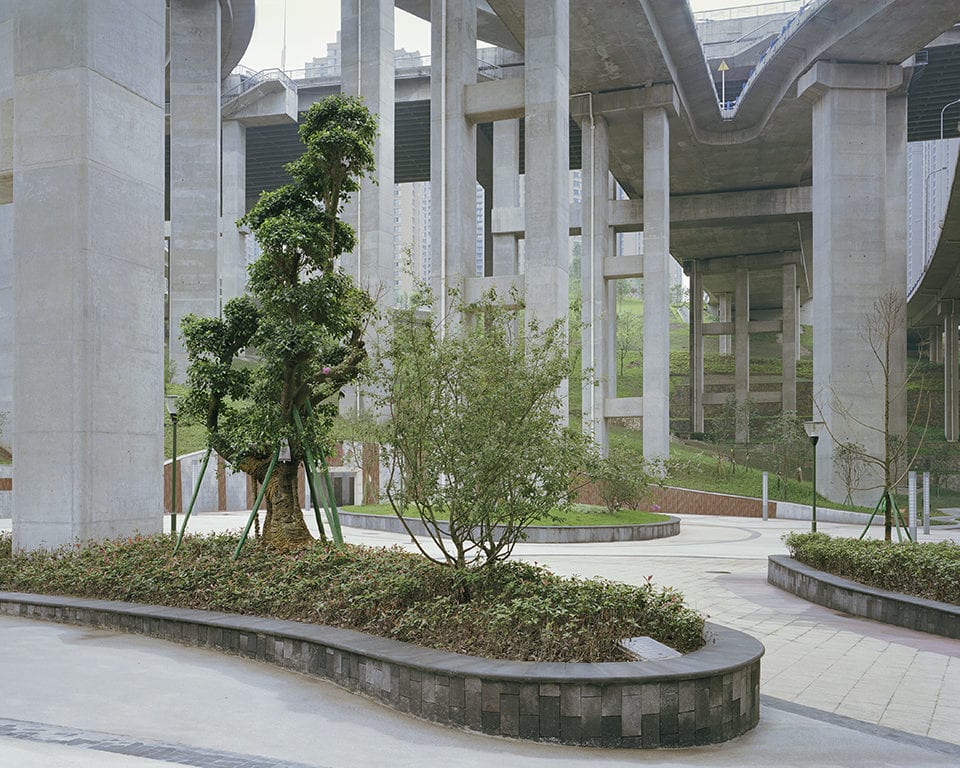 Elsewhere in the biennial is Shanghai Sacred, by photographer and anthropologist Liz Hingley. The show is presented at the Victoria Art Gallery and Museum in Liverpool. Much like Forest, this series explores the desire for authenticity in megacities, namely through a multitude of religious groups. From Buddhism and Daoism to Islam and Christianity, Shanghai has become home to an enormous range of faiths, and Hingley has built on years of fieldwork to investigate the growth and spread of these practices – from the domesticated outwards. It is both an examination of deeply intimate spaces in China's largest city, home to some 24 million people, and an exploration of the country's complex spiritual revival.
The series was developed over a period of four years by Hingley alongside Professor Benoît Vermander of the Xu-Ricci Dialogue Center at Fudan University and Zhang Liang of Shanghai Academy of Social Sciences. For LOOK, the images are affixed to a bamboo scaffold installation designed by the Shanghai-based artist Chen Hangfeng. "It makes an incredible skeleton for the gallery space," says Dukes, explaining that it is being produced to mimic the traditional building technique still used in parts of China.
With outdoor lightboxes for Forest and an indoor bamboo scaffold holding up Shanghai Sacred, LOOK is making a point of showcasing photography in innovative ways. "We have always said that it's Open Eye's mission to make exhibitions that are meaningful to people, in order to make them have conversations," says Dukes. "A part of that is ensuring viewers have an impactful experience. We'll always have shows with beautiful, neat white walls and a photo in the middle, but we do think about the way our audience is going to experience the work, and we want to make sure it's exciting."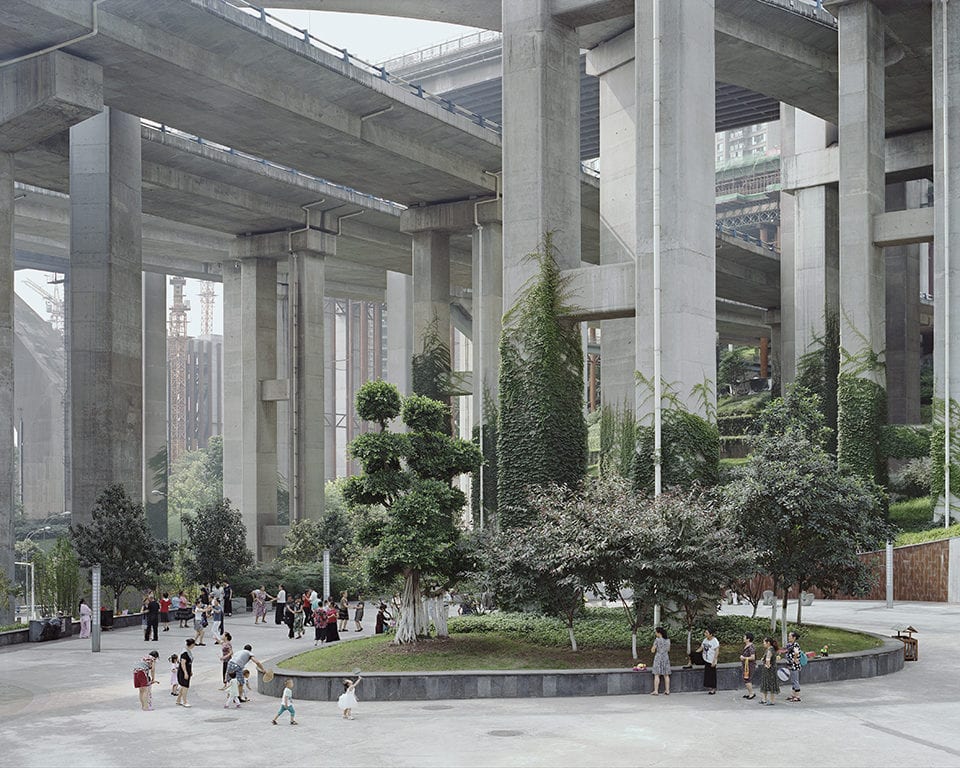 Photography does impact every aspect of life today, but Dukes wants to make sure that the 2019 biennial leaves the biggest impression. It promises to breaks through the quotidian feed of updates, advertisements and articles with something more lasting, emotive and reflective. Considering the shared theme of authenticity across the exhibitions, though, it'll be interesting to see whether the Instagram-friendly nature of these installations enters into the conversations Dukes and his team want to spark. What's the ultimate difference between the impulse of transplanting trees into urban spaces and installing two-metre high pictures of them? LOOK provides the question, not the answer.
Both Forest and Shanghai Sacred are joined in the coming months by a series of pop-up exhibitions also taking place at Liverpool's Victoria Art Gallery and Museum. In Can't See The Woods For The Trees, Tabitha Jussa and John Davies explore the value of trees in public spaces across post-recession Liverpool, bringing a clear comparison to Preston's examination of transplanted nature in Chongqing. Pauline Rowe and David Lockwood's The Allotments looks at the culture surrounding the Dingle Vale allotments in Aigburth, south Liverpool, whilst Stephanie Wynne and Steve McCoy's ongoing Triangulation project centres on panoramic photographs of all 310 primary triangulation points used by the Ordnance Survey to map Britain.
Bridging the end of LOOK's Chapter One and the start of Chapter Two is the group show Distinctly in September, at the Williamson Art Gallery, Birkenhead. Originally shown at the Pingyao Photography Festival in China, it encompasses the work of 12 key figures who have worked in Britain over the past six decades, including Martin Parr, Chris Killip, Marketa Luskacova, John Myers and Elaine Constantine. From there, the second stage of the biennial will open in the autumn across a range of venues in Liverpool, the wider North West and Shanghai.
For an expansive festival, there is a simple core to the LOOK, an optimistic vision of photography's ability to communicate and to bring about change. Dukes says his ideal takeaway for audiences is, ultimately, a sense of dialogue: "I want them to leave with a broader view of the world, having engaged in a conversation about the different ways people do things. They should leave wanting to find out more."
Thomas McMullan
LOOK Photo Biennial: Chapter One 6 June – 25 September, Chapter Two 17 October – 21 December. Liverpool and Shanghai, various venues.

Lead image: Rongqiao Park, Chongqing, China, 2017. From Forest project (2010-2017), ©Yan Wang Preston.