In 1984, Architectural Review interviewed Charlotte Perriand (1903-1999), one of the most influential 20th century French designers. She stated, amongst early anecdotes of making necklaces with ball-bearings and cocktail bars in sheet aluminium: "There are no unusable materials – what matters is how they are used. I would often to go the mountains, [seeing] shepherds make small seats from odd bits of wood, anything that came to hand." This was the most important guiding principle for Perriand – and for design as we know it today – to consider our material and ecological realities and create in imaginative and responsible ways.
Perriand famously started her career knocking on the door of Le Corbusier, offering him her services as a furniture designer. In the monograph Une vie de création (1998), she writes: "Clutching a portfolio of drawings, I found myself face-to-face one October afternoon in 1927 with Corbusier's horn-rimmed spectacles. The austere office was somewhat intimidating, and his greeting rather frosty. 'What do you want?' he asked, his eyes hooded by his glasses. 'To work with you.' He glanced quickly through my drawings. 'We don't embroider cushions here,' he replied, and showed me the door."
---
A few months later, Corbusier apologised, and invited Perriand to join his studio with Pierre Jeanneret. Thus began a journey of creative experimentation, with the trio eventually being credited for "machine age" aesthetics, making steel, aluminium and glass furniture for the masses. Most notable was a series of iconic tubular steel chairs – the LC2 Grand Confort armchair, the B301 reclining chair and B306 chaise longue – the likes of which have been copied and emulated for decades, from Barker & Stonehouse to Etsy. The most revered design was the B306 prototype (1929), a chair constructed with functionality at the forefront, which could "adopt any position, always balanced on its own without mechanical intervention." The chaise longue encapsulated what the studio considered to be "good design" as "a docile servant that is self-effacing in order to leave its master free."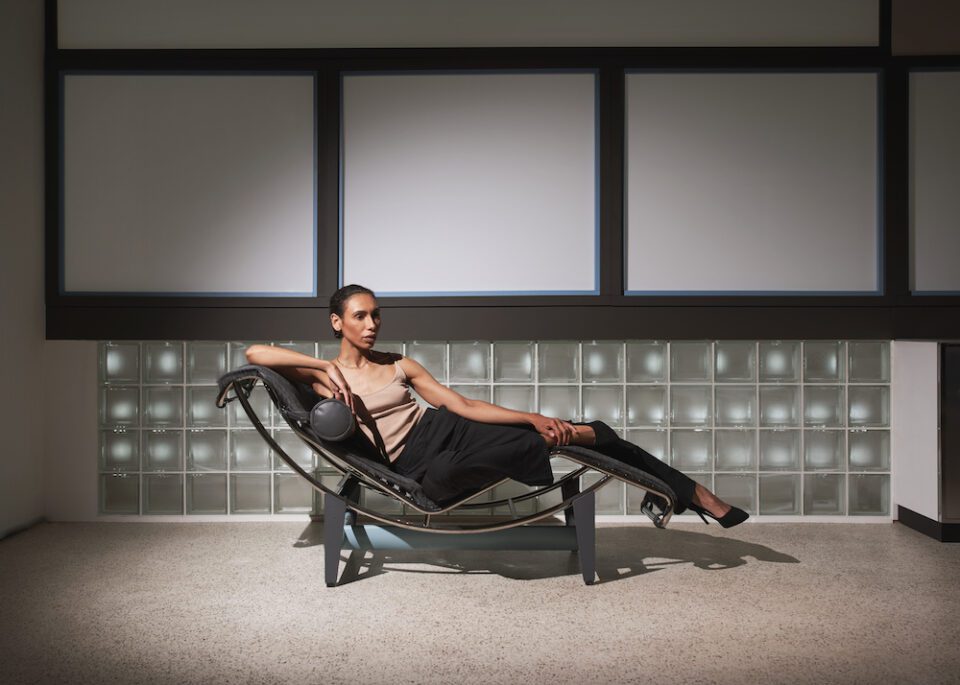 Design Museum, London, dedicates an extensive programme to Perriand, reflecting on an esteemed career often overshadowed by her male contemporaries. Exhibition high- lights include archive imagery of Perriand reclining on the B306 chair, alongside a presentation of Bibliothèque de la Maison du Mexique (1952), a cubist shelving unit boasting block colour reds, yellows, whites and blacks, like the intersecting lines of a Piet Mondrian painting. A wealth of other pieces demonstrate the designer's interest in architecture that meets human needs, from ski resorts to open-plan interiors intended so women didn't feel "trapped" in the home. This is a vital retrospective honouring an often-overlooked practitioner, who, ahead of her time, knew that "dwellings should create conditions that foster harmonious balance."
---
Charlotte Perriand: The Modern Life. Design Museum, London 19 June – 5 September. Find out more here.
---
Image Credits:
Photography: Felix Speller. Models: Sube Wallen and Amani Bouri, with thanks to WOKE Management.
1. Chaise longue basculante(Adjustable reclining chair), 1928 in the Salon d'Automne room recreation LC4 chaise-longue by Le Corbusier, Pierre Jeanneret, Charlotte Perriand –Cassina I Maestri Collection
2. Double chaise longue, 1952 Charlotte Perriand (Cassina) with two Akari (light) pendant lamps, c.1958, Isamu Noguchi and them Nuage (Cloud) bookshelf, Steph Simon edition, c.1958, Charlotte Perriand (both Galerie Laffanour-Downtown, Paris)Double chaise-longue by Charlotte Perriand –reconstruction by Cassina
3. Air France shelving, 1957 (Sice Previt/Cassina)