From 1981-1987, a unique design moment was taking place. It was called the Memphis movement, spearheaded by Italian architect Ettore Sottsass (1917-2007). With a style inspired by Art Deco and Pop Art, it became well-known for using bright colours, geometric shapes and bold patterns. Defined by a sense of playfulness, Memphis' clashing aesthetics and haphazard arrangements were totally new.
The group continue to influence designers today, including London-based Camille Walala. "I grew up in the 80s and my dad was an architect – he had colourful pieces of furniture in his house, and I was always drawn by them," she explains. "Everything around me was very sleek and grey, so I'm always attracted by colour and black and white stripes." This week, she unveils a new project at London's Design Museum.
---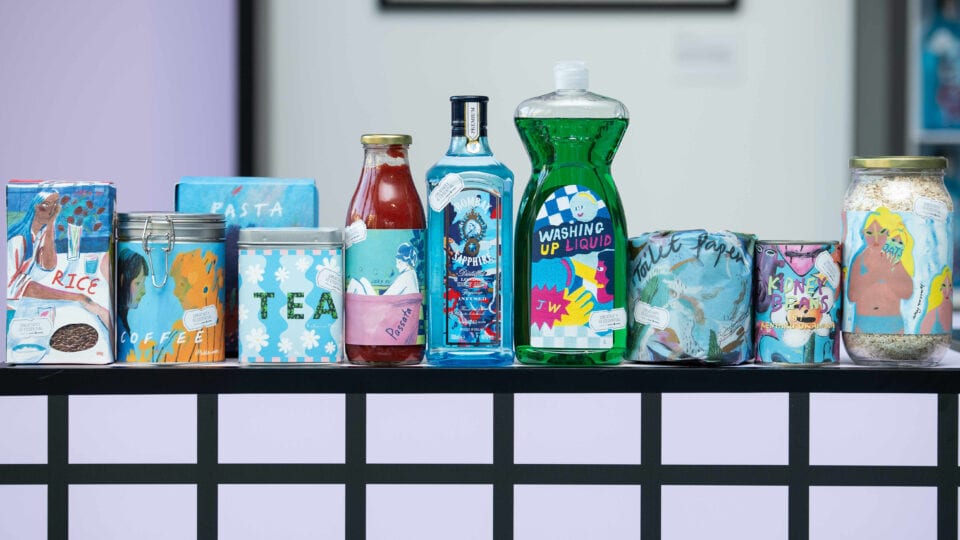 Walala's latest undertaking is Supermarket, an installation created in collaboration with the museum and Bombay Sapphire. Driven by the message "creativity is essential" – a key mantra for our times – Walala has transformed the institution's shop. The resulting space brings art and retail together in a riot of dynamic patterns and vivid colours. "I wanted the front of the shop to be almost like a collage," she says.
Beyond its striking visual appeal, at the heart of Supermarket is a desire to champion new talent. Its shelves are stocked with essential items packaged in artworks from a line-up of emerging names: Charlotte Edey, Holly Warburton, Isadora Lima, Jess Warby, Joey Yu, Katherine Plumb, Katie Kimmel, Kentaro Okawara and Michaela Yearwood-Dan. Available are tins of kidney beans, tea, coffee, toilet roll, bread, pasta sauce, porridge oats and rice. All proceeds will go to the Design Museum's new Emerging Designer Access Fund.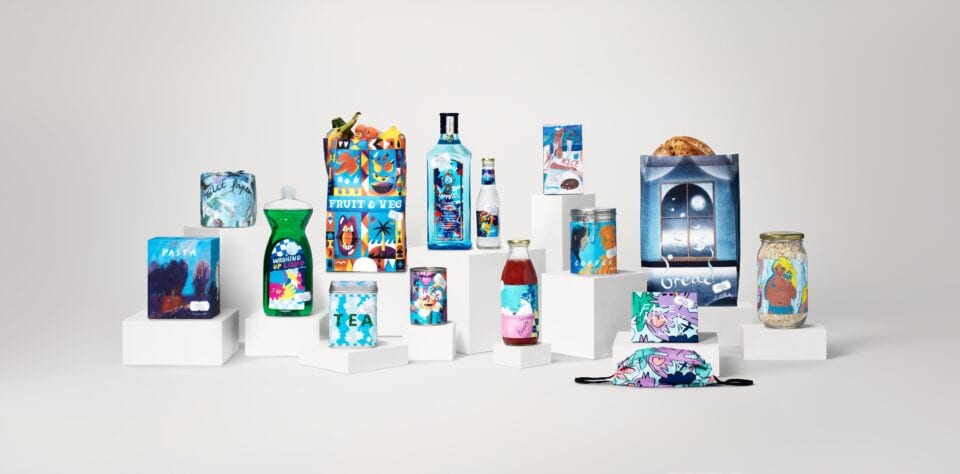 Warby, whose eye-catching blue, yellow and pink washing up liquid is part of the collection, offers a fresh take on product packaging. "I stalked a lot of cleaning isles over lockdown and photographed the different graphics on various washing up liquid bottles," the artist says. "It was quite a cathartic way of creating; I was being stimulated and curious in the only place I could go besides the park or work. I was inspired by the nuances and similarities between different brands and the everyday graphics used to entice a customer and stand out. I was interested in re-purposing shapes and symbols from existing products and packaging."
Over the past 12 months, creatives have been impacted by the pandemic and lockdowns. This project is part of a long-standing mission by Bombay Sapphire to "stir creativity", providing an essential platform for the next generation to showcase their ideas to wider audiences. "To see the product realised in mass production and available for sale on a supermarket shelf was surreal," Warby notes. "I regularly play with blurring the lines with everyday objects and what is considered art – so this project was the dream."
---
21-25 April. Find out more here.
Click here for more about Bombay Sapphire.
---
All images courtesy the Design Museum / Bombay Sapphire.