Since its establishment in 1997, Paris Photo has grown into the world's largest international photography fair – showcasing works from leading galleries and publishers. Each year, it brings together up to 200 exhibitors from across the world in a display of historical and contemporary artworks spanning modern masters such as Martin Parr and Carrie Mae Weems in addition to young talent like Widline Cadet and Hoda Afshar. The 26th edition takes place from 9 – 12 November at the newly constructed Grand Palais Ephémère on the Champ de Mars facing the Eiffel Tower. This year's catalogue engages with pressing topics such as environmental degradation, historical representation and political activism from artists like Paul Graham, Tiina Itkonen and Omar Victor Diop. Here we look at six works from six photographers.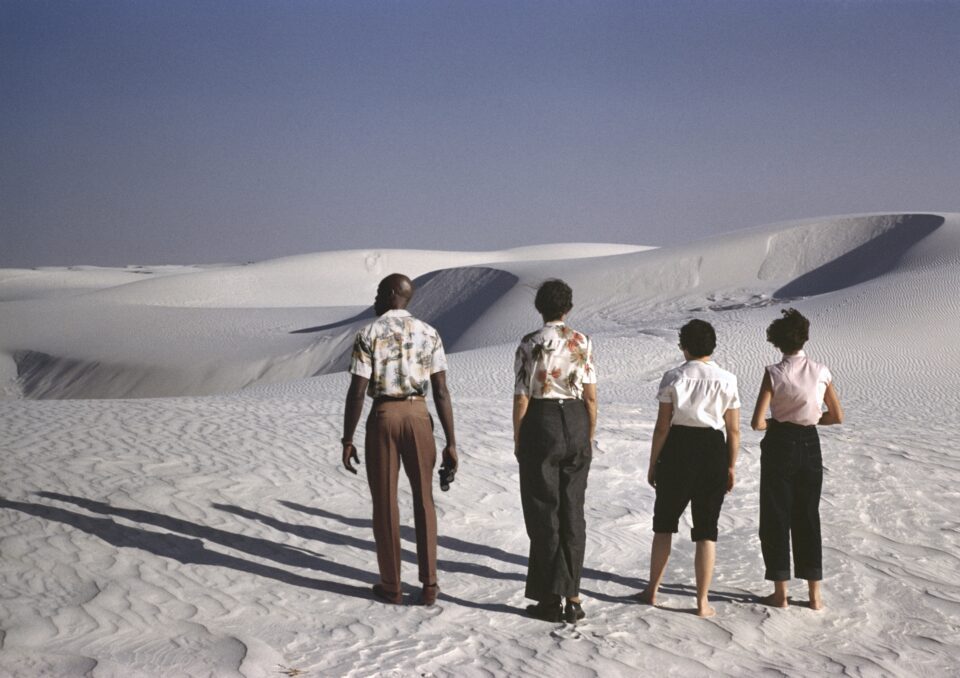 Omar Victor Diop & The Anonymous Project | Magin-A
Being There (Éditions Textuel) is the collaboration of Lee Shulman, creator of The Anonymous Project, and Senegalese self-portraitist Omar Victor Diop. Shulman asked Diop to slip into his collection of anonymous American photograph slides from the 1950s and 1960s. These are images of ordinary celebrations in which privileged white middle-class families are seen posing at tables celebrating birthdays; in the middle of barbecues; and on top of sandy dunes. In the context of post-war segregated America, Diop enters worlds to which he was not invited, bringing up questions about what it means to be represented.
Hoda Afhsar (b. 1983) explores the possibilities of documentary image-making. The artist considers the representation of gender, marginality and displacement. She employs processes that disrupt traditional image-making practices – as seen in her series In Turn (2023). The work was made in response to the feminist uprising that began in Iran in September 2022 after the death of Jina Amini who was arrested by morality police for not wearing the hijab correctly. Mothers, sisters and daughters face away, crowded together in black. They stand together, holding each other and plaiting hair in a moment of total unity.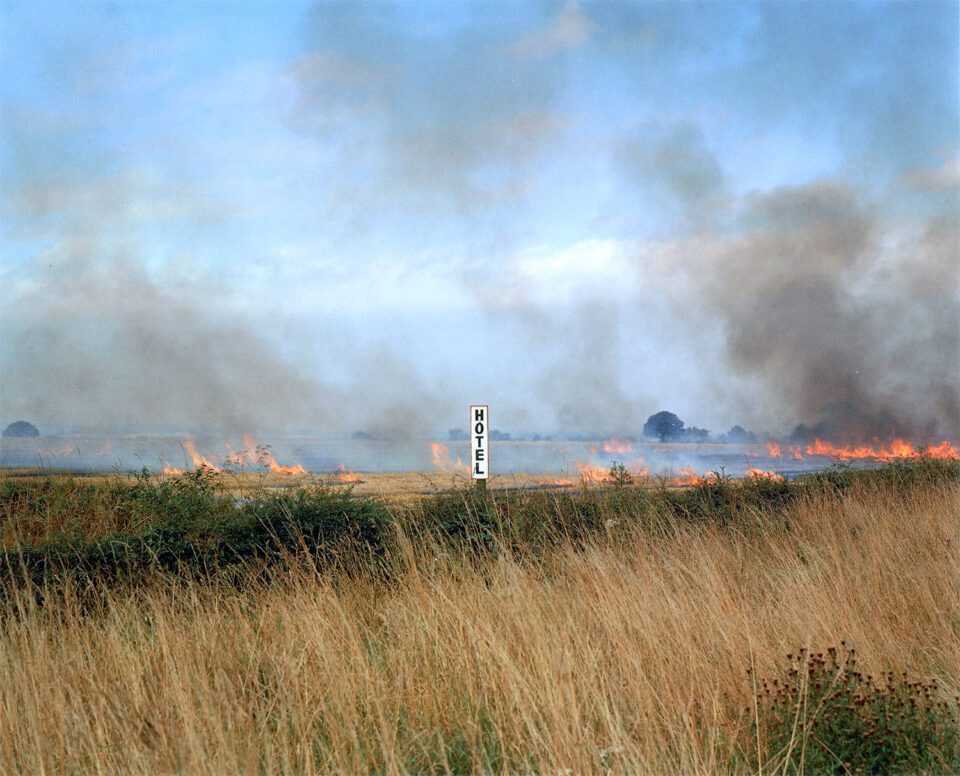 Paul Graham | Galerie Clémentine de la Féronnière
Paul Graham (b. 1956) is a British photographer known for his colour photographs of the A1. He embraced cultural scenes of everyday sights. Here, Yorkshire windsocks, flooded fields and Little Chefs appear along-side verdant fields and hedgerows. In one image, a vertical sign titled "Hotel" stands in front of a burning field – a striking meditation on heritage and the climate crisis. The artist explains in an interview with Huxley Parlour: "These photographs, now four decades old, seem stained with a sentiment for the country, or at least the country-of-my-mind. The lands we 'live in', their meaning and narratives are a web we spin."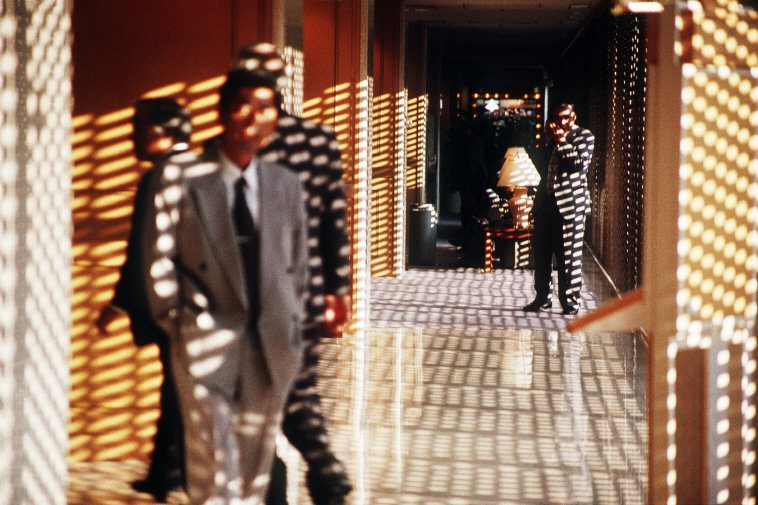 Gueorgui Pinkhassov | Magnum
Gueorgui Pinkhassov (b. 1952) is known for his vivid photography which elevates the everyday to the extraordinary. His richly-coloured images are absorbing and poetic — bordering on an abstraction which embraces the complexity of contemporary life. His series Sightwalk (1996) gathers colourful scenes in the streets of Tokyo. Stolen scenes from everyday life are frozen into beauty: a car park in a shopping mall, a man at a fish market, a hotel corridor in Akasaka. In these moments of the mundane, light is treated differently; it filters in through wooden blinds, casting streaks of warm light on the suits of businessmen.
In Simon Raion's series Pink. Unidentified. Such a Useless Color! (2023), bodies huddle together, crumpling over in communion and melancholy. Raion explores the colour, using it as a lens to explore moments of human interaction. Scenes range from overcrowded sweatshops and isolation wards to cherry blossomed front yards and cluttered dorm rooms. Dr Linda C. Ehrlich explains, "these photographs seduce the viewers' gaze while, at the same time, distancing us. How many pink-garbed people can pile into a pink car going nowhere, in images that partake equally of Edward Hopper, Hieronymus Bosch and Marx (Brothers)."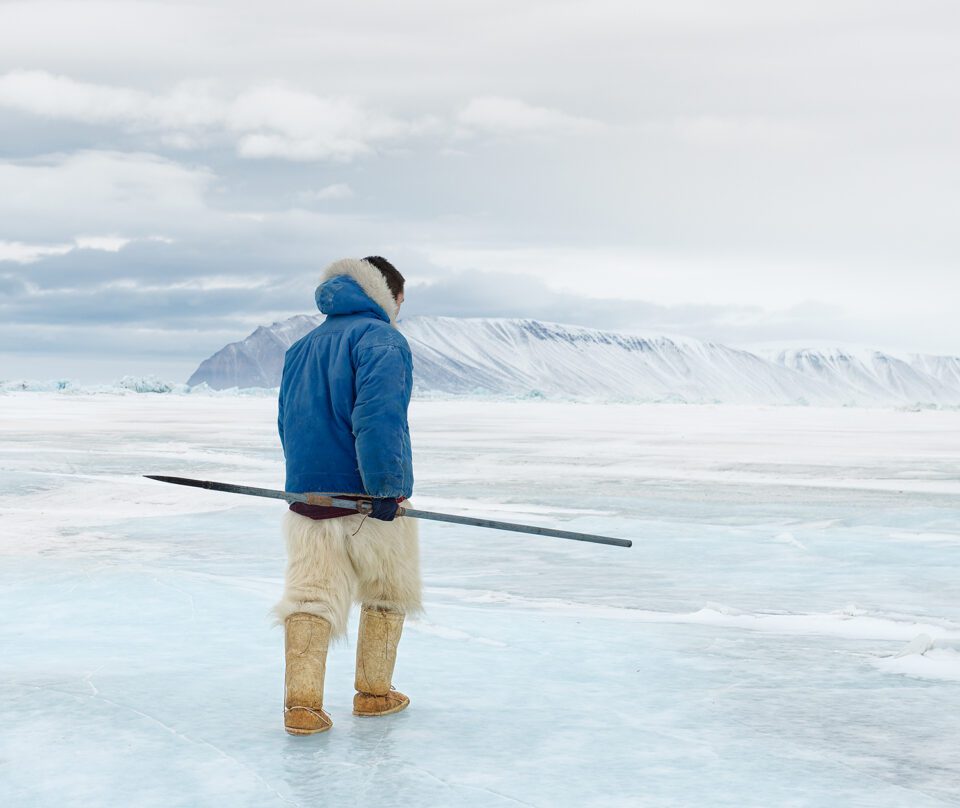 Tiina Itkonen | Persons Projects
Tiina Itkonen (b. 1968) embarked on an 1,500 kilometre expedition to the remote regions of Greenland. Hypnotic shots of icebergs, arctic tundra, alongside portraits of dogsleds and Qeqertat families capture a panoramic and intimate perspective on life. In 2015, Itknonen began an on-going series that looked at the impact of climate change on local Inuit communities. As the sea ice gets thinner, fishing and hunting have become more difficult. As a result, many hunters and fishermen have been forced to leave their homes and move to cities to look for other work. Itkonen draws attention to this environmental and social shift.
---
Paris Photo 2023 | 9 – 12 November
---
Image Credits:
Rania Matar, Lujain, Long Beach, Beirut, Lebanon, Archival Pigment Print on Baryta Paper, 64 cm x 76.2 cm, Edition 1 of 8. Courtesy of Tanit Gallery
Omar Victor Diop & The Anonymous Project, Being There 11 Pigment inkjet print on Hahnemühle FineArt Baryta Satin paper Image : 30 x 42,5 cm – Framed : 50 x 50 cm. Courtesy of Magnin-A.
Hoda Afshar, Untitled #4 (from In Turn series) Archival pigment print 165 x 132 cm. Courtesy of Milani Gallery.
Hoda Afshar, Untitled #6 (from In Turn series) Archival pigment print 165 x 132 cm. Courtesy of Milani Gallery.Paul Graham, Burning Fields. Courtesy of Galerie Clémentine de la Féronnière.
Gueorgui Pinkhassov, Hotel in Akasaka area. Tokyo, Japan Cibachrome print 48 x 60 cm. Courtesy of Magnum.
Simon Raion #090, Pink. Unidentified. Such a Useless Color! (2023). Courtesy of Fellowship.
Tiina Itkonen, Avigiaq, Qaanaaq, North West Greenland, 2019, archival pigment print, 80 x 95 cm. Courtesy of Persons Projects
---