The Japanese video artist Shigeko Kubota (1937-2015) once commented that: "in video's reality, infinite variation becomes possible…freedom to dissolve, reconstruct, mutate all forms, shape colour, location, speed, scale…liquid reality." Taking a cue from this phrase, MoMA's exhibition Shigeko Kubota: Liquid Reality presents a set of six "video sculptures" selected from a formative decade in the artist's career, 1976-1985, during which she began fully to embrace the possibilities of a medium she described as the "new paintbrush." We look back across the artist's life and creative development.
Born in 1937 in Niigita, on the central Japanese island of Honshū, Kubota was part of a post-WWII generation of Japanese artists who made an indelible impact on the international avant-garde, from the conceptualist On Kawara (1932-2014) to multi-media and performance artist Yoko Ono (1933- ), whom Kubota encountered in 1962. At that meeting Kubota, a recent sculpture graduate living in Tokyo, was also introduced to John Cage, a New York-based experimental composer and forefather of the Fluxus movement, who was giving a concert at which Ono was performing as a dancer.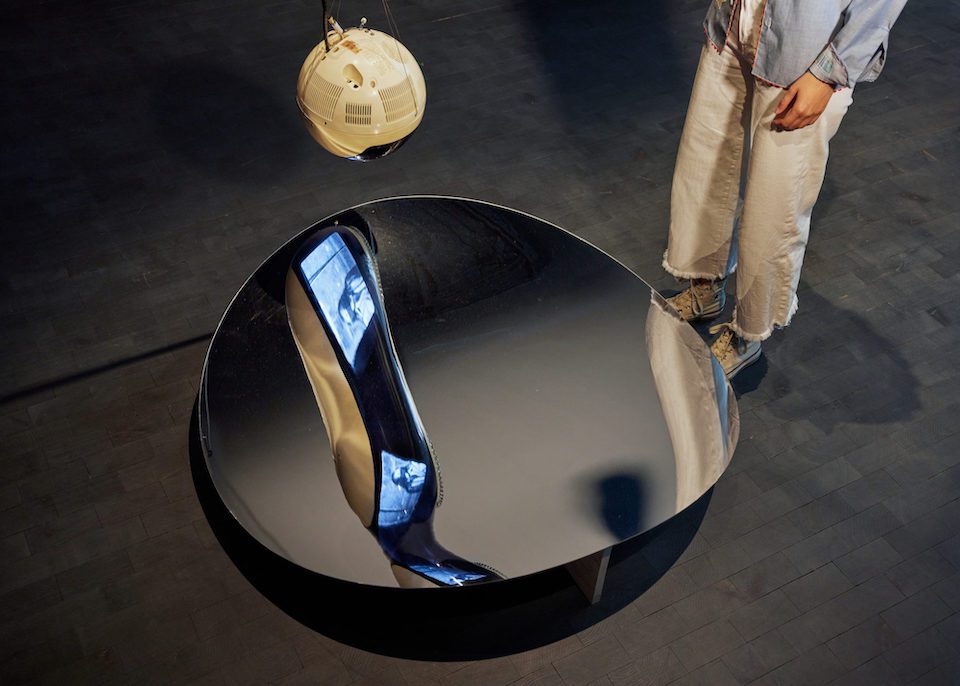 Although there was a strong avant-garde arts scene in post-war Tokyo, defined by the work of groups such as Hi Red Centre and Zero Jingen, Kubota saw that the thread of avant-garde lineage that began with the her great influence Marcel Duchamp (1887-1968) led to New York, where Cage, Duchamp's student, was based. The young sculptor began exchanging letters with George Maciunas, unofficial leader and chief agitator of the Fluxus movement, who had moved to New York from his native Lithuania with his family as a teenager. Kubota followed in 1964, travelling with the composer Mieko Shiomi (1938- ), one of several other Japanese contributors to the emerging Fluxus scene.
Fluxus was defined by the desire to take art out of the gallery space, and to break down barriers between different media. It served as a creative melting pot where musicians, sculptors, performance artists and others found common ground, and where creatives from many different nationalities developed an international language based on play, humour and anti-authoritarianism. Kubota was dubbed "vice president" of the movement by Maciunas, and became involved in the creation of collaborative pieces such as Fluxus Boxes, portable containers filled with miniature artworks, produced in runs rather than being endowed with the aura of the singular art object.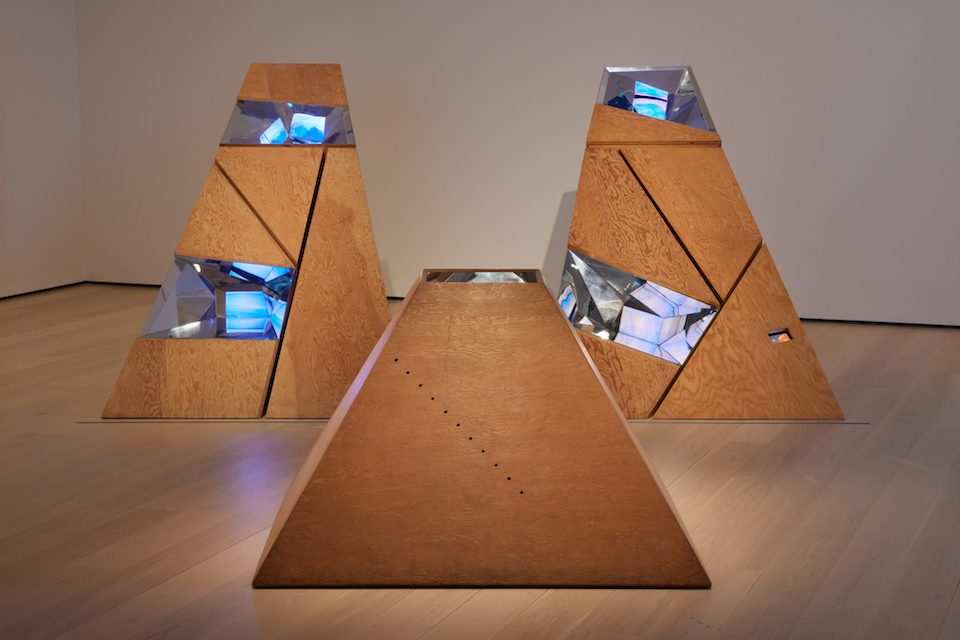 Kubota's Vagina Painting (1965) is a famous work from this early period, a live event that involved attaching a paintbrush to her underwear and squatting to make red, menstrual-like marks across a sheet of paper. But after this satirical intervention into the macho world of "action painting," the artist became concerned with new media. Duchampiana: Nude Descending a Staircase (1976) is one of several pieces presented in MoMA's Gallery 414, a time-based homage to Duchamp's 1912 work of the same name. But whereas the early 20th-century master depicted a body descending a set of steps in several phases – like stop-motion animation – the neo-avant-gardist was able to incorporate real movement. A set of video monitors was embedded in a plywood staircase, each showing a naked woman descending steps. Over the next few years, Kuboka pioneered advances in video-based practice alongside her husband, the Korean artist Nam June Paik (1932-2006).
The late 1970s saw a reorientation from works created in homage to forerunners and influences towards Kubota's so-called "autobiographical objects." An important step on this road was her creation of experimental "video diaries" from the mid-1960s. These combined documentary footage with early video processing effects, taking advantage of the portability of new video cameras such as the Sony Portapak. At the same time, a new strand of Kubota's oeuvre was emerging, a form of "video sculpture" in which her surreal portraits and three-dimensional pieces were incorporated into otherworldly landscapes, constructed from plywood and frequently featuring mirrors, sheets of metal and flowing water.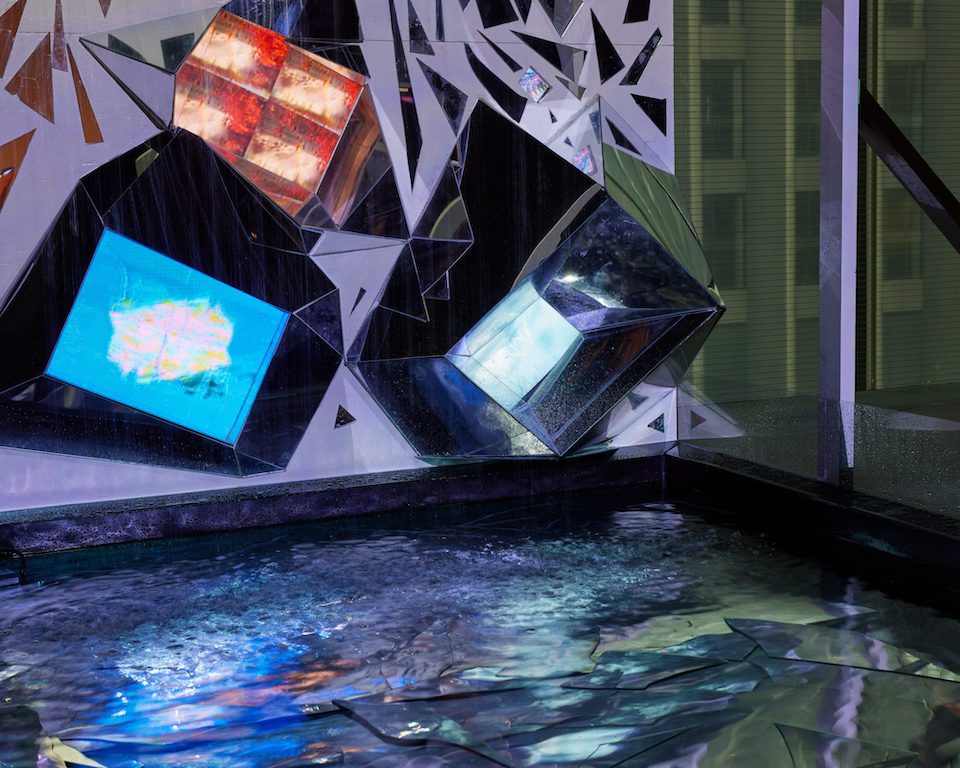 In MoMa's vaulting Kravis Studio, several of these later works are situated. In River (1979-81) consists of three downward-facing video monitors suspended above a metal trough containing an undulating flow of water. Footage of Kubota swimming is played on the screens, chopped up and refracted upon hitting the shimmering surface below. In a similar vein, Niagara (1985) consists of a plywood screen with shards of mirror embedded at dynamic angles, combined with a set of video screens of varying sizes which recreate the energy of a rushing waterfall. Video Haiku (1981), a complex work consisting of a number of elements including a simulated pool of water and a swinging spherical monitor reflecting and distorting live footage captured on a CCTV camera, rounds off this set of works exploring the mutability and flux of the natural elements. Water is, in fact, a perfect emblem for the liquid worlds which Kubota created, depicting shifting, flowing realities by using the video camera as a new kind of paintbrush.
---
Shigeko Kubota: Liquid Reality runs at MoMa, New York until 13 February 2022. Find out more here.
Words: Greg Thomas
---
Image Credits:
1. Installation view of Shigeko Kubota: Liquid Reality, August 21, 2021–January 1, 2022 at The Museum of Modern Art, New York. Digital Image © 2021 The Museum of Modern Art, New York. Photo by Denis Doorly
2. Shigeko Kubota. Video Haiku–Hanging Piece. 1981. Cathode-ray tube monitor, closed-circuit video camera, mirror, and plywood. Overall dimensions variable, mirror: 40 × 42 in. (101.6 × 106.7 cm). Courtesy Shigeko Kubota Video Art Foundation. Artwork © 2021 Estate of Shigeko Kubota / Licensed by VAGA at Artists Rights Society (ARS), NY. Digital image © 2021 The Museum of Modern Art, New York. Photo by Denis Doorly
3. Shigeko Kubota. Three Mountains. 1976–79. Four-channel standard-definition video (color, sound; approx. 30 min. each), seven cathode-ray tube monitors, plywood, and mirrors, overall dimensions variable. Courtesy Shigeko Kubota Video Art Foundation. Artwork © 2021 Estate of Shigeko Kubota/Licensed by VAGA at Artists Rights Society (ARS), NY. Digital image © 2021 The Museum of Modern Art, New York. Photo by Denis Doorly
4. Shigeko Kubota. Detail of Niagara Falls I. 1985. Four-channel video (color, sound; 30:55 min.), ten cathode-ray tube monitors, plastic mirrors, plywood, water, and sprinkler system, 8 ft. × 54 in. × 8 ft. (243.8 × 137.2 × 243.8 cm). Courtesy Shigeko Kubota Video Art Foundation. © 2021 Estate of Shigeko Kubota / Licensed by VAGA at Artists Rights Society (ARS), NY. Digital image © 2021 The Museum of Modern Art, New York. Photo by Denis Doorly