Larry Achiampong is an award-winning artist, filmmaker and musician who pushes the boundaries of audio, installation and video to explore notions of class, gender, cross-cultural and digital identity. His projects employ archival material, film, live performance and still imagery to examine his personal and communal heritage, particularly the intersection between popular culture and the residues of colonialism. Projects bring to light dialogues around themes of belonging, cultural heritage, displacement and economic exclusion.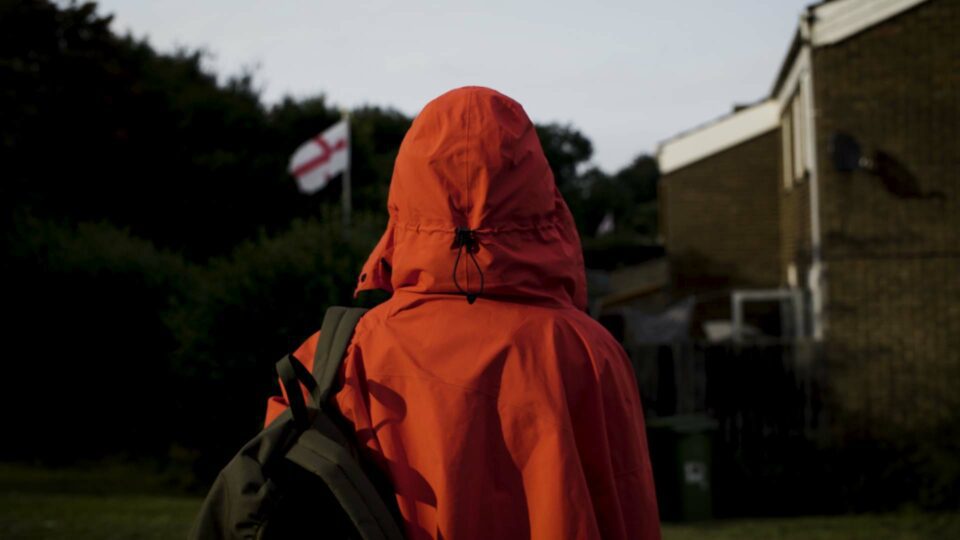 Empty fields, open moors and ruined abbeys paint the landscape of Larry Achiampong's Wayfinder. The feature-length film, is a BAFTA-longlisted Outstanding Debut (2023) and the 2023 Main Prize winner of the Aesthetica Art Prize. "The award, and what Aesthetica do, means so much to me. Wayfinder is a very special project, and probably the most ambitious work that I've created to date … It has been a true labour of love, but I'm very proud of what we managed to create."
The award-winning work, which has also been on show at Turner Contemporary and MK Gallery, now provides the title for the artist's first major solo exhibition at Baltic, Gateshead. A young woman, played by Perside Rodrigues, journeys through the English countryside. The oracle-like figure wears a bright red coat and clutches a gas mask, reflecting "the early days of the pandemic" when the film was made. What emerges is a world that appears both apocalyptic and contemporary. As the trip continues, instantly recognisable landmarks fill the screen – Hadrian's Wall, Lambley Viaduct, the beaches of Margate – as a question repeats: "What does it mean to yearn for the unfamiliar within the cocoon of familiarity?"
Even more pressing is the artist's commentary on race and displacement, expressed in ballads such as The Brown Girl, sung by Mataio Austin Dean, or monologues that reckon with colonial rhetoric. The film subverts ideas of settlement and imperial expansion. Territory is not for acquisition or possession, where, it belongs to a "thousand people who came along this way before." Instead, England is positioned as a site of regeneration, challenging the limits of boundaries.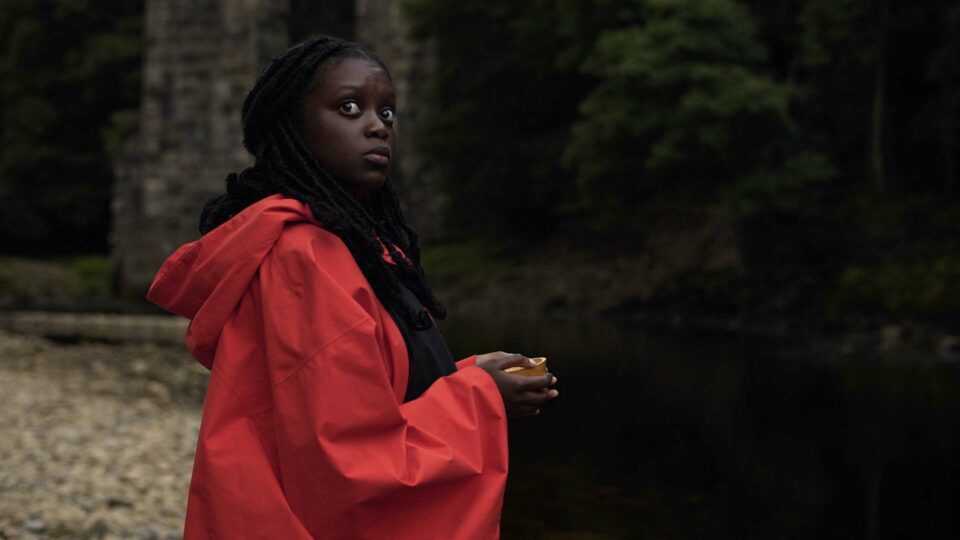 Achiampong's commitment to illuminating deeply rooted inequalities is reflected across his oeuvre. In the multi-disciplinary project Relic Traveller (2017-ongoing), which was on view at London's Science Museum earlier this year, deserted architecture and landscapes are searched by a group of astronauts. The alliance retrieves vocal testimonies of "stories and experiences of people who have not yet been allowed to be healed or learned from." In Glyth (2013-ongoing), pasted circles and bright red lips obscure the faces of loved ones in Achiampong's family pictures. The collages address the artist's own, personal experiences of racism growing up in East London. Installation The Expulsion (2019) is rooted in imagination, exploring the world of an unnamed migrant. The experiences and dreams of cleaners, labourers, janitors, porters, bouncers and sanitation workers invite viewers to consider the labour of those who are often unseen.
The artist continues to take the art world by storm, with a second solo show at Copperfield Gallery, London, running alongside Wayfinder at Baltic. His work is captivating, timely and crucial – encompassing all of the elements for a future Turner Prize nomination. Achiampong says: "I enjoy the freedom of being able to speak in my own language, my own way and on my own terms … Inspiring others means a great deal to me."
---
Wayfinder
Baltic, Gateshead | Until 29 October
Learn more about Larry Achiampong's projects
The Aesthetica Art Prize celebrates contemporary art in all its forms, offering opportunities for exhibition at a major public gallery alongside publication and £10,000 prize money.
Entries are open until 31 August | Submit Today
---
Image Credits: Larry Achiampong, Still from Wayfinder, (2022). Single-channel 4K colour film with stereo sound. 83 min. Commissioned by Turner Contemporary with MK Gallery and Baltic Centre for Contemporary Art. © Larry Achiampong. All rights reserved, DACS/Artimage 2022. Courtesy the artist and Copperfield, London