The idea of "institutional critique" first blossomed in the late 1960s, when conceptual artists began to respond to the museums, galleries, private collections that exhibited their work. The aim: to expose ideologies and power structures underlying the art world. Leading exponents include the likes of Hans Haacke (b. 1939), whose proposed 1974 show Solomon R. Guggenheim Museum Board of Trustees would have mounted an index of the museum's corporate sponsors and board of trustees to the walls. Andrea Fraser (b. 1965)'s iconic Museum Highlights: A Gallery Talk took viewers on a parodical tour of the Philadelphia Museum – offering her thoughts not only on the building's history, but on its toilets, cloakroom and shop.
---
But what does this approach look like in 2021? It's perhaps more important than ever for galleries to reassess their collections, asking: who are we representing, how and why? What is our responsibility when it comes the display of objects and artefacts? Berlin-based artist Thea Djordjadze is interested in these questions. Influenced in equal measure by historical artefacts and concepts of modern art and architecture, Djordjadze's sculptural works reformulate classic methods of display: vitrines, plinths, frames and pedestals are transformed into something new. Chosen materials include plaster, metal, foam, textiles, wood and papier-mâché.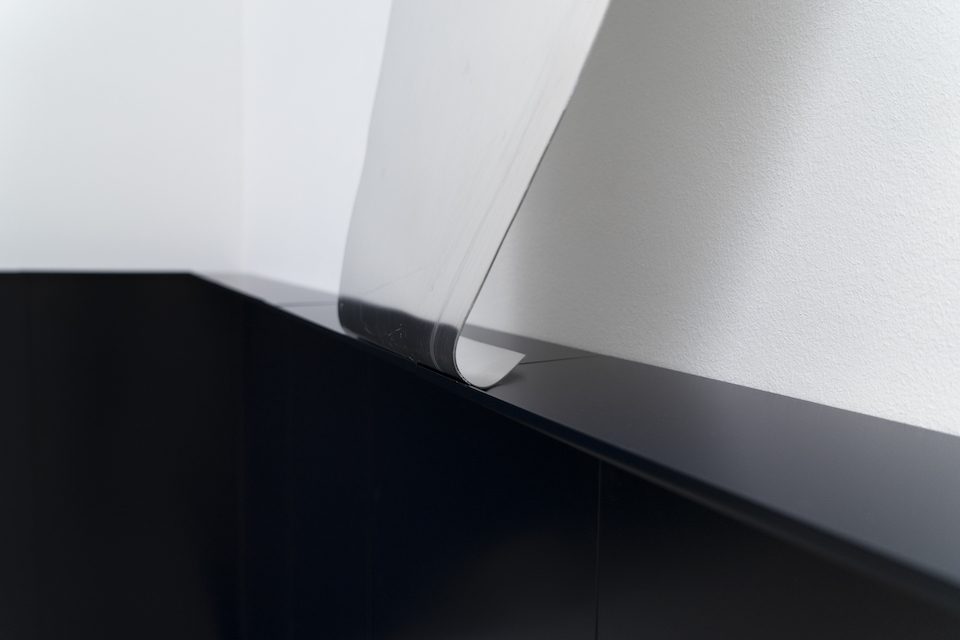 "Thea Djordjadze's work demonstrates how history and institutional memory are communicated through everyday materials, objects and methods of display," says Stephanie Rosenthal, Director of Gropius Bau. This September, the artist takes over an historic wing of the museum with the exhibition all building as making. The space, the so-called Schliemann Saal, was once home to Heinrich Schliemann's excavated archaeological findings between 1881 and 1885. Djordjadze's newly created works will engage in a dialogue with these historical spaces and past archaeological exhibitions. For Rosenthal, this approach resonates with what it means to be a curator in 2021. "Djordjadze's project – focused on the material housing of art, artefacts and their presentation – frames our ongoing interest in co-relation, hospitality and the ethical imperatives of care and visibility within arts institutions."
---
Until 16 January. Find out more here.
---
Image Credits:
1. Thea Djordjadze, He ne sa tu to me., 2014 Installation view MIT List Visual Arts Center, Cambridge, MA, 10.10.2014-4.1.2015 Wood, steel, plaster, paint. © Thea Djordjadze / VG Bild-Kunst 2021, Bonn. Photo: Peter Harris, Boston
2. Thea Djordjadze, She didn't have friends, children, sex, religion, marriage, success, a salary or a fear of death. She worked, 2014 (detail) Wood, steel, foam, paint, plaster © Thea Djordjadze / VG Bild-Kunst, Bonn 2021 Courtesy The Museum of Modern Art, New York. Fund for the Twenty-First Century und Sprüth Magers Photo: Peter Harris, Boston
3.  Thea Djordjadze, Ma Sa i a ly e a se – de, 2015. Installation view, South London Gallery, London, 2.10.2015-29.11-2015. Wood, plexiglass, ink © Thea Djordjadze / VG Bild-Kunst 2021, Bonn. Courtesy South London Gallery Photo: Andy Stagg.
4. Thea Djordjadze, oneissopublicandtheothersoprivate, 2019 (Detail) Mixed Media © Thea Djordjadze / VG Bild-Kunst 2021, Bonn Courtesy Kunst Museum Winterthur and Sprüth Magers Photo: Reto Kaufmann