Yayoi Kusama (b. 1929) is one of the world's most important contemporary artists. Since the 1960s, she has been actively engaged in realising exhibition projects and crafting mesmerising spaces. This summer, Gropius Bau, Berlin, presents Germany's first comprehensive retrospective of her work, recreating some of Kusama's most iconic shows. Titled A Bouquet of Love I Saw in the Universe, it traces the development of the artist's creative output – from her early paintings and sculptures to her immersive environments – as well exploring lesser-known activity in Germany and Europe. Director and Curator Dr Stephanie Rosenthal speaks to Aesthetica about the show, which unfolds across a staggering 3000 m².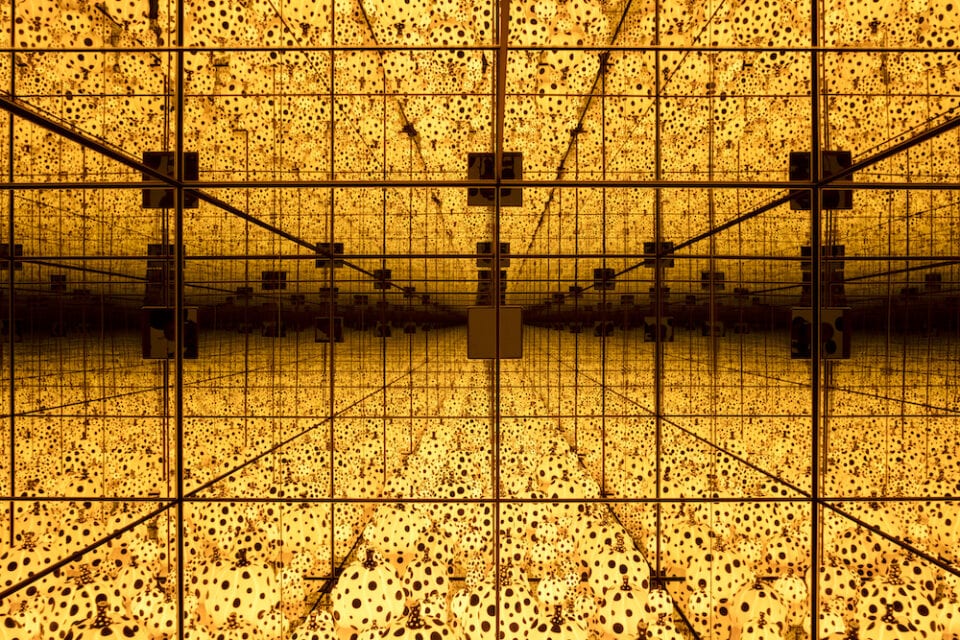 A: Gropius Bau has reconstructed eight exhibitions from the years 1952-1983. Why did you take this approach, and how did you choose which ones to recreate?
SR: In this retrospective, the first of its kind in Germany, we take a new approach to Kusama's work by recreating landmark historical exhibition spaces, which she designed and controlled herself. At the same time, we also emphasise Kusama's connection to Germany and Europe, where, in the early 1960s, Kusama was more involved in than in the US. It was important to us to show that Kusama's cosmos is a self-contained system and cannot be assigned to any art movement. It was also important for us not only to show Kusama's works, but to show viewers as much as possible about their development, reception and the contexts in which they were shown. The exhibition design, with its timeline and reconstructed rooms, foregrounds this. We are showing the production, presentation, performative practice and reception.
A: What are your highlights?
SR: I have a very personal attachment to her beautiful paintings and paper drawings that she created in Matsumoto around 1958. I first saw them in the studio in Japan. I personally relate the most to her early works. I find them very poetic; there is a depth to them that I also find in her latest pieces. This closes a circle within the exhibition – and for me – within her work. One photograph of Kusama I find particularly intriguing is from her time in Matsumoto, when she was in her early twenties. She is sitting among her paper drawings, wearing a blouse that she designed herself. Here, you can already see the origin of her cross- disciplinary practice – including art, performance, fashion and more. It shows how design became part of her art. I think that's one of the most beautiful documents on view.
Other highlights include Rowing Boat at the Getrude Stein Gallery from around 1963; the hexagonal mirror room Love Forever from 1966; and Environment with Noodles on the Carpet and Music in the Background at the Galerie M. E. Thelen Gallery in Essen in 1966. For the Jardin de Luseine in Tokyo in 1983, Kusama filled all the floors of a former private residence in the Art Nouveau style, like a mini retrospective.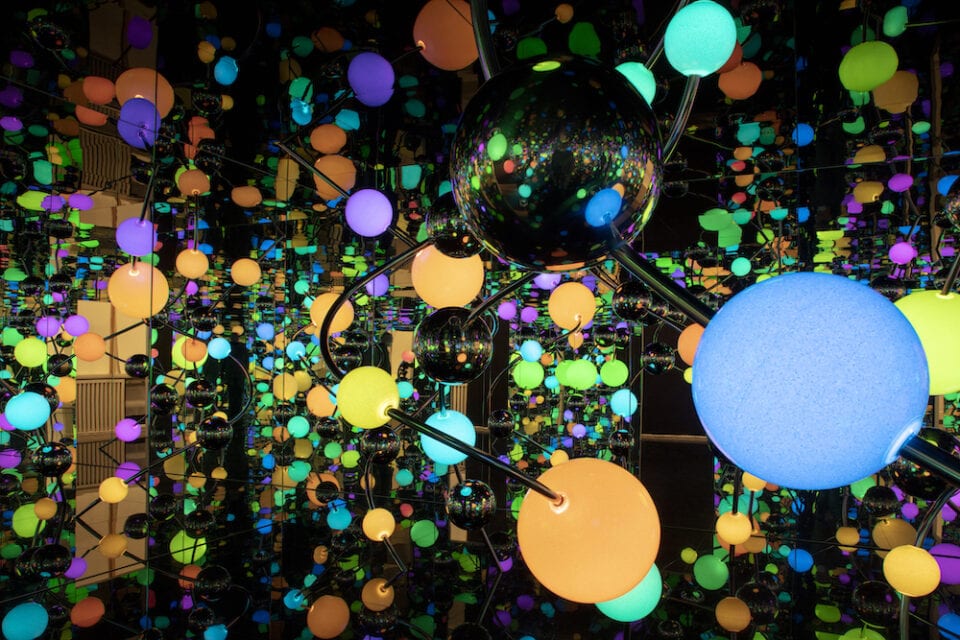 A: Kusama is one of the world's most popular artists. Her 2017 show broke attendance records at Washington's Hirshhorn Museum and Sculpture Garden; Instagram users posted 34,000 images of the exhibition. Why do you think her work continues to grow in popularity in the age of social media?
SR: Kusama's artistic position is characterised by revolutionary interventions. She is driven by the desire for an immersive union of body and artwork, and an urge to redefine the role of women in art. Kusama has always employed her own body as a placeholder – an act that anticipates today's selfie culture. The idea of "striving to be in the picture" is central to Kusama's oeuvre – although her primary concern is the fusion of the self with art. It is an approach that enables viewers to empathise. From this point of view, she can be seen as a precursor of the self-integration that is common today, especially on social media platforms.
A: There's a brand new Infinity Mirror Room at the Gropius Bau. What can audiences expect?
SR: This entirely new work is called Infinity Mirror Room – The Eternally Infinite Light of the Universe Illuminating the Quest for Truth (2021). The title tells a story by itself: it's an installation where the artist, for the first time, finds a new form within the Infinity Mirror Rooms. In this space, spheres of various changing colours are linked together with silver tubes. The work is completed only when you look into the mirrors, which become an infinite universe of polka dot stars. In her view, each star stands in for a human being.
---
Yayoi Kusama: A Retrospective, A Bouquet of Love I Saw in the Universe runs until 15 August.
Find out more here.
Words: Eleanor Sutherland
---
Image Credits:
1. Yayoi Kusama: A Retrospective, Installation view "Infinity Mirror Room – The Eternally Infinite Light of the Universe Illuminating the Quest for Truth", 2021, Gropius Bau. Photo: Luca Girardini
2. Yayoi Kusama: A Retrospective, Installation view "THE SPIRITS OF THE PUMPKINS DESCENDED INTO THE HEAVENS", 2021, Gropius Bau. Photo: Luca Girardini
3. Yayoi Kusama: A Retrospective, Installation view "A Bouquet of Love I Saw in the Universe", 2021, Gropius Bau. Photo: Luca Girardini
4. Yayoi Kusama: A Retrospective, Installation view "Infinity Mirror Room – The Eternally Infinite Light of the Universe Illuminating the Quest for Truth", 2021, Gropius Bau. Photo: Luca Girardini