Kew Gardens presents Petrichor, a new exhibition of work from celebrated contemporary artist Mat Collishaw (b. 1966). He emerged alongside the Young British Artists – Damien Hirst (b. 1965), Tracey Emin (b. 1963) and Cornelia Parker (b. 1956) – a landmark group who disrupted the art world in the late 1980s. Now, Collishaw's new commissions will feature alongside existing work in an exciting show at the Shirley Sherwood Gallery of Botanical Art at Kew Gardens. Attendees will experience sculptural installations made using historic techniques – such as the Zoetrope – as well as modern technologies, including AI and VR. This show explores the relationship between the natural world, art history and how artistic representations of nature can impact the way we see the world around us.
The artist investigates the human fascination and fear of new technologies. In 2017, his Thresholds series called back to the first photography exhibition in 1839. He recreated the show from over 70 years ago in virtual reality (VR) to highlight the similarities between the invention of the camera and the rise of immersive media. Both are signs of progress that come with anxieties over job losses due to work becoming mechanised. Petrichor, meanwhile, explores technology in relation to nature.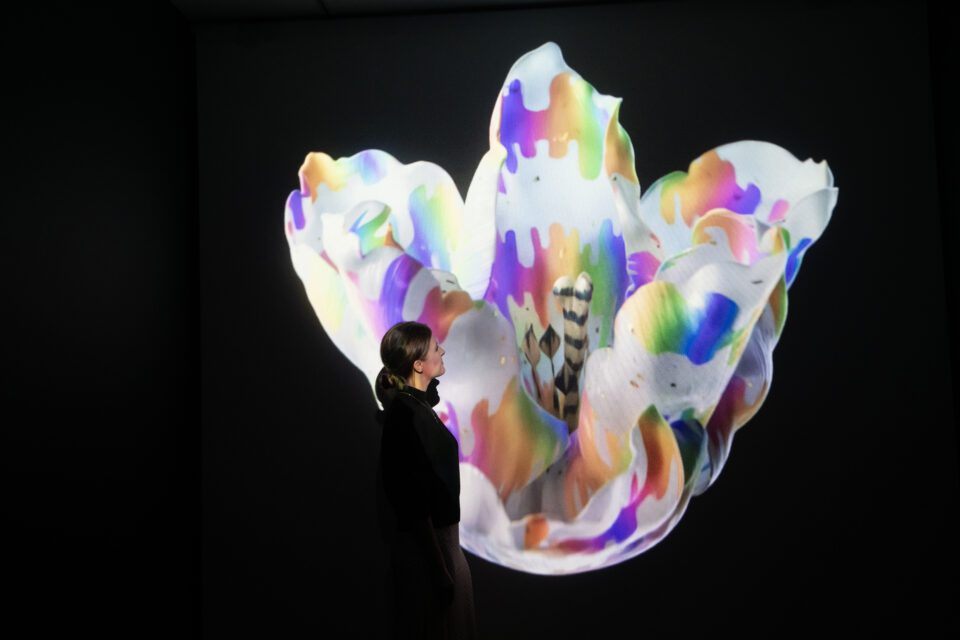 The Centrifugal Soul (2016), for example, shows birds of paradise carefully positioned into an elaborate display. Pastel pink blossoms are arranged amongst black crows, who appear fixated on blue bottle caps. The piece then spins rapidly, giving everything the illusion of movement and life. Wings rise and fall whilst flowers bud and bloom in an incessant loop. The effect is mesmerising yet sensorially overwhelming. Collishaw bases the animation on the Zoetrope, a Victorian rotating cylindrical device that creates a sense of motion and was a precursor to modern filmmaking. New technology animates static objects across the exhibition. Columbine (2018), for example, appears from far away to be a framed copy of Albrecht Dürer's (1471-1528) watercolour painting. A closer look reveals Collishaw has brought the piece to life on LCD.
Floral imagery has long been a staple of Collishaw's artwork. His latest series, Alluvion, for example, takes inspiration from 17th century still life paintings. Six frames show vibrant, yet strangely unfamiliar bouquets. Upon closer inspection, we notice that the petals are butterfly wings. Insects copy the colours, shapes and textures of the plants we expect to see. The piece illustrates a natural phenomenon known as "Pouyannian mimicry", where plants resemble a female mate for a pollinating insect. This is most common in a species of bee orchid (ophrys apifera), where the shape of one petal resembles the small animal. The artist generates these paintings with carefully moderated AI that constantly switches what we are being shown. Alluvion serves as a visual metaphor for the ways people can be entranced and also deceived by beauty and technology. The artist addresses the deliberate ambiguity of his work in an interview with Len Gordon from Art Plugged, stating that his pieces: "should make people question rather than deliver a sermon. It should be a mirror, not a hammer. It should try to raise questions rather than give answers."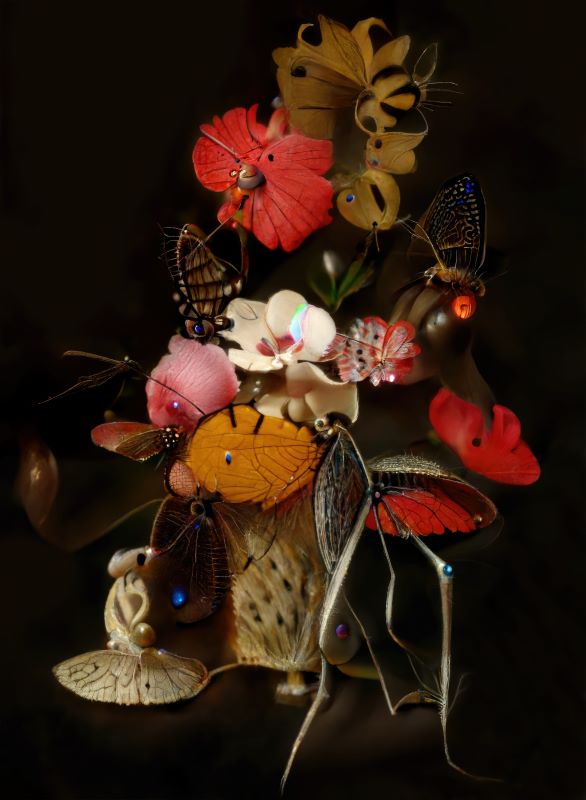 Collishaw is especially fascinated with the human desire to buy, collect and display plant-life. According to Statista, "UK households purchased approximately 6.11 billion British pounds worth of plants and flowers and other garden goods, considerably more than just two years before." This trend has been steadily increasing over the years. The overwhelming majority of cut flowers are imported (86% in 2022), arriving from the Netherlands, Ecuador, Kenya and Ethiopia. Collishaw's large-scale projection, Even to the End, explores the history of this trade and its catastrophic potential for the planet. The nine-minute sequence shows "an island teeming with tangled roots and dense forest" before it turns into a "charred, lifeless wasteland." Participants are immersed in a Wardian case, an early protective container invented in 1829 to transport live plant specimens around the world. The video is accompanied by composer Samuel Barber's Adagio for Strings. The haunting composition draws inspiration from Roman poet Virgil's Georgics, which is about humanity's efforts to cultivate the land despite the constant threat of destruction. Elsewhere, the series Heterosis presents hybrid blooms in NFT form. Collishaw makes them in collaboration with Danil Krivoruchko on the OG.Art platform using a combination of genetic algorithms with blockchain technology. Collectors can breed species of virtual buds to create brand new ones which are stored in a metaverse "Greenhouse." The desire for flowers persists, regardless of whether they are physical or virtual.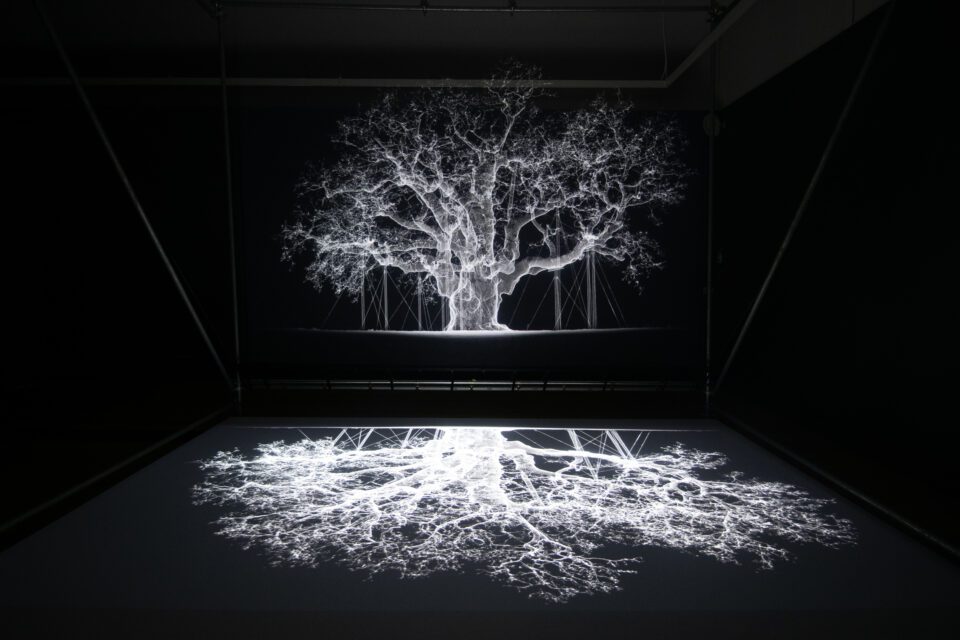 For Collishaw, the botanical theme of Petrichor is an opportunity to tap into a variety of time-honoured dialogues – whether artistic, political or technological – and draw our attention to how they affect us today. This focus aligns his work with the exploded still lifes of Ori Gersht (b. 1967) and the intriguing self-portraits of Omar Victor Diop (b. 1980). From Zeotropes to NFTs, the artist acknowledges that every technique and idea was once new. Experimenting with media and materials is an integral part of Collishaw's practice. He explains: "I try to anchor those modern technologies with something historical so that I can bridge the gap between what happened in the past and where we're going to in the future."
---
Shirley Sherwood Gallery of Botanical Arts Kew Gardens, London: Mat Collishaw: Petrichor
Words: Diana Bestwish Tetteh
---
Image Credits:
Albion by Mat Collishaw. © RBG Kew.
Heterosis by Mat Collishaw. © RBG Kew.
Alluvion by Mat Collishaw. © RBG Kew.
Albion by Mat Collishaw. © RBG Kew.