Gulnara Samoilova is determined to spotlight women photographers, from instagram to the gallery, and now, with a groundbreaking publication.
Think of a great street photographer: who springs to mind? Henri Cartier-Bresson and the "decisive moment", catching a man mid-air as he jumps over a puddle in Paris? Maybe Joel Meyerowitz and his shot of camel-coated passers-by, caught in shafts of sunshine and steam? Garry Winogrand or Bruce Gilden and their depictions of New York? Martin Parr shooting on the beach in Brighton, Brassaï capturing Paris at night in the 1930s or Daidō Moriyama and his raw vision of Tokyo in the 1960s and 1970s? All big names but so far none of them women – even though, as award-winning photographer, curator and wildly-popular Instagram account holder Gulnara Samoilova puts it, "There were, of course, more women street photographers than history admits to."
Some of these lesser-known practitioners are picked out in the introduction to Samoilova's new book, Women Street Photographers, via a brief history written by Melissa Breyer – also a street photographer whose work has been featured in the likes of National Geographic. Breyer foregrounds the little-known Alice Austin, for example, who was born in New York in 1866 and who took upwards of 7000 images in Staten Island at the turn of the 20th century. Then there's artists such as Jessie Tarbox Beals, who was born in 1870 in Hamilton, Canada and, after being hired by the Buffalo Enquirer in 1902, became America's first female news photographer.
Breyer also gives a brief overview of other women who documented people on the street and became much better known overall – Berenice Abbott, for example, Helen Levitt, or Diane Arbus, all of whom are part of the established canon and have been for a long time. Then there are the likes of Vivian Maier, widely celebrated only posthumously, and whose story tantalisingly suggests other great, undiscovered female practitioners. Incidentally, but not surprisingly, Maier is about to have a huge show at the Musée du Luxembourg in Paris. Her work has previously been shown around the world at institutions such as FOAM Amsterdam, Somerset House, London, and the Hasselblad Foundation in Gothenburg. However, Maier was completely unknown in her lifetime, working in Chicago as a nanny in the second half of the 20th century. Pursuing photography for her own satisfaction, she quietly amassed an archive of over 100,000 negatives, which wasn't discovered until 2007 at an auction house.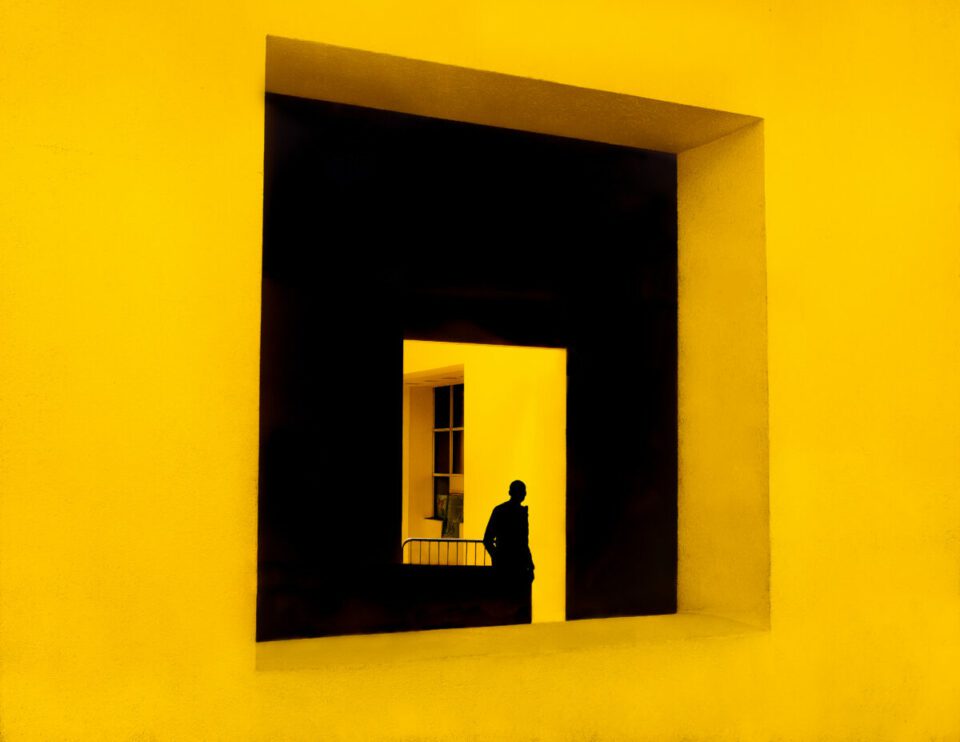 Breyer makes clear that there are many reasons why fewer women are known for street photography, none of which are to do with actual images. She describes writer George Sand illegally donning trousers without a permit to walk freely around Paris, laying bare the social pressures that bound so- called "respectable women." However, Samoilova chooses not to dwell on the many negatives. Instead, she celebrates the wealth of contemporary female practitioners currently working on the street – both to inspire others to pick up cameras, and to create a resource for curators and editors.
Samoilova has brought together 100 image-makers, from those who are known within curatorial and editorial circles, such as Rebecca Norris Webb and Dimpy Bhalotia, to those who are working in obscurity, such as Nastaran Farjadpezeshk, an electrical engineer based in Mashhad, Iran, who creates images in her spare time. The book also includes many different styles and approaches, from richly coloured images by Karolina Trapp, to delicate black-and-white shots by Olga Karlovac. Samoilova features images produced through highly technical kit, as well as those shot on iPhone and other smartphone cameras, purely for Instagram.
This groundbreaking publication has clearly been a labour of love; Women Street Photographers has roots in Samoilova's personal interests and experiences. Born in Ufa, an industrial town in what was then the USSR, she fell in love with photography after tagging along to a printing class with a friend and witnessing "the most magical thing" – the moment when images appear in the dark room. It was the 1980s and times were hard in Ufa, which only had one cinema, let alone a gallery, but Samoilova finished school and quickly found work in a lab, then went on to become a portrait photographer, then a photojournalist – working for a local paper.
---
In 1992 she moved to New York, speaking no English. By the early 2000s, she had become a contributor at Associated Press and won a prestigious World Press Photo award for her coverage of 9/11. Samoilova was in bed five blocks away when the first plane hit but, hearing multiple sirens, realised something terrible must have happened. Turning on the TV, she saw the second plane hit and heard the accompanying explosion. Immediately understanding it was a terrorist attack, she grabbed a camera and headed to the scene. Whilst she was there, a policeman tried to push her away, asking how she could take photographs with so much going on. "I told him I had to document it; this was a momentous historical event," she told the authors of Woman Journalists at Ground Zero.
She has been shooting on the street ever since. Her path hasn't been easy though. When Samoilova started practising in Ufa she didn't know a single female practitioner; coming across a similar dynamic in street photography, she was determined to seek out other women. She decided that there must be others, and that, once found, she'd offer them the opportunity of a group show – which happened in New York in 2018, featuring 75 names. Samoilova found many of the artists via social media. Scrolling through hundreds of feeds and accounts, she'd find lots of men and "once in a blue moon" a woman. Coming across these names, she hit save on the images, and eventually began to start asking herself the pivotal question: "Why not start to post them?"
This was the genesis of @womenstreetphotographers. By March 2018, she was posting on the account every day and, at the time of writing, it has well over 100,000 followers. One of the charms of the feed, beyond the curation, is that Samoilova appears in posts and live interviews, as well as writing about the selection of certain images, demonstrating her credentials the nerve to set herself up as a resource.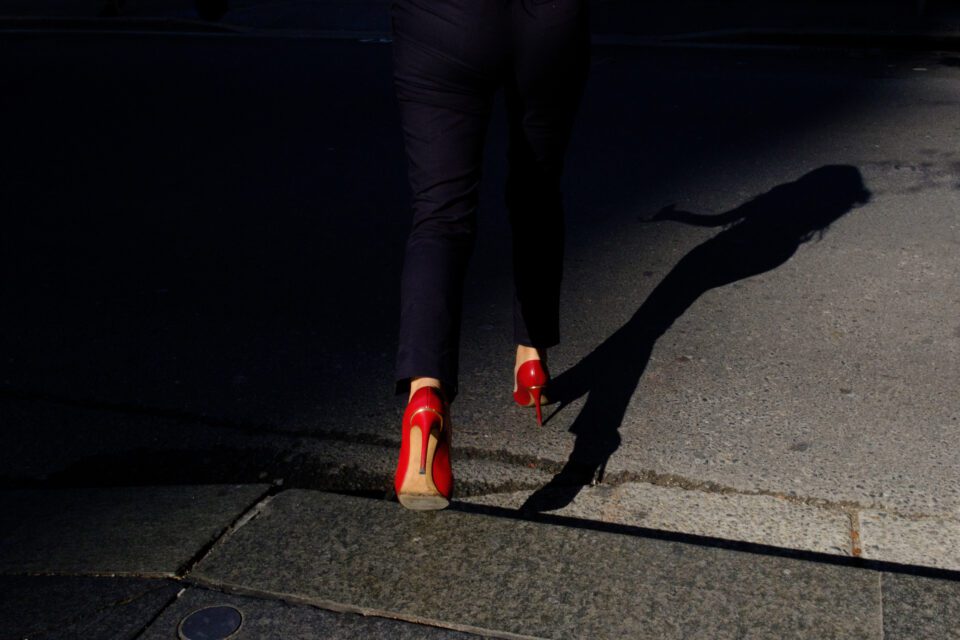 The associated group show in New York is now an annual fixture, fresh from its third outing (Covid notwithstanding); the exhibition has also travelled to Italy, Switzerland, Malaysia and Russia. After deciding to put together a catalogue, Samoilova started to research self-published photobooks when Prestel got in touch. Women Street Photographers is the result, but it's definitely not a simple catalogue. Organised as a carefully constructed flow of images rather than alphabetically, it features one shot per individual, plus commentary on the inception, production and realisation of each piece.
"It's something I do with all the exhibitions too; I collect the background stories," she explains. "I like to read why the photographer has taken the picture, why they love pictures and what they feel." The result is a fascinating insight into the images, which also feels empowering because, not only has Samoilova given these women a platform to show their work, but she has also literally let them speak. Julia Coddington describes a day shooting in Sydney, in which she spotted a pair of red shoes picked out by the light, chasing after them over to Brooklyn. Linda Hacker took a totally different approach, setting up at an interesting location and waiting for someone to walk into view. Some works feel gritty, documenting a particular time and place, but many others – including Hacker's – have an ethereal, timeless quality.
"[With] Betty [Goh] and Linda, I was so impressed that they could go to the streets and create an abstract atmosphere," says Samoilova. "I was blown away." And, in seeking out this type of boundary pushing work, Samoilova is admirably unsnobbish. She's completely unfazed by practitioners who make work with their phones and says emphatically that you don't need to have training or expensive equipment to have talent. In fact, she says the growth in camera phones has helped more women take up the medium because they're accessible and also discrete; they've helped "more and more to get brave", she comments. Perhaps surprisingly, she doesn't feel women face more barriers or risk than men when shooting in the street, no matter which part of the world they're based in – and her book is admirably international, departing from Eurocentric traditions to include slices of life shot in many different countries and cultures.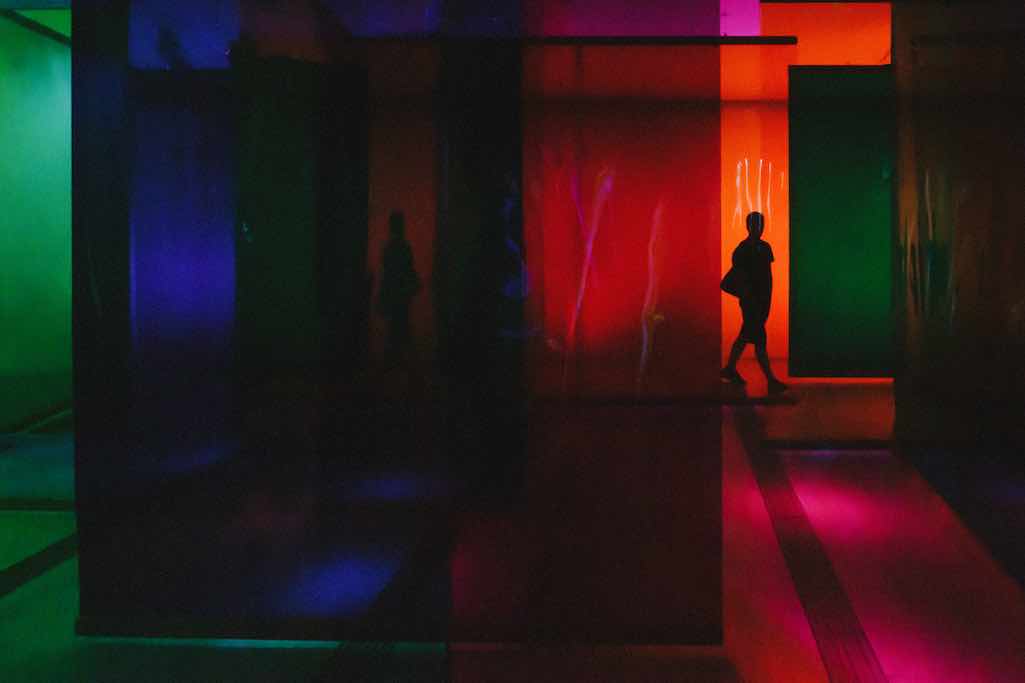 Samoilova has also personally photographed many different landscapes and locations and says she can only remember encountering one angry response. To her, it's all a question of how you present yourself. "I always approach people with a smile and with my camera next to my face – I don't pretend I'm not taking pictures, but I'm friendly," she says. "In fact, what I love about this type of art is that it teaches you how to read people: to be aware and use your intuition. It teaches patience and how to really look – you don't have to see someone's face to know what's going on.
"All of those techniques and skills are useful in other areas of photography too," she adds. "When I'm teaching people portraiture, I encourage individuals to go out into public spaces and gain experience there. You need to use body language – you can talk and smile with your eyes; you need to think about how you come across to people, whether you're nervous or relaxed, and the connotations of this." It's not surprising to hear, then, that she's not fazed by the current pandemic, and the associated lockdowns and quarantines, though they have made it difficult to go out, or find passersby. She's been making new work by painting on top of images, boasting a well-established art practice as well. There are always things you can do, she adds, whether it's creating collages or really getting to know your camera.
"Maybe this is a great time to do something else. Danielle Goldstein took pictures from her balcony [during the first lockdown]. If you can go outside, you can train your eye. You can practice. This is what I do, I stand in one corner and look at the light. You can create abstracts. Anything! Creative people always find an outlet." It's a typically positive response, from an inspiring individual and artist – and maybe proof that in life, as well as in street photography, you can get good results if you both go with the flow and seize the day. "From my own experience, when you put your mind to something and really want it, you can achieve it," she says. "When you have a passion, nothing can stop you."
---
Words: Diane Smyth
Women Street Photographers is published by Prestel.
prestel.com
---
Images:
1&6. Betty Goh, The Maze, Singapore, 2018 © Betty Goh (detail).
2. Karolina Trapp, Squaring the Circle, Los Angeles, USA, 2017 © Karolina Trapp.
3. Linda Hacker, This Way Out, Brooklyn, New York, USA, 2019 © Linda Hacker.
4. Selnur Okudan, Light Hair, Antalya, Turkey, 2018 © Selnur Okudan.
5. Julia Coddington, Red Shoes, Sydney, Australia, 2018 © Julia Coddington.