In partnership with the Nicole Brachetti Peretti Collection
---
On 28 January 2020, Tomás Saraceno live-streamed the launch of the Aerocene Pacha in Salinas Grandes – a great salt flat in central-northern Argentina– to 26,000 viewers. Aerocene Pacha was the first inflatable sculpture to lift a human into the atmosphere using only solar power and wind currents and was is the result of more than 20 years of interdisciplinary research carried out by the artist and his collaborators in the fields of art, science and environmental activism. For several years, the Berlin-based Argentinean artist has been actively investigating the possibility of fossil-free air travel as an alternative to minimize carbon emissions. 
A few months ago, Saraceno's project may have been seen as an interesting yet fanciful exercise, but in the midst of the pandemic it, has a new sense of urgency and purpose. Studies published by the scientific community over the past weeks demonstrate the correlation between high air pollution levels and increased Covid-19 death rates, with many global cities now announcing measures to improve pedestrian and cycling networks as part of a low-carbon post-crisis recovery plan. Moreover, as the future of commercial aviation remains a big question mark, this is the moment to reinvent in a more sustainable industry, with steps like the ones set out in Saraceno's Aerocene manifesto.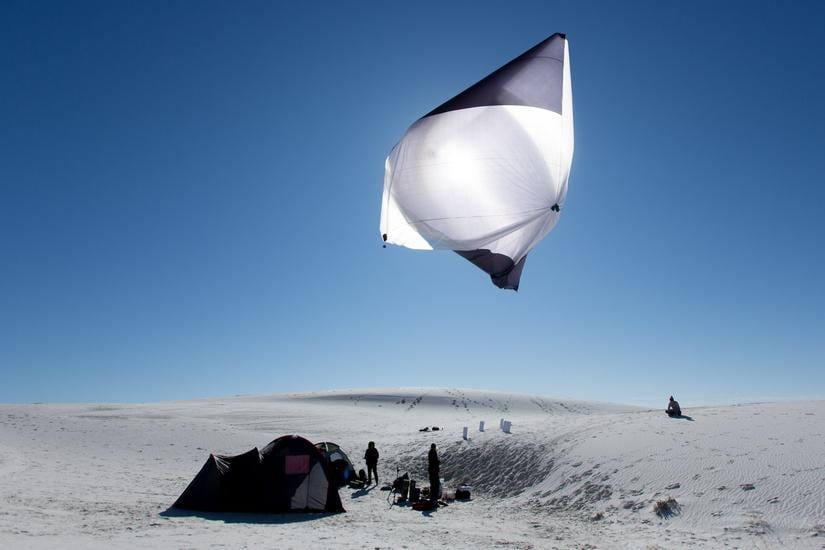 The fact that Aerocene Pachahas reached the public via online transmission also raises a critical question: how are audiences going to be able to experience art in the near future? As success cannot currently be measured by visitor figures – at least not physical ones – art institutions are rapidly striving to create different ways of engaging audiences. Saraceno's solo exhibition Aria, which opened at the Palazzo Strozzi last February, for example, is temporarily closed. In the meantime the foundation devised an initiative called In Touch, comprising a digital platform that publishes texts, videos and other types of content produced by a number of contributors who explore some of the main themes underlying the show. 
Meanwhile, one of Saraceno's most ambitious projects remains closed until further notice. Commissioned by the Cisterernin Copenhagen – the city's disused water reservoir – Saraceno's exhibition Event Horizon was all set up when Denmark came to a halt. In face of a looming environmental "point of no return", the artist conceived this show as to encourage visitors to become more attuned to their senses and to the world around them. The cisterns – massive dark underground spaces completely devoid of sunlight – have been filled with water and the public must navigate the exhibition on small paddling boats. The journey, which lasts over 45 minutes, actively promotes the idea of "slowing down."  As viewers' senses gradually adjust to pitch-black darkness and overwhelming silence, they need to find new strategies to negotiate their way through these unusual environmental conditions. Post lockdown, when the exhibition eventually reopens perhaps this sense of slowness and the need to rethink normality will ring strangely familiar.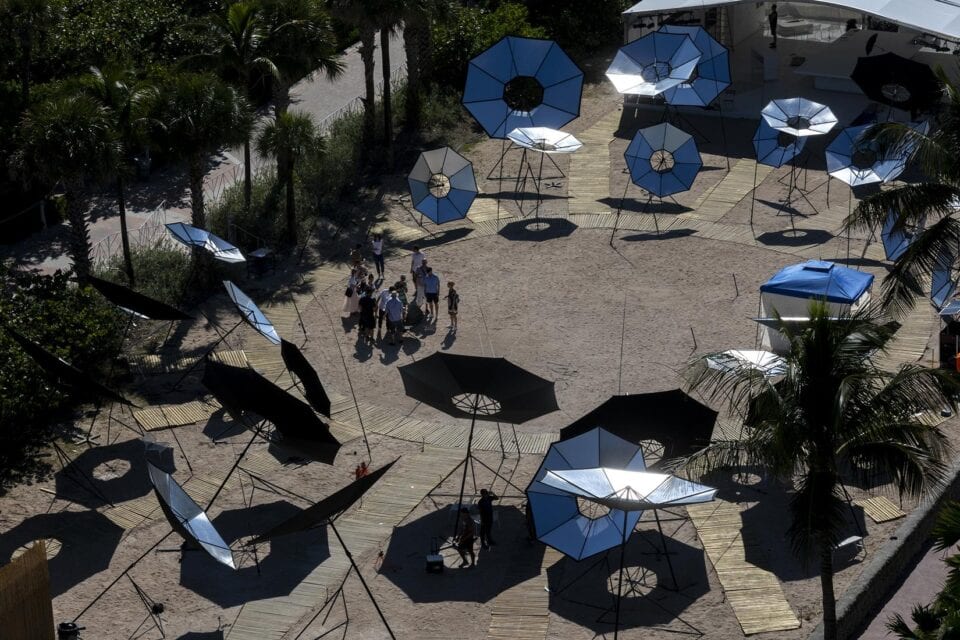 Of course, Saraceno is not only the only Latin American artist whose work which has become more necessary in the current environmental and health crisis. Over the past decade, Argentinian artist Adrián Villar-Rojas has produced several large-scale sculptural installations that evoke the idea of ruins from a post-apocalyptic, post-human future. These monumental sculptures, which have monochromatic surfaces made of cracking clay or concrete – sometimes even incorporating organic matter – feel particularly haunting right now. Having exhibited internationally in some of the most renowned institutions and biennales worldwide, Villar-Rojas is the subject of a timely first monographpublished by Phaidon earlier this year, which features contributions by acclaimed curators Carolyn Christov-Bakargiev, Eungie Joo and Hans Ulrich Obrist, all of whom have worked closely with the artist in the past.
At Dallas Contemporary, Jose Dávila's major site-specific exhibition Directional Energiesopened in January and was due to close only a couple of days after the museum shut its doors until further notice. Currently, the venue's open floor plan space remains filled with Dávila's landmark sculptural pieces using construction-grade I-beams, boulders and other objects that seem held together in precarious balance. Beyond disrupting the formal order associated with modernity and minimalism, these works –more than ever – powerfully convey the feeling of impending collapse.
As the Coronavirus continues to halt art world's calendar, the São Paulo Biennial – arguably one of the most important art events in Latin America – is currently scheduled to open in the beginning of October, having moved the original date back a month. However, as the pandemic escalates in the country due to President Bolsonaro's refusal to implement preventive policies based on scientific advice, the Biennial's organisers will have to keep a close eye on how events will unfold in Brazil over the next few weeks. Amidst the wave of art world postponements being announced on an almost daily basis, it seems uncertain whether São Paulo will be able to maintain its current dates. 
Luckily, as an exhibition that proposed an extended timeframe, the Biennial managed to present the first of three solo shows programmed to take place in the lead up to the main exhibition, which are meant to introduce some of the main themes explored by the curatorial team in this edition. Opened in February at the Biennial pavilion, Ximena Garrido-Lecca's monographic presentation offered a more in-depth insight into the Peruvian artist's practice, which often encompasses vernacular techniques and materials from her home country to probe the impact of colonial and neocolonial regimes on the livelihood of communities and the survival of ecosystems. The works shown will be later incorporated into the main group show.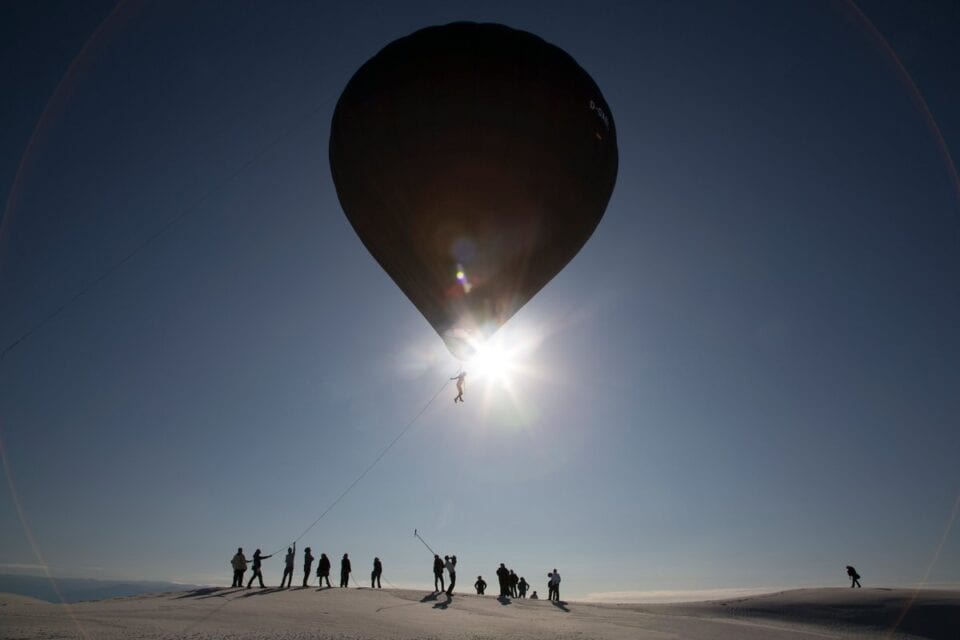 Rescheduled for 2021, the upcoming Liverpool Biennial, curated by Manuela Moscoso and  Fatos Üstek, will feature some of the most relevant artists from Latin America to have emerged in recent years, among them Daniel Steegmann Mangrané (technically born in Barcelona but based in Rio de Janeiro since the early 2000s), Brazilian Sonia Gomes, and Peruvian David Zink Yi. 
Another must-see exhibition in 2021 is Oscar Muñoz's recently announced mid-career retrospective at the Phoenix Art Museum. Opening in September next year, Invisibilia will bring together works spanning the beginning of Muñoz's career in the late 1970s to the present day, featuring some of his most iconic photographic and video works. One of the key figures in contemporary Colombian art, Muñoz has shown extensively across Europe and Latin America, but this significant show is his first – and long-overdue – major presentation in the US.
Whilst it is impossible to predict what the art world will look like after Covid-19, Latin American artists are providing necessary ideas on how to reshape the way we live in the near future. Coming from nations that are simultaneously home to incredibly biodiverse habitats and sites of economic and political instability, artists such as Saraceno, Villar-Rojas and Garrido-Lecca provide important insights that may help us envision a sustainable future for humankind. In other words, to borrow a famous slogan coined by Hélio Oiticica, Latin American artists "thrive in adversity."
---
Nicole Brachetti Peretti is the founder of the Nicole Brachetti Peretti Collection, an art collection founded in 2014 that supports and highlights the work of Latin American artists.  The Collection works in collaboration with Fundacion NMAC, a non-profit art collection and educational programme in Southern Spain.  Nicole is a Committee Member of the Tate Americas Foundation's Latin American Acquisitions Committee (LAAC), which was established in 2003 and to date has raised over $300m for the Tate Gallery through acquisitions, gifts and financial donations.
---
Credits:
1 & 5 :January 28th, 2020, Fly with Aerocene Pacha, Salinas Grandes, Jujuy, Argentina. Courtesy of Studio Tomás Saraceno.
2 & 4 Tomás Saraceno, Aerocene, launches at White Sands Missile Range (NM, United States), 2015. The launches in White Sands Missile Range and the symposium "Space without Rockets", initiated by Tomás Saraceno, were organized together with the curators Rob La Frenais and Kerry Doyle for the exhibition "Territory of the Imagination" at the Rubin Center for the Visual Arts. © Photography Studio Tomás Saraceno, 2015. Courtesy of Tanya Bonakdar Gallery.
3. Tomás Saraceno, Aerocene Albedo, 2018. Installation views and Aerocene performances on the occasion of Audemars Piguet presents Tomas Saraceno for Aeroceneí at Art Basel Miami, 2018.  Courtesy of Tanya Bonakdar Gallery.