UK-baed JR CHUO is is a paper cut and spray paint artist whose work explores the notion of façades in society that conceal harsh realities. His work is inspired by the tragic beauty and striking colours found in dying coral. CHUO cuts all of his designs by hand – thousands of individual shapes work in harmony to form large, seamless designs.
A: What first drew you to working with paper cut and spray paint techniques?
JRC: I discovered the art of paper cutting during a trip to Japan in 2015 and was immediately struck by the intricacy of the medium and the wide range of subject matter that artists were able to capture in one single sheet of paper.
I began experimenting with paper cutting straight after the trip and became fascinated by the versatility of the medium. In terms of spray painting, I spent a lot of time in Shoreditch, London as a child and grew up admiring street artists and creating my own stencils and spray paintings. Unlike stencils used for spray painting, my paper cutting work places emphasis on the paper itself and I often display my original paper cut artworks in fluorescent acrylic.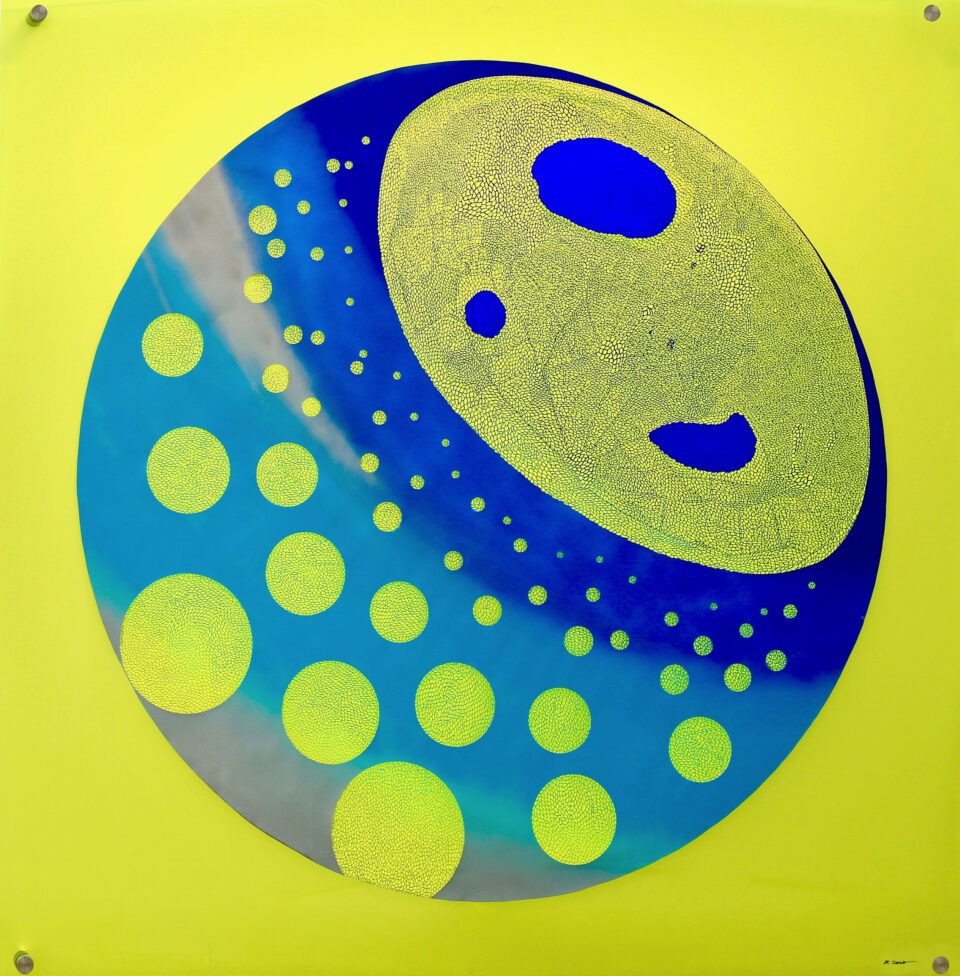 A: You cut all of your designs by hand. Tell me about the process: how many shapes make up one piece? How long does it take to create each piece?
JRC: The number of paper cut shapes depends on the size and design of the piece. My larger pieces, ranging from around 800cm to 2000cm diameter, usually contain over 10,000 paper cut shapes each. However, smaller pieces usually contain a couple thousand shapes each. Despite having cut tens of thousands of small shapes, I find beauty in the fact that none of them are the same. The final result is a large and complex lattice-like structure that is held together by the unique form of each individual shape.
A: Have you considered using new technology to cut paper, or does cutting your designs by hand enhance the process and final work?
JRC: I have considered automating parts of the process in the past as it may enable me to create prints of my work and am currently exploring the possibilities of technology in creating repetitive elements of my designs as this would enable to produce more original work. However, I find that the intuitive and meditative nature of the process possesses a sense of freedom that machines are unable to replicate.
I also find lots of enjoyment in the process itself and it helps me to personally achieve a sense of peace and tranquillity in my daily life. Paper cutting is my way of expressing my emotions visually, whilst keeping them protected in the abstraction of my designs.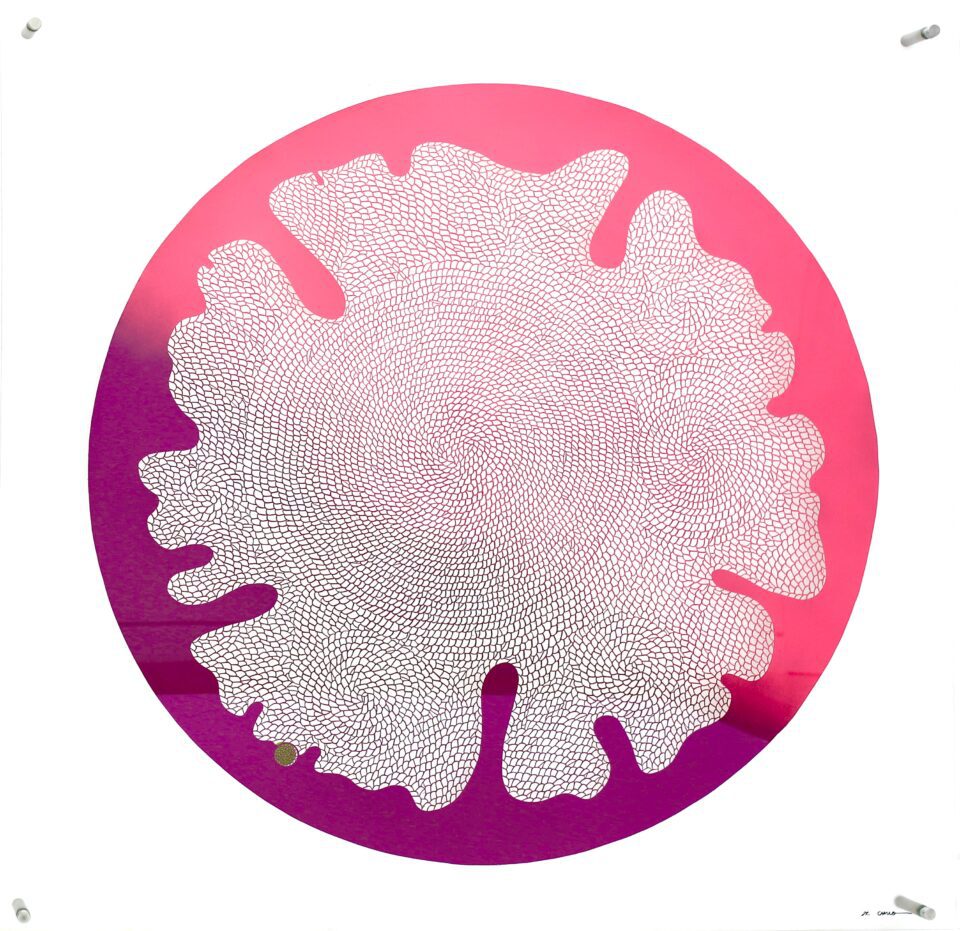 A: You mentioned that your work is inspired by the "tragic beauty and striking colours of dying coral." How did you land upon this idea? What is it specifically about dying coral?
JRC: Most of my designs are inspired by the final moments in a coral's life and particularly coral bleaching due to warming ocean temperatures and climate change. The colours used in my work often reflect the colours emitted by certain corals before they are bleached. In attempting to capture the beauty of coral, I aim to highlight the importance of protecting our coral reefs.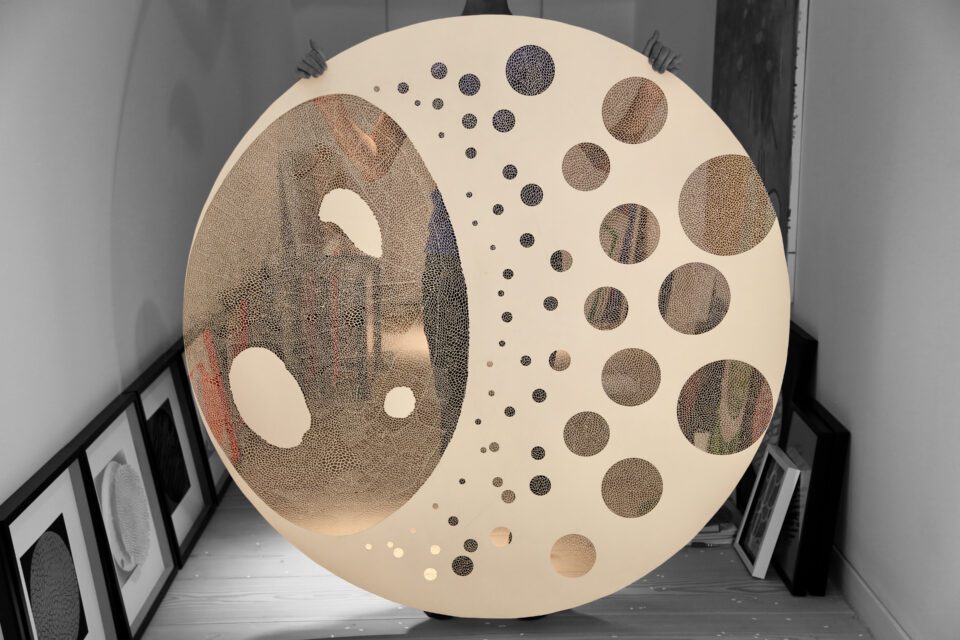 A: Our oceans are under threat from pollution, overfishing and the destruction of coral reefs. Does your work have a specific socio-environmental message, or do you feel that expressing and sharing the beauty of nature is the primary driver for you as an artist?
JRC: I want to not only highlight the impacts of climate change on coral, but also take action through my art. The socio-environmental message of protecting ocean coral is fundamental to everything that I create and my partnership with environmental organisation Coralive has enabled me to use a percentage of artwork sales to fund important coral restoration work around the world.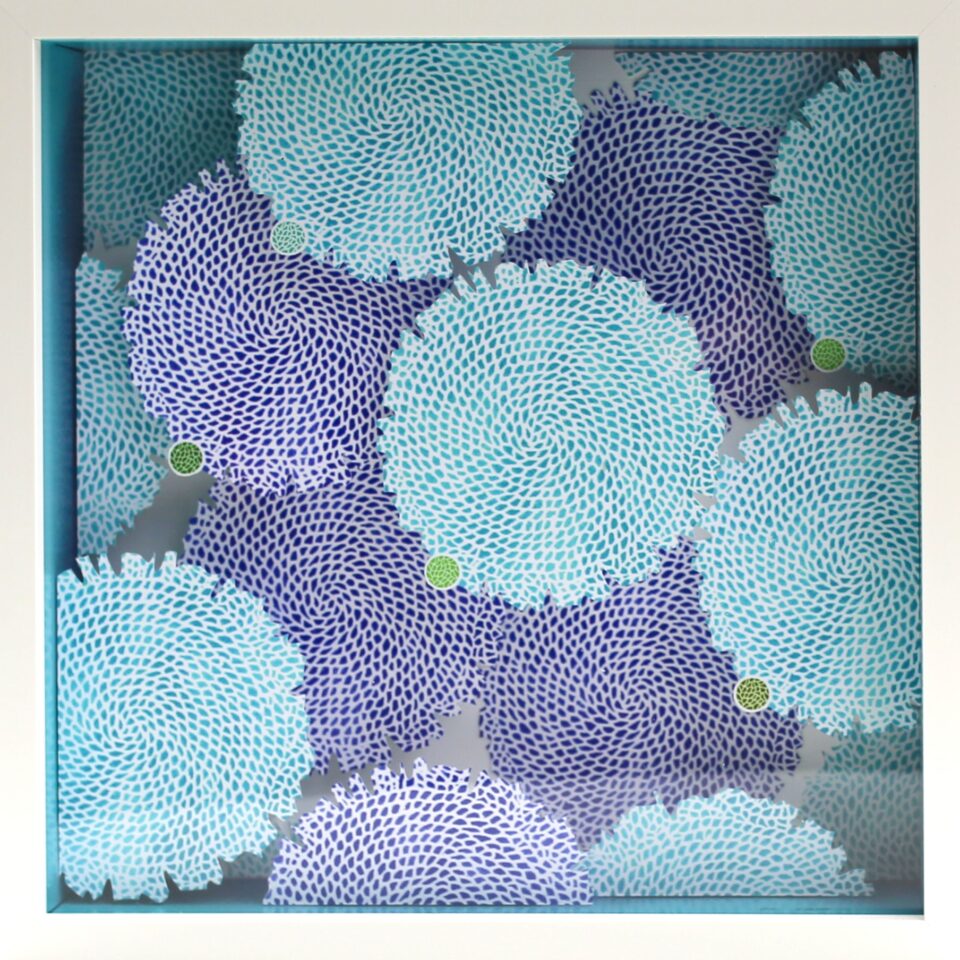 A: What else inspires you? Are there any particular artists that drive your practice?
JRC: I am inspired by the work of numerous contemporary artists and architects and am often drawn to different aspects of their work. I take great inspiration from the vibrant works of artists such as Takashi Murakami and the immersive works of artists such as James Turrell. I also greatly admire the work of Frank Lloyd Wright and Zaha Hadid, who both challenged the boundaries of what is considered possible and created breathtaking architectural masterpieces.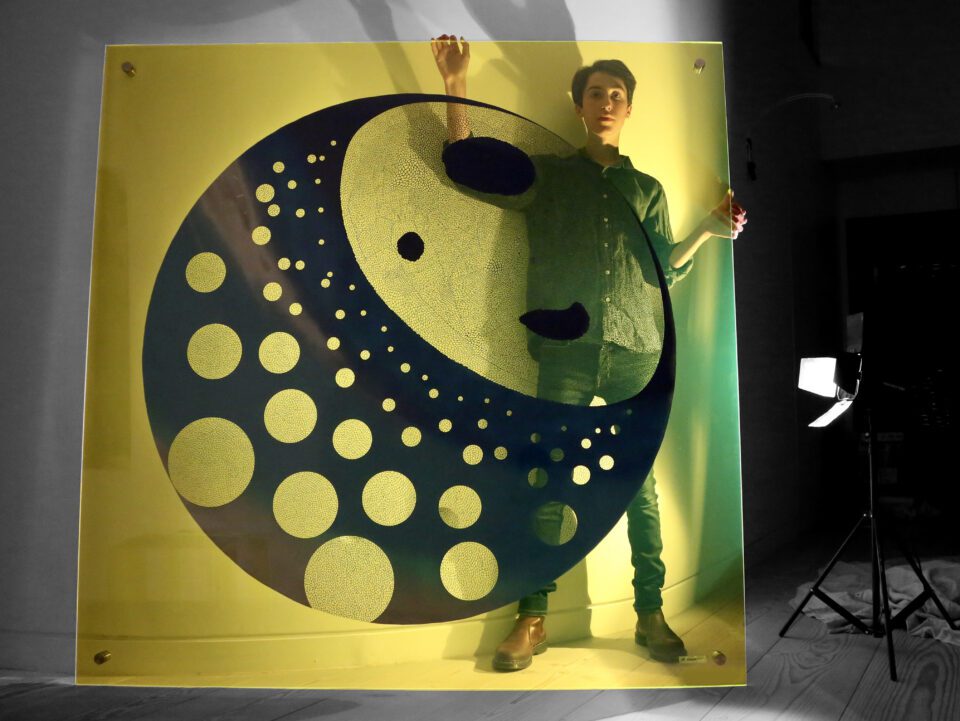 A: What do you hope the viewer will glean from your pieces?
JRC: I hope that the viewer will feel a sense of calm when observing my pieces and that it encourages a level of introspection. Although I hope that the viewer can develop their own understanding of my work and how it makes them feel based on their unique lived experiences, I also hope that my core messages of environmental protection and the preservation of a traditional art form can be appreciated.
A: Your work Roppongi Reef was recently exhibited at the Tokyo International Art Fair. Did you create Roppongi Reef specifically for this fair, naming it after the Roppongi district in Tokyo?
JRC: This piece was named after the Roppongi district of Tokyo and was specifically designed for  the Tokyo International Art Fair. I wanted this piece to reflect the vibrant nature of the district through the use of bold colour and complex designs. However, I also explored the juxtaposition between the bustling city life and the environmental destruction that it causes.
The intricate hand-cut details in each small paper cut piece were designed to reflect the fragility of coral. Moreover, these details allow light to shine through the various layers of the piece to create pools of light and areas of intense shadow.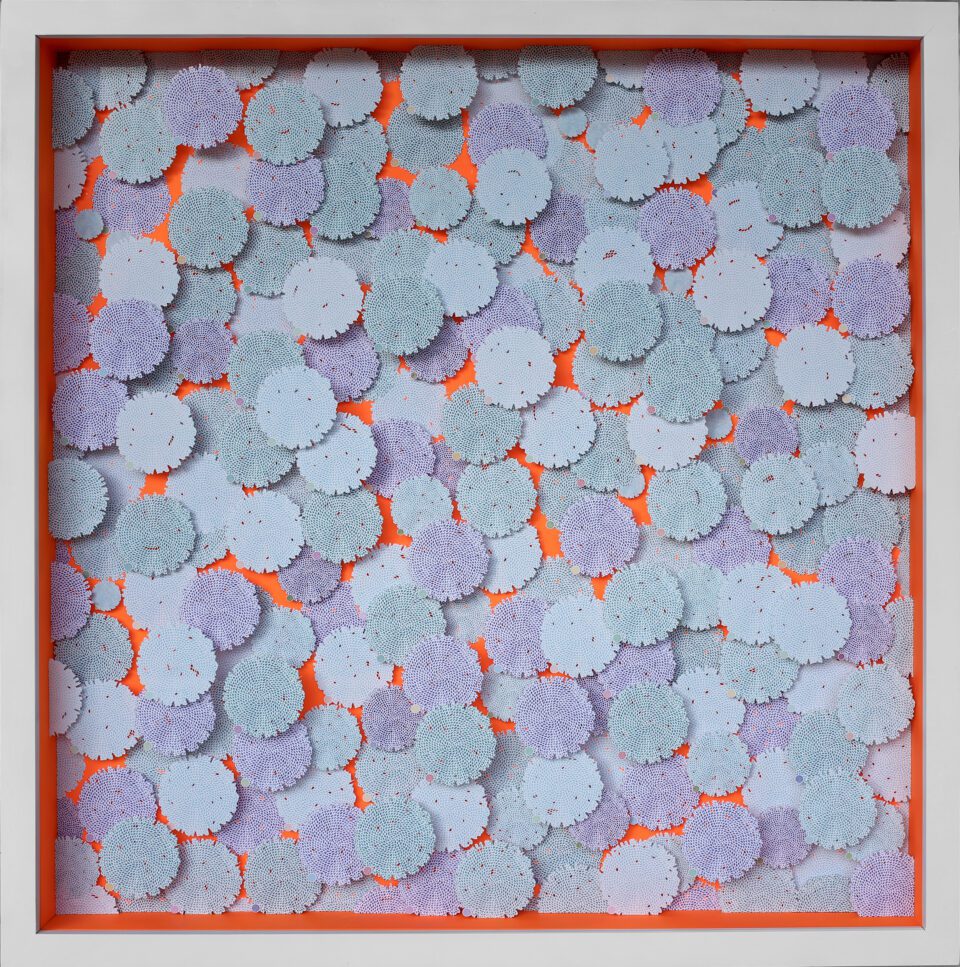 A: Which upcoming exhibitions and fairs are you most looking forward to?
JRC: This summer, I am looking forward to being back at The Other Art Fair in London, where I will be exhibiting my latest body of work, consisting of new collections of Mini CHUO pieces and a variety of larger original artworks.
I am also looking forward to exhibiting my work at artEast 2022 in September and in an exhibition in Suffolk in August.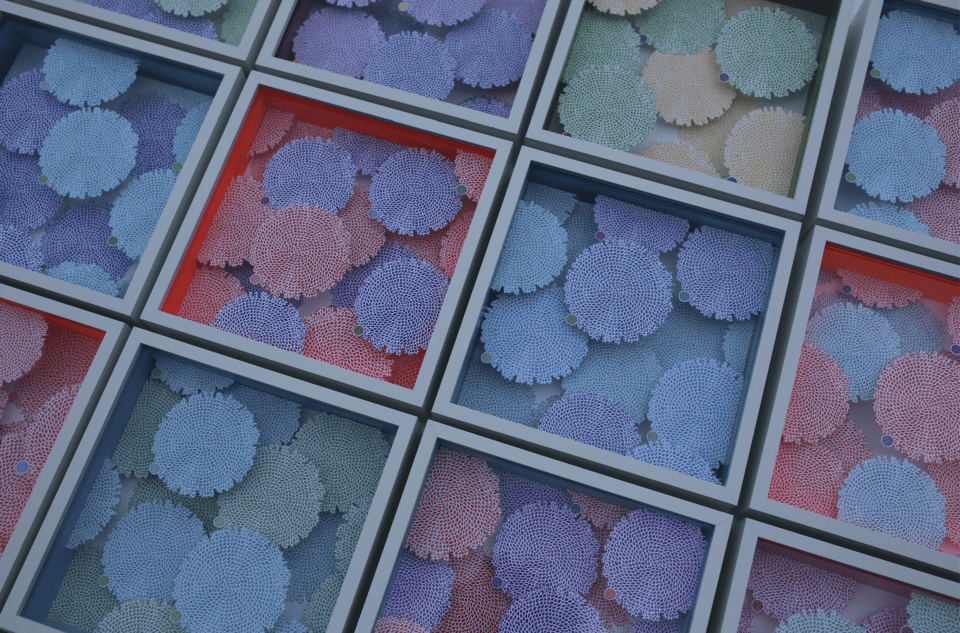 A: What's next for you – what new projects are on the horizon? Is there a new approach you'd like to explore, or do you feel that your current project requires even deeper attention?
JRC: I am currently developing some aspects of my Mini CHUO Reef: Next Stop Collection further, by creating a new collection of fluorescent mini artworks that interact with light in unique ways. These new pieces will contain intricate paper cut elements that will guide the light towards certain areas of the pieces and emphasise each tiny detail.
I aim to continue to challenge the boundaries of my art form and create innovative three-dimensional artworks. My work is in a constant state of evolution, as I tend to identify aspects of one piece that worked well and continually develop them to the point that I have created an entirely new concept.
---
www.jrchuo.com I www.jrchuo.com/shows I Instagram: @jrchuo
---
All images courtesy of JR CHUO.

The work of JR CHUO appears in the Artists' Directory in Issue 103 of Aesthetica. Click here to visit our online shop.