London-based French artist Camille Walala transforms public spaces through bold colours, playful shapes and geometric patterns. The designer, who is inspired by Memphis Movement, aims to inspire joy and optimism through her works – bringing people together via graphics bursting with energy.
This month, she brings her creativity to London Mural Festival, an outdoor event featuring street art by over 150 names. At a time of social distancing, it offers a new way to enjoy one of the globe's biggest movements. The festival takes over more than 40 locations across the city, demonstrating the power of murals to spark emotions and communicate.

Walala speaks to Aesthetica about the project – featuring two of her latest designs.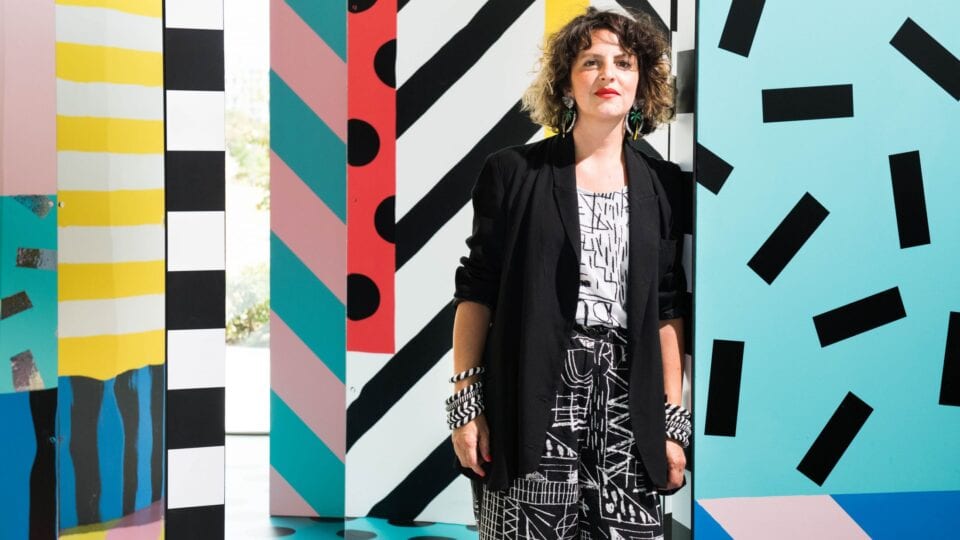 A: Your designs tend to be bold and striking – full of pop colour, geometric prints and eye-catching typography. What can we expect from your work at the London Mural Festival?
CW: I have two projects at the London Mural Festival. Against the facade at Rich Mix (I really love this place, such a beautiful cinema!) I am painting a massive kind of collage, playing with the illusion of buildings. I really like these imaginary buildings! On Adams Plaza Bridge at Canary Wharf I am playing with perspective again. This is more structural as it is a long, tunnel-like bridge. I wanted to be really playful with how you see it and what it feels like to go through the place. The striking pattern is very optical.
A: Does this new design draw on any particular influences or references?
CW: Rich Mix feels more like my artistic direction lately, with a playful niche style or striking shapes. The area is a special place to me – it is really vibrant and has an independent spirit. I was thinking of that when making choices about the colour and pattern. I really enjoyed playing with this on a huge scale. At Canary Wharf, my pattern is more inspired by the architectural structure of the site that is already there. I amplified the perspective. Both places are very iconic in East London.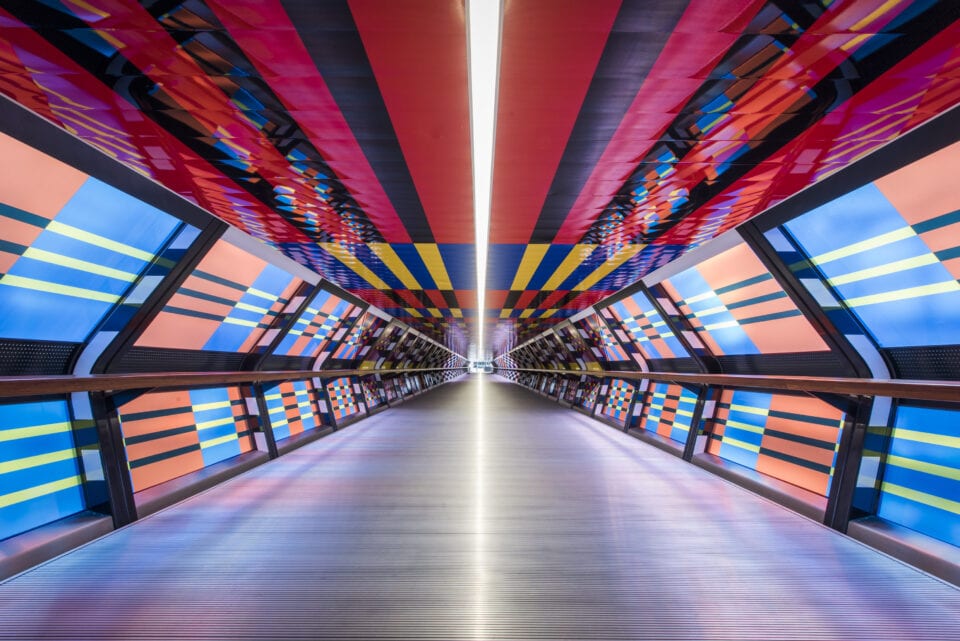 A: Your work continues to evoke feelings of joy and optimism. What do you hope audiences take away from your piece?
CW: I want to make them smile. Art has a great ability to change how an area can feel or what you think about it. I am very interested in architecture and I hope others can feel inspired by these places too. We deserve to feel inspired by the city!
A: How important is public art right now, at a time when access to galleries has been limited?
CW: Public art is amazing. It is a great opportunity to share art; to make it democratic and accessible to everyone. I want to bring joy to people. With galleries and museums closed or limiting their access right now, we still need colour and joy in our lives. I love to see art shared with people on the street.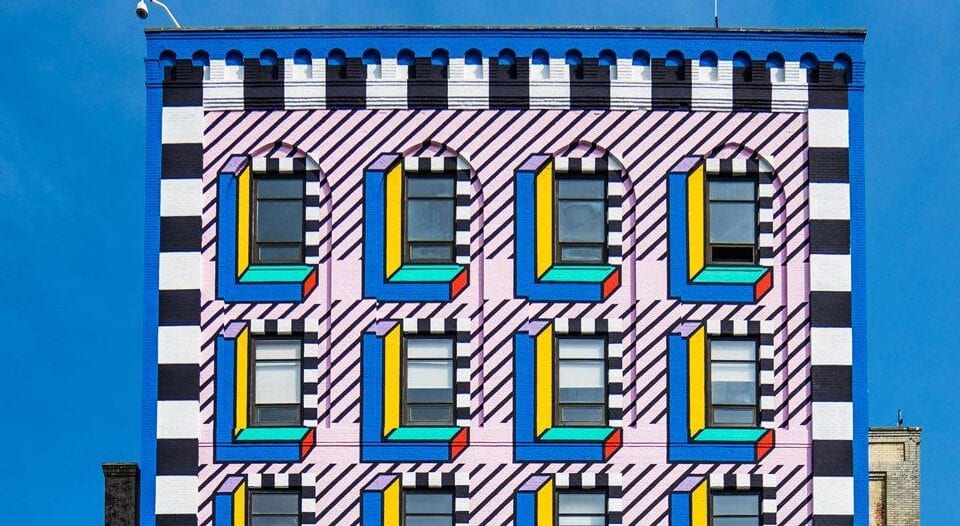 A: Which other murals can audiences experience at the festival? Do you have any highlights?
CW: There is a lot to see at the London Mural Festival! One highlight for me was to see Supermundane on a bigger scale than usual. I love his work and colour palette. Mur0ne has been very impressive too. It is always great to see artists given such big space to experiment! The city is much more colourful now which I am always happy to see.
A: What does the future of mural design look like? Is it a growing movement?
CW: It's really amazing to see a festival like this in London. I think there is more appetite for public art than ever. It always seems to be expanding. As it is getting more popular, the repetition of this kind of public art is growing more and more. I am delighted to see more women doing it now than when I started. This is really important.
---
1-30 September. Find out more here.
---
Lead image: Courtesy Camille Walala and London Mural Festival.
1. WALALA x PLAY Exhibition, NOW Gallery. Camille Walala, 2019. Photo credit: Charles Emerson,
2. Camille Walala, Adams Plaza Bridge, Courtesy London Mural Festival.
3. Courtesy Camille Walala and London Mural Festival.