In 2017, visitors to Tate Britain's Duveen Gallery found it transformed. Suspended along the ceiling was 2km of tangled neon: Forms in Space… by Light (in Time) (2017) by the Welsh-born conceptual artist Cerith Wyn Evans (b. 1958). The installation had the sweet allure of spun sugar and the mystery of movement traced in light. The more that one looked at this complex assembly, the more there was to see, as shapes and lines emerged from an apparently chaotic mass, then converged and parted ways before meeting again in an urgent, poetic dance.
Whilst this work was created as a site-specific commission for Tate, the same approach runs throughout the work of Wyn Evans, who began his career as an experimental filmmaker, but since the 1990s has concentrated on experiential artworks that use light, space, sound and time to probe our perceptual relationship with the world. A new exhibition of his recent work, Aspen Drift, opens at Aspen Art Museum (AAM) in Colorado in June. It's the artist's first show at an American museum in 17 years and will feature installations, sculptures, paintings and works on paper.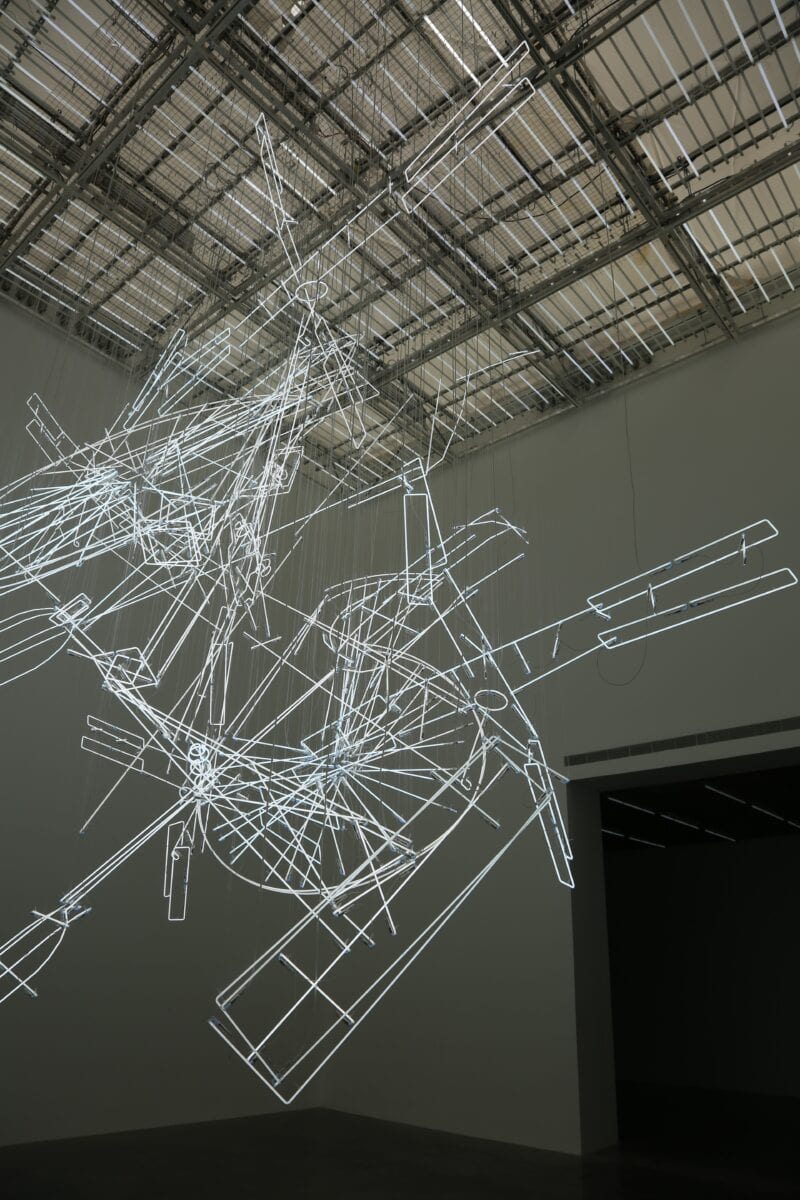 If the notion of "drift" alludes to the snow that characterises Aspen's landscape, it's also an ongoing preoccupation in Wyn Evans's work: a reflection on our state of being. Viewers are invited to drift through the show, alighting on meaning through chance encounter. Music, movement, literature and astronomy are all sources of inspiration to the artist. The labyrinthine structures of Neon Forms (after Noh), inspired by the choreography and notation of traditional Japanese Noh Theatre, invite a visual search for patterns. The sound work D=U=E=T (in other districts of sense) (2017) recalls the shifting frequencies of radio signals. Elsewhere, in StarStarStar/Steer (Transphoton) (2019) visitors are surrounded by monumental towers of light, whilst in S=U=T=R=A (2017) two captivating and delicate murano glass chandeliers dangle.
Wyn Evans, who won the Hepworth Prize in 2018, directs us to French philosopher Michel Foucault's (1926-1984) idea of an "Illuminating Gas", which Foucault described in terms of "…a formless anxiety, diverging yet centrifugal, directed not toward the most withheld secrets but toward the imitation and the transmutation of the most visible forms: each word at the same time energised and drained, filled and emptied by the possibility of there being yet another meaning, this one or that one, or neither one nor the other, but a third, or none." In their kinetic flow, their mesmerising glow, these works reveal the infinitude of possibility.
---
Aspen Drift opens 10 June. Find out more here.
Words: Rachel Segal Hamilton
---
Image Credits:
1. Cerith Wyn Evans 'No realm of thought… No field of vision', White Cube Bermondsey, 7 February-3 August 2020 © Cerith Wyn Evans. Photo © White Cube (Ollie Hammick)
2. Cerith Wyn Evans, 'No realm of thought… No field of vision', White Cube Bermondsey, 7 February-3 August 2020. © Cerith Wyn Evans. Photo © the artist