Salt is an essential element of the human body. The mineral is used in vital functions – from muscle contractions and nerve impulses to the regulation of water content. In our everyday lives, it is perhaps best-known as a kitchen staple; the apparent consumption in the United States amounted to an estimated 54 million metric tons in 2021. Yet salt has been a valuable economic resource for thousands of years, and can be traced back to 6050 BC, when ancient Chinese cultures began harvesting the mineral from underground deposits. Solar salt production – where brine is evaporated in shallow pools – overtook mining in seventh century Venice. 1,200 years later, it remains the main method of extraction.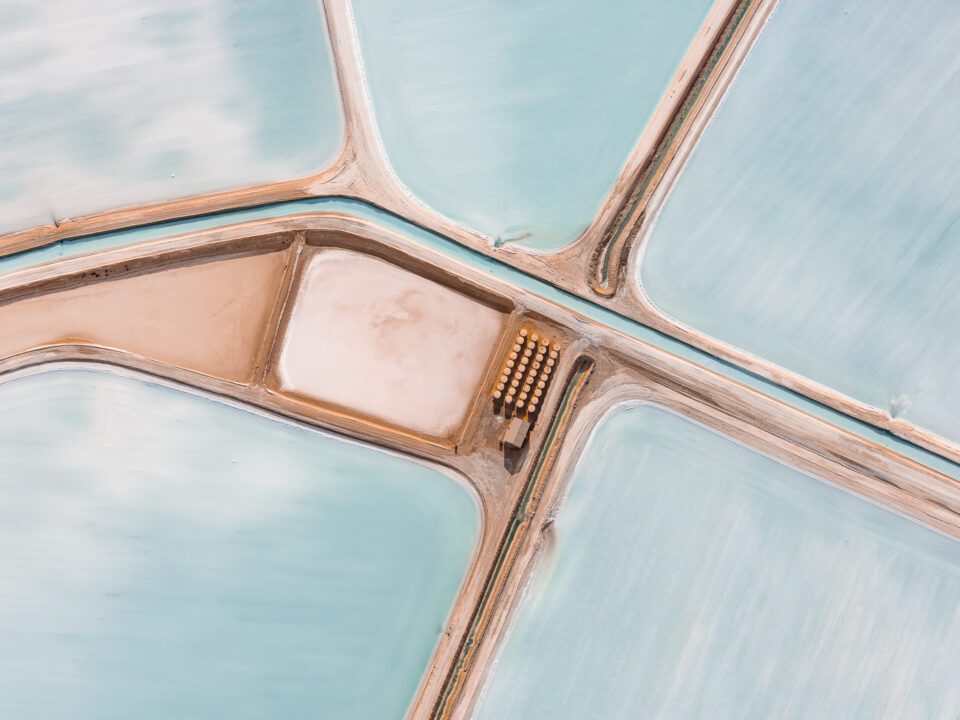 Augsburg-based photographer Tom Hegen (b. 1991) first examined these evaporation sites in the debut photobook Habitat (2018, Kerher Verlag) – an aerial analysis of the complex relationship humans have with the planet. His documentation of quarries, roads and bridges, each carving out new terrains, offered a fresh perspective: one impossible to see from the ground. Now, Hegen turns exclusively to mineral extraction in Salt Works (2022, Hatje Cantz), a title in which "the boundaries between human design and naturally evolved landscapes are blurred," he writes. "My task is to employ composition and reduction to achieve clarity about what we have designed on the ground."
By 2019, according to figures from the  Natural History Museum, over 70% of the Earth had been directly altered. From Hegen's aerial vantage point, viewers are invited to consider a sense of global responsibility. Figures are reduced to insignificant flecks, vehicles blotted against the road. These photographs reveal collisions between natural and man-made, where vast geographies have been redefined by networks of artificially constructed shallow ponds. It's an approach reminiscent of Edward Burtynsky (b. 1955), whose ongoing Anthropocene series captures the indelible impact of industry from the air.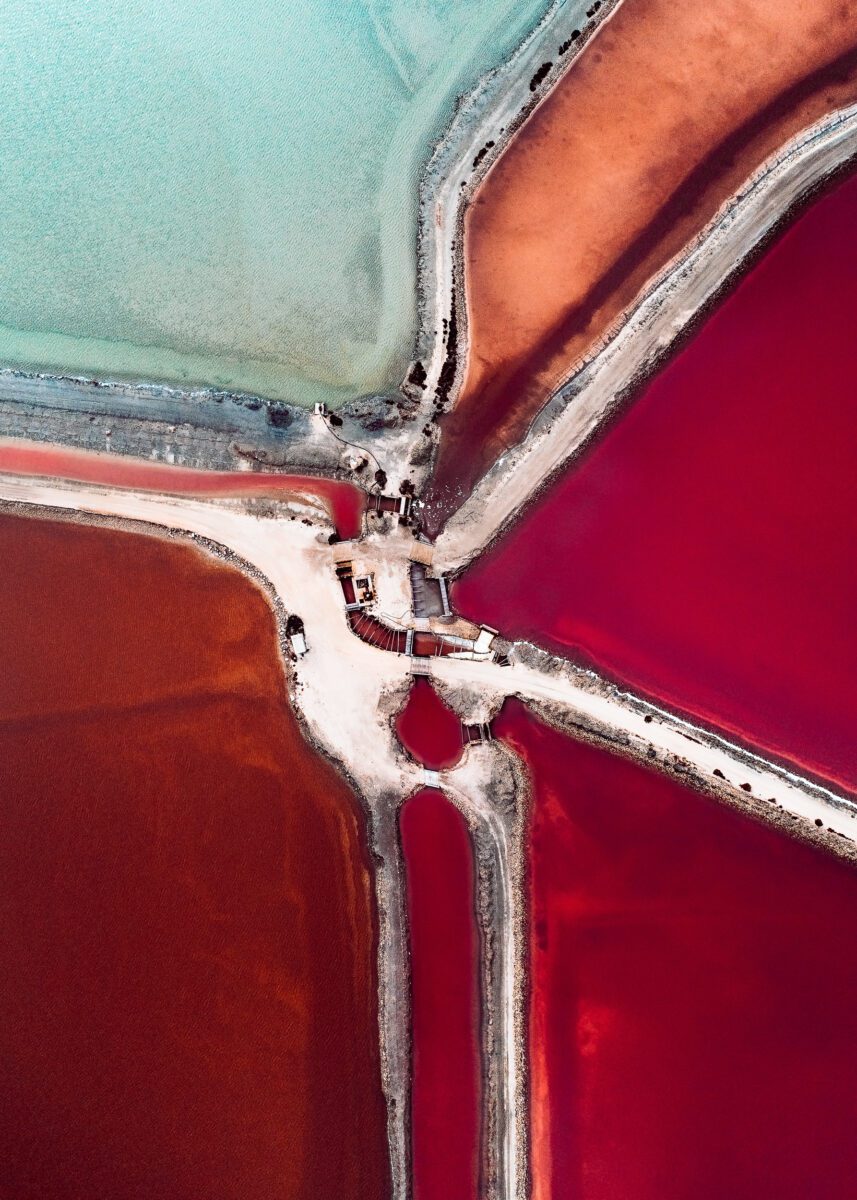 What's perhaps most striking about these images is their colour palette. Criss-crossed patterns of powder blue and navy are intersected by dirt tracks. Mustard waterways resemble bacteria beneath a microscope. Otherworldly pools stand out in mauve and blush red. These hues result from the levels of concentration of salts in the water (salinity), combined with other organisms under the surface. Bacteria such as Halobacteriaceae, for example, turn salt water red. Shrimp turn pink after eating algae, colouring the water the same shade. When viewed from above, Hegen's shots look like abstract Colour Field paintings.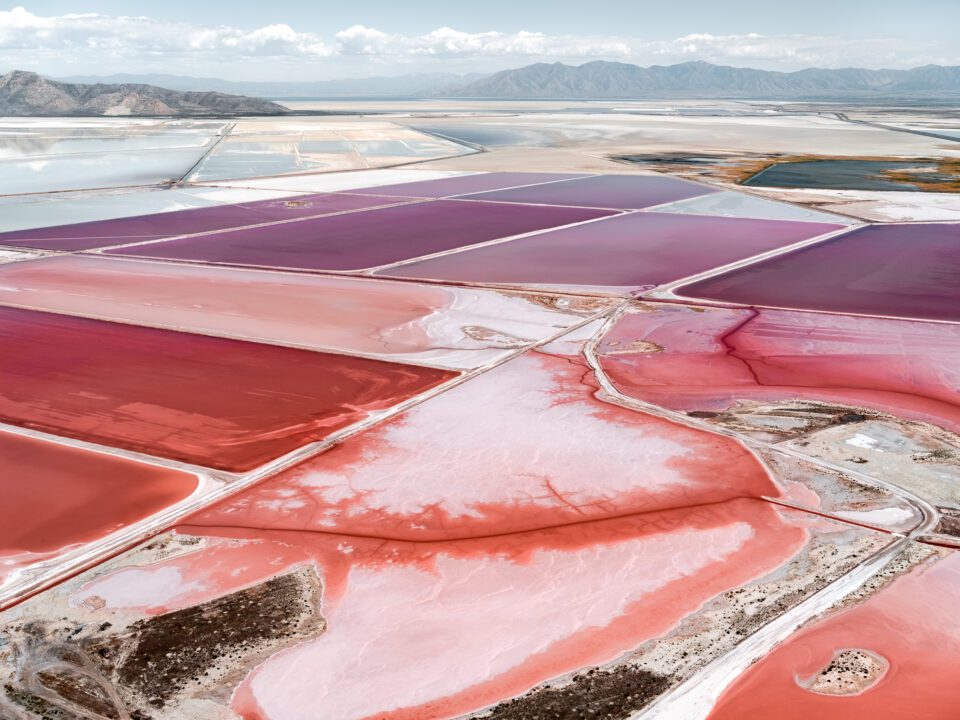 The photographer's background in graphic design is evident: geometric lines, block colours and shapes are the focus, visual elements are reduced down to the bare essentials. "The human need to subject everything to a structure," the artist writes, "makes us all designers of our environment." Salt Works (2022) reveals the impact of this process across over 150 images. It is both strikingly beautiful and alarming.
---
Tom Hegen, Salt Works
Hatje Cantz | hatjecantz.de
Words: Megan Jones
---
Image Credits:
1. N°TSSIII_14 from THE SALT SERIES III, United States, 2021 © Tom Hegen
2. N°TSSIII_34 from THE SALT SERIES II, Australia, 2019 © Tom Hegen
3. N°TSSI_02 from THE SALT SERIES I, France, 2018 © Tom Hegen
4. N°TSSII_08 from THE SALT SERIES II, Australia, 2019 © Tom Hegen
5. N°TSSIII_01 from THE SALT SERIES III, United States, 2021 © Tom Hegen