French photographer Réhahn (b. 1979) is internationally acclaimed for his bold imagery that creates a bridge between viewers and the subjects. Originally form Bayeux in Normandy, he is now based in Vietnam where he documents people and places. Réhahn has produced several photography albums based on his images taken during his travels around the world, including Cuba, India and Japan. His recent Impressionist Photography project blends elements of documentary photography and the classical medium of painting. These pictures were created without the use of filters, merely relying on nature itself. Under the right conditions, these pieces can almost appear to have the texture of paint. We asked the artist about his creative process, and how he establishes a relationship with subjects.
A: Your work is characterised by blending aspects of painting with documentary photography. What's the reason for turning towards a classical visual medium for inspiration?
R: My work generally merges several styles between fine art photography, documentary, and the more experimental nature of my recent Impressionist series. The concept for my Impressionist photos was born after I finished my decade-long cultural portrait series for The Precious Heritage Project.  I was interested in trying something completely new and deepening my artistic vision, but I wasn't sure how to begin. I started a series related to artisanal traditions in Vietnam, including heritage fishing. One thing I noticed as I worked was that I didn't want to tell these stories as a documentarian. The tints of fishing nets, incense sticks, woven mats, and more lent a slightly surreal, painterly quality to the images. I enjoyed focusing on the textures and geometric shapes of the materials and keeping the subjects in the photographs abstract.
I've continued this exploration with my Impressionist photos, which began during the worldwide confinements in 2020-2021. I wasn't able get out to shoot, so I turned to my books to gain inspiration for imagery and subjects. I found that what really sparked my interest were books about Fine Art from 19th century France – more specifically, from the Impressionist movement in painting.  I spent months reading about the philosophies of the Impressionists, and I realised that I had already instinctively turned to many of their compositional techniques. When I was able to get back out, I decided to try to layer some of this spontaneity and abstraction into my work. Even though my Impressionist photos are very different from my other collections, they are built upon principles I'd already been using, such as washes of colour across large areas of the composition; working with reflections; and breaking the Rule of Thirds.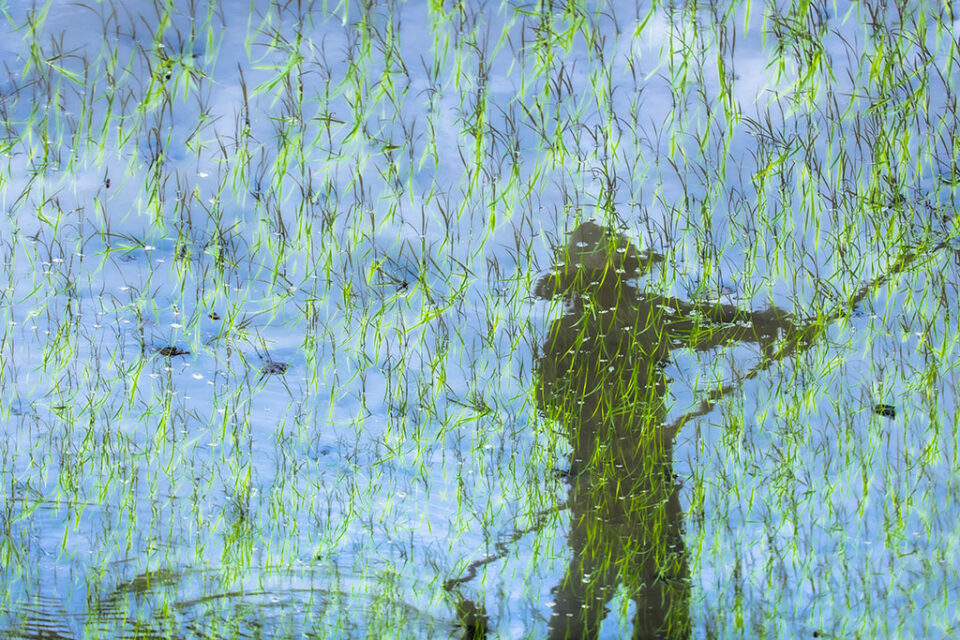 A: Are there any paintings you're particularly inspired by?
R: I particularly love Degas and how he played with perspective. I'm drawn to the vivid hues and expressive nature of Van Gogh's Post-Impressionist works, and to the light and pigments in Monet's pastoral scenes. That said, I'm constantly researching art history, and emerging artists, for inspiration.
A: Your newest series is a nod to the aesthetics of Impressionist and Post-Impressionist painters. The images focus on texture, shape and colour. How do you achieve this look with a camera?
R: I shot most of my Impressionist photos in the countryside around Hoi An, Vietnam, which is truly a haven of tranquillity. I've shot thousands of photos there over the years, inspired by the slower lifestyle and the beauty of the landscape throughout the seasons. Prior to beginning my Impressionist series, I'd played around with the use of light and reflections – for example, the tint of the sunrise or sunset in a flooded field or river. To get the Impressionist style, I decided to focus directly on the reflection, rather than it being only a part of the composition. Depending on the movement of the water and the subject, the reflections create a fascinating effect that blurs the line between reality and dreams. My heat photos came a bit later.
This effect is something I discovered purely by accident. I went out to shoot some rice fields, as the farmers burned them post-harvest to replenish the soil. I noticed a distortion in the air due to the intense heat waves that rose off from the smoky fields. The air seemed to bend and move. It softened the lines of the scene and added the illusion of texture. When I shot through this distortion, it seemed to smudge the lines and create texture similar to the brushstrokes of a painter. This photography style is extremely difficult because of the heat and smoke and the fact that I can only capture my images twice a year when the crop burning occurs; however, the final effect is definitely worth it.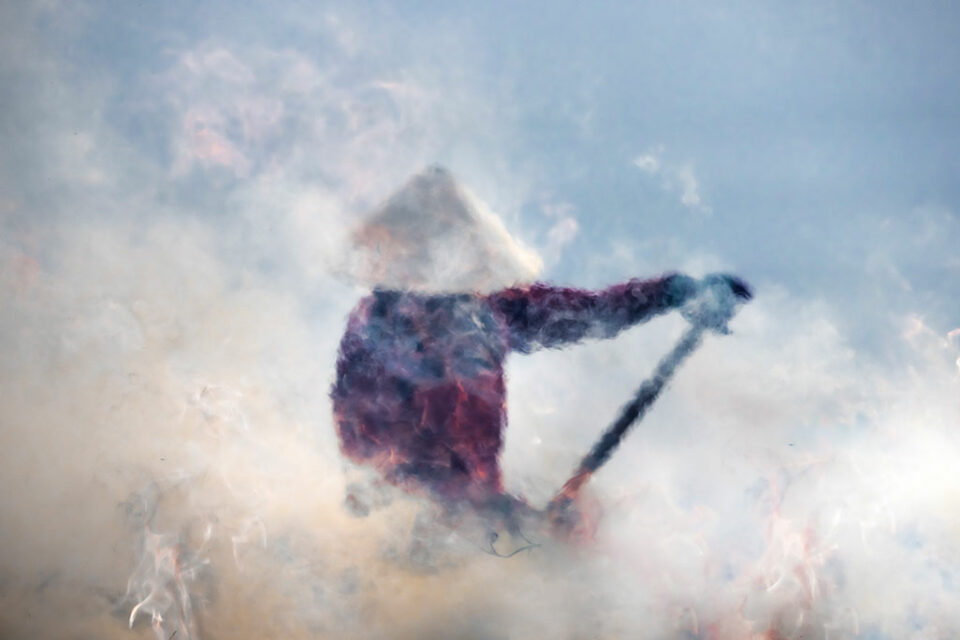 A: Do you compose provisional scenes in your head, or let yourself be led by the moment?
R: I really can't control the photos, since I'm working with the elements. I can't direct the rain to flood the rice paddies or the farmers to burn their fields or the lotus blossoms to bloom. It's a game of chance. However, I've lived in Vietnam long enough to know when certain things are happening, such as harvest times or when the farmers are likely to be working in the salt flats, but once I get to my locations, I have to work with what I find. I take as many photos as possible in hopes of getting something I'm happy with. Even on days when I don't get something to put in my gallery, I am still learning. It's part of the process. 
A: Your portraits taken in Cuba, India and Vietnam. What drew your attention to these locations?
R: I have always been interested in colour and culture. All three of these countries have very strong cultural identities which can be seen in the styles of dress, architecture and more. I also find it interesting to travel to places that have evolved differently than other locations. Cuba's relative isolation since the 1960s makes Havana seem to be from a different time period entirely. India and Vietnam both have an incredible diversity of religions and cultures that continue to inspire my work. I never get bored in these locations because there are always new people to meet and new ways to see the countries.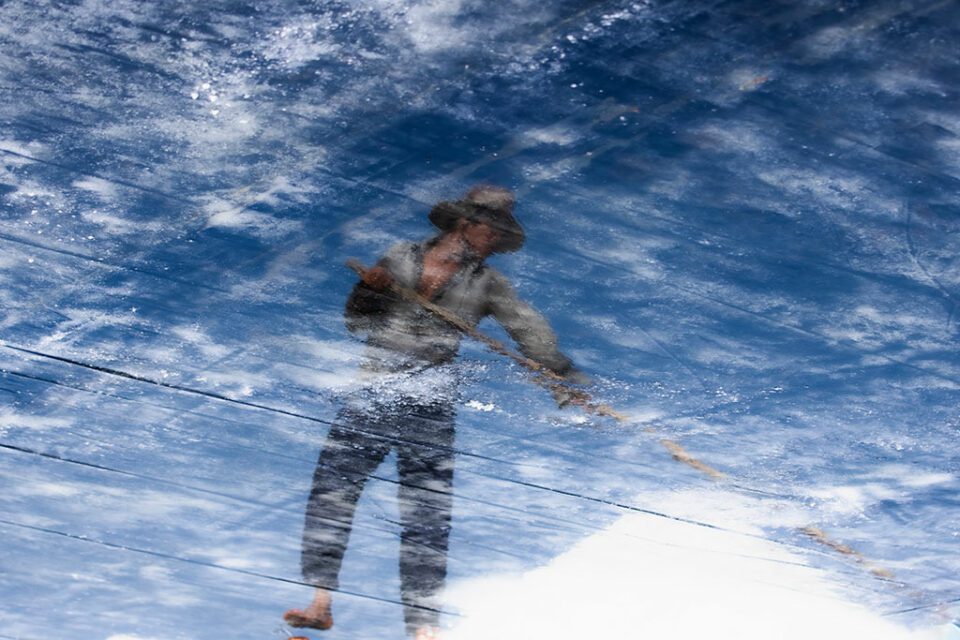 A: Can you tell us about some of the people you've met along the way?
R: I've met so many people over the course of my career, but my favourite moments are those that have evolved into lasting friendships. For example, my encounter with Daniel, a retired engineer in Cuba, has turned into an important friendship. Interestingly, I approached him on the street to ask if I could take his portrait, simply because I liked his style. As we chatted, I learned that he'd actually been to Vietnam in the early 1970s to help build a hotel in Hanoi that Fidel Castro had gifted to the country at the end of the war. I visit with him every time I return to Havana, and we discuss his memories of Vietnam and the future of Cuba. These kinds of chance encounters and connections are what make everything worth it!
I have also built many relationships with my subjects for The Precious Heritage Project. I return regularly to meet with my friends in the ethnic villages and to help them with educational projects and more. One memorable encounter was when I met A Dip, an elder from the To Dra ethnic group, who was the last person in his village still able to play the tribe's traditional musical instruments and handcraft their bamboo baskets. I often visited him in Kon Tum and was always blown away by his artisanal and musical skills.  Unfortunately, he passed away this year, so his portrait has taken on even more meaning.
A: Conversations surrounding the ethics of documentary photography are always evolving and becoming more nuanced. How do you view the relationship between photographer and subject?
R: I believe strongly in the power of connections. One of the biggest reasons that I love what I do is that photography gives me the opportunity to meet new people, to talk to them and sometimes to make new friends. I think the key to these types of relationships is respect. The heart of my portrait work is about taking time to hear people's stories, which isn't always possible for documentary photographers who are working in a fast-paced environment. This is why I consider myself to be a fine art photographer with a deep love of research and culture. I'm not "making news," I'm making connections.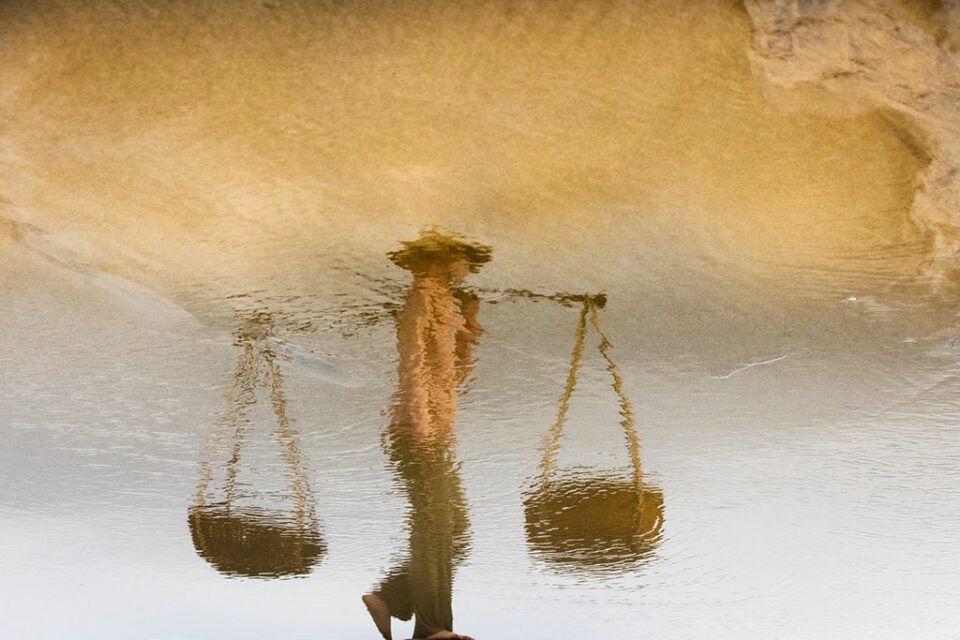 A: Hidden Smile and your portrait of An Phuoc have been widely publicised. What do they think?
R: Madame Xong and An Phuoc are very proud of their photographs. They've become like family to me. I photographed both of them relatively early in my career and have had the pleasure of seeing how these relationships have grown and deepened over the years. Moreover, the success of these photos has made it possible for me to fund health care, education, and more through my Giving Back Project.
A: What would you like viewers to take away from your images?
R: In terms of my portraits, I always hope people who look at them will and find a connection to the subjects, their heritage and their individuality. These images can inspire people to learn more about the diversity of the world. Concerning my Impressionist works, I hope they make audiences take a step closer to try to understand the juxtaposition between the illusion of visual texture and the paper. I hope people slow down and appreciate the connection between nature's serenity and the beauty of dreams.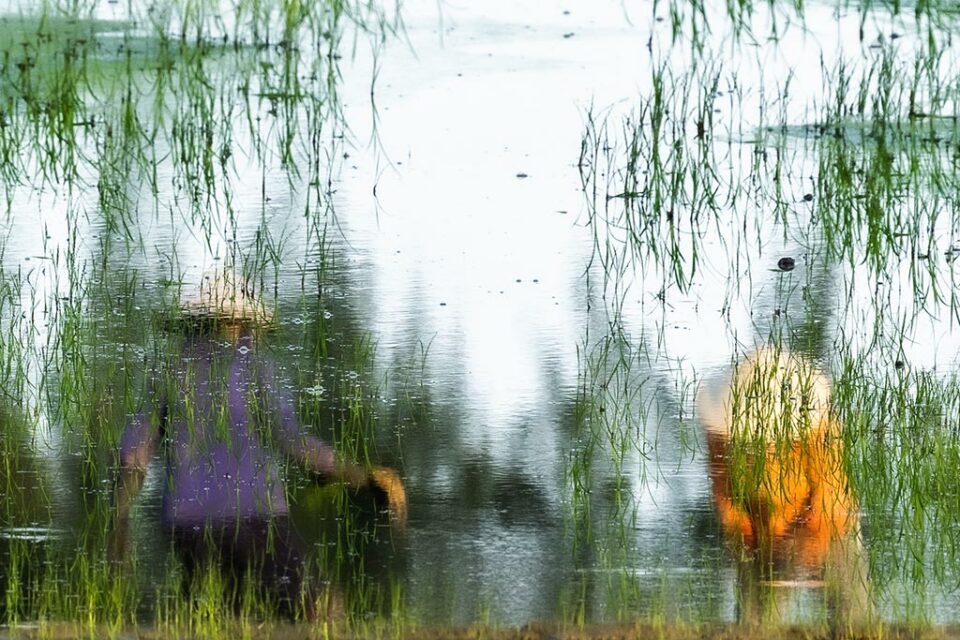 A: Are you working on anything right now? In what direction do you see your photography moving?
R: I'm excited to continue my exploration of Impressionism. The more I work on this series, the more I learn about the artistic heritage of my home country, France ­– as well as my personal vision of the world. I am not a city person. I appreciate the leisurely pace of the countryside. One thing I love about living in Vietnam is that there is a continuation of artisanal traditions and skills that have been lost elsewhere. I appreciate the work it takes to craft a mat by hand, or the resilience necessary to cast out in a boat day after day in hopes of catching something. These types of jobs strengthen both the body and spirit, and I think that they should be celebrated. My Impressionist photographs are about blurring the lines between contemporary life and the past, in order to slow down and focus on a softer view of existence.
---
---
Image credits
1. Into the Wave, Réhahn
2. Luminous, Réhahn
3. Into the cloud, Réhahn
4. Oasis, Réhahn
5. Cloudkeeper, Réhahn
6. Impression, Réhahn