Founded by Gilles Dyan in 1994, Opera Gallery is one of the leading international dealers and representatives of modern and contemporary art. Federica Beretta, Director at Opera Gallery London, discusses managing the gallery in a time of mass-closures and isolation, and Anthony James discusses viewing his works online.
A: How is the pandemic challenging not only institutions but individual artists? How are these differing?
FB: I guess every artist is dealing in a different way depending on both their practice and personal experience; we have also to take into account that they are all operating in contexts that vary a lot from country to country. At the moment, I would like only to praise the great spirit of collaboration both artists and institutions are putting in place to support each other in navigating this exceptional times.
A: How are different countries responding in the cultural sector? Are there differences / similarities between Italy and the UK?
FB: Being part of a global network means that every gallery is confronting the emergency according to different temporalities. Although, the common and major concern in each country is to ensure the safety of all employees whilst providing our public with what they enjoy and are passionate about. New cultural initiatives – for instance the publication of free content online – testifies as to how the sector has been responsive in proposing an alternative to the "in-person" experience, which is easy to foresee as one of the main focus for the industry in the future.
A: How do you envision the future of Opera Gallery's activities for the next few weeks?
FB: This pandemic is already strongly affecting the high-end art market as well as all the business worldwide. This is the time for galleries to reconsider their business model and implement the accessibility and inclusion of their collections. On our part, we can't deny, first-hand experience is essential to our company values but the production of digital contents has been growing in importance in the past years providing effective tools to engage with the public beyond customers and collectors. In this regard, during these challenging times, our digital team is putting a great effort in creating new contents and online experiences our public can enjoy safely from home. Let me say this is something we have been planning for a while as an attempt to expand our offer; the current situation is only accelerating the implementation of these proposals.
A: How do you think virtual exhibitions are changing the gallery world? How might we carry this through into future shows in terms of accessibility and inclusion?
FB: This is an industry that always privileged real life visual interaction and it is an event driven domain, but this modus operandi will clearly have to adapt to new needs. Despite the art industry is sometimes averse to change and to technological progress, we have to admit that we were already experiencing the rise of digital engagement. These circumstances can now definitely turn the art market in a more accessible, innovative and sustainable business for all.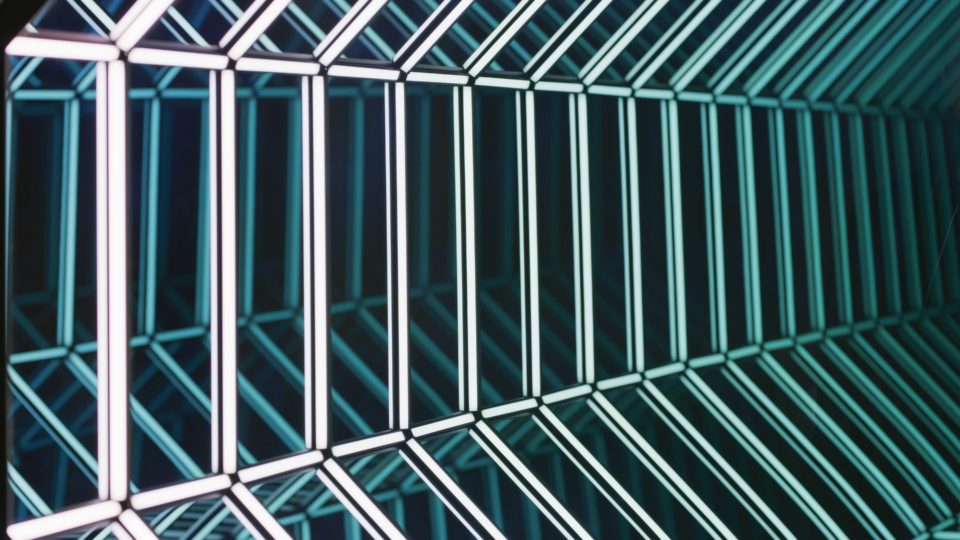 In this regard, Opera Gallery is about to announce a new series of curated online exhibitions, where the public can browse our vast masters and contemporary art collections in virtual rooms. We will begin with the contemporary artist Anthony James and his futuristic light sculptures, then featuring American Icons active in New York in the 1980s with Keith Haring in the spotlight, to continue with blue-chip artists like Marc Chagall and Pierre Soulages, who was exhibiting at Le Louvre in Paris until the beginning of March. 
---
A: Anthony, how do you translate Ancient Greek geometry with contemporary materials, such as metal and artificial light?
AJ: Geometry is about spacial relationship — abstraction. My work is my best attempt at giving the impossible, the infinite, a physical, objective existence. The materials are merely an extension of the gesture. I start with the gesture and have spent decades distilling these concepts down to the essential. So whether I'm using vanguard, illustrious materials and high technology or centuries old metal techniques — my interest is in communicating the most direct way I can. There is a minimalistic simplicity to the work, yet it expresses something infinite — it's a pluralistic paradox. I've tried to visually demonstrate the colossally vast and the infinitesimally small — the cosmos and the divinity inside oneself.
A: How can these be viewed in the online format?
AJ: We're adapting. While obviously, observers will miss out on the scale of the work when viewing online — they should still find themselves drawn into the infinite shapes and reflections contained around and within despite the disconnect between observer, screen and sculpture. I am hopeful that the experience we're offering through the digital platform, while not an equal substitution for witnessing first hand, may whet the appetite of anyone interested in a moment of escape and spiritual connection.
If I can dare to try and frame it as a positive – perhaps, this isolation is building up a sense of longing … like that feeling you get in the hours before reconnecting with a lover … you can look at their photograph, but you're really just desperate to share space with them. That sense of anticipation and excitement adds depth to the ultimate climax of the reunion. While acknowledging and honoring the weight of our current situation, I am always going to be attempting to find the light…perhaps this adaptation is a slow burning crescendo.
Credits:
1. Anthony James, 50″ Octagon Wall Portal.
2. Anthony James, 50" Icosahedron, Solar Black.
3. Anthony James, Detail, 42" Wall Portal (Solar White).