Entering Dark Matter feels like approaching one of Berlin's techno clubs. It's not just its black painted rooms and former factory location, but the heavy, intimidating bass that bleeds out into the cloakroom. Designed by artist Christopher Bauder and studio WHITEvoid, the installations blend sound, movement and light to create immersive experiences that play with the borders between the physical and digital world.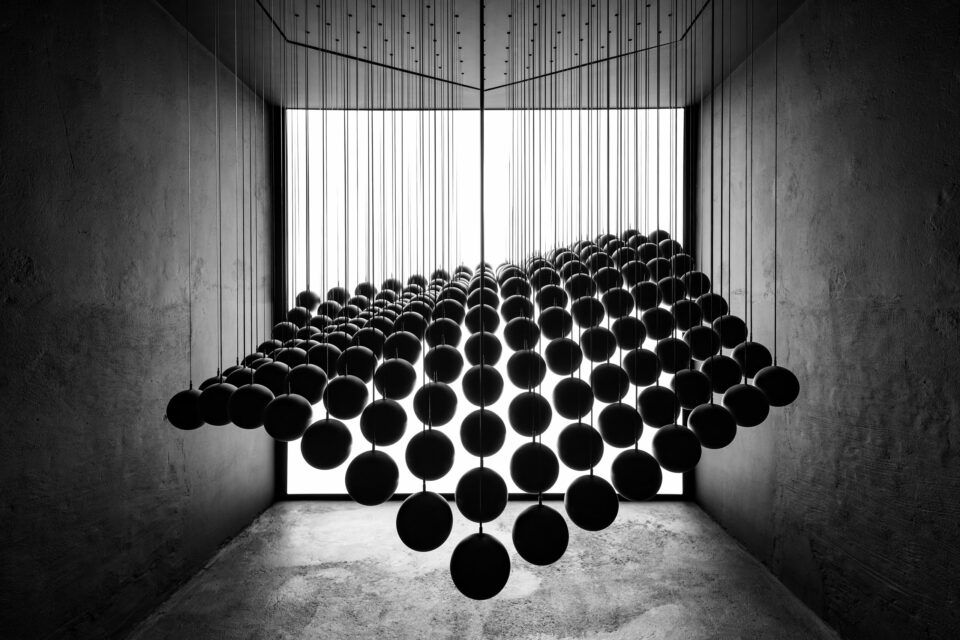 The exhibition is split into two main sections, beginning with Liquid Sky, a mirrored room with 800 individual lights playing out a shimmering sequence across the ceiling. Elsewhere, Inverse incorporates computer-controlled motors to move 169 black orbs in front of a glowing white square. At times it's mesmerising, the choreography switching from slow, liquid movement to sudden bursts of frenetic activity. In the second part, Bonfire, a large geometric campfire is shooting fiery LED tones of red, yellow and orange. This has been excellently coordinated, with visitors adding another dimension. They lie back in deckchairs, everyone sharing in the essential weirdness of collecting around a heatless fire.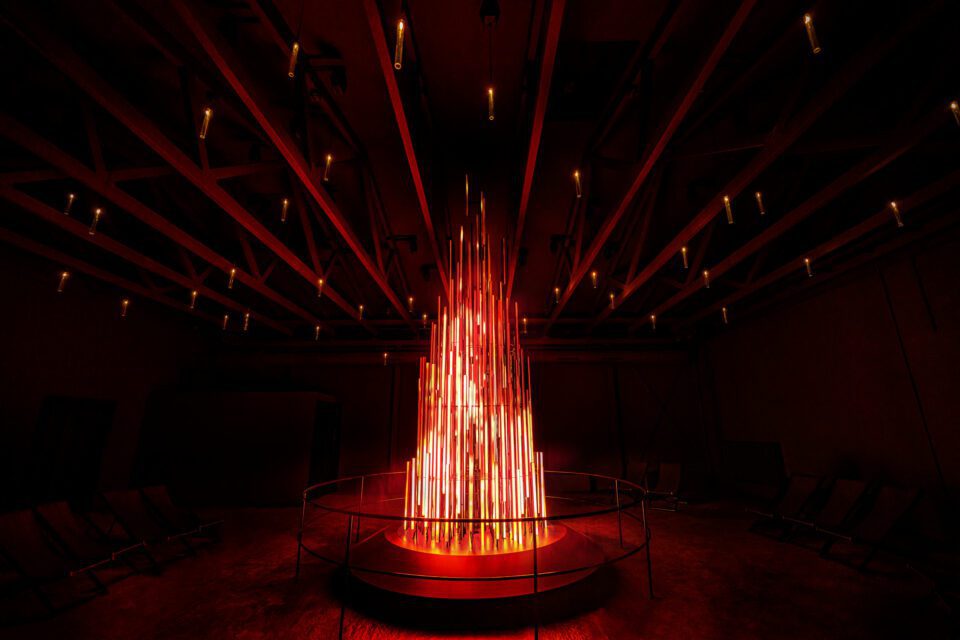 The show ends with the 45-minute-long Grid, with its colour-shifting triangular beams, teasing a soft, soothing display before building to a crescendo. The technology behind the installations is undoubtedly impressive but watching them can create an oddly detaching experience. Dynamic energy and sensory stimulation are determined by hidden mechanisms and programs almost completely devoid of human influence. The automated loops give Dark Matter a sense of otherworldliness. Yet, as a standalone performance, they lack a human component. This is the potential, and the limitation, of "immersive" works.
---
Berlin, Dark Matter | Permanent Exhibition
Words: Duncan Ballantyne-Way
---
Image Credits:
Dark Matter, Polygon-Playground-01-05. Photo by Ralph Larmann.
Dark Matter, Inverse-03-05. Photo by Ralph Larmann.
Dark Matter, Bonfire-01-05. Photo by Ralph Larmann.