Around 9 in 10 people surveyed by Natural England in May 2020 agreed that getting outdoors is good for mental health and wellbeing. More than 40% noticed that nature, wildlife and visiting local green spaces have become more important than ever since the coronavirus restrictions began. Responding to this shift in behaviour is Ben Butling, a fashion communication graduate from UWE Bristol. Butling, who has worked with brands Lazy Oaf and LNCC, and was selected for Graduate Fashion Week's Fashion Marketing award, is now showing work as part of UWE Bristol's online graduate showcase. To mark the launch, Butling speaks to Aesthetica about the importance of storytelling and emotion in visual campaigns.
A: What is your name, course and Degree Show project?
BB: My name is Ben Butling and I studied a BA(Hons) in Fashion Communication. My Degree Show project revolved around a campaign exploring the shift in consumer sentiment towards nature and wellbeing. It was curated in the form of the outdoor brand, Salomon.
A: What types of media do you work with? Why are you drawn to this particular approach?
BB: They vary greatly, but each project is underpinned by a strong core of editorial imagery. I love to explore digital and film photography as they both offer a distinctive tone. For me, a strong visual dialogue is a necessity. By delivering this, you can conjure a wonderfully engaging narrative and display the roots of your ideas. This is something I tried to actualise in my project – taking Salomon's visual codes and intertwining them with my own personal flair.
I also love to explore creative strategies that encompass both print and digital outputs. By utilising both, you offer a more engaging body of work and something that everyone can access. I am drawn to omni-channel approaches as they connect with an array of platforms, each with their own strengths. The project may stay the same, but the way in which it is communicated alters. Ultimately, this offers a much more vibrant experience for the audience.
---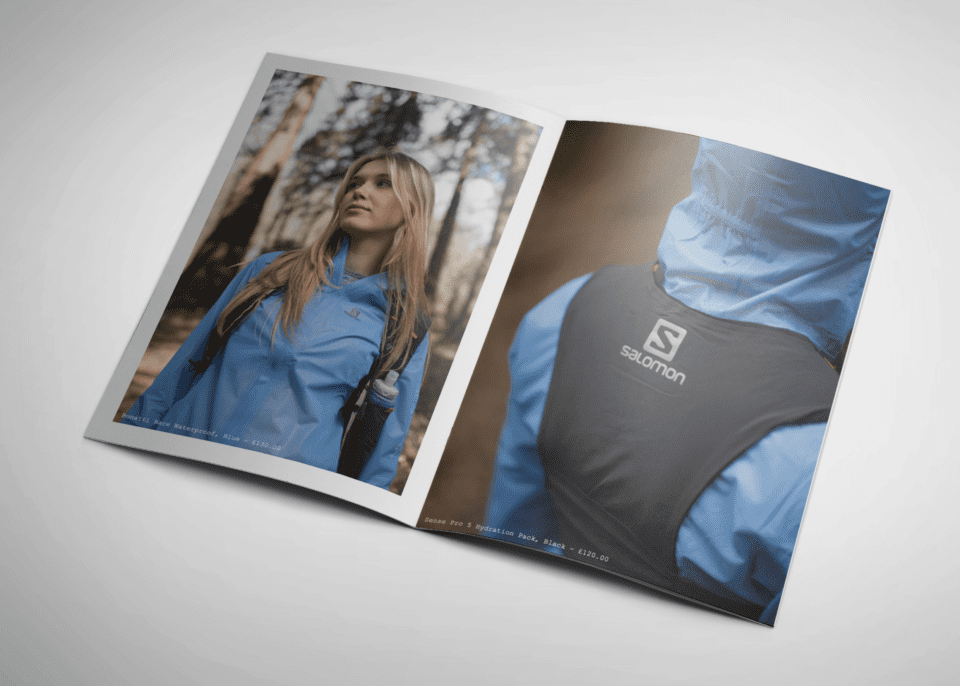 A: What are the main themes explored in your work?
BB: This campaign closely followed shifts in consumer desires, considering changes in the fashion industry and how recent world events have guided us to think more deeply about the purpose of our products. I spent a lot of time looking through fashion forecasting spaces, such as the WGSN and BoF, to generate a foundation for my ideas. It's important to be able to deliver a concept that not only offers a creative solution for a brand, but also provides something exciting for the audience. I selected Salomon, a French outdoor-adventure brand, and curated a campaign that aimed to re-evaluate ideas around function, durability and longevity. Through trail running, I explored the idea of reconnecting with nature, themes of mental and physical wellbeing and the emotions of joy and excitement.
A: Where do you find inspiration? What drives you to create?
BB: Inspiration always leads back to my own peace in outdoor spaces. I turn to adventure and activity for joy. I have a personal love of rock climbing, kayaking and trail running, after having been raised around sports during my childhood. With an arsenal of outdoor equipment – and a continued drive to explore my surroundings – I find my ideas flourish when I'm outside, rather than at a desk. With this experience behind me, I feel I can curate for the industry with genuine authenticity and knowledge. Over the past year, I have found that creating work with logic and purpose has led to my best outcomes. By finding solutions to problems in real time, my work has a sustained relevance and value. I have been setting my sights on beautiful locations further afield, noting them for future creative endeavours which I hope to present soon.
A: What do you hope audiences take away from your piece?
BB: The key objective was to display a bridge between product and wellbeing, highlighting the impact that fashion can have on people's lives. I want to inspire my audience and encourage them to reflect on how they can make changes: getting outside more and reconnecting with adventure. With a global shift in consumer priorities – in light of the last couple of years – I believe now is the best time to reignite the flame of outdoor sports. I hope people can experience the joy and wellbeing that comes from them. Through innovative, thoughtful communication, my campaign promotes not only the product, but also a feeling of excitement.
---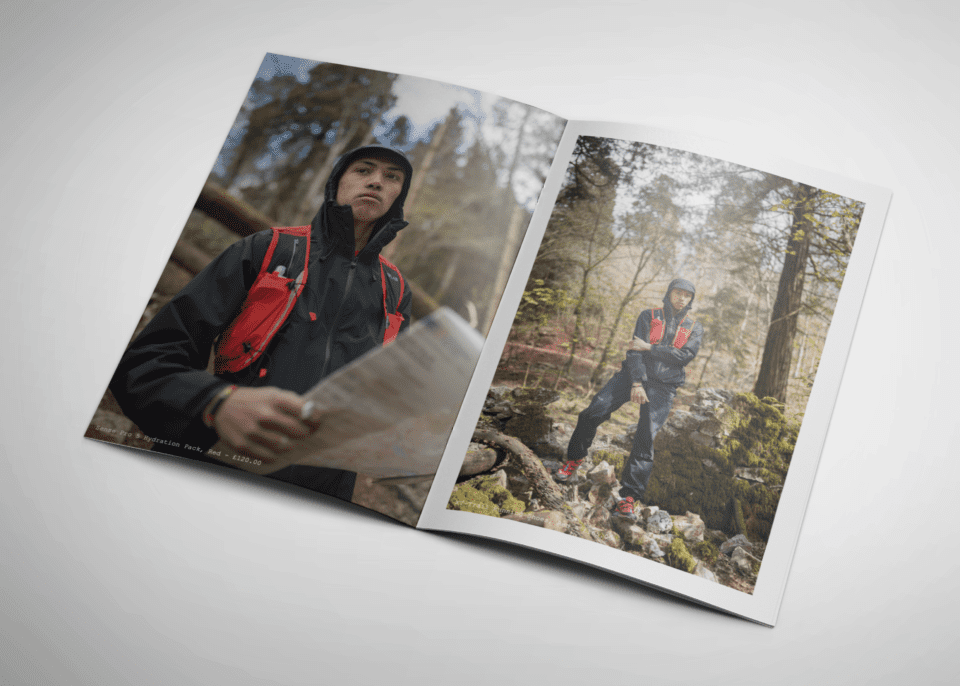 A: What are your future plans? Do you have any projects / ideas lined up?
BB: I have recently completed my move to London and have an MA course lined up at London College of Fashion to pursue Global Fashion Retailing. My hopes are to devote time to working on communication for international brands – developing innovative solutions for the future of the industry. In addition to this, I was selected as the winner of Graduate Fashion Week's Fashion Marketing award for outdoor-focused campaigns such as this one. With all of these exciting prospects ahead of me, I am sure to keep pushing towards adventure-orientated image work. I am excited to meet other creatives to collaborate with in the future. Currently, I am working at Finisterre, a British-born outdoor brand, underpinned by a love of the ocean and outdoor spaces. I am sure this will generate exciting work in coming year.
A: What can viewers expect from UWE Bristol's 2021 Showcase?
BB: UWE Bristol's Showcase is well curated, spotlighting the amazing talent nurtured by the university. It conveys unique perspectives on the fashion industry, and will be contemporary, innovative and engaging. The presentation spans all genres within art, design and fashion. UWE Bristol's approach is one-of-a-kind, and the wonderful work should be viewed by all!
---
@benbutling I benbutling.co.uk
Discover UWE Bristol's 2021 Showcase online here.
---
All images courtesy Ben Butling and UWE Bristol.