Hazy blue forests. Close-up portraits. Black and white roads, extending into the distance. Maria Meco's photographs walk the border between fiction and reality. Shooting with both analogue and digital cameras, Meco uses the lens as a way to make sense of the human experience. The artist, who was shortlisted and interviewed for Portrait of Britain, and is a finalist for the Palm Photo Prize 2021, is now showing work as part of UWE Bristol's online graduate showcase. To mark the launch, Meco speaks to Aesthetica about her haunting and deeply personal series, Half Shadow.
A: What is your name, course and graduate project?
MM: I'm Maria Meco, a Spanish photographer based in Bristol. I'm graduating this year from the Photography BA at the University of the West of England in Bristol (UWE Bristol). My project is called Half Shadow and is a visual diary of my journey through, and understanding of, mental health.
A: What types of media do you work with? Why are you drawn to this particular approach?
MM: I shoot digital and film photography. For me, each have their own benefits based on the situation. Many of the pictures in Half Shadow were taken with little point and shoot cameras or on 120mm. The process of slowing down that comes with shooting film and developing was very beneficial for me; at the time, I suffered from what's called Brain Fog. I couldn't look at pictures on screen, books, or anything – so it helped me to be more present.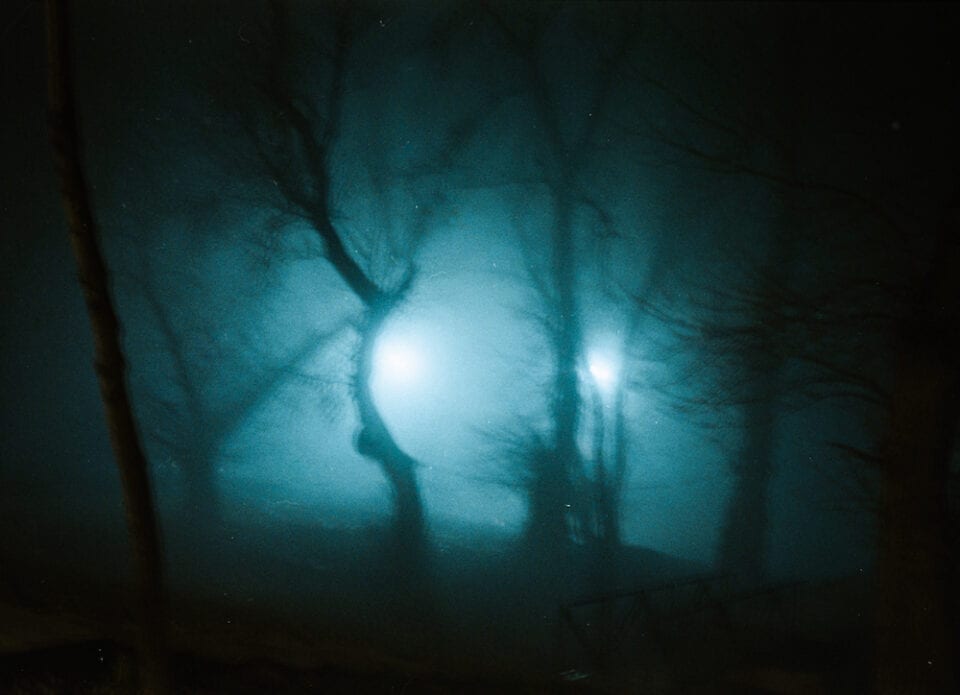 A: What are the main themes explored in your work?
MM: It is quite hard for me to say, with this being such a personal project. Overall, in the series I see an awful lot of confusion and fear. When you experience depression, you are inside a box – a kind of no-man's land. There is no clear route to guide you to get better, and every little thing feels like a huge weight on your shoulders. I hope the pictures also convey the huge feeling of exhilaration you get when your mind gives you a break. You can experience life in fullness and enjoy moments of stillness around you again.
A: Where do you find inspiration? What drives you to create?
MM: I take pictures because it's such an amazing, multifaceted tool. I can create my own world, gain a better understanding of myself, learn about many things at once and meet so many interesting people! I also use photography as an escape. Life is an awesome thing but it can be very dark and tough at times. Image-making helps me to express the bad stuff that happens and let it go.
---
I find lots of inspiration in every art form. I get a lot from film and literature – but also from people. Passionate people are really inspiring to me. They don't have to be an artist, sometimes it's much better if they aren't. I've found myself hooked on movement recently, on theatre, physical theatre and dance in general. I love dancing. I'm a terrible dancer myself but it's such an amazing way to feel connected. I love the band Jungle. Those guys are insanely good and inspiring; you can't keep your feet still if you see them.
A: What do you hope audiences take away from Half Shadow?
MM: This project helped me to visualise and accept all the despair and confusion that I felt for almost 2 years, when words couldn't do much. My experience is unique, but I'm very aware lots of people struggle with mental illness every day. Sometimes their whole lives are put on hold for years because of them, and that's why I tried to make my own experience as relatable as possible. If someone can find solace to their own troubles in my pictures, I don't think I can ask for anything better than that.
A: What are your future plans? Do you have any projects / ideas lined up?
MM: For first time since I arrived in the UK, I'm in a position in which I don't need to be stressed out about money to maintain myself or be in full time work. I'd like to focus all that energy and time in learning, connecting with lots of creatives and getting back into the rhythm of shooting more. I've got lots to improve. I have no tight deadlines or plans but, so far, I know I'd like to come back to Spain for a month or more in September. Maybe a body of work will come out from there, who knows. At some point I'd like to do an artist residency as well, anywhere, but Japan would be the dream. Alongside personal projects, I am currently assisting BAFTA award-winning photographer and filmmaker Esther May Campbell on a freelance basis.
A: What can viewers expect from UWE Bristol's 2021 Showcase?
MM: The chance to see very varied artwork online and support the work of some amazing upcoming artists.
---
www.mariameco.com | @maria_meco94
Discover UWE Bristol's 2021 Showcase online here.
---
All images courtesy Maria Meco and UWE Bristol.