The connection between humans and their environment has never been so important. The impact of population growth, globalisation, urbanisation, industrialisation and the exhaustion of natural resources is taking its toll on the planet.
Art is a powerful way to start conversations about the climate. A new show at York Art Gallery, part of York Mediale 2020, uses new technologies to show how the human body is inextricably linked to nature. Aesthetica spoke to York Mediale's Creative Director Tom Higham about the three immersive installations on display, and what the future of digital practice might look like.
A: What inspired the choice of "Human Nature" as a theme for the exhibition?  
TH: Initially, we explored a chronological approach, researching artists that represented the past, present and future of new media practice. Then discussions began to pick up pace with Marshmallow Laser Feast – a leading immersive art collective who were starting to develop The Tides Within Us. It soon became apparent that the themes they were examining around the journey of oxygen from the lungs to the heart echoing ecosystems in nature could, and should, form the basis of the curatorial narrative across the show.
When conversations started with Marshmallow Laser Feast, they had just emerged from an extended, sell out run of their iconic virtual reality experience We Live in an Ocean of Air at The Saatchi Gallery. The project illuminated the fundamental connection between animal and plant – ideas we were keen to continue exploring with them.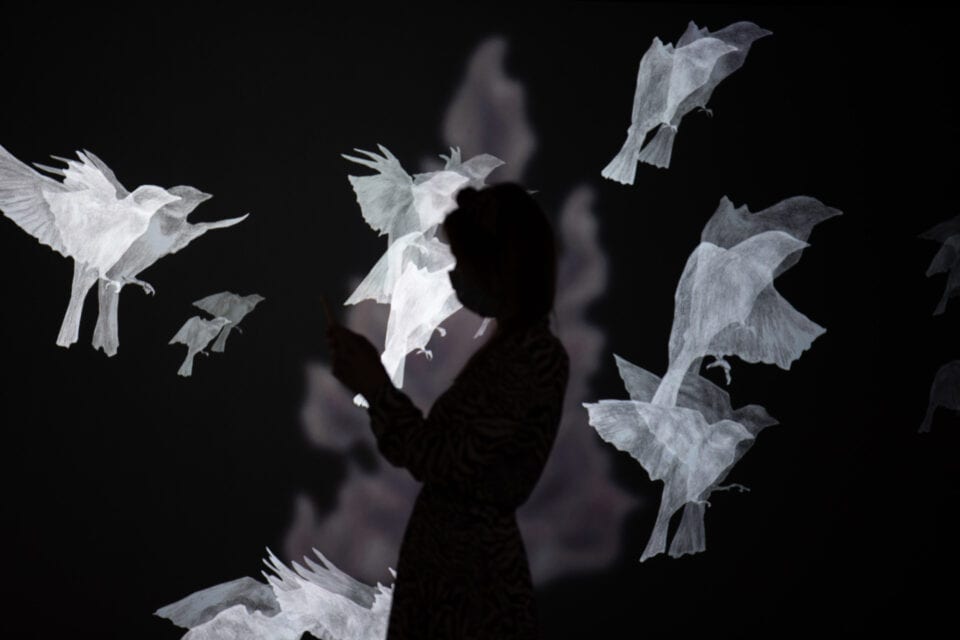 A: How effective is digital art as a method of communication and education – especially in terms of the environment?
TH: Digital art can be as effective and impactful as any other art form. It perhaps just lends itself to the way of life we are all living in the early 21st century. Distribution and virality are usually quoted as the golden opportunities that digital art generates. Many in digital art, and the more technologically engaged parts of the arts sector, are tired of digital being equated with distribution and audience engagement. It's reductive and defensive, in that it presumes there are no problems, and no required change with what we actually do — digital just means we can get it to more people, cheaper, faster.
I would go further than distribution though. Digital art can be critical, engaged, rigorous and transformative – just as much as physical or sculptural works. The technology used, be it paper and oils, clay, fabric, or the internet, offer just as many opportunities as they do limitations. I'm not challenging the idea that digital technologies, or more specifically the world wide web, provides incredible distribution opportunities. It does. But it's a fragment of the potential impact for art, culture, creativity and, even, the economy.
A: Let's talk about The Tides Within Us. What can audiences expect from Marshmallow Laser Feast's installation?
TH: The Tides Within Us explores the journey of oxygen from the lungs to the heart, and the journey of blood around the body. It uncovers the incredibly complex and beautiful ecosystems within our bodies, and demonstrates their reflection of, and connection to, those in nature.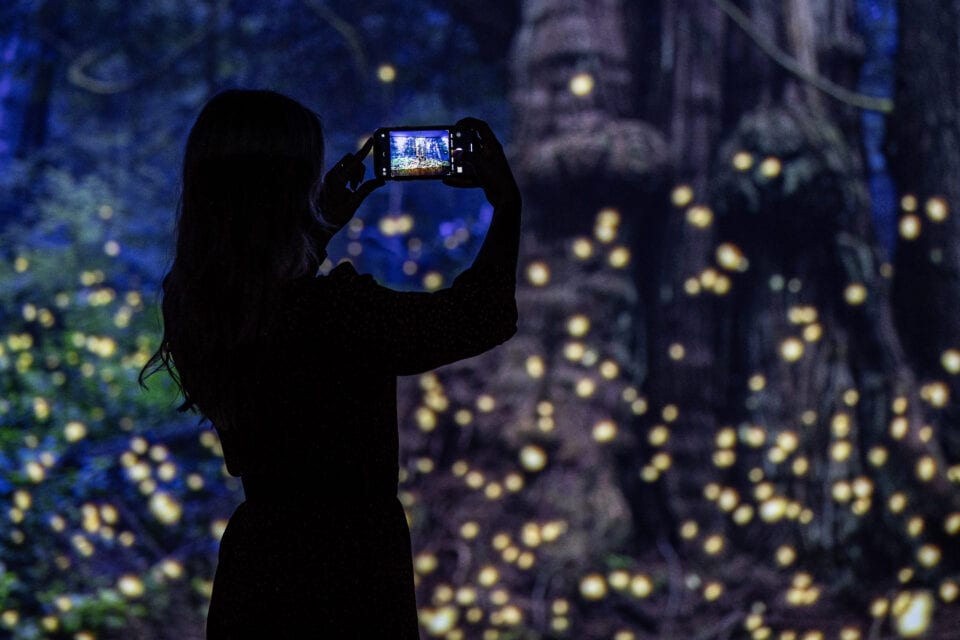 A: What other artworks are on display? What key issues do they highlight?
TH: The exhibition is a triptych of works across the three Madsen Galleries. The first room hosts the new commission, Limina, by Rachel Goodyear. Rachel is a highly sought-after, Manchester-based fine artist who has been continuing her exploration into animation following her solo exhibition Catching Sight at the New Art Gallery Walsall in 2017. Recurring motifs such as wolves, insects and fungi punctuate her drawings. The female figure is a recurring vision that, once again, chimed with the ideas we were researching – especially in connection to YAG's collection. There is also a historical connection to the work of William Etty – an English artist best known for his paintings depicting the human body. He was the first significant British artist to paint the nude figure extensively within his work. Luckily, early on in the process, Rachel was able to access the gallery's stores and stumbled across the unnamed sculpture which forms the centrepiece of her new work, Scrying.
The second and central room hosts Embers and the Giants by Canadian artist Kelly Richardson. It was originally commissioned as an IMAX film, and has been adapted for its first gallery presentation, and a UK premiere. It depicts an ancient and monumental tree occupying the centre of a large screen. It is intentionally the centrepiece of the exhibition, portraying the interaction between technology and nature, as dozens of tiny embers dance around the base of the tree, initially appearing as fireflies, but revealing themselves as uncannily artificial drones. Filmed with two (of only seven in the world) IMAX cameras taken directly from the set of the latest Avengers movie, the scale and resolution of Embers and the Giants is awe inspiring.
A: Why are pieces such as this so important right now – in light of the climate crisis?
TH: Art has the potential to tell stories and connect us to unfathomably important issues, such as the climate crisis. The sheer scale, both physically and temporally, of the challenge we are facing can benefit from the emotive and instinctive power of good art. The process of creating new work together in this time of social distance was one none of us could have predicted. Presenting the contemplative and inspiring visual conversation around the health and climate emergencies that surround us feels more important than ever.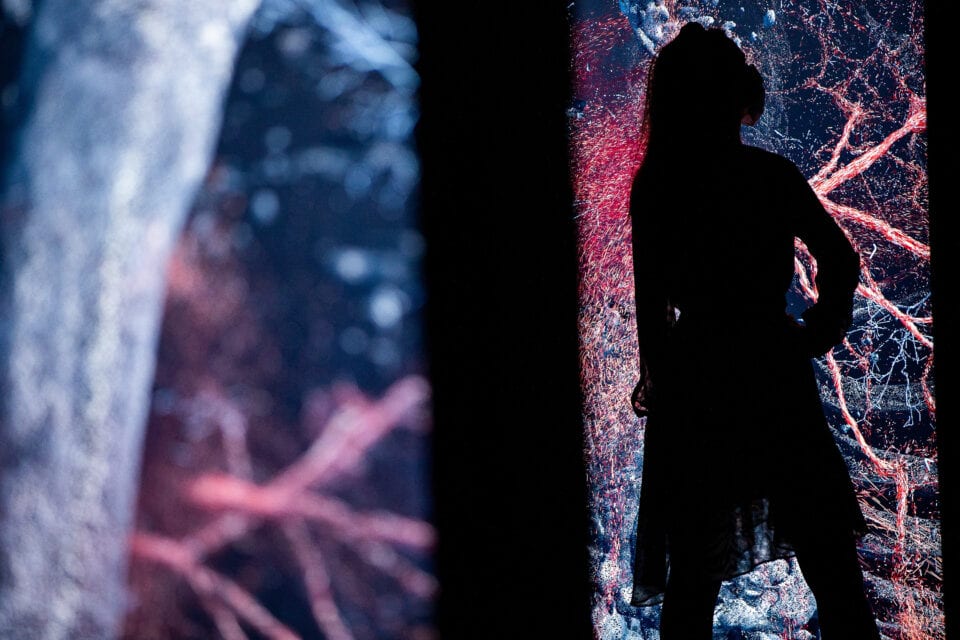 A: Kelly Richardson uses drones to make her work. What types of new technologies are artists adopting – and what does the future of digital art look like?
TH: We're most interested in the fringes of both art and technology, where artists are creating or adapting technology, and where technologists are creating art. Artists have been doing this for nearly 50 years. The first prominent example is Rebecca Allen's Aspen Movie Map, created in 1978, which is widely cited as an inspiration for Google StreetView. Fast forward to 2009, and the seminal project Eyewriter used affordable consumer technology to create a low-cost, open-source eye-tracking system. It allowed ALS patients (full body paralysis) to draw using just their eyes.
In the future, many talk excitedly about the potential of VR, and a wide variety of immersive technologies. Referencing drones, I was intrigued to see the announcement of Ring's new 'Always Home Cam' – a home security drone, priced affordably. Despite the rather terrifying security implications, it could offer some interesting opportunities if artists are able to work with it…
A: What do you hope audiences take away from the show?
TH: We hope audiences will come away from the show refreshed, provoked and keen to explore more on how we live, how we connect to one another and the planet. It's a meditative experience, and a visually arresting one, which is designed to make you think and reflect a little bit more. Which is perhaps something we all need at the moment.
A: What else can viewers expect from York Mediale 2020?
TH: Absent Sitters and Good Neighbours have now finished, though there'll be lots more from them coming soon, and People We Love might just be back in 2021 (more on that soon!). We've also got lots more to announce for the new year, leading up to an enormous staging of Marshmallow Laser Feast's The Tides Within Us in Coventry as a major project within their City of Culture programme next summer.
We've just announced that the Human Nature exhibition will be extended until 9th May 2021. It received excellent feedback in the first two weeks of opening, and we're delighted to confirm that the show will be available to see right through until Spring 2021.
---
Human Nature is at York Art Gallery until 9 May. Find out more here.
---
All images by Charlotte Graham.