We are living in a technological age – film, sound, code and immersive experiences are commonplace. VR and AI are becoming integrated into our culture. The Aesthetica Art Prize responds to these digital shifts – highlighting contemporary artists who investigate data, robotics and the emotional impact of social media.
Bill Posters (Barnaby Francis) & Daniel Howe, Big Dada
Comprising six "deep fake" works featuring synthesised personas of Marcel Duchamp, Marina Abramović, Mark Zuckerberg, Kim Kardashian, Morgan Freeman and Freddie Mercury, Big Dada was inserted into Instagram as a digital intervention in June 2019. The artists wanted to creatively use ML and AI to hack the personas of celebrity influencers to interrogate privacy, democracy and surveillance.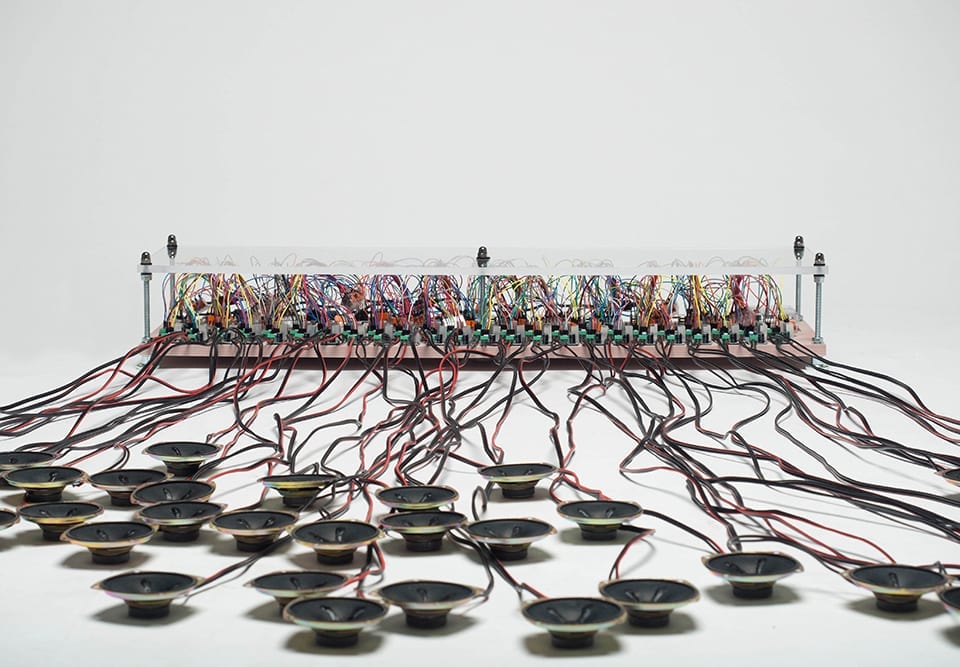 Oh My ( ) is an installation that calls out "god" in 48 languages using a Twitter database. The machine monitors the Twitter timeline in real time and when a tweeted text includes the word god, speakers sound "oh my (god)" (in the appropriate language) at the same time. It creates a cacophony of sound – highlighting the never-ending roll of digital feeds in an ultra-connected world.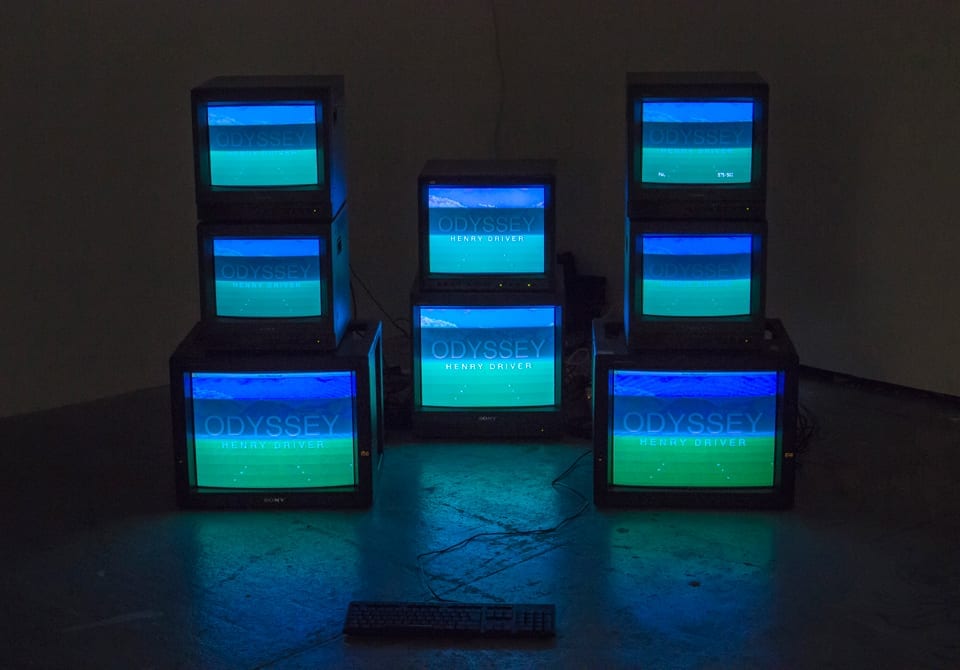 Odyssey is an interactive installation which questions the definitions of virtual space and the illusory aspects of choice and action. Like a video game, it presents an endless hallucinatory dream of an unattainable horizon which the viewer is tasked with reaching. Yet with every action, the dissolving horizon slips further away. Eight television sets emit a nostalgic blue and green glow.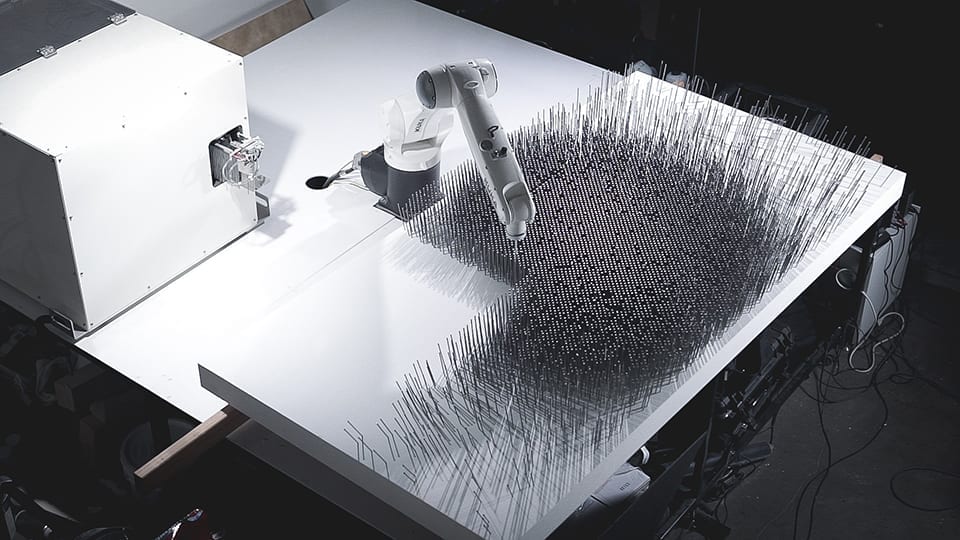 Charles Aweida, Particles of The Horizon
Charles Aweida is an artist and roboticist exploring the intersection of science, engineering, visual arts and film. The work – which is focused on manipulating and transforming physicality through robotics and custom-actuated machines – is driven by digital representations of the natural world. Particles of The Horizon, featured here, is one such piece, comprising of steel on high-density foam.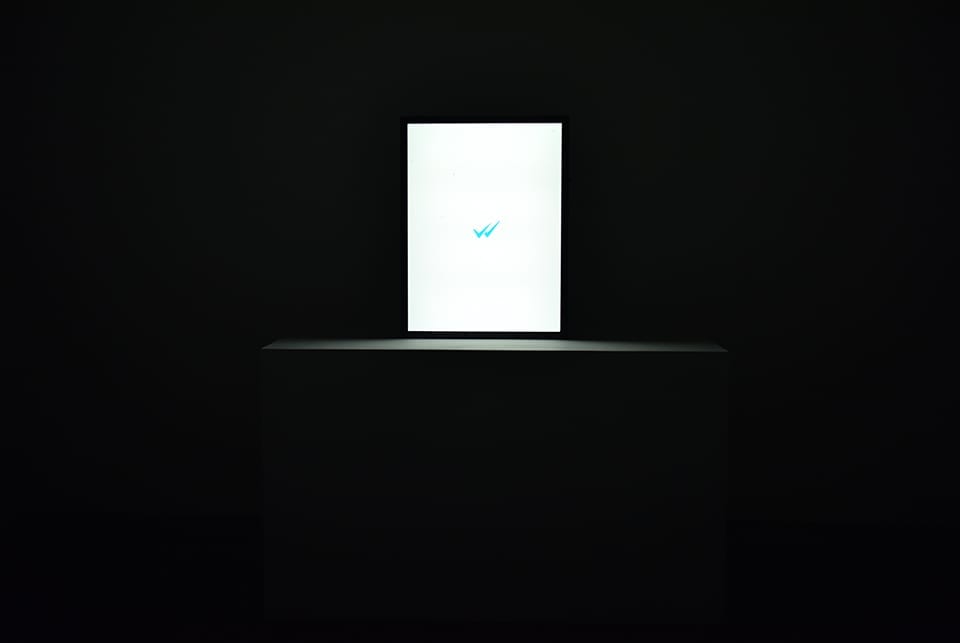 Oliver Canessa, Invitation to Untitled
Two familiar blue ticks stand out in the darkness. Invitation to Untitled employs sounds and visuals from instant messaging software to highlight our acclimatisation to digital technologies. The piece is a muddle of guilt, alienation and cognitive overload. What does it mean to feel ignored? Oliver Canessa is a multidisciplinary artist working across sculpture, sound, print, drawing, photography and writing.
---
The Aesthetica Art Prize is open for entries. We're looking for artists who are redefining the parameters of contemporary art. Submit your works by 31 August. Find out more here.
---
Lead image: Big Dada. AI-synthesised video personas. Single-channel video, 3min 4sec. Courtesy of the artist.
1. Noriyuki Suzuki, Oh my ( ), 2017.
2. Odyssey, 2014. W 1.3m x H 1m x D 1.4m.
3. Particles of The Horizon. Steel on high-density foam, 3-4in x 8in pieces. Courtesy of the artist.
4. Oliver Canessa, Invitation to Untitled. Courtesy of the artist.