The fight against global warming is happening from the ground up. Action group Extinction Rebellion halted London for weeks in mid-2019 and demanded politicians take action against the greatest threat of our time. Greta Thunberg has spearheaded global climate protests at just 16 years old. But tackling the climate crisis also involves wider city planning, building ideas that alter the way we navigate dense areas. Properly implemented bus routes, congestion zones, inner-city parks and bike lanes can unlock huge benefits for local communities. The Bicycle Architectural Biennale (BAB) showcases those who are putting cycling at the heart of urban design.
The exhibition, which runs as part of Dublin's Velo-city Conference (from 24 to 28 June) shows work of international agencies who are inspiring new ways of thinking, creating cities fit for the future. Spearheaded by Dutch social enterprise BYCS and the award-winning NEXT architects, BAB features 15 projects — 11 fully constructed, four conceptual and from nine countries. These included the groundbreaking park at Utrecht Central Station, the largest in the world with space for 13,500 bikes. Stretching for over 7,600 metres and elevated above street level the Bicycle Skyway in Xiamen, China, is integrated with pedestrian bridges, ramps, roundabouts, parking and service pavilions.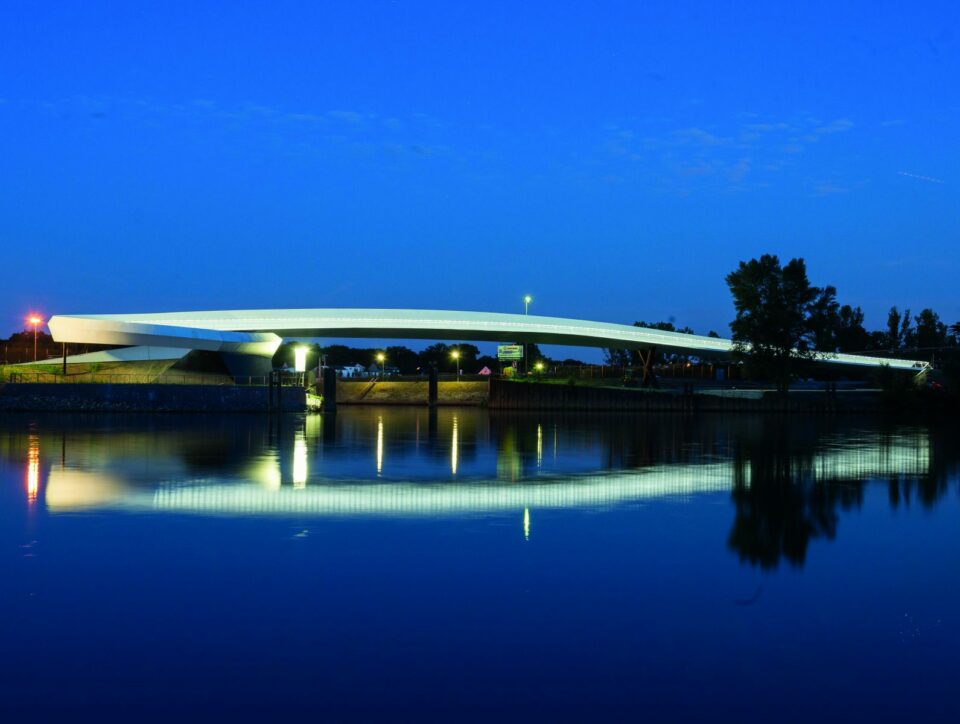 Connecting a 70-metre wide entrance to the city's oil terminal the Ölhafen Bridge in Raunheim, Germany, has been hailed as a structural marvel. At a length of 170 metres, the bridge resembles an S-shape from above and culminates in a circular access ramp. A 14-metre spiralised disincline to ground level is constructed of white concrete.
Each idea was chosen for its ability to demonstrate how design solutions can go beyond the functional, and also lead to healthier lifestyles, more inclusive communities, a cleaner environment or a more sustainable economy. As a UN report recently announced, 68% of the global population will live in urban areas by 2050, so it's never been more vital to creatively explore how architecture can streamline the flow of people.
BYCS features as part of the Velo-city Conference, Dublin, from 24 to 28 June, and will tour globally. Find out more here.
Lead image credit: Cycling through water, Visit Limburt, Lens Ass Architecten (Limburg, Belgium).