Dawoud Bey (b. 1953) is an American photographer and educator renowned for street portraits that connect the individual to the larger community – offering vital threads between the human condition and its neighbours.
In The Photography Workshop Series, Aperture collaborates with renowned artists to distil their creative approaches, teachings and insights. Bey is the next in this collection of publications, discussing a variety of ethical, personal and conceptual angles to creating portraits. He states: "My ideas have largely centred on the human subject; I'm interested in visualising the human community in a broad range of contexts. Pictures of people in front of a camera – that describes everything that I've done for 40 years, every single picture."
The publication takes readers on both a visually compelling and a deeply informative journey through Bey's teachings and musings on the responsibility of the artist as a documenter – "working with the surface" to evoke a credible sense of identity in the individuals represented. Listing a number of key influences – Richard Avedon and Irving Penn to name just two – there's a true sense of wonderment at the lifelong commitment and adventure to photography.
There's a myriad of seminal, affective images to peruse – pulling back to the 1970s and 1980s in Harlem, Washington DC and New York. School children gather on a street corner; a woman in a back-alley stares, directly, confidently, at the camera; a couple at a bus stop lean, comfortably, on each other. There's contrast, emotion and sensitivity to be seen at every turn of the page.
Additionally, as with all the other books in Aperture's series, the text is introduced by one of Bey's students – Brian Ulrich – who testifies positively and optimistically about the wider mechanism of art. It is perhaps in these moments of mentorship that the book shines even more brightly with the fire of possibility, imagination and idea generation. "Dawoud Bey is welcoming and generous; he is purposeful in forming communities of support and friendship between those who are interested in making and speaking to our culture, in changing and affecting the world with both small and grand gestures. This carries over from his work, which continues to recalibrate our understanding of the world and point to the potential in us all."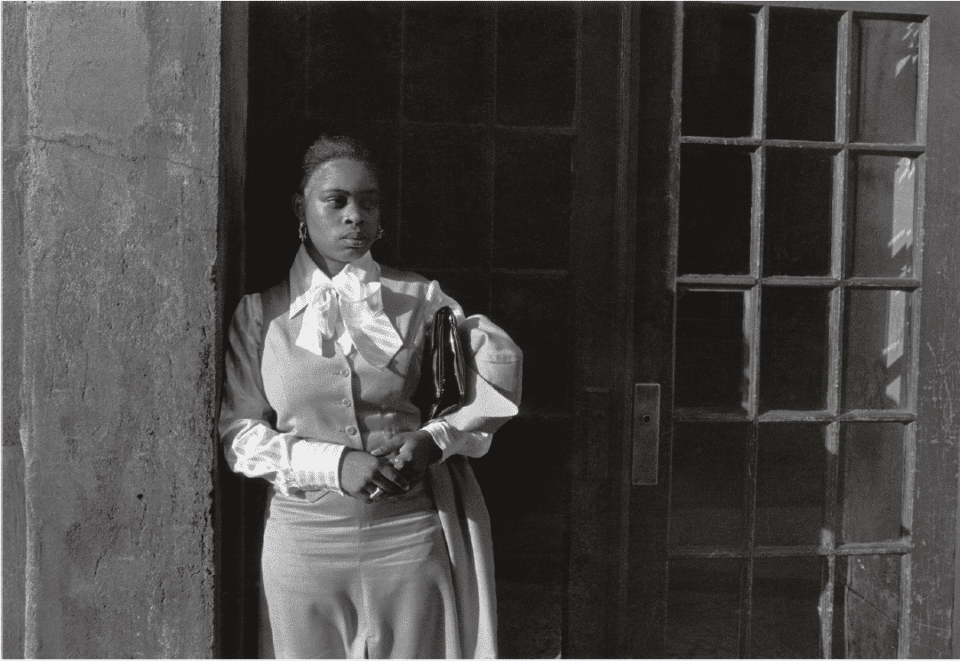 Bey's work is featured in many major collections including the Art Institute of Chicago; the National Gallery of Art, Washgington, DC; San Francisco Museum of Modern Art; the Metropolitan Museum of Art; and Whitney Museum of American Art, New York.
Dawoud Bey: On Photographing People and Communities is published by Aperture, October 2019. For more information, click here.
Credits:
1. Dawoud Bey, At A Tent Revival Meeting, Harlem, 1977.
2. Dawoud Bey, A Boy In Front of the Leow's 125th Street Movie Theatre, Harlem, 1976.
3. Dawoud Bey, A Young Woman Between Carrolburg Place and Half Street, Washington DC, 1989.
4. Dawoud Bey, A Woman Waiting in the Doorway, Harlem, 1976.
All images from Dawoud Bey on Photographing People and Communities (Aperture 2019).