Apsáalooke artist Wendy Red Star (b. 1981) is informed by Indigenous heritage, working across photography, video, textile and performance. Raised on the Crow reservation in Montana, she is dedicated to examining the ways Native peoples have been represented by outsiders. Most recently, Red Star curated Native America: In Translation at Milwaukee Art Museum, displaying the work of ten creatives including Martine Gutierrez (b. 1989) and Rebecca Belmore (b. 1960). In selecting who to include, Red Star notes, "I was thinking about young Native artists, and what would be inspirational and important for them as a road map. The people included here have all played an important part in forging pathways, in opening up space in the art world for new ways of seeing and thinking." The exhibition stands in contrast to colonial representations of Indigenous people that, in Red Star's words, "set people up to think of native people as extinct." In the 19th and 20th centuries photography was, as Forbes reports, "routinely used as an accessory" to colonisation. Edward Curtis' (1868-1952) colossal project The North American Indian, for example, was an attempt to record the culture and lifestyle of Native American tribes before it was "lost forever." Today, it faces criticism for using the form to generalise, romanticise and reduce communities. In Red Star's exhibition, however, photography is a tool for liberation, making the Indigenous experience present, powerful and actualised.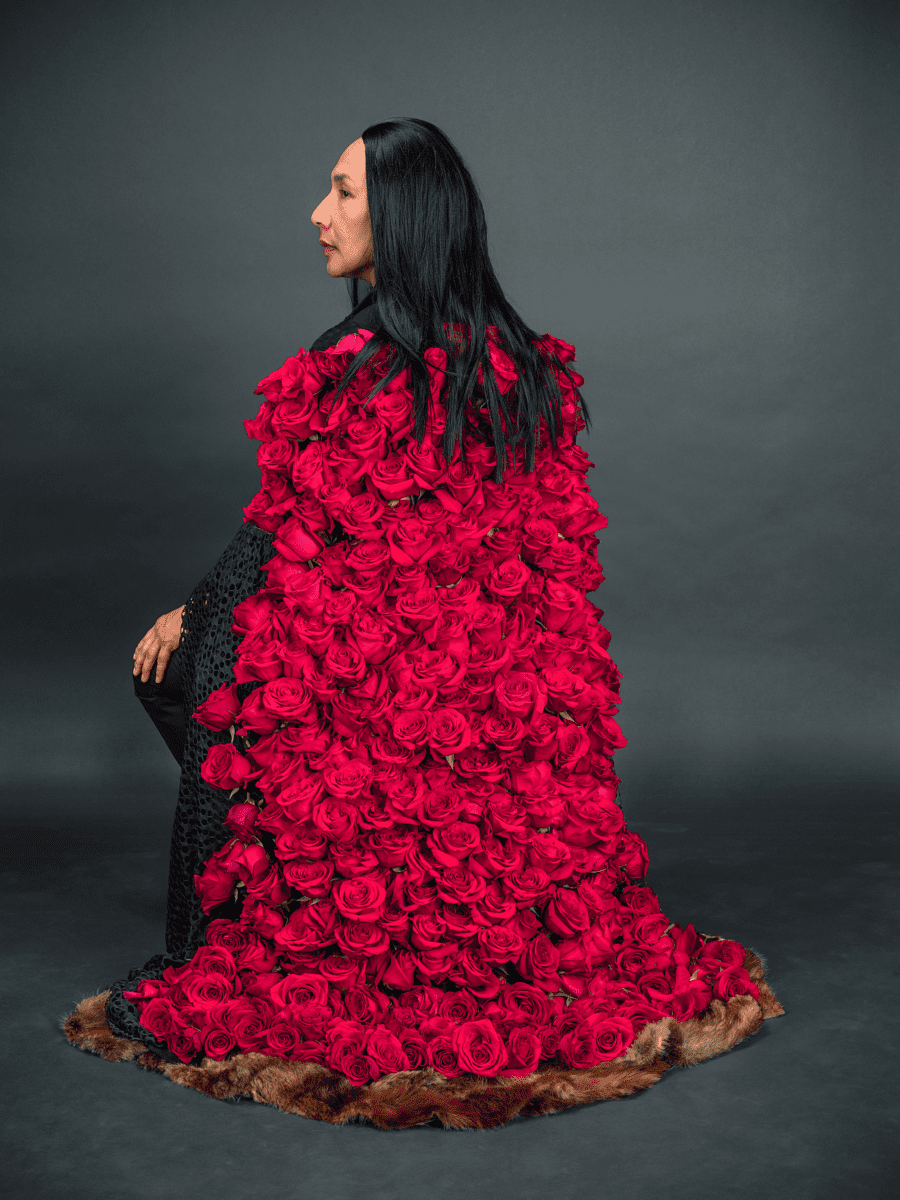 One such artist is Gutierrez, who celebrates Mayan Indian Heritage in Queer Rage, Imagine Life-Size, and I'm Tyra. On first glimpse, the scene appears busy although unmodified; a black cougar, green-billed toucan and pair of cruising parrots seem to spring from the same panel of green. On closer inspection, however, a viewer is confronted with a pretend-world – predators, birds and insects have been inserted into the foliage as if stickers in a book. The crowded garden, complete with children's chairs, dolls and sculpted animals, distracts from the subtle collage at play. Gutierrez, as if a doll herself, poses off-centre in a colourful ensemble, her outfit composed of fashion labels such as Versace, Vivienne Westwood and Prada, combined with items purchased at Goodwill thrift stores. Mainstream fashion's appropriation of Indigenous cultures is not new; Kendall Jenner, for example, was accused of appropriation in a 2021 campaign shot in Mexico, whilst brands such as Victoria's Secret have been known to use Native American-inspired headdresses in their runway walks.
The image is part of a larger project entitled Indigenous Woman, a 124-page publication that challenges traditions of beauty magazines and consumer advertising. The artist operates through artifice – where faux editorial invites viewers to readjust perceptions of gender, race and capitalist culture. Gutierrez's work is reminiscent of Red Star's Four Season Series, a photographic collection satirising western dioramas of Native people. Both artists surround themselves with plastic ornaments and fake animals, symbolising the co-opting of Native symbols and icons as a marketing tool for products like cigarettes and sports teams. The commercial world, dominated by materialism, however, does not dominate these images. The figurehead influence of the "celebrity" is questioned – Gutierrez assumes the role of stylist, model and client. Personal identity is not sellable, but fluid and remarkable. What persists, as Gutierrez notes in her introduction to the book, is the autonomy and presence of a "real, authentic, native-born woman."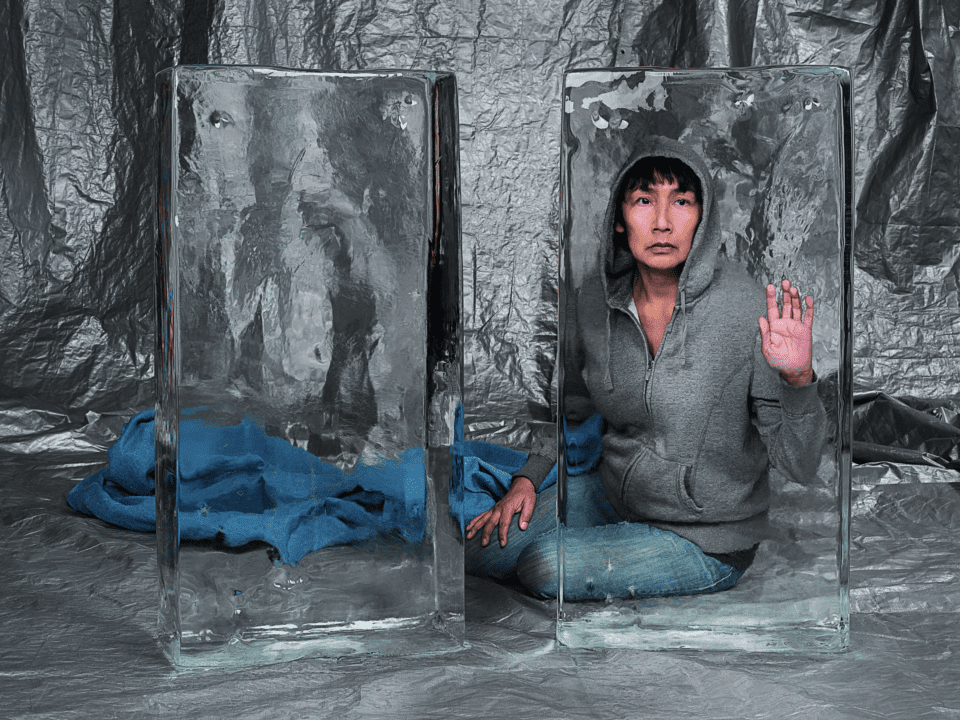 Elsewhere, Anishinaabe artist and member of the Lac Seul First Nation, Rebecca Belmore, creates images that seek to challenge the erasure of Native Americans. Indigenous history is one of the most neglected subjects in American classrooms, with a 2016 study noting "contemporary Native Americans are, for the most part, invisible in the United States." Native people are disproportionately affected by government rulings; 99% have lost their land they have historically occupied whilst 14% of reservation households do not have access to running water or electricity. In her series nindinawemaganidog (all of my relations), Belmore confronts such inequality through scenes of endurance and reclamation. In matriarch, the artist faces away from the camera, encowled in a floor-length cape of red roses, whilst in mother a model poses behind two blocks of ice, her fingertips gingerly resting on the surface. Here, Belmore represents the mother of a Saulteaux First Nations teenager who froze to death after being abandoned on the outskirts of Saskatoon. The woman depicted is representative of many other mothers who experienced the "starlight tours" – a practice where Native peoples were picked up and dropped off in sub-freezing temperatures by police, left to walk back on their own. Belmore gestures towards the pain of state violence enacted against Canada's Indigenous peoples, using photography as a way to hold the oppressor as culpable.
Native America: In Translation calls attention to the physical and cultural suffering experienced by Native people. It is power, however, rather than pain that emerges from the exhibition. The exhibition is defined by real, immediate and uncontainable people, where ultimately it is presence, rather than erasure of the Indigenous experience, that persists.
---
mam.org | Native America: In Translation until 25 June.
Words: Chloe Elliott
---
Credits:
1. Martine Gutierrez (American, b. 1989), Queer Rage, Imagine Life-Size, and I'm Tyra, p66–67 from Indigenous Woman, 2018. Inkjet print. Courtesy of the artist; RYAN LEE Gallery, New York; and Aperture
2. Rebecca Belmore (Lac Seul First Nation, b. 1960), matriarch, from the series nindinawemaganidog (all of my relations), 2018. Inkjet print, photograph by Henri Robideau. Courtesy of the artist and Aperture
3. Rebecca Belmore (Lac Seul First Nation, b. 1960), matriarch, from the series nindinawemaganidog (all of my relations), 2018. Inkjet print, photograph by Henri Robideau. Courtesy of the artist and Aperture.