Tina Sturzenegger (b. 1978) is a self-taught photographer based in Switzerland. Inspired by the "colourful and playful" element of food, she constructs lavish scenes with croissants, pretzels, oranges and coconuts. The resulting images are reminiscent of vintage 1960s cookbooks: rich in saturated reds, pinks and greens. Stylised with film grain, they appear to have been ripped from the pages of antique volumes.
---
Featured here are images from There Must Be Lights Burning Brighter Somewhere, a series about the pressures of life in today's digital world. It taps into the narrative surrounding unattainable lifestyle goals, which are often perpetuated on social media. As we scroll, we are encouraged to eat better, exercise more and perfect the work-life balance. It can be overwhelming, with the desired results just out of reach. "It's a story about trying and failing," she says. You should eat veggies and fruits but instead you're smoking cigarettes… The story goes on and on and on, but somewhere the light shines brighter."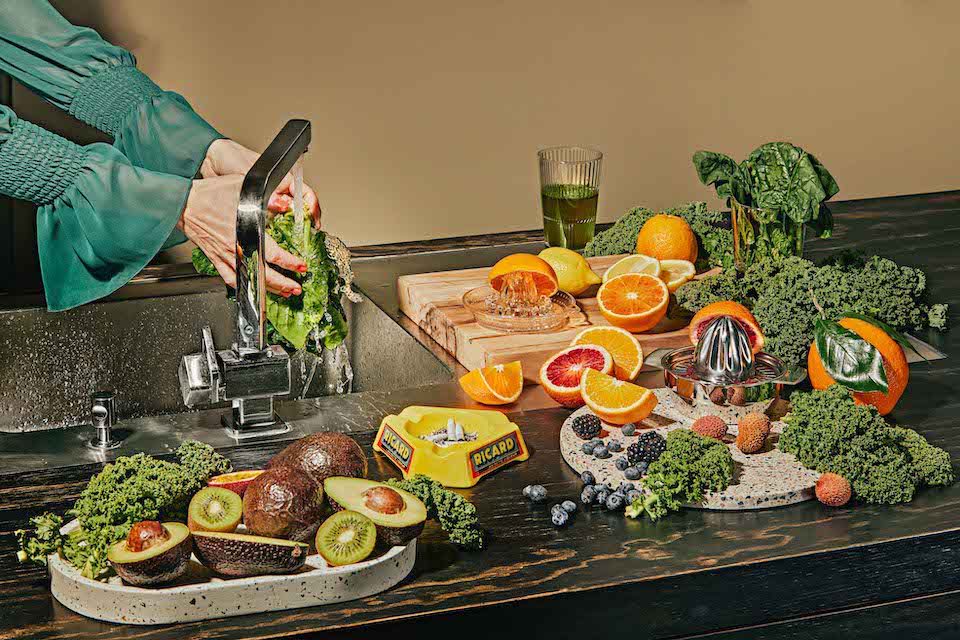 Sturzenegger's shots often border on the surreal: characters tuck in to pyramids of fish fingers or prepare luminous green juices. In one shot, breakfast is shared with three small birds. In another, a tube of thick pink icing is squeezed onto a meal. There's a sense of excess here: piles of green vegetables and oranges lie discarded on tabletops, as anonymous hands prepare a dish in the background.
---
During the Covid-19 lockdowns, Sturzenegger pushed her concepts further. Without people to photograph, she transitioned to working purely in still life. These shots are more pared back: reflecting the precarity of the global moment. Lemons are wrapped in bungee cords and grapes teeter on the edge, as if to fall at any second. "The series shows the fragile up and downs of a pandemic," she notes.
---
---
All images courtesyTina Sturzenegger.
1. Squeeze Out
2. Hang Up
3. Carbs
4. Salad
5. Elvis
6. Balanced Diet