What happens when art and fashion collide? Designers have been pushing the boundaries of genre and technique for decades, from 1920s Dadaist costumes to Alexander McQueen's iconic spray painted dress, emblazoned with colour by robots in 1999. Austrian creative Arthena Maxx Lukmann shows another approach, presenting spectacular hand-painted pieces against collaged backdrops. Working towards the maxim "more is always more", the artist combines photography with storytelling and craft to rewrite the narrative of unwanted fast fashion garments. Maxx Lukmann, in collaboration with Pashmin Art Consortia, speaks to Aesthetica about her diverse and vibrant practice.
A: You work across a range of media – from paper to tapestries. How do you describe your approach? Can you outline some of the key themes that appear?
AML: I work purely intuitively, following an inner flow and an urge to create images. This urge decides the material and the composition. Whilst in a state of flow, I apply and mix techniques I have learned or developed myself. For example, drawing calls for detail and paper, whilst large canvases and fabric are what I use to express emotion. I often work on five to eight projects at the same time, and am interested in issues surrounding relationships – not only between people, but also within culture, nature, contemporary art and current world events.
---
A: Many of your pieces combine clothing design with fine art: models standing in front of paintings or framed by colour. What's your relationship with fashion?
AML: For me, as a painter, fashion is a different form of canvas. In the age of fast fashion, when lots of clothes are hardly worn and thrown away, I want to transform garments from simple dresses to timeless works of art and sculpture.
A: Eyes are a recurring motif in your paintings. Why do you choose to return to this symbol?
AML: Our eyes are a tool for determining truth, seeing a situation from both the inside and outside. They witness the beautiful, the dangerous and much more. Yet we often fail to properly classify what we have seen and can struggle to take the right actions.
A: What drives you to create? What – or who – are you inspired by?
AML: My inspirations can be found within people and their social interactions. I want to bring these encounters to life through paint, canvas, fashion, gold and constructive art design. I am inspired by Leonardo Da Vinci's irrepressible, unstoppable genius, as well as Gustav Klimt's aesthetic picture compositions. We share a common love for gold leaf! I also think Julian Schnabel is cool – creating great plate pictures in a unique style. Painting gives me the opportunity to live out my own genius, and to shape it in a socially acceptable way.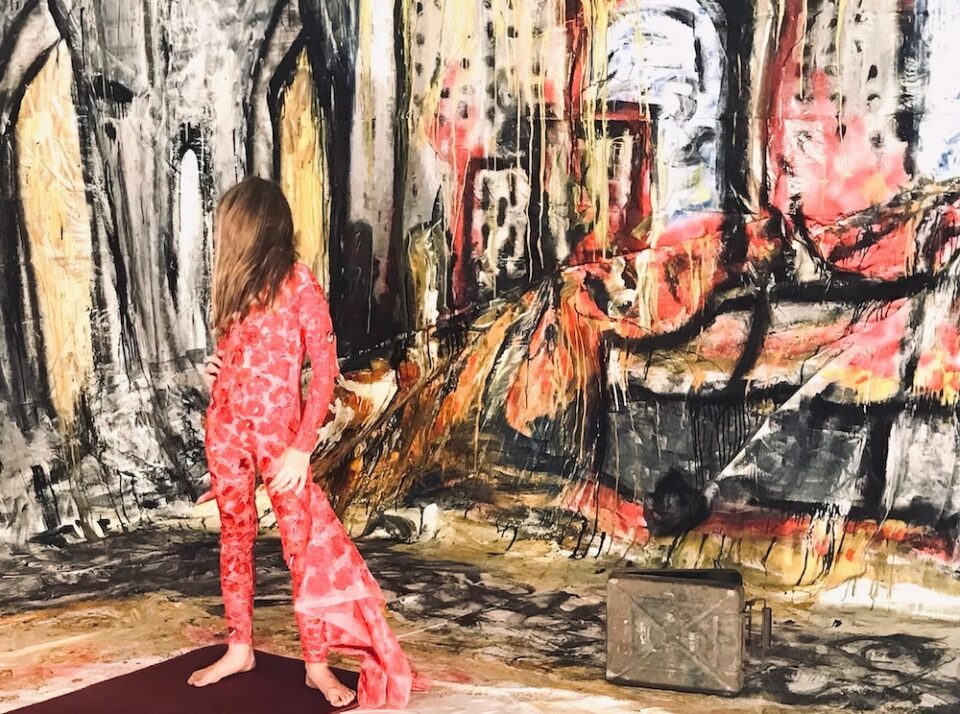 A: Last year, you exhibited at Art Barcelona, Swiss ART EXPO and this year in Chongqing, China. What do you hope audiences take away from your work?
AML: The spirit and energy in my pictures, as well as the diversity. We are more as humans when we feel free and full of energy. When looking at my work, I would encourage viewers to get lost in themselves, to sink inward. I would like them to see order and calm in the chaos. There's a joy and profundity to be found within my art. I hope audiences experience a sensual journey: a simple peaceful awakening.
A: What's next for you? Any upcoming projects, exhibitions or events on the horizon?
AML: I feel unstoppable. For the coming year, I would like to intensify my high-quality cooperation with Pashmin Art Consortia and its professional team. I have an exhibition planned at Swiss ART EXPO 2022, and I'm looking at expanding my charity project with AHP 23 Branlt Lemonade and Charity Art Auction, as well as working with Im Kinsky and Sotheby's. My major project BÄRN-ART will be the central focus in 2022, starting with the placement of three to five large outdoor paintings totaling approximately 250m² in my hometown of Bärnbach, Austria. I'd like to expand this worldwide through NFTs.
---
Find out more about the artist here.
Visit Pashmin Art Consortia here.
---
All images © Arthena Maxx Lukmann