London-based Courtney Bae (b. 1986) is a Korean artist recognised for her abstract figurative works. A new series of paintings is launching this summer, drawing on her personal relationship with mental health. The bold images are steeped in metaphor, symbolism and intimacy: elongated limbs are set against geometric backdrops, whilst bodies intertwine in bright, undefinable rooms. The artist speaks to Aesthetica about her practice.

A: When did you first become interested in painting?
CB: My father used to take Chinese painting lessons privately and I used to be so fascinated by it all. He would paint with gouache and ink on rice paper, grinding the ink from a solid form. I just thought it was so wonderful. He painted a lot of landscapes, cherry blossoms and lilies. I was around 5 then, so I didn't think much of it again until high school. I took art and had a wonderfully encouraging teacher who was a huge reason why I pursued it. She taught me how to stretch a canvas and paved the way for me. I used to absolutely love my art classes. I couldn't wait for the next one and hated when the bell would ring, and I'd have to finish up. I never took a liking to landscape like my father though. I've always been drawn to people – probably because of the social elements that just bring so many layers to a work.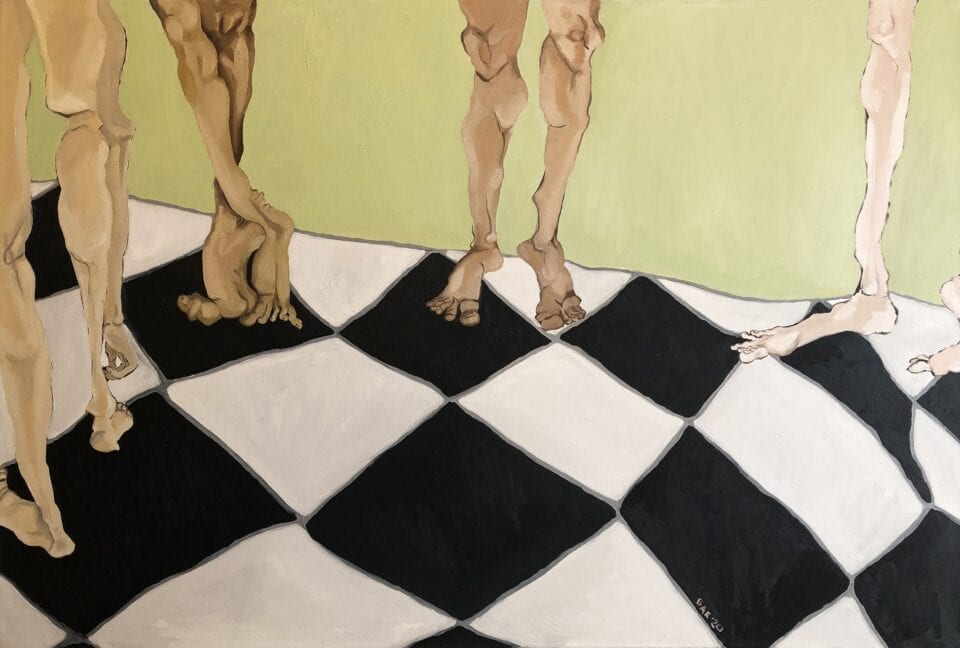 A: Which types of media do you use today?
CB: I work in oil on linen or canvas. In 2016, I started working in gouache, ink and pen on paper. People really like these paper works.

A: Your figures are often abstracted. Why do you choose this approach?
CB: The part I love about art the most is the interpretation of it all. I love reading into the symbolism. I love that art is a bit like wine tasting – in that you're never wrong, but everyone has their own reaction which can be so wildly different from one person to the next. It's also important to me to depict these figures in a very careful way. There is a lot to talk about when it comes to the relationship between a person and intimacy, so I'm not creating my works to get some kind of "sex-sells" reaction here. I'm creating these intimate little moments where I can speak, in my own tone, about things like shame, enjoyment, secrecy, pleasure, pain, intimacy and loneliness.
---
A: You worked in fashion for over a decade. Do you draw on this experience?
CB: Yes, between New York and London I've racked up quite a few years in the fashion industry. Whilst I've never been interested in the glamour or gossip side of it, I've always loved playing with style as a form of expression. I spent a long time working as a visual merchandiser for Prada and Miu Miu, where I learnt so much about the intricacies of colour, balance, texture and contrast. I learnt about the "Prada way", which can only be understood by trying and doing, not by a handbook. Working for Prada group really gave me the ability to fine tune and critique visually. But I'm also a fashion art director who originally trained as a graphic designer – so I think that all goes hand in hand too.

A: How do text and image collide in your work?
CB: The text is a fairly recent addition. I wanted to bring out a sort of brash and abrasive tone in my work. Something to sort of juxtapose the "prettiness" of it. These words are all quotes from someone I know very deeply who struggles with mental health, which is where a lot of my inspiration comes from for these recent oil works.

A: Do you have a favourite piece – or one that means the most to you?
CB: IM A CRAZY PIG is a work that currently speaks volumes to me. It's the perfect expression of what I wanted to say. It balances the beautiful, playful and childlike colours I love to use, with the darker and more disturbing points I want to make. I think there's also a lot here for someone to chew on, to interpret, to hate and to love.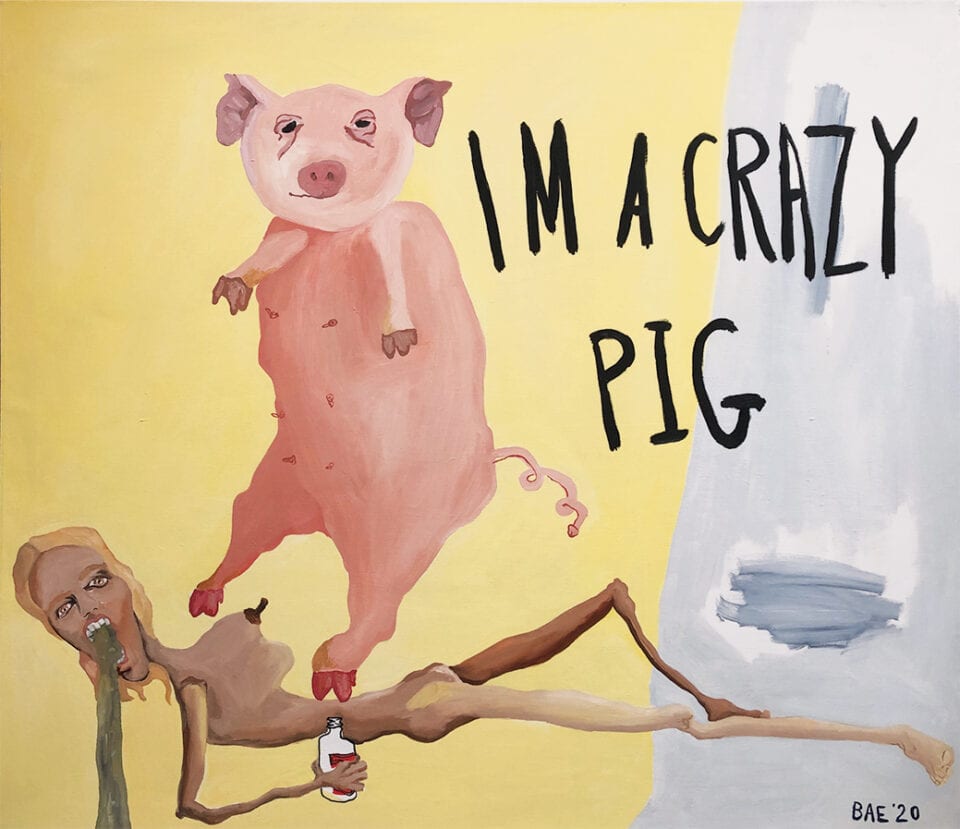 A: What do you hope viewers take away from your images?
CB: I hope they look and look again – and maybe hate it for a while. Ultimately, I hope my work takes them to new places in their own head. I want to create stimulation, inspire, provoke thought and emotion.

A: Where do you see your practice evolving next?
CB: I want to push more with my oil work. After this long, I still feel like I've only just scratched the surface of what I will go on to do. I also want to build on some conceptual and sculptural work. I have so many large scale, very grand ideas that I want to play with.

A: Where can readers see your work and find out more?
CB: I have a couple of oil pieces just finishing up shows in Hull and in Athens, so right now you can find more of my work on my website here or on Instagram, where I'm most active @courtney___bae. Any upcoming exhibitions are posted online regularly.
---
Lead image: Private Parts Artist, Courtney Bae, Oil on linen, 140cm x 97cm x 4cm, 2020.
1. Barefeet, Courtney Bae, Oil on linen, 102cm x 152cm x 4cm, 2020.
2. False Memory, Courtney Bae, Oil on canvas, 122cm x 96cm x 4cm, 2020.
3. Snug, Courtney Bae, Oil on linen, 61cm x 46cm x 4cm, 2020.
4. IM A CRAZY PIG, Courtney Bae, Oil on canvas, 132cm x 157cm x 4cm, 2020.