In November 2022, the COP27 United Nations Climate Change Conference in Sharm el-Sheikh, Egypt, hosted more than 100 Heads of State and governments to deliberate on agreements and strategies to drastically reduce carbon emissions. Yet, according to the BBC, 36 private jets landed at the summit between 4-6 November, and an additional 64 flew into Cairo. Gareth Redmond-King, International Lead for the Energy and Climate Intelligence Unit (ECIU), stated: "The emissions are negligible compared to the impact of decisions and commitments made at these summits." Whilst the need for worldwide conversation on the climate emergency is vital and urgent, it remains difficult to reconcile this environmentally damaging transportation method.
This paradox lends itself to the significant discrepancies inherent – and often unavoidable – in human action. Contradictions are an indispensable aspect of humanity, and Los Angeles-based artist Djeneba Aduayom thrives in this disconnect between action and perception. Individuals perform in ways that do not align with their beliefs, express emotions they don't feel and offer advice they wouldn't follow. The multi-disciplinary artist searches beyond the physical confines of the body to evidence the ingrained ambiguity of human behaviour through mixed-media, photography and video installation. Famously, Salvador Dalí said: "Everything that is contradictory creates life." It is through these contrasts that Aduayom reflects upon the complexities of experience.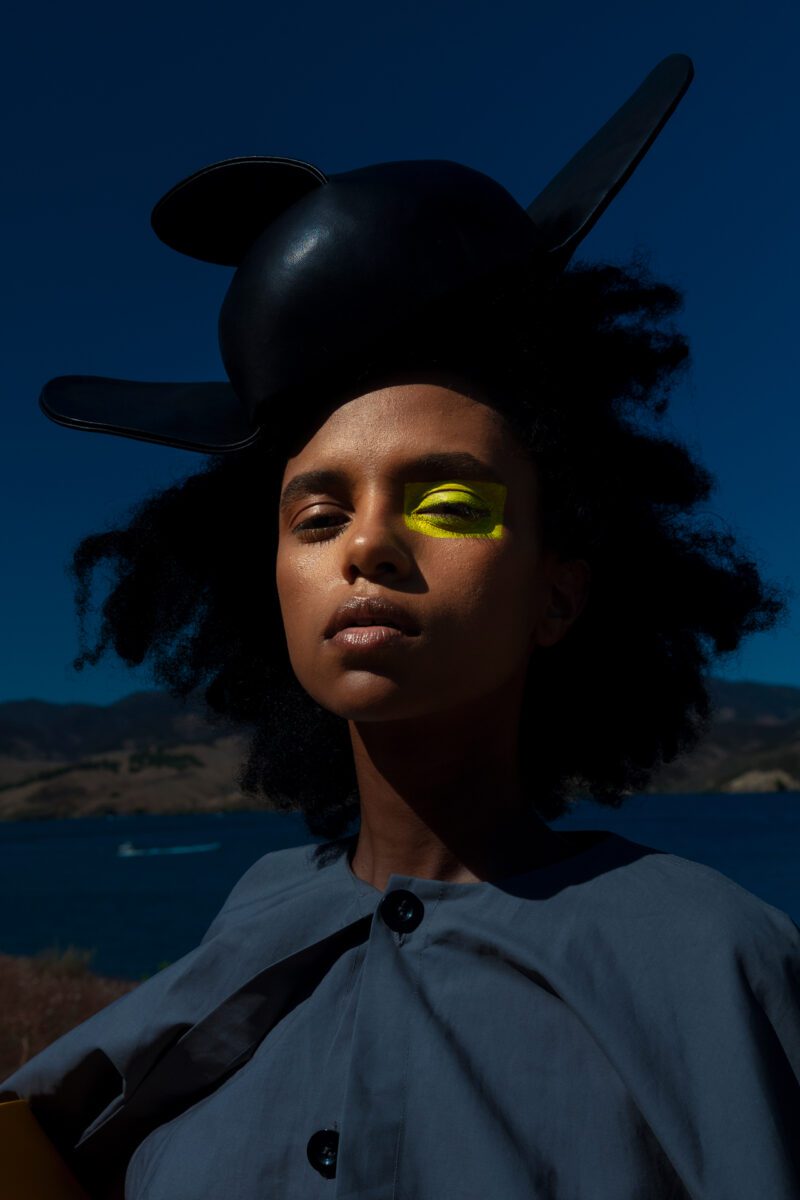 Colourful spheres pass between hands. Figures bask in sunlight. Pops of yellow and red dance against stark emerald backdrops. The artist's broader work often features bold colours and natural scenery in multi-layered, striking compositions. These subjects take on fluid, effortless poses that find movement within stillness, another incongruity that Aduayom achieves by drawing on her extensive career as a professional dancer and film director. She has also worked with worldwide brands and seminal magazines, such as Billboard, i-D, The Cut Magazine, Time Magazine and Vogue.
Now, Aduayom turns to the layered and contrasting emotions within people and their complex relationship to landscape in Atmospheric Perspective (2022). The video installation is on view as part of Fotografiska Stockholm's latest exhibition, In Bloom, focusing on juxtapositions within the natural world. As the UN's Climate Change 2023 report highlights the irreversible impact of industrial activity is having on Earth, Fotografiska's 16 featured photographers join this crucial conversation, examining our dependence on nature and its symbolic role. Aduayom, in particular, evidences the tension and ambiguity of the human experience, alongside contemporaries Helene Schmitz (b. 1960), Ori Gersht (b. 1967) and David Uzochukwu (b. 1998).
A: In Bloom suggests a time of prosperity and renewal. How did you draw upon these themes in the work?
DA: The show is a symbolic, philosophical and poetic exploration of nature through photography. This is the part that I related to in my video installation Atmospheric Perspective. For this project, I was called to produce a trauma response to the deteriorating health of our planet. Our actions – and inaction – continue to destroy the world and its resources. The latest UN Intergovernmental Panel on Climate Change (IPCC) in March 2023, showed us that the world will burn through its remaining "carbon budget" by 2030, unless action is taken now. The extent of this reality is amplifying. Cig Harvey's work, for example, calls upon humanity to experience nature whilst it's still there. My piece is an artistic and poetic vision of how we are transforming our Earth. I ask: what will be left of us once we are gone? Mere installations that might offer a testament to past presences? Or nothing at all – only a scorched planet haunted by distant memories and false illusions? I hope the viewer experiences their own perceptual sensations in response and, from it, are compelled to do their part to protect the planet we call home.
A: The images on view at Fotografiska consider nature's rich variety. How does your work respond to this?
DA: The work is about layers and juxtaposition. The human figure is disparate in the landscape. The motion within the land is positioned alongside subdued tones and against vibrant red. These are ways in which I make a work thrive in contradiction. In Bloom serves these dissimilarities: nature is strong yet fragile, beautiful and threatening, while the endless cycle of life and death becomes ever more apparent.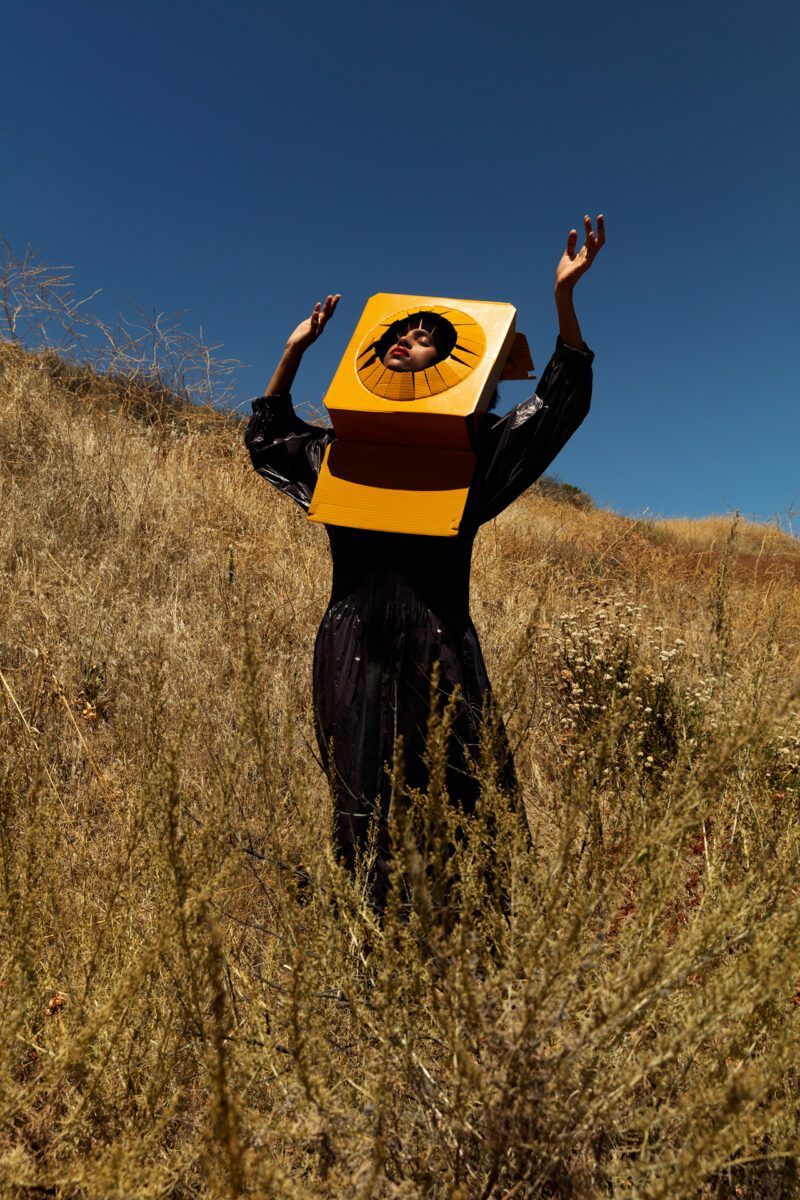 A: In Atmospheric Perspective, solitary figures stand in vast, desolate landscapes imbedded with abstract concepts. How does this use of Surrealism enhance the connections you evoke between humanity and nature?
DA: I explore visual parallels between reality and fantasy in my creative practice. I have always had a vivid imagination. It is not about enhancement; instead, these levels are part of my inner visual language. A few years ago, I spoke to David Uzochukwu, who suggested I try self-portraiture. He often photographs himself in fantastical yet natural settings. In works like Heartstrings (2018) and Ghoul (2019), he examines ecological concerns, migration and race. I thought it would never happen for me. Then, in the pandemic, the only way to create was to photograph myself. This exercise taught me so much: it became a form of therapeutic expression. The conceptual aspect and lone figure is a depiction of my inner isolation, whilst the abstract elements represent pieces of art and the curious worlds that exist within my own imagination.
A: Atmospheric Perspective concentrates on soft, muted hues, whilst earlier works utilise rich primary colours. Can you discuss this shift? What do the palettes signify?
DA: Colour is a language. I use it to speak to people in the same way I would with words. I have a multi-dimensional approach to everything. I never relate to one thing, but to the many parts of who I am and my personal life experiences. The palettes evidence various states of emotion – either singular or collective. Each shade reflects a mental state. A: There are more qualities that connect humanity than divide us. Can you elaborate on this principle? How do you express this unification through your work? DA: We are all human, first and foremost. That is a major quality that unites us. Then, there are our shared values – the love of children, family and friends, for example – that holds true worldwide. In certain circumstances, often tragic ones, humans join to help one another. We have witnessed this recently with global events, such as the Turkey-Syria earthquake in February 2023, or the tornadoes in the USA that are still impacting more than 15 states. If we could harness the desire to make a difference and extend it, we would work towards a place of fairness and compassion. I prefer to meet people with no preconceived notions. Then, I bridge the gaps between individuals by making an effort to understand them, their background and emotions. Over time, I link these stories together to create a larger, unique narrative about different experiences. I convey them through art because it transcends what words can easily express.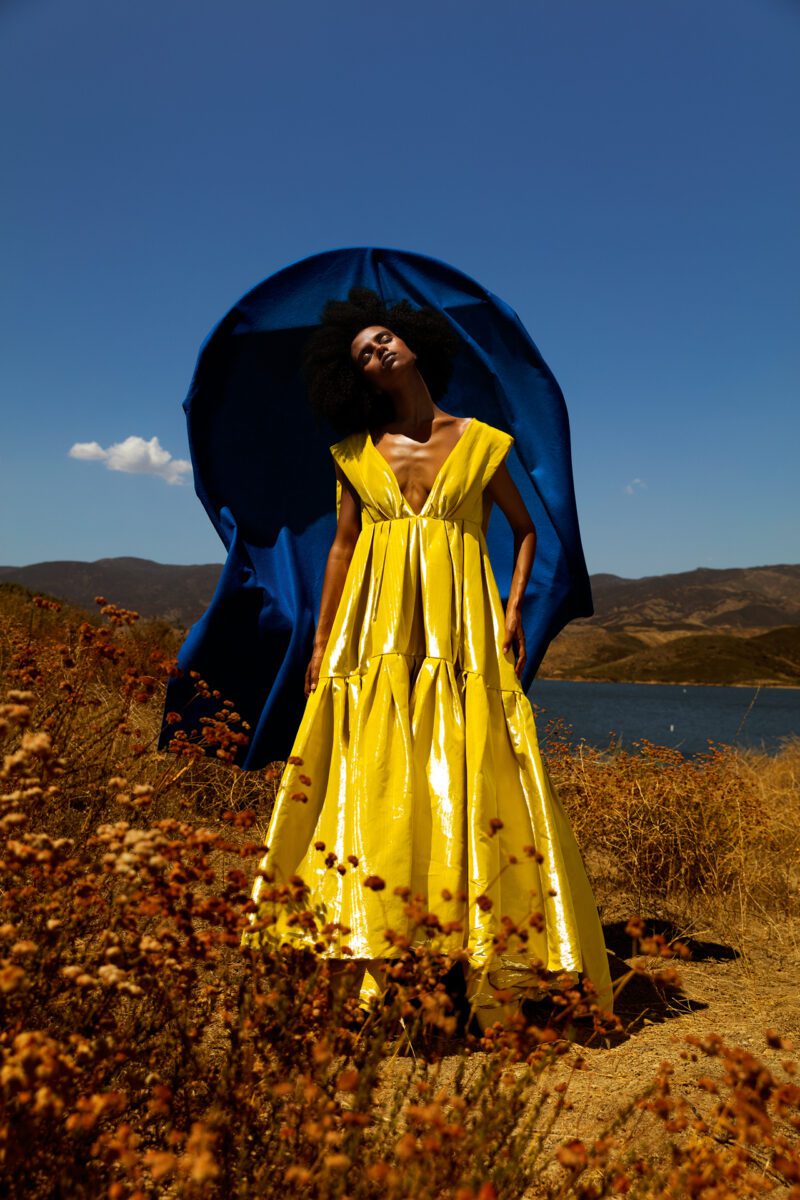 A: Your series draw on your African, French and Italian heritage. In what ways does your art reflect this identity?
DA: I come from a multi-heritage background, and this is just another part of who I am. My character is made up of all I have experienced and the people I have met whilst travelling and living in other countries, as much as my actual cultural background. For certain projects, I may draw on one element of myself, whilst for another I use many aspects at once. Speaking multiple languages, for example, or performing various styles of dance, feed in to the expression of my own voice. How I convey it through projects might be different, but the parts that make up my identity are always relevant.
A: You have described your work as a form of "personal interrogation." Can you expand on this concept?
DA: I am an emotional creature – an empath, introverted and very sensitive. Most of the time, I struggle to cope with the world as it is. This creates a constant flow of interrogations within me. A part of myself analyses and dissects information whilst the other half just feels intensely. The world wants you to explain and justify yourself, often through words. I am frequently in this state of examination. It comes from the curiosity of my inner child; the innate desire to understand people, to encourage them and to make them feel visible.
A: How do these thematic viewpoints about individuals and subject material feature in your compositions?
DA: I am interested in the meanings beneath a person's actions and their words. Often, there are contradictions between what is said and how someone behaves. Outside my commercial work, I explore characteristics which I perceive and see in an individual, but that they might not recognise in themselves. Capsulated (2018) uses the motif of a bubble to visualise an imaginary inner world and experiences of rejection, solitude and stereotyping. I see beyond a person's physicality to their concealed feelings. I mix their narrative and my analysis to build something conceptual. Hidden elements often remain undetected by all except a select few. I appreciate it when people tell me what they have understood. It demonstrates that they've seen the story behind the image.
A: How important is experimentation with different media in your practice? What projects are on the horizon?
DA: A multidisciplinary approach is vital. When I started, I was told that if I wanted to work, I had to choose one medium and stick to it. I didn't like that idea. I wholly embrace being a multi-dimensional person and artist. My authentic self is not about being confined to one form. Instead, my yearning to learn and express through different visual languages is extensive. I always have something in progress, though I never know what will happen tomorrow. It remains a surprise.
---
In Bloom
Fotografiska Stockholm | Until 11 June
Words: Megan Jones
---
Image credits:
1. Djeneba Aduayom, Untitled for The Cut Magazine, (2019).
2. Djeneba Aduayom, Untitled for The Cut Magazine, (2019).
3. Djeneba Aduayom, Untitled for The Cut Magazine, (2019).
4. Djeneba Aduayom, Untitled for The Cut Magazine, (2019).
5. Djeneba Aduayom, Untitled for The Cut Magazine, (2019).